Trying to conceive? Amazon Prime Day is actually one of the best times to buy OPKs and pregnancy test strips
Thanks to Amazon Prime Day, things like OPKs, pregnancy test strips and antenatal vitamins are cheaper than ever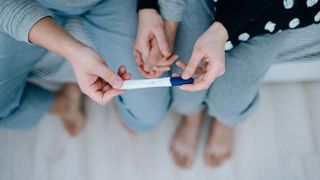 (Image credit: Getty)
Plenty of health essentials have had their prices cut this Amazon Prime Day – and if you're trying to save money on some 'TTC' essentials, now is the perfect time to buy items like ovulation predictor kits (OPKs), pregnancy test strips and antenatal vitamins.
When we spoke with Dr. Mary Ellen Pavone, a reproductive endocrinologist and infertility specialist, about how to get pregnant, she advised that it's crucial for people to know the ins and outs of their cycles.
It's possible to do this by simply tracking your periods, which should give you a clearer idea of your ovulation patterns. But if you have irregular periods, it can also be helpful to use tools such as ovulation predictor kits and basal thermometers, as these will give you a clear signal when you're about to ovulate.
If you're just about to start trying – or you're already in the middle of your journey – then it's worth taking advantage of the discounts currently available thanks to Amazon Prime Day. By bulk buying these items when they're cheaper, you won't have to worry about burning through several OPKs (and pregnancy tests!) during each monthly cycle.
Below, we've rounded up everything that could be useful if you're currently trying to conceive.
For more, check out our Amazon Prime Day Health Deals for 2022.
Stay up to date on the latest science news by signing up for our Essentials newsletter.
Ruth Gaukrodger is the fitness editor at Future Plc. She covers everything from fitness trackers to dumbbells for sites like Live Science, Fit&Well and Tom's Guide. When she's not reviewing equipment in our dedicated testing centre, you'll find her racing round the streets of London in her favorite running shoes or working on her yoga skills from the comfort of her living room.
Originally a print journalist, Ruth worked across national newspapers and popular tech sites before coming to Future. She has worked as a commissioning editor across other Future titles too, including Space.com and Top Ten Reviews. Now focused solely on fitness topics, she hopes to demystify the world of exercise with honest, straightforward content.