The best treadmills of today are almost unrecognizable next to the archaic running machines of years gone by. Dashboards which used to house basic LED displays are now topped with HD touchscreens, basic interval sessions have been replaced with fun, interactive workouts, and unforgiving surfaces have been removed in favor of shock-absorbing running belts.
With their array of fancy new features, these trend-setting treadmills can transform home workouts from a tedious trudge to an exciting and engaging workout, whether you're tackling a virtual route around Hawaii or getting one-to-one coaching from an Olympic athlete. But, thankfully, they still offer the same plethora of health benefits that made these machines one of the most popular pieces of fitness kit on the market. So, if you're wondering how to get fit (opens in new tab) or how to run longer without getting tired (opens in new tab), regular sessions on a running machine can help on both counts.
The only problem is, with so many new and exciting exercise machines on the market (not to mention the best rowing machines (opens in new tab) and exercise bikes (opens in new tab)) it can be hard to work out which one is the best investment for you. To help you make up your mind, our Live Science testing team has put a series of top models through their paces, diving into the strengths and weaknesses of each one so you can find your perfect fit.
Read on to find out which running machines made our roundup of the best treadmills you can buy right now, with options to suit all budgets and fitness levels.
Best treadmills in our tests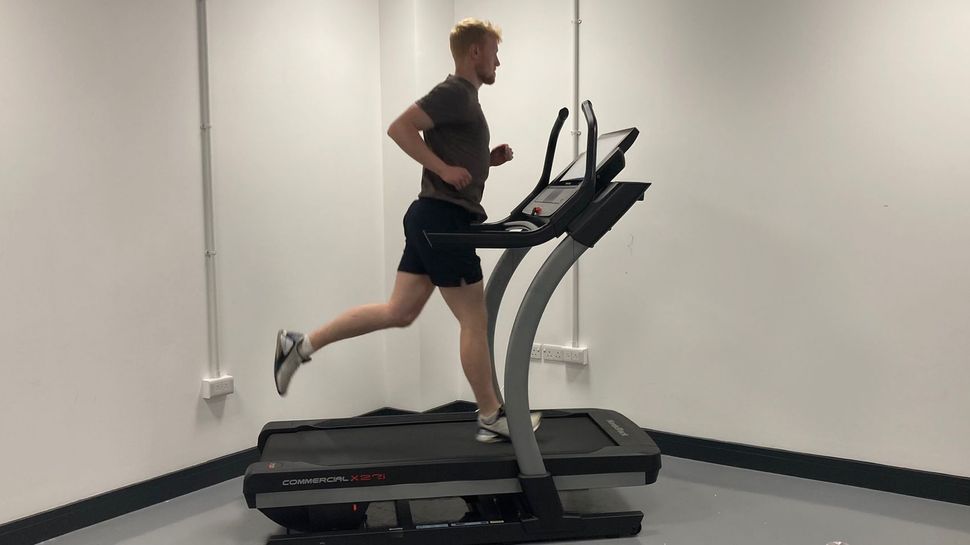 The NordicTrack X22i treadmill doesn't do anything by halves, and that's why we love it. Why have a few preset programs when you can have thousands of engaging on-demand workouts, who wants a 7in display when you can have a cinematic 22in HD touchscreen, and why stop at a 15% incline when you can hike up a daunting 40% slope? Out of all the treadmills we tested, this was by far our favorite.
It doesn't just stand out because of its go hard or go home approach to innovative features either, it's also a brilliant running machine in its own right. We appreciated the Reflex Cushioning built into the belt, which ensured our joints didn't bear the brunt of lengthy runs, and the powerful 4chp (continuous horsepower) motor works impressively quietly to deliver a top speed of 12mph.
Now, at some point we do have to address the elephant in the room; at over 70in long and almost 40in wide, this is a big machine. However, if you've got a dedicated home workout space to house it, these considerable dimensions can be seen as a plus. The running belt feels roomy – even for our taller (6ft 2in) tester – and the treadmill stays stable and wobble-free no matter what incline or speed setting we selected.
We were also left seriously impressed by the wealth of health content available via the iFit app. This requires a monthly subscription fee after a 30-day free trial, but you definitely get your money's worth with access to thousands of studio classes, instructor-led virtual routes and off treadmill workouts. So, if you're not in the mood for a run, you can opt for a strength, Pilates or yoga session instead.
Given its impressive credentials, we think the NordicTrack X22i is the perfect training partner for anyone looking for a machine that can revolutionize their home workouts and provide a well-rounded fitness routine.
User reviews
There aren't many user reviews of this particular machine, but the ones we've spotted across the internet have been resoundingly positive, with users raving about the many features packed into the machine.
---
At $1,299, the Echelon Stride isn't exactly cheap – but it's by far our favorite when it comes to balancing a good set of features with a mid-range price tag. It's the ultimate space-savvy machine, with a compact running belt and fully foldable design – ideal for storing under a bed or behind a sofa. And it seems the saying "good things come in small packages" rings true, with the tread delivering an impressive performance on test (in spite of its diminutive dimensions).
It offers speeds of up to 12mph and incline settings as high as 10%. We found the base felt sturdy and secure, with only slight wobbling at the highest paces and gradients, and though it only has a 1.75 horsepower motor the belt moved smoothly with no juddering underfoot.
There is an LED console on the handlebars with several interval sessions of varying difficulty on offer. However, we think it's well worth investing in the Echelon Fit app which – for a monthly subscription fee – allows you to link the treadmill with your phone or tablet and access a huge selection of engaging classes. During testing, we discovered even those sessions labeled advanced proved on the easier side, but there is a huge selection of on-demand studio classes, live workouts and more to explore.
So, if you're a running newcomer looking for a compact, affordable option, the Echelon Stride is the best treadmill for you.
User reviews
The Echelon Stride scores 3.6 out of five stars on Best Buy, with only two reviewers giving it a full five stars. Positive reviews said the treadmill was very easy to set up, quiet and compact. However, negative reviews complain it's overpriced and the deck is quite hard. One reviewer said: "This is just one step above walking on pavement. I've owned $1200 treadmills with great suspension and soft decks so it's a bit frustrating that it's like this for the price."
---
The Peloton Tread is a sleek and well-made treadmill that offers a satisfying running experience for all fitness abilities. It comes in Peloton's signature black and red colors and has a striking minimalist design. During testing, we particularly liked the machine's fuss-free touchscreen, which is easy to navigate.
Speed and incline dials are positioned on the handrails, so there is really very little to distract you from that shiny display. It doesn't have any kind of base at the front of the tread, so you can run along its full length—useful if you have a particularly long stride.
The machine doesn't have quite as many features as we'd like to see at this price point, as it's lacking a decline option or in-built fan, both of which you can find in the slightly cheaper NordicTrack model above. You will also need a Peloton app subscription to access those famous virtual classes. All of that aside, it is a satisfyingly compact, stylish and quiet machine for runners of all ability.
User reviews
The Peloton Tread scores 4.2 out of five stars on Peloton. Positive reviews praise the choice of workouts, as well as off-treadmill classes, guided runs and the motivational Peloton instructors. Negative reviews wished for a steeper incline option to make workouts more challenging.
---
ProForm has taken a minimalist approach to design with the ProForm Pro 9000, using a black and silver palette that gives the tread a slick and subtle look. There's nothing subtle about the size or price tag of this model though, so you'll need some cash and space to house it.
The 9000 comes complete with inbuilt dual speakers, fans, and iFit capability which provides access to a vast array of workouts and classes from top-notch coaches and trainers in the game. The 22" eye-catching crisp color touchscreen display will certainly suck you in, and with so much workout choice available, this tread can quench the thirst of even the fittest of running fanatics. The speed and incline quick controls are splashed across the dashboard to offer fuss-free on-the-go adjustments, and you can choose between -3% to +12% incline/decline, as well as up to 22 km/h of speed – all of which can be automated by your trainer during workouts.
While this treadmill does offer an immersive training experience, we found some of the tech tricky to master when we tried it out. There are a couple of tech fixes that could make this model more competitive for the top spot, especially when pitched against models like the NordicTrack X22i.
User reviews
There aren't many reviews available for the ProForm Pro 9000, as it's relatively new. But a few happy reviewers on the ProForm site have commended the machine for its usability, its large display and the fun mix of classes.
---
The LifeSpan Fitness Treadmill TR3000i has everything a traditional treadmill should. We found it benefits from a stable, cushioned running deck, a maximum speed of 12mph and incline settings up to 15%. Yet, with the multitude of mod cons crammed into newer running machines, its traditional approach struggles to keep pace with its smarter competitors.
The 7in touchscreen feels tiny and, while it's fairly responsive, the display is a bit grainy. It feels wholly unnecessary too, as the machine only has a scattering of preset programs to choose from – a figure that pales in comparison to the thousands of live and on-demand classes on offer from the likes of the Peloton Tread and NordicTrack X22i.
It took us almost an hour to set up, with the upright handles needing screwing into place and the monitor requiring an overcomplicated (not to mention fiddly) wire-matching exercise before it would work. Yet it costs over $1,000USD, meaning you're still spending a considerable chunk of money on a treadmill that lacks the innovations of other modern models.
Seasoned runners may appreciate the simplicity as, once the treadmill is set up, a quick start session allows you to get running with minimal fuss, adjusting your incline and speed settings as you go. But anyone looking for a piece of fitness kit to transform their home workouts will be better served elsewhere.
User reviews
The Lifespan TR3000i gets lots of five star reviews on Lifespan with fans praising it for its excellent cushioning, perfect size and easy assembly. Negative reviews cited issues with it being very heavy, and that the display doesn't show pace. One reviewer said: "The console is pretty simple and doesn't have an overabundance of features."
---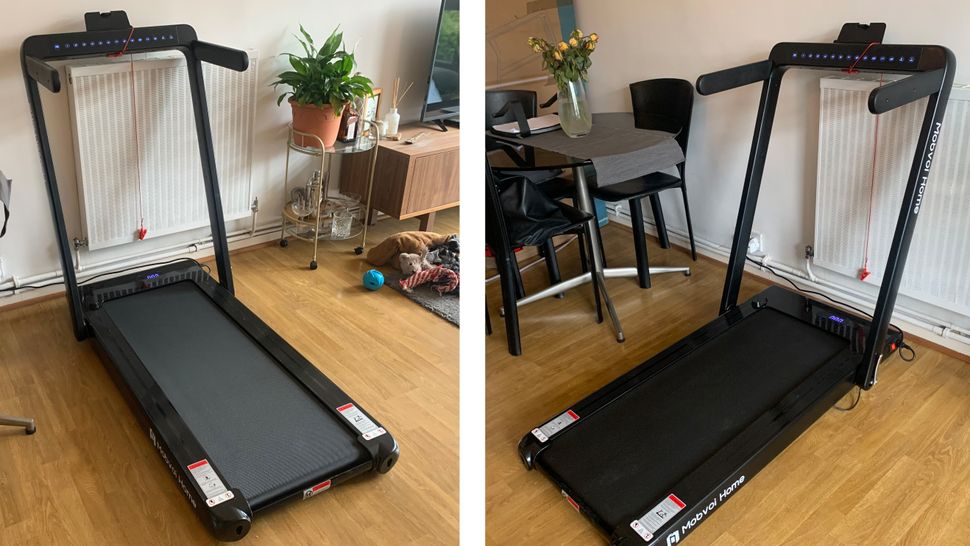 Not only is the Mobvoi Home Treadmill a great way to stay active during the working day, at around $400 it's also less than half the price of the other machines in this guide. Now, don't expect to set a 5K PB or face a lung-busting workout on this machine – it has no incline settings and a maximum speed of 12km/h (just under 7.5mph). But this is ideal for its MO as a walking treadmill, allowing you to move at a brisk pace while checking your emails or tending to spreadsheets (if you pair it with a standing desk).
We found the running belt felt sturdy in use with no unsettling jerking or wobbling, and it's a breeze to set up thanks to its compact, folding design. This has the added bonus of making it simple to store, as it will easily slide under most sofas.
Thanks to the folding handlebars, you can use the machine as a flat walking pad under your desk or raise them up for the functionality of a traditional treadmill. If you choose the latter option, the handlebars house a bright LED dashboard with quick touch controls for speed and an attachable phone holder. Or, if you're using it as a walking pad, a handy remote means you can stay in control at all times.
The belt itself felt a little thin underfoot and the lack of cushioning was noticeable. It was also quite narrow to stand on, which could feel quite suffocating if you're a bigger user. But the machine is whisper quiet in action and has Bluetooth speakers built in, so you can blast power ballads while smashing your daily step goal – if that's your thing.
User reviews
Users rated this walking treadmill 4.5 out of 5 stars on Amazon and praised the model for its great quality, sturdy build, and value for money. Some users were not convinced that the Mobvoi was durable, but these opinions weren't mirrored by most buyers.
---
How we test treadmills
We tested all treadmills in our purpose-built testing center (with the exception of Mobvoi, which was tested out at home) completing a longer run, an intense shorter session, and (where applicable) several workout classes on each machine. We also checked any claims made by brands, including the machines' functionality at their maximum speed and incline settings, before awarding each one a score out of five for the following categories:
Set-up and usability
Design and display
Features
Performance
Value for money
These figures were used to calculate a final score out of five, and decide which running machines made our roundup of the best treadmills.
Are treadmill calorie counters accurate?
Most modern treadmills offer plenty of metrics when feeding back on your performance, from distance covered to average pace. Among these, you'll usually find a figure saying how many calories you have burned during your session, but are treadmill calorie counters accurate?
In the simplest terms, the answer is no. Treadmill calorie counters can only estimate your total calorie burn, but the number they provide is highly unlikely to be exactly right as they cannot take into account the many variables that affect this figure (such as the runner's age, height, body composition and fitness level.)
What the estimate provided can be useful for, however, is indicating the overall intensity of your session.
"Having a general sense of calories burned is always better than nothing," says exercise physiologist Bianca Grover. Some treadmills may ask you to input personal information such as your age, weight and height before you start running, and this is likely to improve their accuracy. "But, again, these do not have pinpoint accuracy, but they are likely closer than those that do not take these into consideration".
Bianca Grover is a certified exercise physiologist, medical exercise specialist and personal trainer. She holds several certifications and specializations from the American Council on Exercise (ACE), the American College of Sports Medicine (ACSM) and the American Heart Association. Her specialities include functional training, strength training and orthapedic considerations.
Do treadmills help you lose weight?
Weight loss is a common goal for those taking up treadmill running, and using a running machine can help in this process thanks to its calorie burning credentials.
"Because treadmill exercises – like any physical activity – require you to burn calories, this can help contribute to your desired daily calorie deficit (opens in new tab)," Grover says.
However, if you're looking to decrease your body fat percentage, she advises addressing several other factors alongside upping the amount you're exercising.
"Treadmills can certainly help you lose weight, but they are only one factor in the equation. If you are looking to lose weight, you must be at a consistent caloric deficit, meaning you must burn more calories than you are taking in."
Grover recommends "a safe caloric deficit" of between 200 and 500 calories (per day), with a general goal of losing one or two pounds per week. This will enable your body to slowly lose weight without starving it.
Does a treadmill make you faster?
Improved running performance is another major motivator for regular treadmill users and running machine newcomers alike – and for good reason.
If you're an endurance runner, a progressive treadmill running program can help improve your cardiovascular endurance. This will make your heart and lungs work more efficiently, allowing you to run faster for longer. As a result, you can shave seconds off your best 5K time, 10K PB, and beyond.
However, if you're a sprinter looking to improve your pace and power over short distances, most treadmills will struggle to provide the stimulus you need, with the majority maxing out at 12mph. Instead, you should hit the track or turn to alternative training methods like weight training (opens in new tab) to improve your performance.
"If we define 'getting faster' as improving your top speed then treadmills will play a minimal role in that," Grover says. "In order to improve your top speed, you will need to incorporate things such as resistance training and plyometrics into your routine.
"However, by improving your cardiovascular health, treadmill workouts can help reduce your times over longer distances. This improvement in conditioning means your body is using oxygen and fuel more efficiently, allowing you to maintain a higher speed for longer."
Are treadmill distances accurate?
As treadmill manufacturers are aware of the length of their running belt and the speed at which it is moving, distance-trackers on these machines should be able to provide a good level of accuracy.
"It likely depends on the treadmill, but (in general) they are quite accurate," says Grover, adding: "Keep in mind that they will certainly feel different than running outside or on a track. Treadmills usually impact things such as length of stride and consistency of terrain."
Does a treadmill build muscle?
If you want to take a closer look at this query, our feature on, "Does running build muscle (opens in new tab)?" should have all the answers you need.
A 2015 study published in Exercise and Sports Sciences Reviews concluded that aerobic exercise (like rowing, cycling or running on a treadmill at a moderate speed) "should be acknowledged to increase skeletal muscle mass and be considered an effective countermeasure for muscle loss with advancing age".
(All the more reason to invest in a pair of the best running shoes for supination (opens in new tab).)
But, while running can increase skeletal muscle mass to some extent and prevent muscle loss, it can't be used to pack on significant slabs of muscle. If muscle gain (or hypertrophy (opens in new tab)) is your goal, and you're less concerned about the working your cardiovascular system, then strength exercises (opens in new tab) should be your first port of call.
We prescribe hitting the weights (like some of the best adjustable dumbbells (opens in new tab)) and following a program that takes advantage of the progressive overload (opens in new tab) principle.