The best fitness trackers put you fully in control of your health and fitness, allowing you to monitor vital statistics from your heart rate, calories, steps, sleep, stress levels and much more. Studies have shown that self-tracking is not just motivating – regular use of fitness trackers can help you stick to a healthier diet, exercise more and take better care of your mental health and wellbeing.
Designed to help people develop – and maintain – healthy habits and lifestyle changes, the best fitness trackers and smartwatches can also keep you accountable, and studies have found that people who use them regularly are more successful long-term in achieving their goals.
What's more, fitness trackers have been proven to help people exercise more – 40 minutes extra a day in fact, with an average weight loss of 1kg over five months, a meta-analysis by the University of South Australia found.
As well as basic metrics and tracking steps, the latest fitness trackers and smart wearables are packed with features to help you monitor and improve your health, fitness and wellbeing – and there are models to suit every need and budget. You can buy a basic tracker for under $10, or spend from hundreds to thousands of dollars on the latest tech.
What is the best place to wear a tracker? You don't just have to wear yours on your wrist as now they come in the form of rings, jewelry and even inner soles for sneakers.
When you're looking for the best fitness wearable, there are a few things to consider. Higher end trackers like the Fitbit Sense and the Amazfit GTR 3 come with GPS as standard, and the more expensive ones tend to have bigger screens with better graphics and advanced sensors, like electrocardiograms (which check for potential heart problems).
Battery life is also crucial – if you use your Apple Watch Series 7 to track sleep overnight, then you'll find it needs charging again by morning, for example. Whereas Fitbits are renowned for having awesome battery capacity, up to ten days in the case of the Fitbit Inspire 2.
Because picking a fitness tracker can be a minefield, the Live Science team has picked the best on the market, so you can make an informed decision before you buy.
Best fitness trackers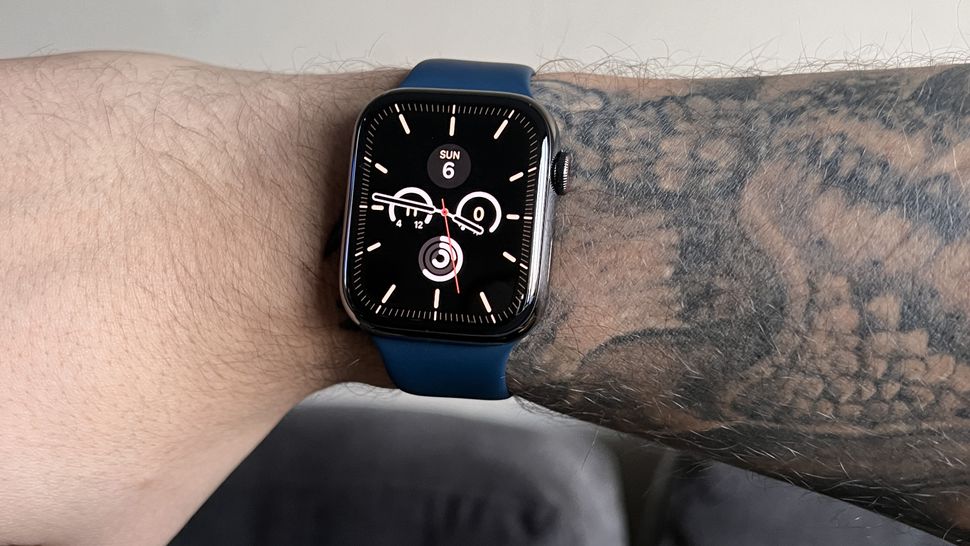 The Apple Watch Series 7 is generally considered the default smartwatch, the obvious choice if you have the money to spend. That risks glossing over what makes it so special.
This is the only watch series that has a committed enough following to foster a truly vibrant app scene. Digging around in the App Store to find fresh yoga, mindfulness and gym apps is actually worthwhile, although if you are happy to pay a subscription and like working out from home, do check out Apple's own Fitness+ service.
It plays video workouts on your TV or iPad, with on-screen stats recorded by the watch. The Apple Watch Series 7's heart rate accuracy is also best-in-class – and its on-board GPS is reliable too.
Apple's baked-in fitness software is well-suited to casual fitness fans, while the near-peerless support for third-party platforms means the hardcore exercisers are catered for too. There's only one big drawback, which is battery life. You need to charge an Apple Watch Series 7 every day, or every other day.
This is far more upkeep than a fitness tracker that is not also a smartwatch. Many people will prefer living with a watch that does less, but lasts longer between charges.
---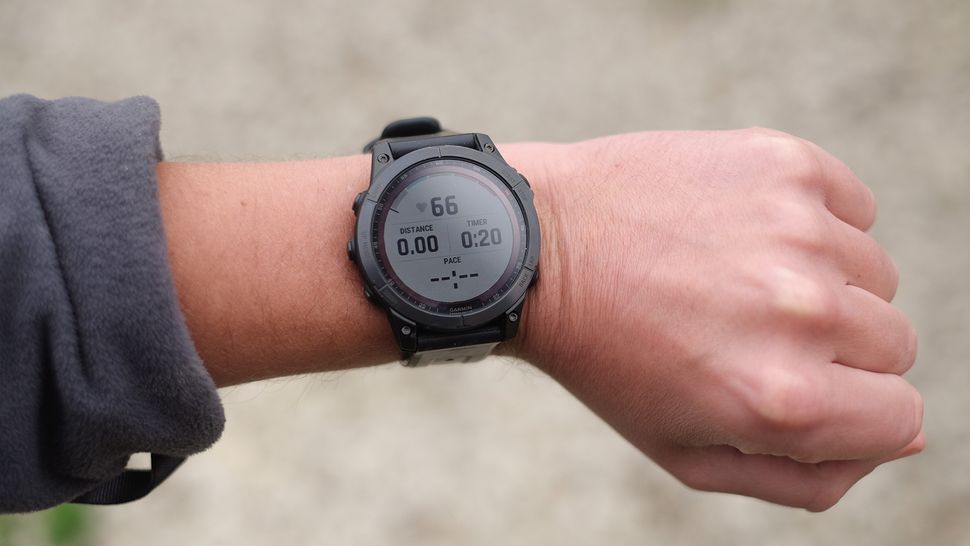 A Garmin Fenix 7 is the best fitness tracker to get if you want the most comprehensive set of built-in exercise features available. These stand out when you bring other hardware into the mix.
The Fenix 7 series can connect to heart rate straps and foot pods, bike turbo trainers, and even Garmin's bike lights. You can download continents' worth of maps to the watch's internal memory and plan hike, bike and run routes so you can leave your phone at home.
It lets you download music and podcasts from some of the most popular music services, including Spotify and Deezer. And the MiP screen only becomes clearer in bright sunlight, so tracked outdoor sessions won't kill the long-lasting battery.
Its heart rate and GPS accuracy are great, and the presentation of stats like training load and VO2 Max seems tailored for the fitness enthusiast.
A Garmin Fenix 7 may be a bit much if you just want to track 5km runs a couple of times a week. It's not light and it's not cheap. The bulk isn't ideal for sleep tracking, so consider Garmin's Versa 2 if you like the sound of Garmin's style but would prefer something smaller.
That said, Garmin's watches are less intimidating than they once were. The Fenix 7 has a touchscreen and a quick swipe up from the watch face gives you a neat run-down of all your important daily stats. It has encyclopaedic features, but works well for casual all-day tracking too.
---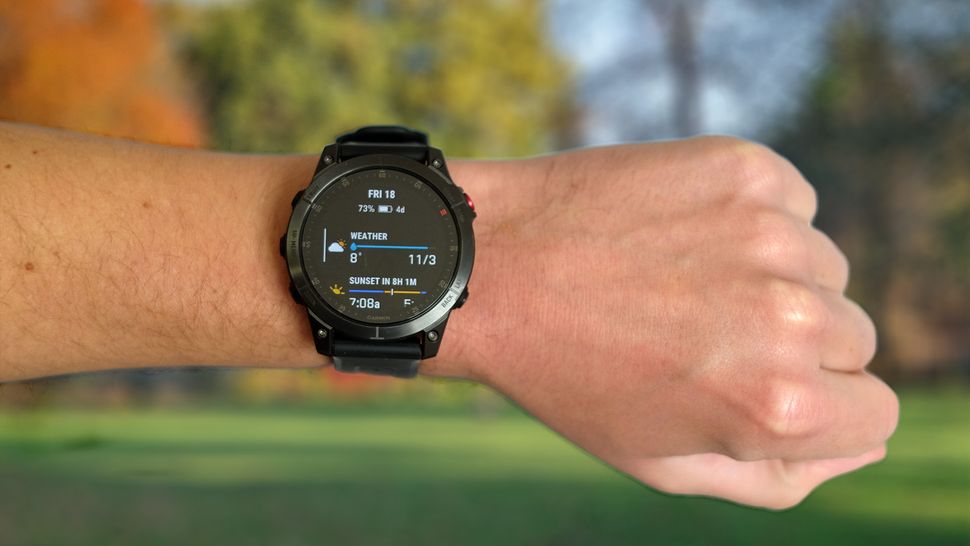 The Garmin Epix 2 is much like the Fenix 7, but it swaps that watch's practical but dated-looking MiP screen for a much brighter, sharper and prettier OLED. It adds colour and gloss, perfect if you want a serious fitness tracker with a smartwatch-style sheen.
None of the core features are traded away. The Epix 2 software still has best-in-class depth and breadth, particularly handy for use without a phone. Downloadable maps, the ability to program routes on the watch itself and sync music to its internal storage: these make the Epix 2 feel more like a fitness computer than other trackers. Like other top-end Garmins, you can download additional apps too, although the library is limited.
Should you buy this over the Fenix 7? It's a bit nicer to use indoors, when just acting as a watch or giving you structured workout instructions in the gym. There is a battery life sacrifice, though. The watch lasts around six days with the screen lit the whole time. This rockets to 16 days in the mode that only lights the display when in use, but the Garmin Epix 2 just isn't as enjoyable to use like this.
We're not going to complain too much about roughly a week between charges when that's the best Fitbit offers, and it is leagues ahead of the Apple Watch. Cost is the only major issue here, with a starting price a lot higher than the Fenix 7. It's tricky to justify when much cheaper watches have OLED displays that look just as good. Still, it's a killer fitness tracker if you have the money to spend.
---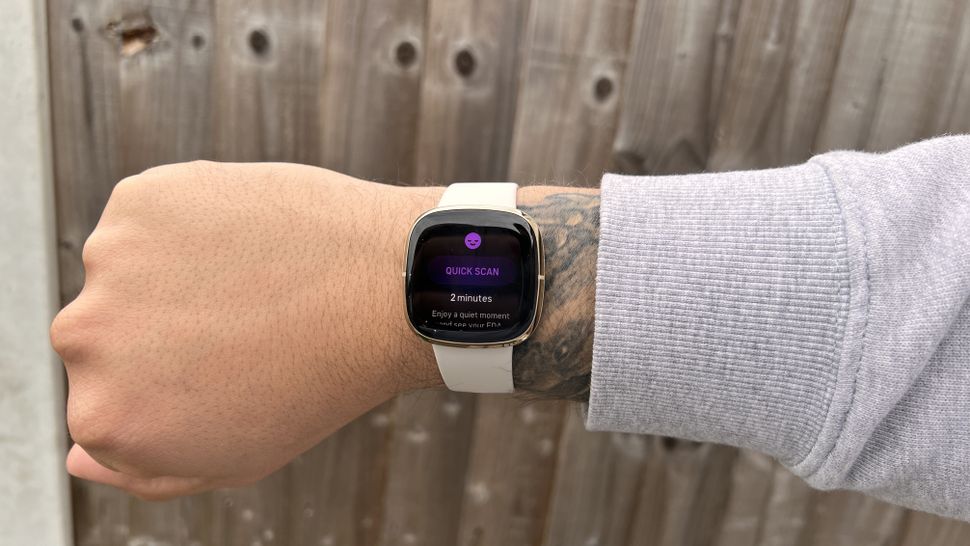 The Fitbit Sense is our favorite model from Fitbit, thanks to its combination of features and sleek AMOLED display. It's relatively well-priced, too, regularly discounted to $229.95/ £219. While you won't get all the high-end features found on Garmin watches – there's no downloadable maps and the GPS functionality isn't as impressive – you do have some other tasty extras, such as the EDA scanner. This measures 'stress' by basically reading how sweaty your hands are – if the model senses that you're feeling hassled, it will suggest some meditation practices.
The watch also comes with an ECG scanner, which offers some insight into your heart health and will give you alerts if your heart rate is unusually high or low. When we tested it out, we found that the heart rate monitor was fairly accurate when compared to the Apple Watch Series 7 model.
Like a lot of other modern wearables, the Sense has a 'Daily Readiness' score that guides you on how much you should push yourself at the gym. Been working out too much and not sleeping enough? It's likely the tracker will tell you to skip exercise and rest for the day. This score adapts as the tracker gets accustomed to your patterns.
We liked the overall design of the watch too; it's not so clunky that it feels uncomfortable to wear during sleep. The large screen makes the display easy to read, even in sunlight, and we were impressed by the six-day battery life. Our only real issue with the tracker is that it doesn't allow you to download and listen to music, unless you're specifically using the Deezer or Pandora app.
---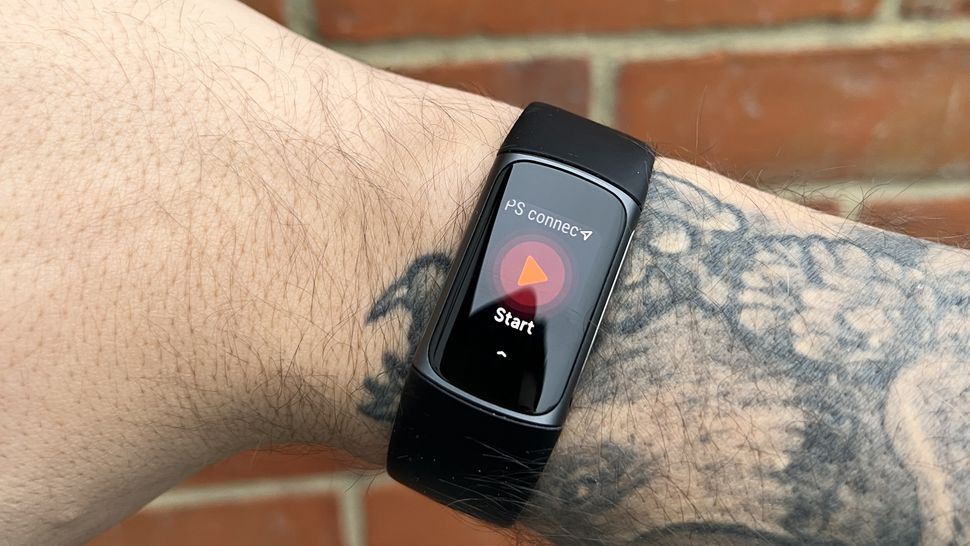 We reckon that the Charge 5 is the best Fitbit for most people. If you have your heart set on a Fitbit, you just have to decide whether you'd prefer this or the bigger, more expensive Fitbit Sense.
This model is much smaller. It's a band, not a watch. And you don't get the downloadable apps available on Fitbit's Versa and Sense — like Spotify, for example. If you want to go for a run and listen to music, you'll have to use your phone if you're using a Charge 5.
However, the sheer amount of stuff Fitbit packs into the Charge 5 is impressive. It has full GPS, for phone-free route tracking. It has the EDA stress sensor Fitbit introduced in the Sense watch, and even an ECG sensor. This analyses your heart rhythm to check for abnormalities, using hardware completely separate from the optical heart rate reader on the back.
It's rare to see a fitness tracker this small that is so comprehensive in the stats it can gather, and Fitbit's sleep tracking is among the best around. However, to see the Fitbit Charge 5 at its full strength you'll need to sign up for Fitbit Premium. It costs $9.99/£7.99 a month and the watch includes a 6-month trial. While a Charge 5 works fine without it, fitness plans and even blood oxygenation readings sit behind this paywall.
---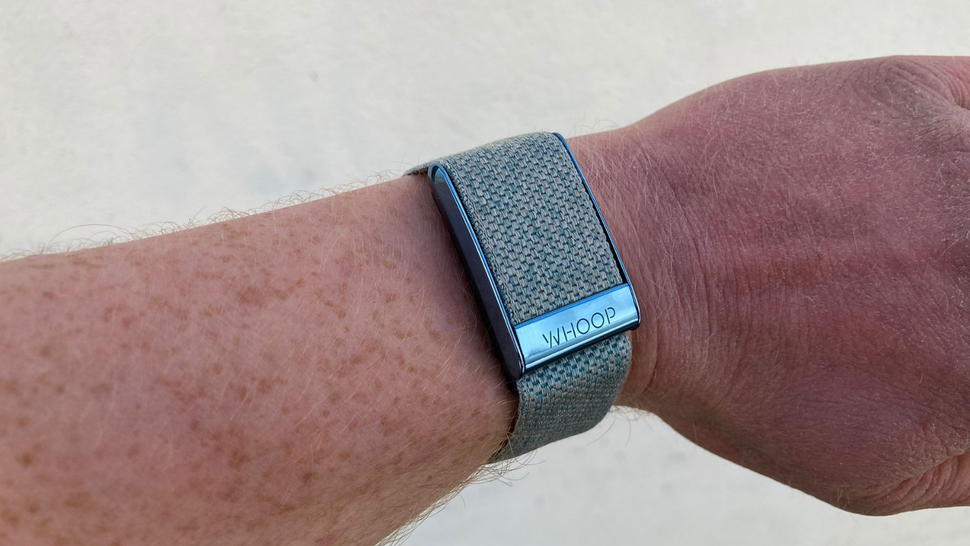 The Whoop 4.0 bucks nearly every trend going. The wearable dismisses a shiny touchscreen in favour of a discrete "sensor suite", the usual watch-like buckle is substituted for a woven, elasticated strap, and the step counter which won the likes of FitBit so many fans has been omitted entirely.
Instead, what you get is continuous monitoring of an array of health metrics including heart rate, skin temperature and heart rate variability, as well as in-depth sleep tracking. This data is used to produce three digestible daily scores; strain, sleep and recovery.
Having trialled the Whoop 4.0 for a month, we found this alternative approach had both benefits and drawbacks. The lack of a screen or in-built GPS isn't well-suited to endurance activities as we were unable to track or check their pace during running sessions. However, the discreet, screenless design felt durable and showed no signs of damage after being smacked with a kettlebell or submerged during a wild swimming session.
The simplified strain, sleep and recovery scores allowed us to train smarter at a glance (taking rest days when needed to boost our recovery) while the well-presented app provided plenty of in-depth data for stat fiends to sink their teeth into.
Also, when following the recommendations of the sleep coach on when to go to bed and how much sleep we needed, we were able to improve our recovery score and felt noticeably fresher the following day.
---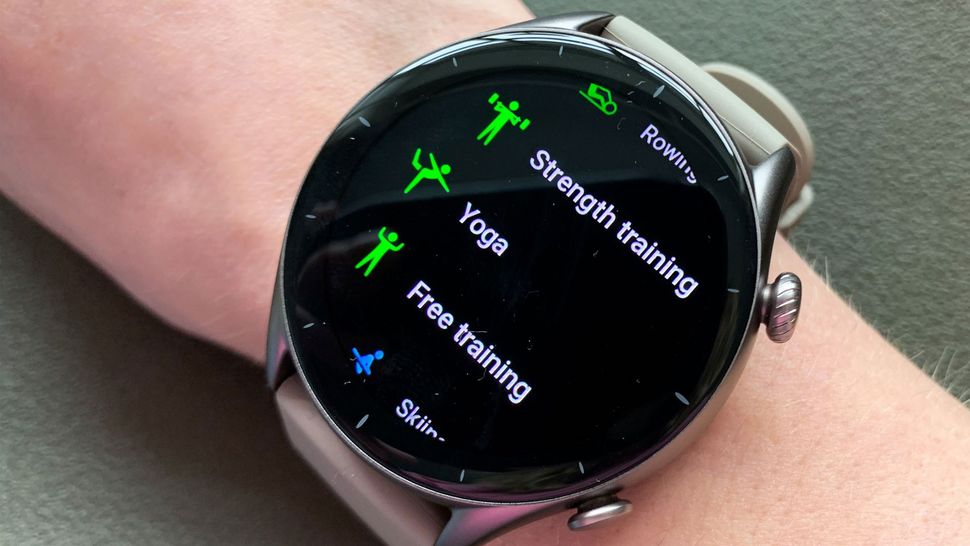 The Amazfit GTR 3 is a fitness tracker that looks a lot like a smartwatch. It has a super-sharp 1.39-inch OLED screen similar to the display of the Samsung Galaxy Watch 4, which is a lot more expensive.
Its outer casing is aluminium, and it has a rotary crown controller similar to the Apple Watch Series 7's. The back of the watch face, which sits on your wrist, is plastic. But this just sums up what the Amazfit GTR 3 is all about. Amazfit tries to pack in features and higher-end style where you'll notice it, and leaves out more expensive parts where you won't.
It has full GPS, provides blood oxygenation readings and has an optical heart rate reader with six light-sensing photodiodes. Amazfit packs in a dizzying 150-plus workout modes, menstrual tracking, Amazon Alexa support, 5ATM water resistance and fantastic battery life of up to 21 days (6 days if you use the always-on screen mode).
The message is clear: the Amazfit GTR 3 does a lot, for not all that much money. It's important not to expect stellar depth or accuracy, though. The heart rate sensor is not as good at tracking interval workouts as an Apple Watch or Garmin Instinct 2, and unlike the "Pro" version of the GTR 3, you can't load this watch up with music for phone-free workouts.
---
The Withings ScanWatch Horizon is described as a "hybrid smartwatch" rather than a bona fide fitness tracker, prioritizing style and health metrics over sport-specific monitoring. Though ardent athletes may be deterred by this approach, the sartorial elegance of the watch is sure to make it popular with anyone who wants to look good while keeping close tabs on their wellbeing.
You see, at first glance, the ScanWatch Horizon just looks like a (very aesthetically pleasing) diver's timepiece, complete with a rotating bezel and stainless steel case. But a push of the crown reveals a disguised circular PMOLED display within the top half of the watch face. Rotate the crown and you'll find everything from your daily step count and distance covered to an on-wrist ECG function and blood-oxygen saturation scan. There's also a small analogue dial in the bottom half of the face that lets you know the percentage of your step goal you've completed that day – a thoughtful feature that we thought looked and worked brilliantly.
As alluded to earlier, the watch's fitness tracking functions don't dive to the same depths as the likes of the Garmin Fenix 7 and Whoop 4.0; feedback doesn't go much beyond your heart rate and estimated calorie burn. It doesn't have an in-built GPS, relying on being linked to the Health Mate app on a phone to track your route, and it's on the heavier side (72g) for hardcore workouts.
However, the stainless steel case and sapphire screen showed no signs of damage after being bashed by barbells and submerged in the ocean, the app is delightfully simple to operate, and our tests found Withings delivered on its impressive battery life claims (up to 30 days).
So, if you're after a smartwatch you can just as easily wear to a wedding as a sweaty gym session, with metrics to help you understand your health and motivate you to move more, the stylish Withings ScanWatch Horizon could be the wearable for you.
---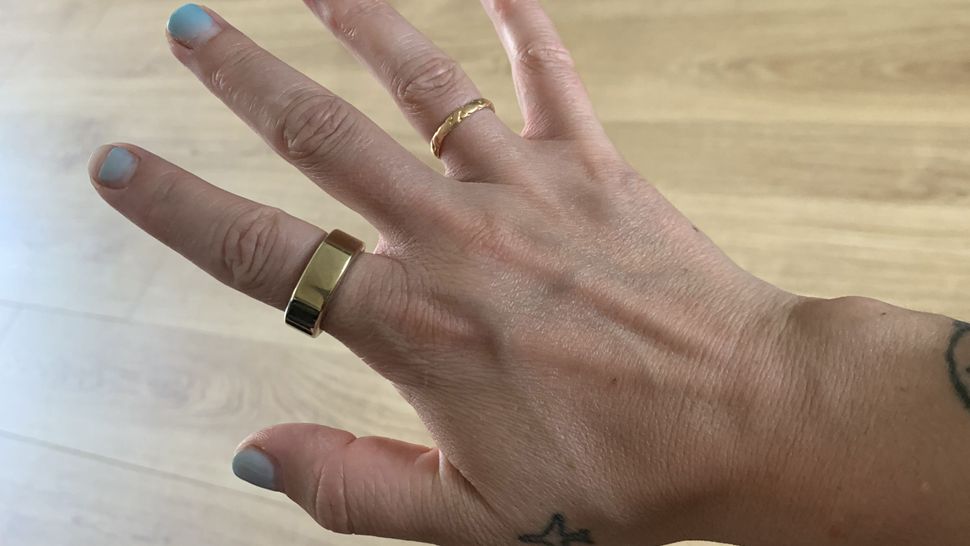 We were impressed with the performance of the Oura ring during our month-long testing period. Its accurate sleep tracking is the real stand out feature; we found that whenever we woke up feeling groggy and poorly rested, the Oura ring was able to show us exactly when our rest had been disturbed and how it had affected our REM sleep.
The ring is able to take this data and make suggestions too. For example, our tester was advised to shift their workouts to earlier in the day and found that doing so had a positive impact on their sleep latency (how long it took them to fall asleep.)
As the ring is so small, it doesn't have a screen. Instead, you'll have to rely on a companion app to look at most of your health data. We didn't find this to be a massive issue, although it does mean there's no easy and quick way to check things like your heart rate when you're in the middle of a workout.
There's an impressive amount of data gathered by the ring. It measures your heart rate at various intervals throughout the day, along with your heart rate variability at night, to help check for potential health problems. And it has a helpful 'readiness' feature that will let you know if you should prioritise exercise or rest.
We did find that it's not 100% accurate at tracking all health metrics. For example, we found it massively over estimated calorie burn during our testing period. And its 'auto-detect' feature often attributed the wrong exercise to our workout, for example recording a HIIT session as a weights session.
Despite this, we really rate it, thanks to its unusual design and brilliant, unmatched sleep-tracking ability.
---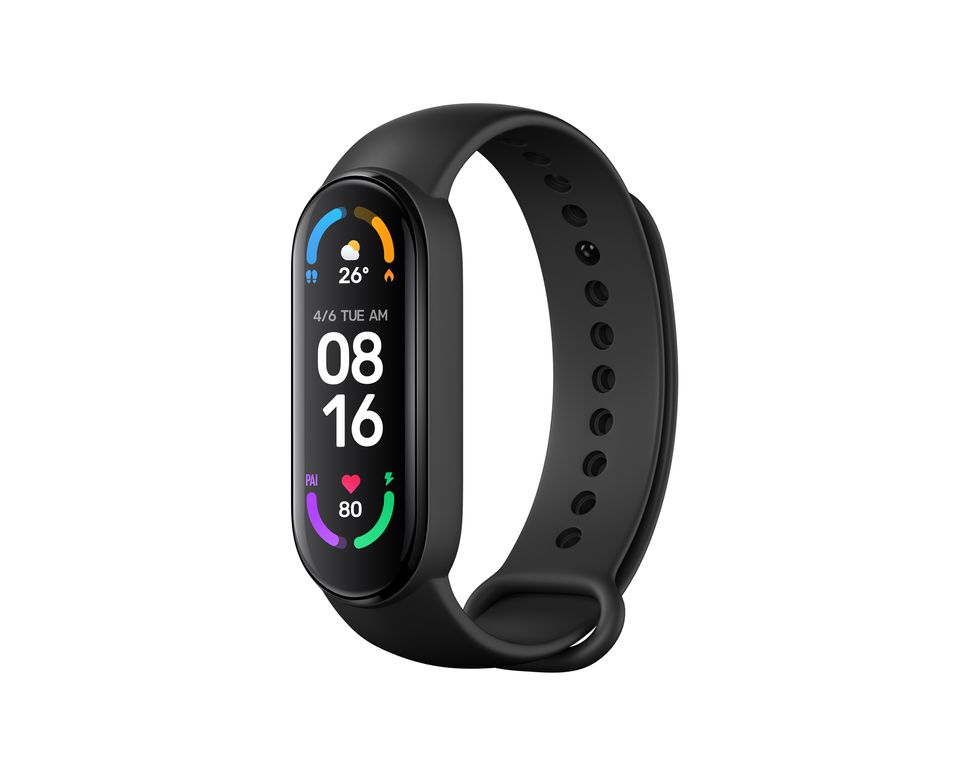 Fitness trackers do not have to cost a fortune. A few companies produce ones cheap enough to be considered almost "pocket money" buys, and the Xiaomi Mi Smart Band 6 is one of the very best.
How much you get for your money here is quite remarkable. The Xiaomi Mi Smart Band 6 has a large lozenge-like 1.57-inch OLED screen. It's sharp, colourful and bright enough to appear clear outdoors — far better than the relatively dim monochrome display of the more expensive Fitbit Inspire 2.
The touchscreen interface is responsive too. You might expect glaring shortcomings at this price, but what limitations there are do not spoil the fun of using a Xiaomi Mi Smart Band 6.
And the bad bits? The Xiaomi Mi Smart Band 6 does not have GPS, but it can connect to your phone during runs for full stats and maps. You don't get the guided workouts of a pricier fitness tracker either, and smart features pretty much begin and end with phone notifications.
However, it does an awful lot for the price, including capturing blood oxygenation readings. Even the heart rate recording feature is responsive and reasonably accurate, although you don't get the same kind of performance here for interval workouts as in an Apple Watch Series 7.
Editor's note: This item is currently in the process of being reviewed. Once it has been tested, this guide will be updated accordingly.
---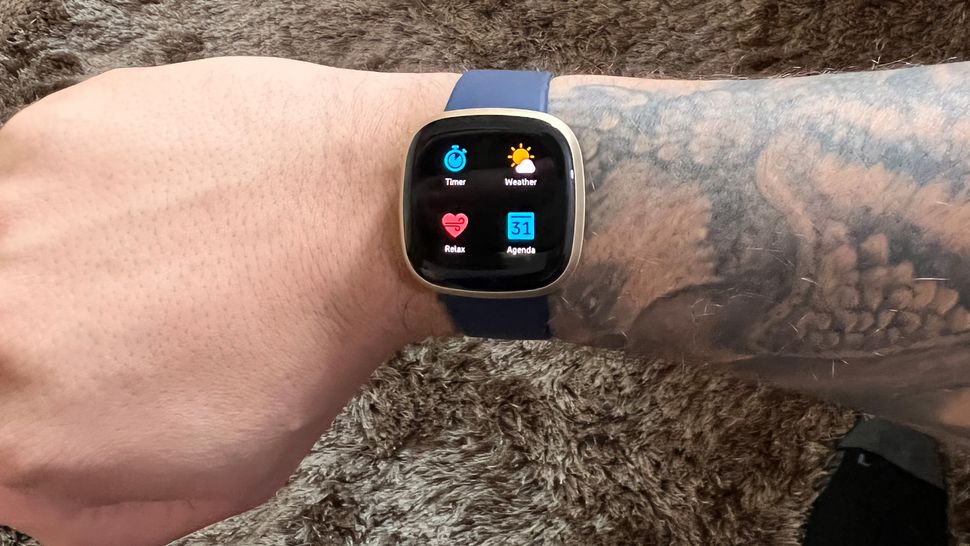 If you want a Fitbit that's similar to the Apple Watch, the Versa 3 has a ton of the same features… It can track your heart rate, temperature, blood oxygen level (spO2), as well as the usual steps and calories, but it's half the price of an Apple Watch Series 7. In fact you could put the money you save toward a Fitbit Premium membership ($9.99/£7.99pm), which opens up access to loads of extra content and features.
One thing Fitbit is really good at is sleep tracking, and the Versa is no exception. You can monitor your sleep patterns through the night and the spO2 sensor will measure your blood oxygen levels so you can track the data when you wake up (although bear in mind some of the stats can only be accessed if you have a Premium subscription).
Battery life is hard to rival, with a claimed six-plus days of use from a single charge, and 12 hours when using non-stop GPS. You can also use the metallic charging point to give it a day's worth of battery charge in just 12 minutes.
As you'd expect, the fitness tracker syncs with your smartphone (iOs, Android) and it has an inbuilt speaker and mic so you can take calls on the go from your wrist and use the voice-controlled Amazon Alexa or Google Assistant.
Love swimming? The Versa 3 is waterproof up to 50m, and you can also use it to track pool lengths. Another big pull is the intensity map feature – it'll use your heart rate data to reveal the intensity at which you exercised over different stages of the workout.
Our main gripe is you can't download playlists and listen to music offline, unless you have Deezer or Pandora.
Read our full Fitbit Versa 3 review
---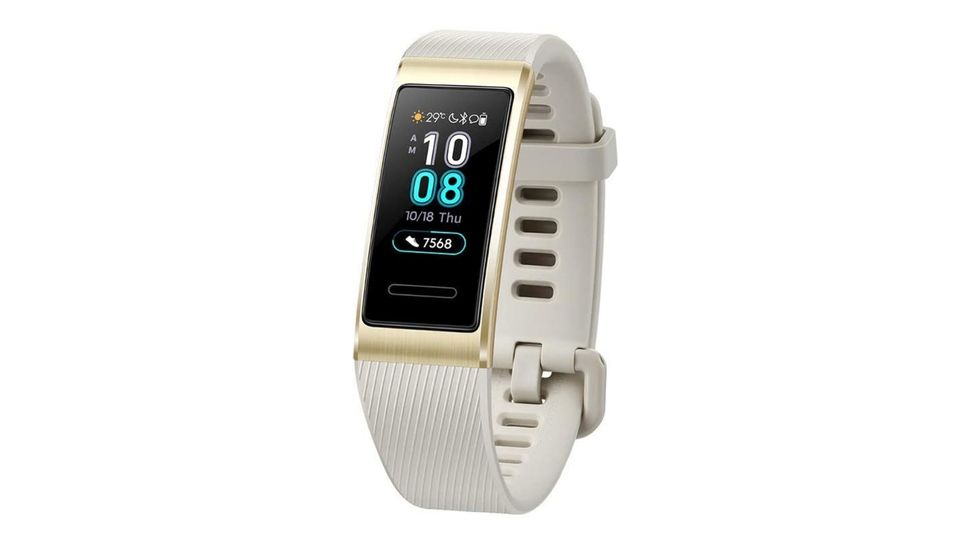 If you're on a budget, then the Huawei Band 3 Pro delivers a big bang for its buck – with inbuilt GPS, touchscreen display, heart rate monitor and dedicated swimming mode.
The color screen is easy to read even in direct sunlight, so it's good for runners and fans of outdoor exercise. The GPS could be a bit quicker to connect, but it's accurate even in built-up areas and a lot of trackers in this price range don't even have this feature. It also provides real-time feedback on workouts, including VO2 Max and recovery times.
If you're a fan of sleep tracking, this fitness tracker offers more than 200 potential solutions to better rest, and its 'TruSleep' feature uses the heart rate monitor for more accurate results. It can even separate your night into light sleep, REM (important for memory, emotional processing and healthy brain development) and Stage 3 deep sleep, and rate your breathing quality.
The Huawei Band 3 Pro has a phone finder feature, and you can see incoming calls with caller ID, receive message alerts and certain notifications from apps, but to be honest we found the way you view these notifications slightly awkward.
There are no physical buttons on this fitness tracker, which means when you're sweaty, exercising in the rain or in the pool, touchscreen controls can become a bit of an issue. There's a single touchscreen button under the main screen but one that sticks out on the side would be more useful.
For those of you who wear your watch in bed and are prone to moving about, you will probably find the fact that the screen doesn't automatically turn off rather annoying. There is an option to reduce the brightness at night in the settings, but bizarrely this is not enabled by default.
Editor's note: This item is currently in the process of being reviewed. Once it has been tested, this guide will be updated accordingly.
---
How we test fitness trackers
You can trust our recommendations when it comes to picking the best fitness trackers; each product on this list has been tried and tested by our expert fitness team. We gathered a range of top wearables and put them through their paces, wearing them for a variety of activities including running, swimming, gym sessions, HIIT workouts, and more.
We looked at the features, feedback and metrics on offer from each one, from the industry-standard step-counters to more detailed data like heart rate variability and blood oxygen saturation. Other factors considered included their design, comfort and performance, with our experiences in each area used to decide a final score out of five stars.
Garmin vs Fitbit
Garmins are for fitness nerds, Fitbits are for those who would prefer a tracker with a more friendly face. That has been the traditional take on these two brands, and it still mostly holds up in 2022.
Garmin's best fitness trackers offer significantly better core stat accuracy and reliability than Fitbit in our experience. A recent Venu/Fenix/Forerunner wearable will typically deliver superior heart rate readings to a Versa/Charge/Sense watch.
The latest Garmins also have more advanced GPS, with support for multi-band reception and Galileo. Don't know what those are? It means you'll get reliable signals across a wider range of locations and environment types — but that probably won't have much of an effect if you plan on going for runs around your local park.
Garmins are clearly the obvious pick for the hardcore crowd. However, Fitbits tend to have a more deliberate sense of style, and their prices don't reach anything like the heights of the top Garmin trackers.
The "high end" Fitbit Sense and Charge 5 cost about as much as some entry-level Garmin models. These two in particular also have a couple of features not seen in Garmin rivals.
They have ECG/EKG hardware, to monitor sinus rhythm, and an EDA sensor (which uses the ECG hardware) that estimates stress levels. Both of these require active participation — you hold a finger to the watch bezel — but are nifty health-related extras.
Apple's Heart Study from 2019 found 34% of those who were given an alert from their Apple Watch's ECG did indeed have atrial fibrillation. It can be a genuinely useful feature from a health perspective.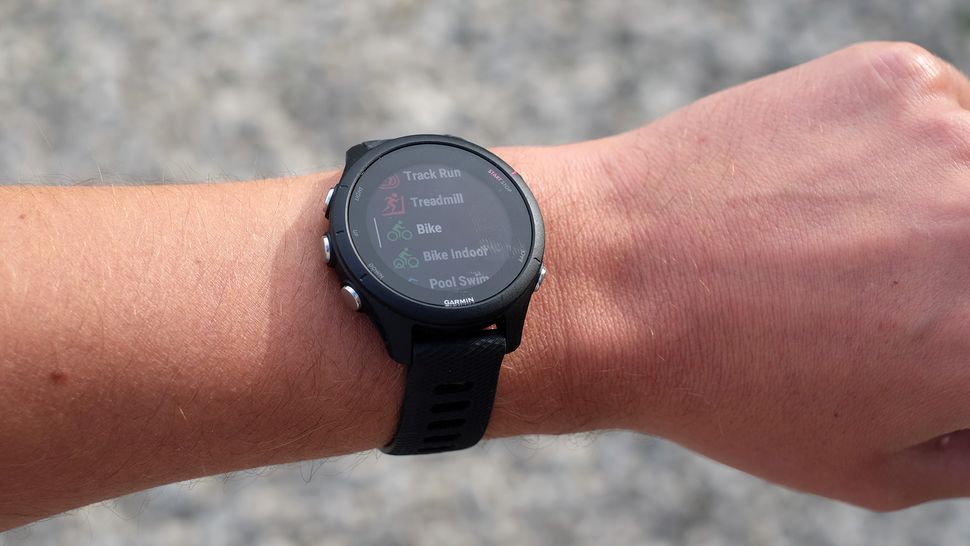 Fitbit vs Apple Watch
Fitbit makes a wider array of wearables than Apple. There's the affordable, petite Inspire 2 and its upmarket sibling the Fitbit Luxe. The trim Charge 5 has all the features a fitness tracker needs to less outlay than an Apple Watch.
Conversely, all Apple Watches look roundly similar aside from how much of the front is covered by screen. There's the lavish one, the more affordable one, and the old one: Watch Series 7, Watch SE and Watch Series 3.
Like that look? The Fitbit Versa and Sense watches get much closer to the Apple Watch style. However, even these last significantly longer than Apple's watches off a charge. Stamina varies between models, but at least 4-6 days is the norm for Fitbit, compared to roughly a day or so with an Apple Watch.
This makes Fitbits better for sleep tracking, and Fitbit probably still has the best sleep tracking software on the market right now (apart from maybe the Oura ring). However, to get the most out of a Fitbit you'll need a Premium subscription ($9.99/month). This offers additional stats and proper longer-term health metrics, as well as loads of workouts and mindfulness sessions.
An Apple Watch, regardless of the model you get, will have a better heart rate sensor than a Fitbit's. Even the best Fitbit Versa 3 and Sense trackers aren't close to Apple's for reliability and accuracy.
The Apple Watch also has the best app ecosystem of any watch. Want apps for third-part platforms, yoga tutorials or mindfulness exercises? Apple can't be beaten in this area.
Apple Fitness+, the equivalent to Fitbit Premium, is also more high-end than its Fitbit rival, packed with loads of high-quality video classes.
If the Apple Watch had Fitbit's battery life, this would be a fairly clean sweep for Apple. But it doesn't, and many will find a Fitbit easier to get along with longer-term.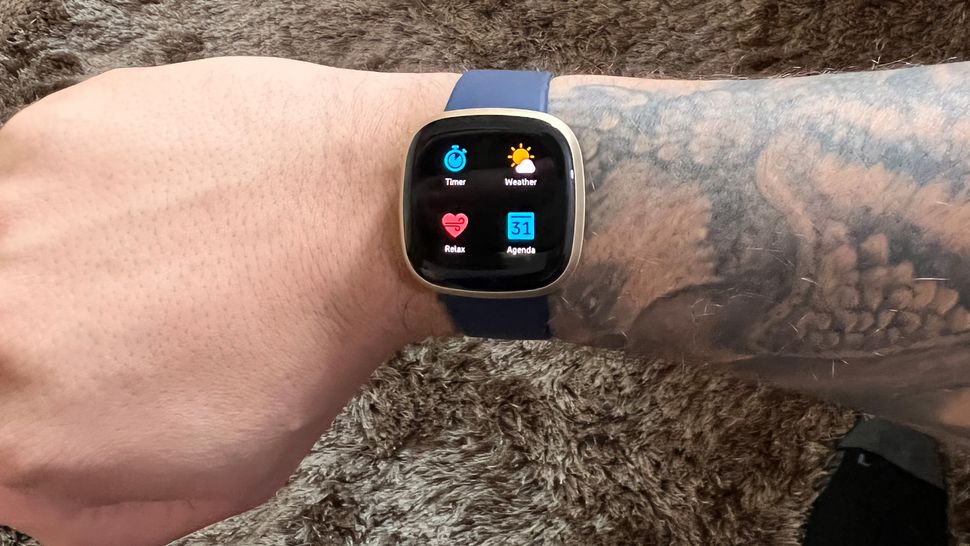 What is a fitness tracker good for
Back in the early days a fitness tracker was a step counter. Iconic models like the Fitbit Zip and Ultra would attach to your shorts or jeans, not your wrist.
Today, trackers can do a lot more, but they still count your steps. Most will measure your heart rate 24/7: handy for exercise, and your resting heart rate is a decent fitness and health indicator, as explored in a BMC Cardiovascular Disorders (opens in new tab) study published in 2020.
You can use a fitness tracker to monitor your sleep. And they are better-suited to the job than a smartwatch as trackers often last a week or more between battery charges.
Some fitness trackers have a feature that lets you sound an alarm on your phone should you misplace it. And nowadays plenty have advanced health and fitness features.
Any fitness tracker with GPS is a good tool for runners. Many can measure your SpO2 blood oxygen saturation, and a few high-end models have an ECG sensor. There are many stories of this alerting people to atrial fibrillation, a potentially life-saving move.
Fitness trackers frequently have "stress" monitoring, and guided mindfulness breathing exercises to help you lower that stress level. Even cheap fitness trackers will also relay notifications received, and this can be a useful if you want to spend less time on your phone after work.
Put the phone in another room, and you can still quickly check for important calls or emails with a quick wrist flick — no chance of getting sucked into YouTube/Facebook/Instagram for an hour.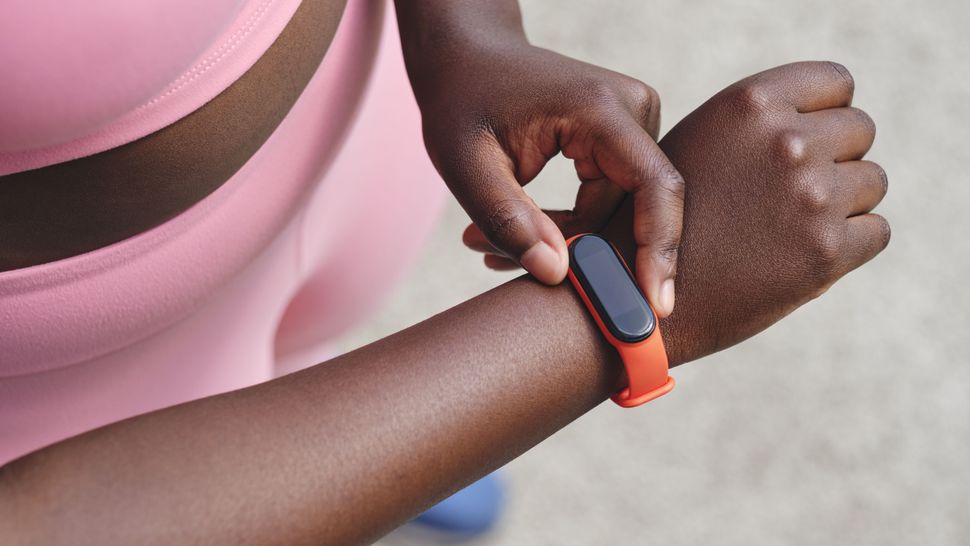 Are fitness trackers accurate
Fitness trackers record a bunch of metrics, each of which introduces accuracy headaches. For step counting, how does a tracker separate steps from hand movements while you work sat at a desk? How can a yoga tracking mode really judge calories burnt when it does not know your muscle tension or perhaps even the positions you adopt?
The best fitness trackers now offer good reliability in a few crucial areas, though, heart rate and location — which look at the distances you run or walk.
We find Apple Watches and some of the latest Garmin watches, like the Fenix 7, are top-tier performers for heart rate tracking. Apple led the pack for years, but others are starting to catch up. A 2019 study published in the Journal of Medical Internet Research (opens in new tab) found the Apple Watch offered "clinically acceptable accuracy" for HR tracking during exercise, a higher standard than it might sound — and that was for an old Apple Watch variant. However, it also found the watch overestimated calories burnt.
Almost all fitness trackers with GPS will provide fairly good distance stats, particularly if you give them time to lock-on properly before starting your session.
A lot of other trackers still struggle a little with heart rate readings, though. Interval training and very high exertion in general can be problematic, although in truth this is not a huge issue for most people. Are you really going to pore over the heart rate graph in your tracker's app?
SpO2 (blood oxygenation) readings can be more problematic, because we find most wearables can throw out highly suspect results at times. You will often get better results on a second or third attempt, but we frequently see readings that suggest we should head straight to the hospital from high-end trackers.
That said, a study published in Nature (opens in new tab) concluded the old Apple Watch Series 6 is a reliable enough way to monitor SpO2 in patients with lung conditions.
The best way to approach a fitness tracker's stats is to compare your exercise results to your own, from previous sessions. Comparing with a friend's tracker will expose the way different brands' algorithms color the results.
You should also make sure your tracker's strap is snug and firmly strapped on before starting a tracked exercise session. This will get you the best results from the heart rate sensor.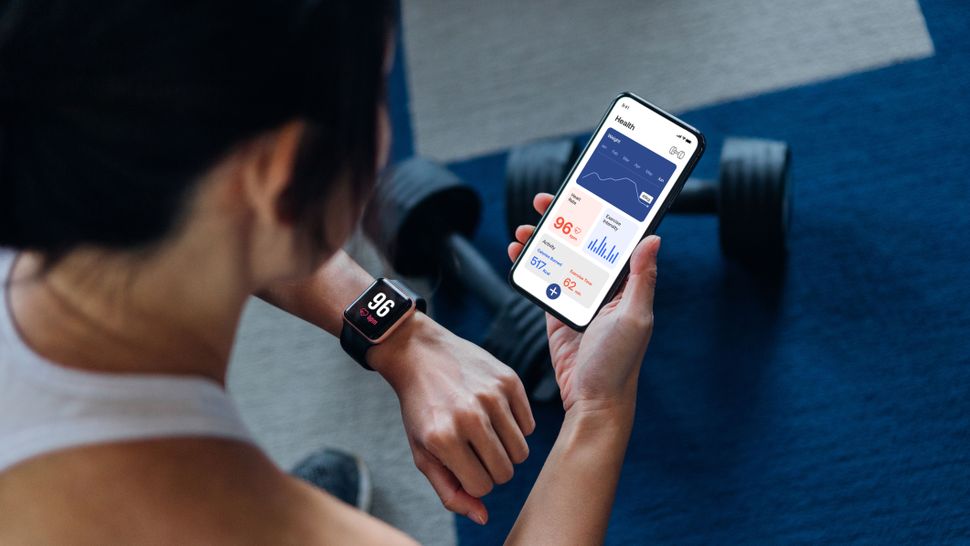 Can fitness trackers measure blood pressure
Right now there's only one mainstream consumer wearable that has true standalone blood pressure monitoring, the Huawei Watch D. And it is not widely available.
Samsung has offered blood pressure readings in its top watches since 2020's Galaxy Watch 3. However, the feature is only unlocked in certain countries/markets, and is much more limited than the Huawei Watch D's version.
Where the Huawei Watch D adopts the method used by blood pressure cuffs with a specialist strap that inflates, the Galaxy Watch uses the heart rate reader on the back to evaluate pulse transit time. Fitbit (opens in new tab) is researching a similar method, using pulse arrival time.
However, such methods that do not demand bespoke hardware do need to be regularly recalibrated using a traditional blood pressure cuff. Samsung says results should be taken with one every four weeks, for example.
Rumors of a blood pressure feature for Apple Watches have circulated for a while, but the latest report suggests we won't see it released until 2024. However, you can use an Apple Watch to log blood pressure readings taken elsewhere, in the Apple Health app. Apple sells Withings's BPM Connect smart blood pressure cuff at the Apple Store.
Blood pressure via a wearable? It's not quite there yet. And as the Huawei Watch D is expensive, hard to get hold of, and something we have not tested, you are better off with a more traditional cuff-style design for now.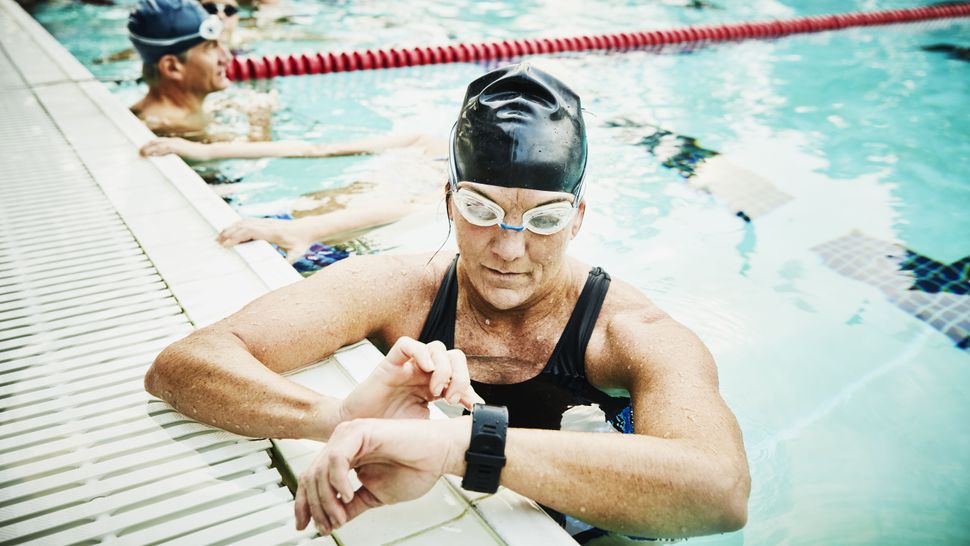 Why is GPS important in fitness trackers
GPS is arguably the most powerful tool for fitness trackers. It's why runners, keen walkers and cyclists should make sure their next fitness tracker has it.
GPS triangulates your position with the help of satellites. One of these satellite arrays is called "GPS", but today's best watches also support others like GLONASS and Galileo. Each of these satellite arrays is maintained by a different country, or set of countries.
By tracking your location, fitness trackers can produce maps of your runs, hikes and rides. These make historical records much more useful, so you can actually remember which workout an entry refers to.
Accurate distance data is also important because it affects so many other readings. If the recorded distance is too low, the tracker will think you are slower than you are. And this in turn could affect fitness metrics like VO2 Max. It works the other way around too, of course — too long a recorded distance and the tracker will say you are faster than you really are.
We always recommend a full GPS watch to runners in particular, but there is a second type of GPS. It's Connected GPS. This is where the tracker does not have its own GPS chip, but can take GPS data from your phone, over Bluetooth.
Many cheaper trackers without GPS have Connected GPS. And if you plan on running with your phone anyway, to listen to music or podcasts, it's a decent stand-in.
With no GPS at all, your tracker has to extrapolate distance using its motion sensors. It can count your strides and evaluate the pace of them to differentiate between running and walking. This can work pretty well with a good algorithm running behind the scenes, but GPS is better. And considering how cheap Connected GPS wearables get, we don't recommend entirely non-GPS watches to many folks these days.