Best running watches 2023: Find your next essential workout aid
Level up your training and rack up the miles with the best running watches — tried and tested by Live Science.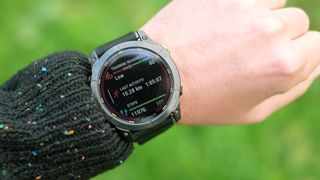 (Image credit: Andrew Williams)
The best running watches provide detailed tracking, workout stats and other useful health information to help you get fitter and faster. Whether you're a fan of Apple or Garmin or are more of a Fitbit fan, a good quality running watch can give invaluable insight into your stride, pace and progress.
The best running watches don't just record your distance and route. These smart wearables can also track GPS, heart rate, cadence, VO2 max, sleep and stress levels, sending you alerts and notifications from your phone.
What the expert says
"A good running watch not only lets you know how far, or how fast, you've been running, but it gives you a whole range of insights that you can use — along with your awareness of your body — to guide your training and monitor your fitness progress. " Kieran Alger, ultramarathon runner and fitness editor.
With so many options to choose from it can be a little overwhelming, but that's where the expert team at Live Science are here to help. We've created this detailed guide to cover all the best running wearables that we've tried and tested, so you can find the right product for your budget and goals.
Our tester has tried out each watch on this list, looking at how well it tracks indoor and outdoor runs, accuracy, smart features like health monitoring (stress and sleep) and the all-important battery life. If you don't need a running watch with all the bells and whistles, you might prefer to invest in one of the best fitness trackers, but for now read on for our guide to the best running watches.
Best running watches
Best running watch overall
Specifications
Screen size:
1.2 inch/1.3 inch/1.4 inch circular
Compatability:
Android and iOS
Battery life:
Up to 57 days
Reasons to buy
+
Huge battery life
+
Bright display
+
Onboard map storage
Reasons to avoid
-
Premium price tag
-
Solar charging is an optional extra
The Garmin Fenix 7 is the easiest of the brand's running watches to recommend thanks to its mix of a classy design with a wealth of fitness features. It has a metal chassis, so it's very durable, and the display is impressively bright at all times – ideal for running at night, or glancing at your wrist in bright daylight.
That display is "Always On" too, and still hits an impressive eighteen days of battery life (or up to 57 days with battery saver switched on). Thanks to built-in GPS and onboard storage for music, you can also leave your phone at home. Even better, the Fenix 7 can download a chunk of map data to help with navigation when you're out and about.
The only downside is that it's a pricey option, starting from $699 for the 42mm version. Still, it's an ideal choice for an intermediate runner looking to train harder and faster, and it works for cycling too.
---
Best budget running watch
Specifications
Compatability:
Android and iOS
Reasons to buy
+
Exceptionally cheap
+
Accurate health tracking
+
AMOLED display
Reasons to avoid
-
Lacks GPS
-
No onboard storage
The cheapest option on this list, the Huawei Band 7 confidently strolls into the Fitbit Inspire's territory at just $59.99 — if you can find it in the U.S.
For that almost imperceptibly low cost, you'll be able to track your heart rate, steps, and even blood oxygen levels for up to two weeks thanks to its long-lasting battery life.
There's even an AMOLED display that's full of color, and while it's very much a closed ecosystem in terms of what you can do with your data, it's a great first choice. You will, however, need to take your phone with you on runs since there's no GPS or onboard storage on offer.
---
Best value for money
Specifications
Compatibility:
iOS and Android
Battery life:
Up to 23 days
Reasons to buy
+
Bursting with features
+
Significantly cheaper than the Epix 2
+
Good stat accuracy
Reasons to avoid
-
5ATM water resistance doesn't match Garmin's best
-
The design is friendlier than the price
-
Still mostly a plastic resin watch
If the Garmin Fenix 7 is (understandably) a little too pricey, the Forerunner 965 is still an excellent running watch that's well worth a look. You lose the metal back (the Forerunner 965 is mostly plastic), some water resistance and other features, but it's still a great option and arguably even better for newer runners.
The Garmin Forerunner 965 combines our favorite bits of traditional best Garmin watches, with the gloss of more smartwatch-style tech. It's a good combo. Our take on the design is that, despite the shift to a fancy bezel, this is pretty much classic Forerunner watch design. It's less rugged-feeling than either the Epix 2 or Fenix 7, with less of a built-up screen surround.
It also lacks a couple of the most shiny, smartwatch-like bits of the Garmin Venu 2 Plus. There's no support for Alexa here, or a built-in speaker beyond a little beeper. We don't miss either, although some might like the idea of a Garmin announcing their performance at each kilometer of a run, through a built-in speaker, as some Huawei and Amazfit watches do.
---
Best affordable Garmin running watch
Specifications
Screen size:
1.1in or 1.3in AMOLED screen ( 360 x 360, 416 x 416 resolution)
Comptability :
iOS and Android
Battery life:
Up to 15 days
Reasons to buy
+
Good HR and tracking accuracy
+
Lots of higher-end exercise features
+
OLED screen is lovely
Reasons to avoid
-
A little pricey for a plastic watch
-
No on-watch maps
The Forerunner 265 is a Forerunner 255 with OLED. It's a Garmin Epix alternative that puts much less of a dent in your savings. Or it's a Garmin Venu 2 that trades in a little design gloss for some more advanced fitness features.
We think it is a killer combo. The model we're reviewing is the smaller Forerunner 265S, but there's none of the usual battery life compromise common to smaller watches here — official figures suggest it actually lasts slightly longer than the larger Forerunner 265, making it one of the best fitness trackers of this year.
The Forerunner 265 and Forerunner 265S launched in March 2023, alongside the Forerunner 965.
The screen is the main event here. It's a 1.1-inch 360 x 360 pixel OLED, or a 1.3-inch 416 x 416 pixel one in the Forerunner 265. While it doesn't fill out the front of the watch like the Apple Watch Series 8's display, this little screen has everything we're looking for.
It's very sharp, super-colorful, and easily bright enough to work for outdoors exercise sessions on sunny days. This screen's job is to make an argument for itself over the Forerunner 255's transflective screen, and it's pretty persuasive, particularly when it's a touch display too. The Forerunner 255's is not.
---
Best running watch for iPhone users
Specifications
Screen size:
1.6 inch/1.77 inch
Reasons to buy
+
Good for general fitness
+
Third-party app integration
+
Most advanced smartwatch
Reasons to avoid
-
Poor battery life
-
You may not need all the extra features
The Apple Watch Series 8 isn't a huge upgrade on the Series 7, with temperature sensors to help with fertility tracking and crash detection functionality the only truly new features. Still, that's not necessarily a bad thing since the product line is far beyond the capabilities of its competitors.
With its own version of the App Store with hundreds of Apple Watch apps, and the option to use third-party running options like Strava, it's also got a large, bright display and an endless variety of strap options.
In fact, the biggest issue is its battery life. While Apple has added a new low-power mode, you'll tend to get between two and three days if you're not using it often or switch the "always-on" display off. That's some way short of the competitors on this list.
---
Best premium running watch
Specifications
Screen size:
1.4 inch circular
Compatibility:
iOS and Android
Battery life:
Up to 34-days
Reasons to buy
+
Comfortable
+
Accurate statistics
+
Excellent battery life
Reasons to avoid
-
Very expensive
-
Similar to the Fenix 7 (which is cheaper)
The Garmin Enduro 2 is not for newcomers to running and is squarely focused on the most hardcore cardio enthusiasts, with a price tag that starts at $1099 – twice that of the Apple Watch Series 8.
For one, it can last for longer than a month, and more than 40 days with solar charging. Despite its slate of features, it's surprisingly compact and comfortable on the wrist – although those with smaller wrists may want to look elsewhere.
It offers both buttons and a touchscreen, excellent map support, and a "super bright" LED torch to help signal or keep an eye on what's in front of you. If you're new to running, it's not for you, but if you're preparing for an ultra-marathon or something just as challenging, you'll find a lot to love.
---
An affordable running watch for beginners
Specifications
Screen size:
1.2 inch circular
Compatibility:
Android and iOS
Reasons to buy
+
Lighter than the competition
+
Good battery life
+
Affordable price point
Reasons to avoid
-
Lacks features like music playback
-
No fitness data sync
The Coros Pace 2 is a great running watch that focuses on a core set of features that won't trouble the most expensive players, but certainly offers plenty to consider.
For one, it's relatively affordable at around $199 and offers 20-days of battery life, blowing the Apple Watch right out of the water. It still has a built-in GPS, which lasts up to 30 hours (making it suitable for marathon or ultra marathon runners) and it's lightweight too, with a comfortable nylon strap.
We tested the Coros Pace 2 alongside the Apple Watch Ultra we use daily and found its heart rate and fitness data (including the likes of step count and calories burned) to be in line. That's impressive given it costs around a quarter of the price of Apple's premium watch.
Sadly, you can't play audio directly from the device and information from the Coros app doesn't sync with health apps on Apple or Google. Still, it's a good-looking device, that's a great budget option for beginners.
---
A good multi-sport option
Specifications
Screen size:
1.2 inch circular
Compatibility:
Android and iOS
Reasons to buy
+
Great software
+
Lightweight but durable
+
Workout recommendations
Reasons to avoid
-
Passable battery life
-
Lacking smartwatch features
This multi-sport option from Polar is priced well, and offers a circular display that looks great in all lighting conditions. It's also got a design that makes it look like a Garmin offshoot, with a sense of ruggedness despite its lightweight nature (it's only 64g).
The Polar Grit X's secret weapon, though, is the Polar Flow app which is available on Android and iOS and lets users set goals and plan workouts across over 130 sports profiles. There's automatic navigation too, so you can plot a route before your run, and daily workouts tailored to how rested you are.
The five-day battery life isn't the best, though, and it lacks the option to stream audio on the watch itself or store maps offline.
---
How we test
How do we test running watches at Live Science?
Finding the right running watch isn't an easy task, with these complex bits of fitness kit now packing more innovative features than ever before. So, we made it our mission to simplify the process for you.
To do this, we got our hands on some of the best running watches on the market and set about testing them. As you'd expect, we made sure each one had all the metrics you need to track your runs; from pace and cadence to continuous heart rate tracking and an in-built GPS. We also checked any other features on offer, with many modern running watches (like the Garmin 6X Pro Solar) offering multi-sport tracking and health monitoring alongside the usual sport-specific running feedback.
After assessing everything each watch had to offer, as well as practical aspects such as their comfort and design, each one was awarded a score out of five stars.
---
FAQs
How to choose the best running watch
The best running watches for some may not be the same for others, and there are a few things to consider when purchasing one.
Firstly, if you're new to the hobby, you're going to want to consider your budget. There are all-singing, all-dancing options that break the $1000 mark, but that doesn't mean you should go all in. Naturally, if you're a keen runner and want to get all of the features on offer, you may find a reason to go a little bigger.
Secondly, not all running watches are built equally, and while you'll no doubt find an array of basic features across all of them (step and calorie tracking and heart rate monitoring), some add more data or more features than others. For example, if you're planning to run a marathon, you may want something that offers a longer battery life, as well as built-in coaching to help you reach your distance or pace goal.
You may also want a watch that writes its data to third-party apps, like popular running app Strava, or that features a built-in GPS so you can leave your phone at home. Many even offer storage so you store music to play when you're out and about.
If possible, it's always helpful to try on a watch, too. Some are larger than others or come in multiple sizes, and users with smaller wrists may want to check strap sizes. This can often affect the display size, so be sure to pick one that's easily readable in all conditions.
Finally, there are some watches that only work on Android or iOS, so your choice of phone could have a big bearing on the best running watch you can pick up.
Our expert
Kieran Alger is a fitness editor and writer on all things tech, running, health & fitness. He is an ultramarathon and marathon runner and cofounder of The Run Testers, who review the best and latest running products after putting them to the test in the field.
Stay up to date on the latest science news by signing up for our Essentials newsletter.
Lloyd Coombes freelance tech and fitness writer for Live Science. He's an expert in all things Apple as well as in computer and gaming tech, with previous works published on TopTenReviews, Space.com, Dexerto and TechRadar. You'll find him regularly testing the latest MacBook or iPhone, but he spends most of his time writing about video games as Editor in Chief at GGRecon.com. He also covers board games and virtual reality, just to round out the nerdy pursuits.