Best running headphones 2023: Step up your workout
Power up your workouts with the best running headphones, including top picks from Bose, Samsung and more.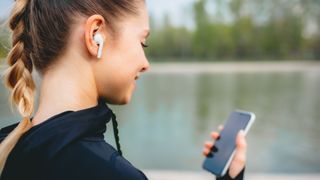 (Image credit: Getty)
There's something so freeing about running, and that sense of freedom extends to the best running headphones.
The finest in portable wireless playback should be easy to use, and not get in your way - and the widespread adoption of "true wireless" Bluetooth as an industry standard makes this much easier.
Whether you're connecting them to your phone or your fitness tracker, the best running headphones can help you power your way to the top of a hill, hit a new best time, or let you run further than ever.
If you're looking for the best way to listen to your running playlist or a podcast to take your mind off the muscle ache, here's our list of the best running headphones you can find today
Best running headphones
Best running headphones for most people
Specifications
Smart enabled/compatibility: :
Yes
Battery life: :
8 hours with ANC, 10 hours without (up to 30 hours with charging case)
Reasons to buy
+
Fantastic fit
+
Waterproof and dustproof
+
Great battery life
Reasons to avoid
-
No track skipping on touch controls
-
Silicone wings can ache when wearing for a long time
The Pro's predecessor, the JBL Reflect Flow headphones, were widely adored for their solid sound quality, brilliant fit and value for money. Fortunately, we found their successor only improves upon their already impressive performance.
They have an upgraded IP68 rating for dust and water resistance meaning that, while they're not intended for swimming, they can hold up through the most treacherous of trail runs. They have also added in adaptive noise canceling, so you can choose between total noise cancellation, ambient aware or "talk thru" modes to decide how much external sound you want to hear. This is great if you want to focus on your run without distractions or allow the atmosphere of a race day crowd in while running to your favorite tunes. We found the active noise canceling was good, though it didn't quite hit the empty room-esque heights of the Soundcore buds (read more about these below).
When it came to sound quality, we were impressed again. Rather than the bass-heavy sound that so many sports headphones default to, the JBL Reflect Flow Pros provided a pleasing level of balance and detail.
However, where these headphones really excel is the fit. They come with a selection of three interchangeable silicone tips and four silicone "powerfins" that sit against the inside of the ear, so you can find the right size for you (something you can check through the clever "check my best fit" feature on the app). And, after using this handy feature, we found the earbuds stayed perfectly in place throughout an intense sprint session and a HIIT workout.
The powerfins are quite rigid meaning we found our ears could begin to ache during longer wears, but for those who prefer running fast and tackling intense exercise sessions like HIIT, we think the JBL Reflect Flow Pros excellent fit and sound make them a top option.
User reviews
The JBL Reflect Flow Pro headphones have an average rating of 4.1 stars out of five from more than 230 user reviews on Amazon. Buyers praise their "punchy sound" and say the "talk thru" mode is a fantastic option to have while working out, though some raise concerns over the comfort of the silicone fins. Several people suggest buying alternatives to solve this problem.
---
Best running headphones for a secure fit
Specifications
Smart enabled/compatibility::
Yes
Waterproof: :
IPX7, splashproof
Battery life: :
9 hours (or 24 hours with the charging case)
Reasons to buy
+
Secure, comfortable fit thanks to ear hooks
+
Buttons on the earbuds are easier to use than touch controls while exercising
+
Sleek design
Reasons to avoid
-
No active noise cancellation
-
iPhone bias
-
Expensive
When Apple dropped the first AirPods in 2016 (thrusting true wireless headphones into the limelight in the process) many feared the tiny tech would tumble from their ears, never to be seen again. Fortunately, with the PowerBeats Pro, there's no risk of this.
They have plastic hooks that sit snug around the ear to keep the earbuds in place. These are slightly malleable, so you can push them into position to ensure a slightly customized fit. When you combine these hooks with a selection of silicone tips designed to offer a secure seal, you're left with a foolproof, comfortable fit.
For this reason, along with their nine-hour battery life on a single charge, we think these would marry well with endurance athletes or marathon runners-in-the-making. After all, if you're going to hit the 26.2 mile mark, the last thing you need is your headphones failing you or causing any additional discomfort.
We also liked the inclusion of buttons (a volume rocker and action buttons on either earbud) rather than touch controls. We found these were easier to use while on the move, and were less likely to be triggered when accidentally brushed by a sweat-mopping forearm.
There is one big omission from the PowerBeats Pro though: ANC. Given these are Apple's premier sports earbuds, it's a feature we would have expected to see, but the solid seal offered by the silicone earbuds and the 12mm driver size means you still enjoy good quality audio. Acoustics aficionados may also want a more powerful sound, but they still offer a better listening experience than most headphones.
User reviews
The Powerbeats Pro are undoubtedly popular, and their performance has earned them acclaim among customers too with an average score of 4.6 stars from over 64,000 reviews on Amazon. Satisfied customers picked out their secure fit and iOS compatibility as particular perks. A few buyers said the sound lacked mid-range, but overall 79% of those to have splashed on the earbuds awarded them the full five stars.
---
Best running headphones for value
Specifications
Smart enabled/compatibility: :
Yes
Waterproof: :
IPX7 waterproof
Battery life: :
100 hours playtime in case, 7 hours playtime without
Reasons to buy
+
Seven earbud options to pick from
+
Improved battery life up to 100 hours in case
+
Bluetooth 5.0 technology
Reasons to avoid
-
Button control rather than touch
-
No app
Tracking down a top pair of running headphones for under $100 can be a more arduous task than a 10K with a pebble in your shoe, but we think we've cracked it.
The sleek Mifo O5 Plus Gen 2 earbuds look like something out of James Bond's box of tricks, and they're incredibly comfortable too. With a choice of seven sizes of silicone bud, you're sure to find a set to provide a good seal (which, instead of ANC, provides passive noise canceling). We found we were able to run, jump, burpee and box jump to our heart's content without them coming loose. What's more, their impressive IPX7 waterproof rating means they'll easily survive the heaviest of downpours.
Their battery life is impressive. The earbuds alone will do seven hours on a single charge, which is a solid performance by most true wireless headphones' standards. But when the metallic portable charging case is brought into consideration, this figure flies up to over 100 hours. Pair this with the fact that you can charge them up in just 20 minutes and you've got a whole lot of playback time before you have to seek out a mains outlet again.
The sound quality may not meet dedicated audiophiles' expectations, as we found it was good without venturing into the mind-blowing realms of the Bose and Soundcore sets. But they were incredibly comfortable for longer wears — something we think makes them a good fit for trail runners after a hardy, long-lasting and secure pair of headphones.
User reviews
Mifo reviews online are largely positive, resulting in a rating of 4.2 out of a possible five stars on Amazon.Their rarely-rivaled battery life of over 100 hours, when you consider the charging case, is singled out for praise by several reviewers, while their comparatively affordable price tag was also appreciated. However, some low-scoring reviews reference a poor fit, saying the buds fell out while being worn.
---
Best running headphones for health tracking
Specifications
Smart enabled/compatibility: :
Yes
Waterproof: :
IP55 dust and sweat resistant, unsuitable for swimming
Battery life: :
9 hours of playtime (up to 30 hours with charging case) ANC off. 5hrs 45 playtime (up to 19 hours with charging case) ANC on.15-minute charge offers 2.5 hours playback
Reasons to buy
+
Health monitoring capabilities
+
Four noise cancellation ANC settings
+
Customizable bass and sound equaliser
Reasons to avoid
-
Less secure fit than other models
-
Battery life drains with ANC active
The Amazfit PowerBuds Pro earbuds surprised us; we weren't expecting heart rate monitoring capabilities from our headphones. Amazfit has thrown the kitchen sink at this model, ergonomically designing their earbuds to seal to the wearer's ear and deliver thudding bass and precision sound, along with a wealth of health and tracking features via their partner app.
We tested this model across several workouts, including high and low-intensity exercises to see how they fared. Four ear tips promise to help secure a reliable fit, but we struggled to find ones that held the PowerBuds in and wouldn't recommend them during rigorous exercises like sprinting.
Four intelligent ANC (noise cancellation) settings tailor to your environment, helping to filter unwanted distractions while retaining important audio like announcements and traffic to keep you safe without ruining your music experience. Transparency mode filters exterior sound back to your ears so you can chat with mates while you move.
These earphones house multiple mics and a heart rate sensor to deliver real-time heart rate feedback. You can sync workout stats to your app, including metrics on distance and calories, and modify your earbud's touch control settings in-app, too. Advanced features allow you to set alerts for high resting heart rate detection and posture, sending music to your earbuds to encourage you to move. These buds deliver on sound and extra tech.
User reviews
There aren't too many reviews of the Amazfit Powerbuds Pro Earbuds on Amazon (44 at the time of writing, to be exact) but most are favorable. This results in an average rating of 3.9 out of five stars. Among the few written reviews available, those to award the earbuds five stars complement their fit and nine-hour battery life. Meanwhile, one-star reviews appear to revolve around issues with faulty tech (for example, one earphone having stopped working or losing battery faster than the other).
---
Best running headphones for blocking out noise
Specifications
Smart enabled/compatibility: :
Yes
Waterproof: :
IPX4 waterproof
Battery life: :
8 hours of playtime (up to 32 hours with charging case) and 15-minute charge time
Bluetooth: :
Yes, up to 2 devices
Reasons to buy
+
Four earbud and wing options to pick from
+
Noise cancellation HearID technology
+
Brilliant sound quality
Reasons to avoid
-
Less secure than wraparound models
-
Chunky design sticks out of your ear
-
Battery life drains quicker with ANC on
The Soundcore Liberty 3 headphones deliver brilliant sound without breaking the bank. So, true musos searching for a set of earbuds that won't do their favorite playlists a disservice are in luck. You can customize your sound in the Soundcore app too, tinkering with the EQ to suit different genres or popping them into a "professional mode" which has been designed by Grammy-winning producers.
They have 3D surround sound and remarkably efficient HearID noise cancellation (ANC) too, so you can block out distractions if you want to zone in on your performance. We'd recommend switching to transparency mode (which lets in some external sound) if you're running near roads though, as it really is effective.
But, one downside we did come across was that the fit isn't as secure as many of their competitors. They come with a choice of four different silicone tips and wings so you can find the right size to provide your ears with a good seal, and we found these worked well to keep them in place during low impact workouts like weight training and yoga. But even with these we found they would come loose or wobble during fast-paced runs and other higher impact activities.
So, if you want some earbuds to soundtrack your sprint sessions, this Soundcore Liberty 3 Pro pair probably isn't for you. However, if you're a music-lover looking for a set of headphones for everyday wear, or to use exclusively for slower-paced runs and less intense exercise, then you'll relish their fantastic sound quality.
User reviews
The Soundcore Liberty 3 Pro Earbuds have a 4.6 star user rating on the brand's website, and a score of 4.3 on Amazon. Buyers hail them as an "affordable yet quality pair of true wireless earbuds" with a good proportion clamoring at the impressive sound. Even many of the negative reviews admit the sound is something to be admired, but they criticize the headphone's "connectivity issues".
---
Best headphones for Samsung users
Specifications
Smart enabled/compatibility: :
Android and Samsung Galaxy. Apple users can connect via Bluetooth but can't access the app
Waterproof: :
Yes, IPX7 - sweat and water resistant
Battery life::
5 hours playtime, 15 more with a fully charged case
Reasons to buy
+
Three ear tip options
+
Noise cancellation ANC technology
+
High-quality sound
Reasons to avoid
-
Less secure than ear hook earbuds
-
App isn't compatible with Apple iOS
-
Requires max volume in loud places
The Samsung Galaxy Buds2 offer a faultless Bluetooth connection for Android and iPhone users, and they sit very securely in your ears — we barely needed to adjust them during testing.
Samsung has designed the buds to connect with other Samsung wearables and work with their partner app — the Samsung Galaxy Wearable app — giving you full autonomy over earbud controls and allowing you to personalize your sound using various settings.
Tech-backed 360 sound ups the audio quality tenfold, regardless of what device you connect to, but the app is only available for Android and Galaxy users with this model. iPhone users can still connect via Bluetooth and use basic touch controls by tapping the buds to pause, stop, and play. But the app allows Android users to do more like set notifications, integrate Spotify, use equalizer settings, and access features like 'find my earbuds.'
ANC (noise-cancellation) settings are also available in-app, and two outer and one inner mic detect ambient noise to improve sound quality and block out external noise, creating a truly immersive music experience.
We paired these buds with our iPhone, which meant our experience was limited, but the sound quality continues to be brilliant. Outdoors, we had to max out the volume to reduce traffic noise, but being able to tap the earbud to start and stop music was handy when running. Although, we accidentally activated them a few times when adjusting the fit.
User reviews
With a 4.5 out of five rating on Amazon and the Samsung website, the Galaxy Buds 2 leave a trail of happy customers in their wake. People say they are happy with the sleek design and sound quality, but some complaints state the fit didn't feel secure and the buds had a tendency to fall out.
---
Best running headphones for audiophiles
Specifications
Smart enabled/compatibility: :
Yes
Waterproof: :
IPX4, protected from sweat and rain
Battery life: :
Up to 5 hours (up to 10 hours with portable charging case)
Reasons to buy
+
Great sound
+
Incredibly comfortable
+
Secure fit
Reasons to avoid
-
Quite bulky
-
Case feels cheap
-
Relatively low battery life
You don't need to be an acoustics expert to know the difference between budget headphones and a quality pair. When you pop the Bose Sports in your ears and press play, you know you're dealing with the latter.
The sound is rich and smooth, with balance and detail that will do your music justice — whatever the genre. We also found they sounded great with podcasts and videos, so if you're after a set of headphones for running routes and commutes alike, the Bose Sports are more than up to the task.
They offer a fantastic fit too thanks to their unique "StayHear Max'' silicone tips and wings. After placing these in our ears and twisting them backwards slightly to lock them into place, we found they were unmoving during longer runs and even a quick interval session. What's more, because the silicone is softer and more forgiving than other models like the JBL Reflect Flow Pro, our ears never ached and we almost forgot we were wearing them.
The Bose Sport's touch controls are more comprehensive than their competitors too. There are no single tap commands, minimizing the risk of an accidental press, while double taps, holds and swipes can pause, play, skip tracks and alter the volume. You can also set a shortcut on the left earbud to automatically open and play Spotify, which we liked as it minimized pre-workout distractions.
The frames are slightly bulkier than most, protruding from the ear slightly, and they (along with the case) have a plastic finish that makes them feel slightly less premium than the likes of the Mifo O5s or Adidas FWD 02s. There is also no ANC, which is a shame.
But don't let this take away from their overall performance. If there was a venn diagram representing music lovers and sports fans, these headphones' reliable fit, comfort and warm sound would make a great investment for anyone in the midsection.
User reviews
The Bose Sport earbuds have an average score of 4.4 stars on both the Bose website and Amazon, having accumulated over 29,000 reviews. Positive feedback tends to center around the sound quality, fit and comfort, with exercisers saying they stayed securely in their ears while running and working out. The person to leave the "most popular critical review" said the battery life was disappointing and the buds didn't fit well in their ears, but judging by the spread of 1-5 star reviews this is only an issue for the minority and was not something we experienced.
---
Best on-ear earbuds — stay in touch with your surroundings as you listen
Specifications
Smart enabled/compatibility: :
Yes
Battery life: :
Up to 7 hours (up to 28 hours with portable charging case)
Reasons to buy
+
Impressive audio
+
Comfortable to wear for long periods
+
Sit on, rather than in your ears
Reasons to avoid
-
No noise isolation
-
Pricey
-
Sound leakage at higher volumes
When is an earbud a pair of headphones? That's the question asked by the Shokz OpenFit that we reviewed this month, which are on-ear earbuds that don't need to go into your ear at all.
Instead, they offer around it, playing audio from four speakers with impressive fidelity. That makes them nice and comfortable for long periods but does come with some downsides.
For one, there's no noise cancellation, despite these costing $180, and then there's a lack of noise isolation — you'll still hear a lot of ambient noise. This is a selling point for some, for people who still want to hear the sounds of their environment as well as listening to music.
They're an excellent alternative to the more traditional in-ear earbuds that may be just what you've been looking for, especially if you can't have or don't like having things inside your ears.
User reviews
Amazon.com offers an average rating of 4.3 stars for the Shokz OpenFit, with many noting the comfort afforded by not having to jam them into your ears.
One reviewer also noted that they feel comfortable to wear alongside glasses, with excellent audio quality. There are many reviews stating that the Shokz OpenFit are great for people who can't put things in their ears, whether that be due to an ear problem, piercings or hearing aids.
---
Best bone conduction running headphones
Specifications
Smart enabled/compatibility: :
Yes
Waterproof: :
IP67, complete protection against dust and waterproof
Reasons to buy
+
They use bone conduction tech, so there's nothing blocking your ears
+
Comfortable
+
Good for running in cities as they allow ambient noise in
Reasons to avoid
-
No ANC or sound isolation if you want to block out external noises
-
No portable charging case
And now for something completely different. The Shokz OpenRun headphones, formerly known as the Aftershokz Aeropex, sit in front of the ear and use bone conduction technology to transmit sound to your inner ear via vibrations in your cheekbones.
If you're new to this phenomenon, it might take a second to get used to, but the open-ear design has many benefits. If you tend to run on roads or in busy city environments, Shokz promises these headphones will allow for "total awareness of your surroundings" so you can rack up the miles in safety. They're also great if you run with a buddy, as you can talk without pausing your music.
However, the open-ear design does mean they can't offer ANC or sound isolation, meaning they're not great for anyone wanting to drown out their gym's outdated radio. Instead, these should be reserved for outdoor pursuits like running, hiking and cycling.
They do offer an impressive sound that might surprise those new to bone conduction technology though, and can pack a punch when you crank up the volume. We still found the OpenRuns didn't have the same power or clarity as in-ear buds, but if you don't like the feeling of in-ear silicone buds then Shokz should be your first port of call.
User reviews
The Shokz OpenRun headphones have a loyal band of bone conduction converts, and this is clear from their impressive 4.6 star rating from more than 6,800 reviews on Amazon. Runners and cyclists say they liked being able to hear traffic around them while enjoying solid sound quality, and they never felt like they were going to fall from their head. However, some buyers said they weren't satisfied with the sound quality, and a few people said they didn't like the light vibrations they could feel in their bones when using them.
---
Best running headphones for sensitive ears
Specifications
Smart enabled/compatibility: :
Yes
Waterproof::
IP57, dust resistant and waterproof up to one meter
Battery life: :
Up to 7 hours (28 hours with charging case)
Reasons to buy
+
Natural, comfortable fit
+
Incredible, immersive sound
+
ANC
Reasons to avoid
-
Button controls are a bit fiddly
-
Plastic case feels cheap
As the old adage goes: If it ain't broke, don't fix it. The Jabra Elite 4 Active earbuds take this tack, steering clear of reinventing the wheel and instead offering a solid pair of sports headphones that deliver a stable, natural fit and impressive sound. What more could you want?
Instead of silicone wings or ear hooks, they instead opt for an ergonomic frame designed to move with you as you exercise. We were initially skeptical about this lack of security features, but lo and behold it did its job admirably. This is great news for anyone who doesn't like the feeling of too much pressure on their ears or finds the area sensitive, providing a more natural feeling alternative to other mainstream sports earbuds.
This isn't the only good news for your ears either; they also offer ANC, customizable equalizer and an immersive sound. The result? Our music has rarely sounded better, and we could really feel the extra oomph of the audio as we took on testing topography.
If you want to take them off-piste and on to the trails, you don't need to worry about dirt or splash damage either. They have IP57-rated water and sweatproofing, so perspiration and precipitation needn't be a concern when wearing them.
They don't have touch controls, with each earbud instead having a concealed button on the outside of its frame. However, we found these could be a bit fiddly to press, and required a fair bit of force so the earbuds could be pushed into our ear.
User reviews
We are big fans of the Jabra Elite 4 Active headphones. And so, it seems, are other Jabra customers, with the earbuds earning an average score of 4.4 out of five stars on Amazon. One Jabra fan said they picked up a pair after years of using the successful Jabra Elite 75t, and found the Elite 4 Actives improved on their sound and ANC while maintaining their secure fit, despite being slightly bulkier.
---
Best running headphones for trail running
Specifications
Smart enabled/compatibility: :
Yes
Waterproof: :
IP68-rated, can be submerged in water for over 30 minutes
Battery life: :
8 hours (24 hours with charging case)
Reasons to buy
+
IP68-rated
+
Comfortable
+
Fast charging feature
When it comes to building bulletproof tech, Jaybird weren't messing around with the Vista 2. The earbuds have a robust IP68 rating, putting them at the upper limits of the dust and waterproofing scale. Even the sleek, compact charging case is IP54-rated or "weatherproof", making it a great traveling companion for trail runners.
They have four mics and are made with "WindDefense" fabric on the frame, so strong gusts won't hamper your listening even if you're running along the coast or summiting mountainous terrain. And, if you have a long run on the horizon, the eight-hour battery life should ensure you're entertained throughout. A five-minute top-up in the case will also give you an extra hour of playback, which is a feature we really liked.
The Jaybird Vista 2s shouldn't just be commended for their durability credentials though. We found the sound was powerful yet pleasingly detailed, particularly when we played with the EQ settings in the Jaybird app to find our ideal balance. The app will also give you the option to customize the button controls (each earbud has a button built into the frame) and choose between semi-effective ANC or SurroundSense — a set-up that allows some external noise in.
Overall, we found these headphones can handle most environments and offer great sound throughout. As a result, they would make a worthy addition to the ears of any trail runner, hardy hiker or adventurous exerciser.
User reviews
The Jaybird Vista 2s have a slightly lower average rating on Amazon than other headphones on this list, with a score of 3.9 from around 2,100 reviews. It appears to be a case of peaks and troughs, with over 1,000 five-star reviews and one customer calling them the "best buds out there" after comparing them to the likes of Bose and Sennheiser. However, others complain about poor ANC and say the earbuds begin to ache after being worn for a long time.
---
Best running headphones for comfort
Specifications
Battery life:
6 hours (19 hours with the charging case)
Reasons to buy
+
Comfortable, secure fit
+
Custom-made for runners with a bass-heavy sound
+
Premium look and feel
Reasons to avoid
-
Expensive
-
Charging case doesn't feel protective
-
No ANC
Among the likes of audio royalty such as Bose and Beats, Adidas may be a surprising name to see in this list. But don't overlook these excellent earbuds, they're designed from the ground-up to be optimized for running, and we think the brand has nailed its brief.
Nowhere is this more evident than the fit. Of all the headphones we tested, these were by far the most comfortable, and placing them into our ears felt as natural as slipping on a sock. They didn't let us down during runs and other exercise sessions either, with a choice of four silicone tips and four wings so you can find the right size for you via trial and error. Once we'd found a combination that worked, we found these headphones didn't come dislodged — whether we were out on a fast 5K or hitting handstand push-ups in a CrossFit box.
The sound is powerful, with a booming bass that lends itself well to electronic music. There is no ANC, and those who prefer working out to softer genres may want a more cleaner sound, but you can play with the EQ settings in the Adidas Headphones app to nullify this somewhat.
The earbuds themselves feel robust, with a premium rubberised finish, and the charging case looks cool at first with its fabric lid. After using them though, we would've preferred a sturdier case to inspire confidence when we popped them loose into our kit bag.
User reviews
The Adidas FWD-02 Sport True Wireless Earbuds earn a full five stars out of five on the Adidas website, albeit from just three reviews. On Amazon, they have a slightly lower score of 4.3 from over 100 pieces of feedback. They draw compliments for their shape and design, with one person saying they have "probably the best fit I've tried for working out" — something we would be inclined to agree with. However, while plenty are satisfied with the sound quality, some people say they expected higher sound quality for the price.
---
The best budget running headphones for shorter distances
Specifications
Waterproof:
IPX5 sweat and water resistant
Battery life:
6 hours (up to 24 hours with charging case)
Reasons to buy
+
Great value for money
+
Good sound quality
+
Comfortable and secure fit
Reasons to avoid
-
App may not work on some devices
-
Touch controls are slow to respond
If you're on a budget but don't want to sacrifice sound quality or comfort, the Earfun Air S are a great option. These headphones come in under $80 (and can often be found for even cheaper) yet provide high quality sound, functionality and a comfortable fit that holds up even during the toughest interval sessions.
The Earfun Air S have a similar design to the Amazfit PowerBuds Pro and Apple Airpods. They sit comfortably in the ear, providing a cozy and secure fit. The silicone buds are soft and amenable, and come in four different sizes. We didn't experience any aching during longer wears — quite the opposite, we found that it is quite easy to forget you're wearing them at all.
We found the earbuds delivered sound that was clear and detailed, striking a good balance between low and high frequencies (bass and treble). The volume settings are quite broad and finely tuned.
The Active Noise Canceling (ANC) mode and the Ambient Sound mode (the opposite of noise canceling) may fall slightly short of expectations. ANC helps reduce the volume of background noise, but it does not cancel it to the standard of more premium headphones.
The slight downside is the battery life. The earbuds last for 6 hours (or up to 24 hours with a charging case) so they may not be the best option for long distance runners. However, for half marathons or less, they're a great value option.
---
The best running headphones for sustainability
Specifications
Waterproof:
Water splash-resistant
Battery life:
4.5 hours (Up to 30 hours with case)
Reasons to buy
+
Snug fit
+
91% recycled plastic
+
Range of colors available
+
Great value for money
Reasons to avoid
-
Touch responsiveness can be a bit sensitive
-
Call noise filtering not very effective
-
Shorter bud battery life than alternatives
We loved the Urban Ears Boo Tip, which is made from 91% recycled plastic and comes without the charging cable (let's face it, we all have several hanging around), making it a great option for the sustainably-minded runner. If you're on a budget, these also clock in at a very reasonable $69.99, offering high-tech Bluetooth capability without the high price of some competitors.
The sound quality is crisp and bass-y, which is exactly what we're looking for the best running headphones. The Boo Tip also fits more snuggly in the ear than Urban Ears' other offerings, like the Boo and Alby, with several silicone tips that come with the earbuds so you can choose the right size for you. Once we selected the correct tips, we found the Boo Tip almost impossible to shake loose, only falling out when we physically knocked them. Although they don't have active noise cancelling, the snug fit helps to filter out most noise, allowing you to focus on your run.
The touch sensitivity is neat, but makes it difficult to touch the buds while running without unintentionally entering a command. We also found it a little difficult to manage calls with the Boo Tip, and sometimes accidentally paused music while adjusting the buds. Sound quality when receiving a call was crystal clear, but the microphone on the buds struggled to mimic the clarity of a normal phone call, with those we called while using the buds reporting a muffled quality at their end.
Each bud plays for 4.5 hours, which we found was enough to fit in a decent run, but will not be suitable for marathon runners as it is half of the battery life offered by models like the JBL Reflect Flow Pro.
User reviews
Users rate the Boo Tip 4.5 stars out of 5 on the Urban Ears website, with customers happy with sound quality, price and ear fit. One customer had similar problems as we did with the touch sensitivity: "No volume control on earbuds. Play/pause function is okay but often doesn't work the way I'd like. When I take them off and put them in the case, that touch can accidentally cause them to play in the case, so I have to always be careful that's not happening when I take them off," they said.