Best Garmin watches 2023: GPS trackers for every type of cardio
The best Garmin watches we've tested and reviewed, from the Forerunner to the Fenix.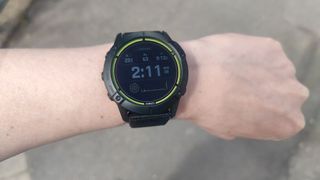 (Image credit: Garmin)
Like any decent fitness tracker or smartwatch, the best Garmin watches can help you improve your sports performance by offering insight into your health and fitness progress. Feature-rich with endless data, these wearables are designed to elevate your training, and they'll even help you find your way back home thanks to inbuilt GPS.
Garmin watches have a reputation for creating some of the most reliable, high quality products on the market. And whether you're a novice or professional, the brand delivers on accuracy and durability, providing a ton of useful stats to help you improve your performance.
What the experts says:
As ultramarathon runner and fitness editor Kieran Alger says: "A good fitness watch gives you a whole range of insights that you can use — along with awareness of your body — to guide your training and monitor your fitness progress."
But let's face it, the huge range at Garmin can feel a little overwhelming, especially if you're new to fitness. That's why our testers at Live Science have reviewed almost every watch in the Garmin family, to bring you our definite guide. Our tester looked at all the bestsellers, from affordable options like the Vivosmart 5 and Vivomove Sport, to the luxury Fenix 7 and Enduro 2.
There's no doubt Garmin creates some of the best running watches you can buy today, and after putting these watches through their paces, we can assure you they offer both quality and performance. Read on to find out which of the Garmin watches made our must-have list.
Best Garmin Watches
Best all-round Garmin watch
Specifications
Screen:
1.3in, 260 260 MIP
GPS:
Yes, multi-band GNSS
Weight:
79g, (73g, Titanium)
Battery life:
Up to 18 days
Reasons to buy
+
Excellent battery life
+
Encyclopaedic feature set
+
Great HR tracking
Reasons to avoid
-
Standard model may feel bulky for 24/7 wear
The Fenix 7 isn't Garmin's most expensive watch but it is the mainstream flagship model. If you want the encapsulation of what a Garmin watch is, you probably want a Garmin Fenix 7.
What does it offer over cheaper Garmin fitness watches? It has excellent on-watch maps and enough internal storage for huge amounts of data. No mobile internet required.
The Fenix 7 gets the latest generation of Elevate heart rate tech, introduced in the Venu 2. We were impressed by how well it keeps up with changes in exertion, and how closely it tracks with our benchmark chest strap band.
A Fenix 7 also provides deeper connections to outboard kit than, say, an Instinct 2. It can control a smart turbo trainer, for example.
We found it heavy and bulky for comfy sleep tracking, but there are solutions within the range. The Garmin Fenix 7S is a smaller version, or you can upgrade to the standard-size Fenix 7 with a titanium casing and Sapphire glass. It's noticeably lighter.
The main point to think about here is whether a Fenix 7 will be overkill. Unless you're a fitness fiend you may be as happy with a Venu 2 Plus. And aside from maps and a couple of connectivity extras, the Instinct 2 may do the trick.
---
Best mid-range Garmin watch
Specifications
Screen:
1.1in or 1.3in AMOLED screen
GPS:
Yes, multi-band GNSS
Reasons to buy
+
Good battery life
+
Light and comfortable
+
Slightly more affordable than 955
Reasons to avoid
-
No golf or downloadable maps
-
Plastic shell design is not as snazzy as the Venu series's
The Forerunner 265 is an enthusiast fitness watch that has an OLED screen instead of the transflective style seen in almost all Garmins until recent years. An athlete-grade fitness watch with brilliant fitness tracking features, we rated it highly in our tests, enjoying its versatility as a sports watch.
Wondering how it fits in the range? The Forerunner 265 is a Forerunner 255 with OLED. It's a Garmin Epix alternative that puts much less of a dent in your savings. Or it's a Garmin Venu 2 that trades in a little design gloss for some more advanced fitness features.
Our Forerunner 265 review unit is the pink Forerunner 265S, the smaller 42mm alternative to the standard 46mm version. It's still larger than the Pixel Watch.
The build is much like that of the Forerunner 255. Its casing and bezel are plastic — fiber-reinforced polymer as Garmin calls it — and the screen is toughened glass. It's an older type, though, Gorilla Glass 3. You lose the stainless steel bezel of the Venu 2 series, but this does help keep the weight low.
Our Forerunner 265S weighs just 40g, the standard Forerunner 265 46g. As a result it's a comfortable watch, although you can likely improve it further by switching out the strap. The supplied silicone strap is a good fit for sports use, but after tightening it up for better heart rate results, it tends to leave a map of indentations on your wrist. We find it hard not to over-tighten this one, for some reason.
The screen is the main event here, though. It's a 1.1-inch 360 x 360 pixel OLED, or a 1.3-inch 416 x 416 pixel one in the Forerunner 265. While it doesn't fill out the front of the watch like the Apple Watch Series 8's display, this little screen has everything we're looking for.
It's very sharp, super-colorful, and easily bright enough to work for outdoors exercise sessions on sunny days. This screen's job is to make an argument for itself over the Forerunner 255's transflective screen, and it's pretty persuasive, particularly when it's a touch display too. The Forerunner 255's is not.
---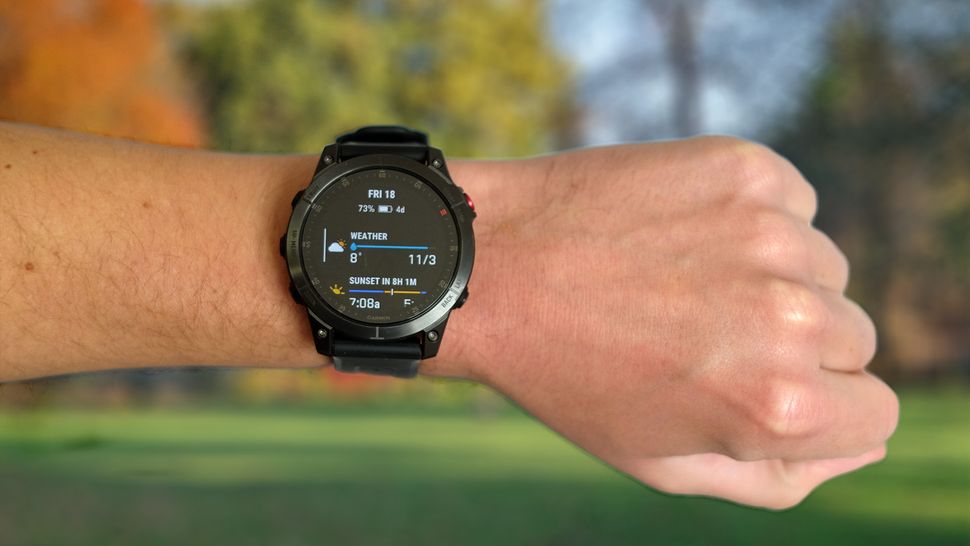 Best for smartwatch features
Specifications
Screen:
1.3in, 416 x 416 OLED
GPS:
Yes, multi-band GNSS
Weight:
76g, (70g, Titanium)
Battery life:
Up to 16 days (6 days always-on)
Reasons to buy
+
Colourful and bold OLED screen
+
Extensive features
+
Offers the best Garmin maps experience
Reasons to avoid
-
Expensive
-
Always-on screen mode lowers battery life significantly
-
Lacks size options of the Fenix 7
For more than five years, the original Garmin Epix was the watch to buy for hikers who needed on-watch maps. You can now get great maps in other watches, so the Epix 2 is best described as a Fenix 7 with a lovely OLED screen.
It's sharper, bolder and more colourful, and this helps how those maps look on-screen, too. However, after a few weeks of living with the Epix 2, we appreciated its OLED screen most when at home. It makes the Garmin Epix 2 a flashier-looking, more smartwatch-like watch than the Fenix 7. All the main features are the same, though. You get great depth and heart-rate accuracy and GPS that is fast to connect.
Where's the catch? The Garmin Epix 2 is pricey, starting much higher than the base Fenix 7. Were they priced the same the Epix would be sitting at the top of this list.
One final thing: an OLED screen means the Epix 2 doesn't last as long as the Fenix 7 in its always-on mode, where the screen stays lit. It lasts around six days between charges, not the two weeks and change you'll see from the Fenix. Some will find this off-putting, but we review full smartwatches that last a day or so regularly. In that context just under a week of use doesn't seem remotely off-putting.
---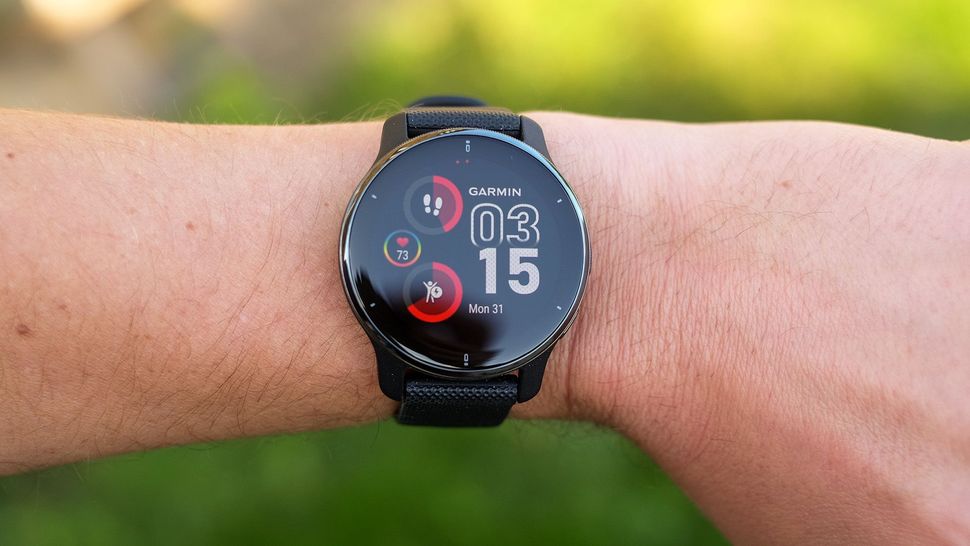 Best for 24/7 wear
Specifications
Screen:
1.3in, 416 x 416 OLED
GPS:
Yes, with GLONASS and GALILEO
Battery life:
Up to 9 days
Reasons to buy
+
Sleeker design than most Garmin
+
Light and comfortable
+
Sharp and colorful OLED screen
Reasons to avoid
-
Lacks a few advanced features of the hardcore series
-
Always-on display mode shortens battery life significantly
The Venu series sees Garmin branch out from its running watch roots to explore smartwatch-like designs. This watch is slimmer, lighter and — as a result — many folks will find it more comfortable than the flagship models. It's more stylish and reserved than the Garmin norm too.
This watch has a sharp and punchy OLED screen, which looks far more vibrant than the transflective displays of the Forerunner, Fenix and Instinct series, particularly indoors.
Is it a slam dunk for smartwatch tech, then? Not quite. If you want the screen to stay lit all day, you'll see the battery life halve from 7-9 days to around four days. Not bad for a smartwatch, but plenty of Garmin alternatives last longer.
The Garmin Venu 2 Plus also lacks the full on-watch maps of the Forerunner 955, which does not cost that much more. While you get maps of your runs and hikes in the Garmin Connect app on your phone after the fact, you can't fully navigate on the watch itself.
It's less of an adventuring watch as a result, but excels as a wearable to enjoy all through the day, and for exercise around your local area. The heart rate hardware is effectively the same as that of the more expensive Garmin watches, for example.
The Garmin Venu 2 Plus has a few special tricks too, like an on-board speaker and voice support for Google Assistant, Apple Siri and Samsung Bixby. It feels a bit clunkier than interacting with Siri on an Apple Watch, but is a first for Garmin. If those digital assistant smarts don't appeal you may also want to consider the "non Plus" Venu 2. It's a bit cheaper, perhaps looks a little less slick, but otherwise has a very similar set of features.
---
Best Garmin watch for triathletes
Specifications
Screen:
Dual display style, 176 x 176 MIP
GPS:
Yes, with GALILEO and GLONASS
Battery life:
Up to 28 days
Reasons to buy
+
Excellent battery life with solar charging
+
Rugged design with great water resistance
+
Good tracking accuracy
Reasons to avoid
-
Chunkier than most
-
Monochrome display may seem dated
-
No music playback
You can probably tell the Garmin Instinct 2 angle from a glance. This is a super-rugged, chunky outdoors wearable for those who don't care if their watch looks a bit bulky.
In return, the Instinct 2 can last up to a month between charges and has 10ATM water resistance, double that of most other good wearables at the price. It's hard to beat for long hiking weekends away from a charging point.
However, there are reasons the Instinct 2 only costs half as much as some flagship Garmin. The screen is relatively small and monochrome, although the little inverted porthole is a great way to highlight one particular stat, like your heart rate. We grew to love this little circle.
The Garmin Instinct 2 also lacks full maps support, which is a major bonus in an adventuring watch like this. You can see a "breadcrumb" trail of where you've been, but not the surrounding terrain and roads because the watch does not store its own mapping data. It can help you avoid getting hopelessly lost, but won't let you map routes on-the-fly.
There's no local music playback either, the Instinct 2 can only control music played on your phone.
We found several reasons to pick another model. But the Instinct 2's tracking accuracy is great and the sheer low maintenance breeziness of a watch that seems to last forever between charges and is happy to truck on wherever you go should not be underestimated.
---
Best affordable Garmin watch
Specifications
Size:
19.5 x 10.7 x 217mm (small), 19.5 x 10.7 x 255mm (large)
Screen:
88 X 154 OLED screen
Reasons to buy
+
Good heart rate reader
+
Exercise modes are more robust than most
+
Affordable option from Garmin line-up
Reasons to avoid
-
No on-board GPS
-
Basic monochrome, plastic screen
If you're set on Garmin as a brand but don't want a big-faced watch, the Vivosmart 5 is a reliable and affordable band, making it suitable for people looking for something small, light and unobtrusive.
For a small watch, it's got a lot of good features. It can record your heart rate and steps, and it estimates your stress and breathing rate. It also monitors your sleep overnight and it can look at your blood oxygenation.
However, it doesn't have its own GPS so it can't be used for phone-free runs. The screen's top layer is plastic too, which is much softer than a good toughened glass and more likely to pick up scuffs and scrapes.
Our tester undertook a handful of long workouts with the Vivosmart 5 on one arm and the Garmin Enduro 2 on the other. Each time, both watches recorded the exact same maximum heart rate, and each time there was only a slight disparity in the average heart rate across the session, by a margin of 1-2 bpm. The Vivosmart 5's step counts seemed fine and the stress tracking feature is good — although we found stress graphs are much better viewed in the Connect app on your phone than the band's own tiny screen.
Overall? The Garmin Vivosmart 5 performs well for a casual fitness tracker and offers better tracking accuracy and more thoughtful software than the vast majority of trackers of this style.
---
Best for occasional exercisers
Specifications
Screen:
8.6 x 18.5 mm, 72 x 154 pixel OLED
Battery life:
Up to 5 days
Reasons to buy
+
Petite and light
+
"Invisible" screen
+
Fully featured fitness tracking
Reasons to avoid
-
Battery life just OK
-
Display struggles in bright sunlight
-
More fiddly to use than other Garmins
The Garmin Vivomove Sport is a straightforward tracker. A lot of bells and whistles have been stripped out of this model, including in-built GPS. While this does mean that it's less accurate for measuring distances, it also means that it's a lot cheaper than the other watches in this list.
And as long as you have a smartphone to pair with the watch, you won't miss that GPS. The watch can actually calculate distance on its own if you input your average step-to-km count. However, during our testing period, we didn't find that method particularly accurate – so we'd recommend hooking it up to your phone on a run.
One of the biggest selling points of this watch is its aesthetics. Unlike most Garmin trackers, it doesn't look out of place when you're wearing it during working hours. It's also fairly light at just 33.8g, so you can happily wear it throughout the day and evening without it feeling cumbersome.
It tracks a variety of workouts, including pool swimming and yoga. And unlike a lot of the models in this list, you're not likely to feel overwhelmed by its features and functionality. As such, we'd recommend this model for anyone who needs a fairly lightweight bit of kit to track general workouts – but it's probably not the best fit for endurance athletes and marathon runners.
A final note on battery life: while Garmin claims that the model can last for five or six days without charge, during our testing period we could only get it to last for four days max. While this is better than some trackers (like the Apple Watch 7) it's disappointing when compared to the likes of the Enduro model, also in this list.
---
Best for high-end features in a no-nonsense design
Specifications
Screen:
1.4in 454 x 454 OLED
Battery life:
Up to 23 days
Reasons to buy
+
Bursting with features
+
Significantly cheaper than the Epix 2
+
Good stat accuracy
Reasons to avoid
-
5ATM water resistance doesn't match Garmin's best
-
The design is friendlier than the price
-
Still mostly a plastic resin watch
The Garmin Forerunner 965 launched in March 2023, alongside its cheaper siblings: the Forerunner 265 and 265S.
We were fans of the Garmin Forerunner 955, but had to admit it was pricey for a watch with a plastic shell. The Forerunner 965 classes things up just a little bit. While the main part of the shell is plastic "resin", the bezel is titanium, a more expensive metal than steel.
Water resistance is lower too, at 5ATM, compared to the 10ATM of the Fenix 7. You want that higher rating if you plan on swimming any distance below the surface of the water.
However, we think lots of people are going to flat-out prefer the look of of the Forerunner 965. While it's not a small watch, and measures 47mm across, it's not an intimidating-looking one either. Don't want to come across a try-hard? Get one of these or, even better, a small Forerunner 255S, rather than a Fenix.
A bit of OLED gloss aside, using a Forerunner 965 feels much like using an Epix 2 or Fenix 7. But there's nothing wrong with that, and the sense of really having an idea over how well your routine is working is quite powerful.
The Garmin Forerunner 965 is the natural conclusion of what Garmin has been playing around with for the last couple of years. It takes the OLED screen tech of the Venu watches, and combines it with the high-end features of the Forerunner 955.
---
Best for long trips
Specifications
Screen:
1.4in 280 x 280 MIP
GPS:
Yes, with GALILEO and GLONASS
Battery life:
Up to 46 days
Reasons to buy
+
Superb battery life
+
Strong water resistance
+
Masses of features
Reasons to avoid
-
Similar to Fenix 7 watches
-
May be too large for some folks
-
Extremely pricey
No prizes for guessing what the Garmin Enduro 2 is all about. It's a watch that lasts an extremely long time between charges, and is aimed at endurance athletes. But we don't know any who would outlast this thing's battery.
It's rated for 34 days of use in its "smartwatch" mode, or 46 days if you take use of its solar charging capabilitities. Garmin says it can last up to a year in the power mode that basically turns it into a normal watch.
This is a high-quality, rugged watch with a stainless steel or titanium bezel and a predictably large 51mm wide watch face. A maxed-out battery requires some space. 10ATM water resistance means you can happily use it in the water too.
You can trust its route-tracking stats, and the TrackBack feature lets you see your previous route — handy for trail running and hikers.
However, the Enduro 2 is not the best fit for everyone. For one, it costs a small fortune, just like the priciest Fenix models and the Garmin Epix 2. We find that hard to justify when the Forerunner 955 and base Fenix 7 can do the same things, and cost a lot less.
---
How we test
How do we test the best Garmin watches at Live Science?
We tested each Garmin watch for its everyday features and fitness tracking capabilities before awarding a rating out of five stars. Features like GPS, smartphone and music compatibility, battery life, and water resistance were all rigorously tested – alongside any of the latest available apps – and every watch also underwent at least one workout to monitor health and fitness tracking stats – like heart rate, VO2 max, or stress testing. We rated each model for value for money and offered up a verdict on what you can expect for your hard-earned money.
FAQs
Are Garmin watches waterproof?
Garmin applies a water rating to all of its devices, which indicates how water resistant or waterproof they are. An "ATM" is an international standard that shows you the number of "atmospheres" of pressure your device can handle when motionless under water.
The Garmin Forerunner 255 and Garmin Venu 2 Plus come with 5ATM water resistance. This means that they are water resistant to up to 50 meters in depth for 10 minutes, and suitable for shallow-water activities like swimming, snorkeling or diving into water.
More advanced models like the Instinct 2, Fenix 7 and Enduro 2 have 10ATM water resistance. This means they can survive up to depths of 100 meters., and are good for high-speed water sports.
Most of Garmin's wearables have at least a 5ATM rating, but you can check the brand's website for more information.
Our Expert
Kieran Alger is a fitness editor and writer on all things tech, running, health & fitness. He is an ultramarathon and marathon runner and cofounder of The Run Testers, who review the best and latest running products after putting them to the test in the field.
---
Stay up to date on the latest science news by signing up for our Essentials newsletter.
Andrew Williams is a freelance journalist based near London. He has written about tech for over a decade, contributing to sites such as WIRED, TechRadar, TrustedReviews, Wareable, Stuff, T3, Pocket-lint and many others. When he's not covering fitness tech, he writes about mobile phones and computing, as well as cameras.