The Garmin Forerunner 965 is a brilliant watch that merges the most mainstream and hardcore sides of Garmin's wearables beautifully.
Pros
+

Bursting with features

+

Significantly cheaper than the Epix 2

+

Good stat accuracy
Cons
-

5ATM water resistance doesn't match Garmin's best

-

The design is friendlier than the price

-

Still mostly a plastic resin watch
Why you can trust Live Science Our expert reviewers spend hours testing and comparing products and services so you can choose the best ones for you. Find out more about how we test.
The Garmin Forerunner 965 is the natural conclusion of what Garmin has been playing around with for the last couple of years. It takes the OLED screen tech of the Venu watches, and combines it with the high-end features of the Forerunner 955.
Garmin Forerunner 965
1.4in 454 x 454 OLED screen
47.1 x 47.1 x 13.2mm
5ATM water resistance
52g
Up to 23 days battery life
Titanium bezel
GPS
Optical heart rate reader
The best bit of all: it's far less pricey than the Garmin Epix 2, which is based on a similar idea, and gets close to making that watch redundant for big swathes of the audience. This earned it a place in our guide to the best fitness trackers.
The Garmin Forerunner 965 combines our favorite bits of traditional best Garmin watches, with the gloss of more smartwatch-style tech. It's a good combo.
Garmin Forerunner 965: Price and availability
The Garmin Forerunner 965 launched in March 2023, alongside its cheaper siblings: the Forerunner 265 and 265S.
Garmin has kept things simple here. There are no separate sizes, no solar-charging model. Just three colors — yellow, black or white — and they all cost $599/£599.
Garmin Forerunner 965: Design and Display
The Forerunner series has been an easy one to recommend over recent years, in which we've seen the prices of Garmin watches rise and rise. Garmin watches offer high-end features, but adopt more sensible outer designs to keep the price more reasonable.
We were fans of the Garmin Forerunner 955, but had to admit it was pricey for a watch with a plastic shell. The Forerunner 965 classes things up just a little bit. While the main part of the shell is plastic "resin", the bezel is titanium, a more expensive metal than steel.
It's also a lighter metal, which helps keep this watch the very same 52g weight as its Forerunner 955 sibling. The screen covering is Gorilla Glass DX, which is used in a lot of higher-end watches.
Our take on the design is that, despite the shift to a fancy bezel, this is pretty much classic Forerunner watch design. It's less rugged-feeling than either the Epix 2 or Fenix 7, with less of a built-up screen surround.
Water resistance is lower too, at 5ATM, compared to the 10ATM of the Fenix 7. You want that higher rating if you plan on swimming any distance below the surface of the water.
However, lots of people are going to flat-out prefer the look of of the Forerunner 965. While it's not a small watch, and measures 47mm across, it's not an intimidating-looking one either. Don't want to come across a try-hard? Get one of these or, even better, a small Forerunner 255S, rather than a Fenix.
The Forerunner 965 screen is the biggest OLED Garmin has put into a watch to date, a 1.4in panel of 454 x 454 pixels. It's just slightly larger than the 1.3in one you'll find in the Epix and Venu 2 watches.
As this is an OLED screen, it doesn't display content 24/7 by its nature like the Forerunner 955. You can switch on its always-on mode, and we recommend doing so. It doesn't kill the battery life completely (more on that later) and means the display doesn't stay a ring of pure black until you interact with the watch or flick your wrist around to your face.
It gets super-bright when you need it to be, and the Forerunner 965 can comfortably fit six stats on each screen when tracking exercise.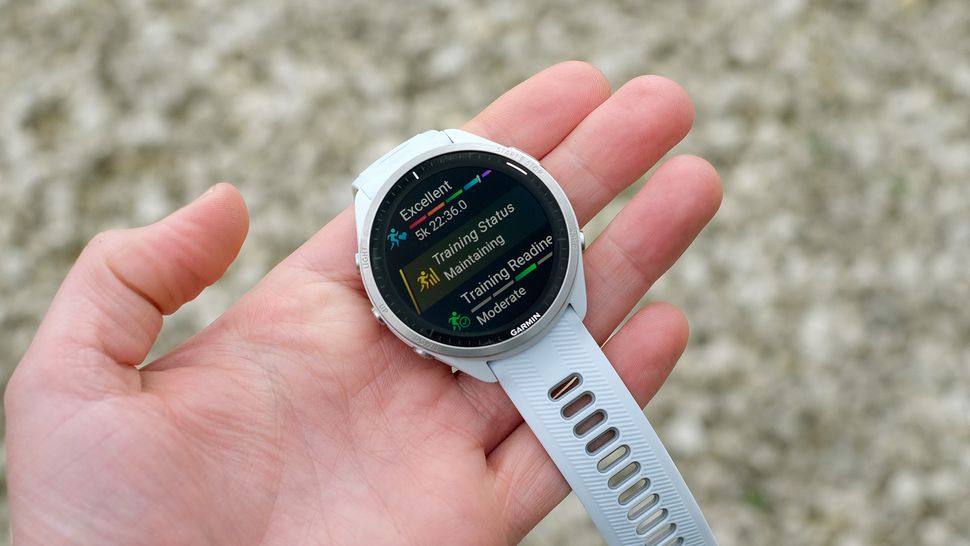 Garmin Forerunner 965: Features
The Garmin Forerunner 965 is a seriously feature-packed watch, just like the Forerunner 955. Maps are the primary reason to buy over the excellent, and cheaper, Forerunner 265.
You have 32GB on which to store maps, and any music you might want to carry around with you. Our Forerunner 965 currently has the 8.8GB Europe Topo maps pack installed, but you can freely install others if you like.
Garmin's maps can be approached in a bunch of ways. The classic would be to map out a hiking route using software on your laptop, and send it to your watch. You can do that, or you can do the lot on the watch itself. The Maps and Navigation modes both let you find where you're going on the Forerunner 965, either by panning and zooming your way to the location or looking it up in the vast library of "points of interest".
What's the difference between Maps and Navigation? The latter will actually work out your route, based on the roads and paths between you and your destination. Smart.
Trawling through a densely packed map can seem a bit much on a wearable at times, but no other brand gets you this kind and quality of offline map access as standard. And the touchscreen of the Garmin Forerunner 965 makes the process less awkward, and better looking, than on an MIP screen Garmin like the Fenix 7 or Forerunner 955.
If you don't want any of these map antics, you should strongly consider the cheaper Forerunner 265. It's great, but just lacks maps and a couple of other extra bits. These are real-time stamina, which tells you how much your watch thinks you have left in the tank when/after you exercise. And climbpro, which shows the elevation graph of workouts.
Maps aside, the differences are not dramatic. And the mountains of features they do share are just too great to detail one-by-one.
Our day-to-day with the Forerunner 965 went like this: on first getting up we looked at the Morning Report, to see just how badly we had slept the night before. This also tells you the weather, how ready to train you are that day and so on.
We hooked the Forerunner 965 up to receive WhatsApp notifications, to avoid having to take out the phone so often. And on workout days we'd do what the watch suggested around 80% of the time. Garmin's suggested workouts are based around your current state of readiness, and you'll see them as standard if you start a tracked run (this can be turned off). They also seem to take into account what your own habits are.
For example, we've taken to running for longer sessions at the weekend and, guess what, Garmin's Suggested Workouts seem to have noticed and started suggested doing the same on Saturday/Sunday. It's not really a smartwatch, but it is a smart watch.
A bit of OLED gloss aside, using a Forerunner 965 feels much like using an Epix 2 or Fenix 7. But there's nothing wrong with that, and the sense of really having an idea over how well your routine is working is quite powerful. There's almost no question that a Forerunner 965 feels like overkill for someone who exercises pretty casually, or is just getting into the idea of fitness, though.
It also lacks a couple of the most shiny, smartwatch-like bits of the Garmin Venu 2 Plus. There's no support for Alexa here, or a built-in speaker beyond a little beeper. We don't miss either, although some might like the idea of a Garmin announcing their performance at each kilometer of a run, through a built-in speaker, as some Huawei and Amazfit watches do.
Garmin Forerunner 965: Performance
The Garmin Forerunner 965 has the best core tech Garmin offers at the moment. Multi-Band GPS is probably the true star attraction here. It's ultra-fast to connect, and the watch has an Auto mode that switches Multi-Band on and off based on whether it's required.
It increases signal reliability in tough spots, but uses more battery. We would not be surprised if it did not engage at all during our tracking sessions. You can select GPS modes manually too, if you like — classic Garmin.
Distance and location tracking was just as solid and accurate as we've come to expect from reviewing other Garmin watches of the last 12 months. No drop-outs or blips, and disparities between this watch and an iPhone are in part down to how these wearables approach routing. Apple smooths out and snaps to paths more.
An hour of run tracking with the always-on display mode engaged takes 4% off the battery level, suggestive of 25 hours total. Garmin suggests the GPS figure is between 31 and 19 hours, based on the mode used. But it will also rest on how much you look at the screen, causing the display to max out its brightness to compete with the outdoors' ambient light (if running during the day, anyway).
After a week of general use and at least one software update, with the screen set to always-on, notifications flowing, and roughly four hours' work of tracked workouts, the Forerunner was left with 7% battery. We charged it at that point, because we were about to go on another run. However, you should be able to get eight days of use per charge with fairly extensive use. This will increase a bit if you use GPS tracking less, and increase dramatically if you do not use the "always on" display.
Garmin says the Forerunner is able to last up to 23 days as a smartwatch. While that may be possible, if you are going to get that sort of battery life, you shouldn't be buying a watch like this.
We tested the Forerunner 965 over nine workouts, mostly running sessions, to have a good look at how the heart rate sensor results played out. While we've used a stack of watches with the same heart rate array as this one, the reliability does shift a bit by watch, and by software version.
The results were mostly very solid. Workouts didn't start with too high a heart rate, the algorithm assuming you've got a jog on even if you're walking, and the Forerunner 965 responds to changes in exertion level pretty quickly.
There were two strange aberrations though, of completely unwarranted heart rate spikes that in context seemed bizarre. A 20bpm heart rate jump with no change of pace or terrain? Unlikely. These only lasted a handful of seconds to half a minute, and therefore did not noticeably affect the average results for the session.
We also can't zoom back in time to see if there was something physical to cause these jumps, like moving the Forerunner 965 up the wrist. Still, two minor blips in perhaps 10 hours of tracking is a good result and this is otherwise mostly the solid, reliable accuracy we've come to expect from Garmin.
Should I buy the Forerunner 965?
The Forerunner 965 is the most approachable of all of Garmin's true high-end watches. It has all the core features of a Fenix 7, but has a bright and colorful OLED screen rather than a practical-but-muted MIP one. Its design also doesn't drip in "hardcore fitness" style, meaning you don't immediately question whether you're enough of an athlete to use one.
It's the price that does so, and should make some of you consider the slightly stripped back but still excellent Garmin Forerunner 265.
If the Garmin Forerunner 965 isn't for you
Like the Forerunner 965 concept but absolutely need 10ATM water resistance? You'll have to go for the more expensive Epix 2 family.
Not persuaded by the whole OLED thing? Get the Forerunner 955 instead. It costs less, even if you buy the solar-charging version.
Outside of Garmin, you may be best off jumping to something like the Amazfit GTR 4 Limited Edition, as other top fitness brands haven't explored OLED in the way Garmin has, yet. The Amazfit isn't quite as accurate and doesn't have on-board topographic maps but does have a taste of that Garmin depth and is a bunch cheaper.
Andrew Williams is a freelance journalist based near London. He has written about tech for over a decade, contributing to sites such as WIRED, TechRadar, TrustedReviews, Wareable, Stuff, T3, Pocket-lint and many others. When he's not covering fitness tech, he writes about mobile phones and computing, as well as cameras.