The screen-free Whoop 4.0 may not be for beginners (or runners), but ardent exercisers will love its in-depth sleep, activity and recovery tracking.
Pros
+

Detailed health metrics

+

Actionable advice provided based on data collected

+

Sleek and discreet design
Cons
-

Lack of screen won't suit everyone

-

No GPS

-

No step tracking
Why you can trust Live Science Our expert reviewers spend hours testing and comparing products and services so you can choose the best ones for you. Find out more about how we test.
The Whoop 4.0 is not made for those looking to up their daily step count — that's the Fibit Charge 5's territory. Instead, it provides detailed health metrics to help avid exercisers improve their performance.
The band collects a wealth of data before calculating three digestible scores; recovery, strain and sleep performance. From these figures, it offers advice on how you should balance your training and rest to achieve peak athletic performance. We found the recovery score particularly helpful when planning our training, helping us work out when to push harder, schedule an active recovery session or take a rest day.
Specifications
Compatibility: Android and iOS
Battery life: 4-5 days
Memory size:
Display and size: N/A
GPS: No
Water resistance: Up to 10 meters for up to 2 hours
Heart rate: Yes
Sleep tracker: Yes
Step count: No
Music: No
It looks unlike any of the other best fitness trackers on the market too. The screenless band is unobtrusive, IP68 dustproof and water-resistant at depths of up to 10 meters for two hours. So whatever your sport of choice, be that bouldering or wild swimming, the Whoop 4.0 never needs to leave your wrist.
The lack of screen may not suit some. Particularly when running, we missed the ability to check our statistics mid-session. The lack of a GPS is also unlikely to sit well with endurance athletes. But, with more than 80 activity tracking options (from CrossFit and soccer to Spikeball and circus arts) and detailed sleep tracking, we found there was plenty of data to sink our teeth into.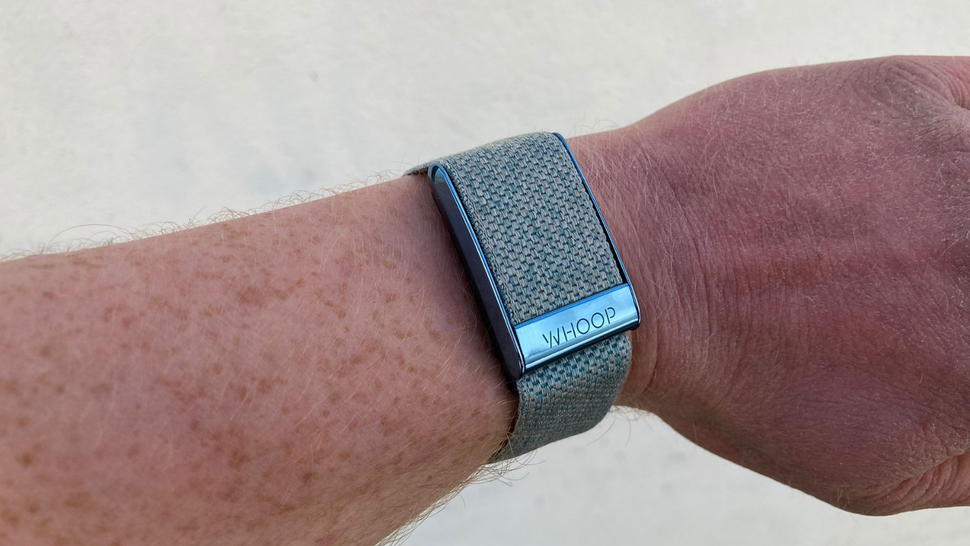 Price and release date
The Whoop 4.0 launched in late 2021 and is available now. However, rather than a one-time fee, it requires users to pay a monthly subscription cost of £30 / $30. However, if you pay for an annual membership, the cost falls to £24 / $25 / $32AUD, and making a 24-month commitment sees the price lower further to £20 / $20.
Once subscribed, you will be sent the band and strap for free.
Design and display
Compact, durable design
On the go charging
Subtle and comfortable
No screen
The first thing you'll notice when looking at the Whoop 4.0 is the lack of screen. The brand argues this minimises mid-workout distractions, so you can focus on your exercise session then analyse your data afterwards, and for the most part we would be inclined to agree. But that does depend on which activity you're tracking.
We found the band excelled during high intensity activities like HIIT, CrossFit or team sports, where you are unlikely to check your performance statistics mid-workout. There are no controls or buttons to accidentally press, and we didn't have to worry about damaging a touch-screen when lifting kettlebells or other cumbersome weights.
However, during endurance activities where you may want to check your heart rate, particularly if you are looking to use different cardio heart rate zones in your training, not having a wrist-worn display was a big miss. We also wouldn't rate it as one of the best running watches as there's no way to monitor your pace as you jog.
Again breaking convention, the Whoop 4.0 has an elasticated "SuperKnit" band which you can tighten or loosen like a rucksack strap before slipping into place over your wrist, rather than the buckled silicone straps seen on most fitness trackers.
This never felt uncomfortable or caused irritation to our skin during the testing period, though the colour became slightly dirtied over time as you can't wipe it clean like a silicone strap. But, you can purchase interchangeable straps with alternative colours if you want a fresh look.
Our favourite design feature of the Whoop 4.0 is the charger. You can juice this rounded plastic battery pack independently using a mains socket and USB-C lead, then slide it securely into place on top of the band's sensor suite when your battery runs low. This means, unlike most of its competitors, you don't need to remove the band to charge it up. Instead, you can replenish its battery on the go and continue tracking 24/7.
Features
Simple strain and recovery scores
Actionable advice for improved performance
No GPS
If this is where you expected the Whoop 4.0 to conform to fitness tracker norms, think again. It omits the usual move goals and step counts completely in favour of strain and recovery scores.
Strain is a measure of your daily cardiovascular load based on The Borg Rating of Perceived Exertion (RPE) Scale. The longer your heart rate remains at an elevated level (reflecting how hard your circulatory system has been made to work) the higher your strain will be, with a final score for the day delivered out of 21.
The band tracks this using a technology called photoplethysmography, with LEDs on the bottom of the sensor suite shining light into your skin and the capillaries beneath the surface. Blood absorbs more light than the surrounding tissue, with any unabsorbed light reflected back and received by a sensor called a photodiode, showing the wearer's blood flow and heart rate.
Recovery is given as a percentage and indicates how ready your body is to take on strain. The score is calculated using your total amount of sleep, respiratory rate, resting heart rate and heart rate variability (the variance in the time between your individual heart beats, with higher variance associated with a greater level of preparedness for strenuous physical activity).
You can view these individually, as well as a breakdown of your stages of sleep (awake, light, deep and REM or rapid eye movement) from the night before.
While the individual metrics will appeal to hardcore fitness fans, we found the strain and recovery scores are a good tool for gauging your physical preparedness at a glance and adjusting your training accordingly.
Performance
Considers more than just sleep to calculate recovery
Hard-wearing
Helps athletes balance training and rest
The compact Whoop 4.0 is comfortable and discreet. Putting it on could be a bit awkward as you have to take it off to tighten the strap before sliding it back over your hand. However, when in place, it stayed put throughout high impact workouts.
The sensor suite (33% smaller than its predecessor, the 3.0) feels hard-wearing, showing no signs of damage when clattered with kettlebells or worn while wild swimming. It offered continuous tracking of a wide range of health data too, including heart rate and estimated calorie burn, showing which activities placed the most strain on our cardiovascular system.
But it is the multi-dimensional approach to calculating recovery that is the jewel in the Whoop 4.0's crown. By considering heart rate and heart rate variability, as well as sleep quantity and quality, it gives a more rounded view of your readiness for exercise.
Days where we received low recovery scores correlated with days we felt sluggish. To counter this, the app offers tips to improve your scores as well providing a daily optimum strain level to hit (if you want to recover for a race or session later in the week) or exceed (if you want to improve your cardiovascular fitness levels).
This actionable advice - alongside guidance on when to go to bed - is easy to implement and helped us feel fresher the following day. We also appreciated the inclusion of a daily journal on the app, where we could record our behaviours and see which factors (such as creatine or alcohol consumption) may have impacted our readiness for exercise. By spotting links between certain behaviours and a plummeting recovery score, it helped us develop habits that made us feel replenished the next day.
Verdict
The Whoop 4.0 isn't for those in search of their first fitness tracker, nor is it for runners looking to keep track of their pace, route and heart rate - courtesy of its lack of screen, step counter and GPS.
Instead, we found it is better suited to intense activities like HIIT, CrossFit and team sports, where you could sit down after a game, match or workout to take a deep-dive into the data.
Where it really comes into its own, however, is as a 24/7 fitness tracker, sending a wealth of information from your wrist to your phone (as long as the two are linked via Bluetooth). By continuously tracking your heart rate, sleep and more, it provides strain and recovery scores which, when used to guide your training intensity, can help you feel replenished and ready to perform at your peak.
At £30 / $30 / $44AUD per month, the cost can quickly add up. But, if you want to invest in all facets of your health and find out more about your body, we think it merits this price.
If this isn't for you
If your health goals centre around increasing your daily activity then the Fitbit Charge 5 (with its step counter, touch-screen and in-built GPS) is likely to be a better fit for you. Alternatively, anyone wanting to track in-depth health metrics without forfeiting the functionality of a touch-screen will find the impressive (but pricey) Garmin Fenix 7 ticks both boxes.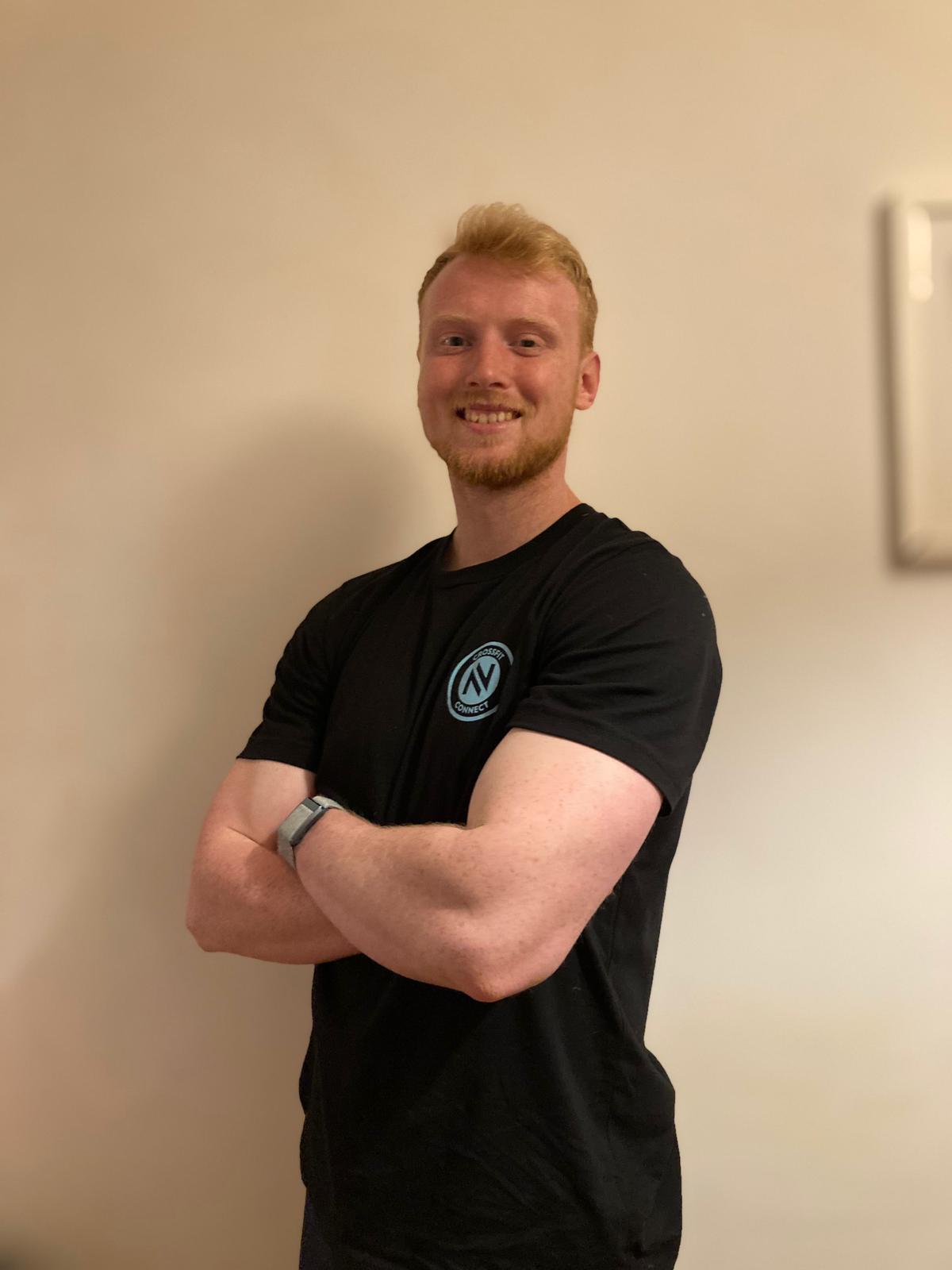 Harry Bullmore is a fitness writer covering everything from reviews to features for LiveScience, T3, TechRadar, Fit&Well and more. So, whether you're looking for a new fitness tracker or wondering how to shave seconds off your 5K PB, chances are he's written something to help you improve your training.
When not writing, he's most likely to be found experimenting with a wide variety of training methods in his home gym or trying to exhaust his ever-energetic puppy.
Prior to joining Future, Harry wrote health and fitness product reviews for publications including Men's Health, Women's Health and Runner's World. Before this, he spent three years as a news reporter with work in more than 70 national and regional newspapers.