Whether you're looking for a low-impact way to improve your cardiovascular fitness or just enjoy rowing, we've tested the best rowing machines to help you find a make for your needs. We've considered options to suit a variety of spaces, budgets and technical requirements, which is reflected in our guide below.
What the expert says:
"[A rowing machine] works all major muscle groups, which makes it really efficient – 20 minutes of exercise on a rower is equal to about 40 minutes on a bike." — Filip Ljubicic, chair of the Indoor Rowing Commission
Rowing is a great way to get your heart rate up and burn calories, with the average 125 pound (56 kilogram) person burning 510 calories an hour when rowing vigorously, the University of Rochester Medical Center (opens in new tab) estimates. Unlike other cardio workouts such as cycling or running, rowing engages several groups of muscle. In fact, a randomized controlled trial in the journal Medicine and Science in Sports and Exercise (opens in new tab) found that each rowing stroke could engage 86% of your muscles, regardless of intensity.
At Live Science we take pride in recommending products we've tested ourselves, and the best rowing machines are no exception. We've given each model an honest review and considered various aspects of each machine in order to give you the most accurate and up to date review of their performance.
If rowing isn't your sport, you can check out our selection of the best treadmills and exercise bikes too, for an alternative cardio workout.
The best rowing machines we've tested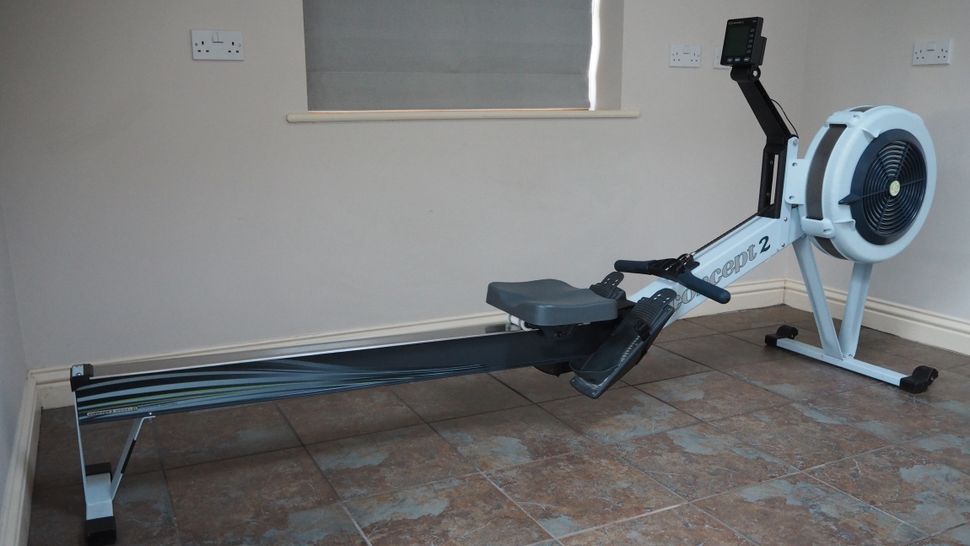 This top-end model is beloved by rowers, thanks to its unbeatable performance and data-tracking prowess. It's the model you'll find used in most indoor rowing competitions and installed in gyms across the country. When we tested it out, we found it delivered a smooth, comfortable workout and we were happily surprised at how quiet it was, too.
Keeping track of how much you've rowed (and being rewarded when you reach landmarks) is simple with the Concept2 logbook. All that data is synced, which means you can also enter competitions and pit yourself against other users over set distances.
The flywheel is common to all air-resistance machines and produces a white noise that is certainly louder than a magnetic rowing machine, and less appealing than the swoosh of the water rower, but the Concept2 RowErg's noise levels aren't excessive. We found it produced around 70-100 dB while in use, which is similar to a regular washing machine.
The rowing machine's monitor is compatible with the free ErgData app, which allows you to monitor all your performance statistics; it stores and displays your workout results; and it uploads everything to the Concept2 online logbook. The app also works with Android and iOS devices. The monitor also connects to a suite of other apps so you can take advantage of online classes, coaching and training programs. You can even sync up to virtual racing.
The advantage of the machine's simple design and tech is that there's very little to go wrong, and people tend to keep their Concept2 RowErg for many years, replacing parts as they wear out and taking advantage of the extremely helpful customer support.
User reviews
Boasting an impressive 4.9 out of 5 on Amazon (out of over 8,000 ratings globally), it's clear that the Concept2 Model D rower has impressed users, "this machine rides like a Cadillac". However, one user did complain that it wasn't suitable for building muscle, "This is a 95% a cardio only machine".
---
Many of us will be familiar with the addictive, "one more level" effects of moreish mobile games. But what if you could apply that principle to your home workouts? Well, now you can, courtesy of The Ergatta Rower.
It gamifies regular exercise sessions with workout modes such as "Meteor" and "Pulse" requiring you to increase and decrease your effort in order to hit targets. There is a fantastically fun, adrenaline-pumping race mode too, which sees you go head to head with several other members of the thousands-strong Ergatta community or friends you've connected with via the platform. As sporty sorts, we found this extra competitive element was a major motivator.
We also liked how the entire Ergatta platform experience was personalized to us. An initial 1,000 meter calibration test was used to determine our ability level, and workouts were adjusted accordingly.
Designed with apartment living in mind, the Ergatta's handcrafted cherry wood frame also looks fantastic. It can be folded flat and stored upright too, so it takes up a patch of floor little over 20 square inches when not in use.
The monthly membership costs means it's on the expensive side, but if you're looking to replace your gym membership with this motivational machine then we think it's worth it.
User reviews
The Ergatta Rower enjoys an almost immaculate 4.9 star rating from over 600 reviews left on the company's website. Users agree with our take, saying the gamification of workouts "really takes your head out of having to 'work out'" and instead encourages you to have fun with your exercise sessions. People also say they like the competitive, community elements of the Ergatta platform, which let you race against friends and more.
---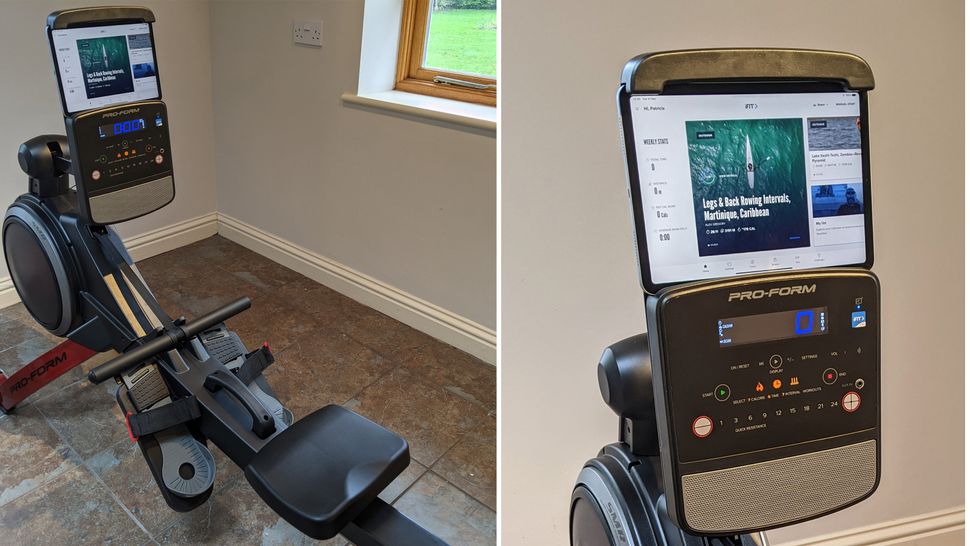 The Proform 750R is solid, quiet and comfortable. It's not flashy — there's no touchscreen display here and it's not built from aesthetically-pleasing wood. But we found it performs well, offering consistent, magnetic-based resistance and a whisper-quiet workout. If you're looking for a well-priced, well-built machine that doesn't come with unnecessary extras, then this is a perfect option at less than $600.
Like other Proform and NordicTrack models, this rower comes with a free trial to the iFit app, which contains plenty of workouts for you to follow — some led by famous Olympians. During classes, the resistance on your machine will be adjusted by your instructor's prompts, which is a neat little extra.
However, to access this feature – and to be able to clearly see the workout – you'll need to secure a tablet to the front of your machine. There is a basic digital display included with the rower, which will show you metrics such as calories, distance, speed, time and strokes per minute, but you won't be able to see the iFit classes on this.
Despite the lack of screen, we think you'd be hard pressed to find a better option at this mid-range price. The machine comes with 24 different resistance levels – we found the top-end of this to be suitably challenging. It's also incredibly easy to fold away, making it a good option for those with limited floor space.
Be warned that the set-up process is quite tricky for this rower. The machine is incredibly heavy to move around – make sure you have a friend to help you with the installation process – and the screws come vacuum packed, which make them difficult to access. Once installed, the machine is solid and sturdy, but be prepared to sink some time into the set-up. It wheels into position too, though we only tried it on a hard floor. It might be harder to move on a carpet.
User reviews
Reviews give this rowing machine 3.6 out of 5 on Amazon, according to just 7 global ratings. Positive reviews say that the rower is "great value" and "very good quality", while negative reviews discuss problems accessing the free period of iFit that comes with the machine.
---
Having tested (and fallen in love with) the original Hydrow (opens in new tab), our expert was understandably sceptical about any attempt to improve this impressive machine. Yet, credit where credit's due, the Hydrow crew has managed it incredibly well.
The inaugural machine scored top marks for its accessible and engaging rowing workouts, likable instructors and realistic electromagnetic resistance system, but lost points for its hard to accommodate dimensions and high asking price. The Hydrow Wave maintains the original's winning formula of fun workouts and a real rowing feel, but packs all of this into a smaller, lighter machine. And the best thing? At $1,495, it's $1,000 cheaper than its predecessor.
Despite its significantly lower price tag, the Hydrow Wave still benefits from full access to the thousands of workouts available on the Hydrow platform (if you pay a monthly membership fee). Rather than taking you into an artificially lit studio — à la Peloton and the like — each of these sessions brings you aboard the rowboat of a former Olympian, professional athlete or elite coach for a follow-along class on some of the world's most beautiful waterways.
It's for the reasons listed above that the Hydrow Wave equals the industry-standard Concept 2 RowErg as our top-scoring rowing machine. So if you're looking for a new way to get in shape at home, we can't recommend it highly enough.
User reviews
The Hydrow Wave scores an impressive 4.7 out of five stars on Trustpilot from more than 9,300 user reviews. Of those to have rated the product, 84% awarded it full marks. Happy customers say they love being able to get a "great workout in a short amount of time", describing it as "enjoyable" and stress-busting to use.
---
Slickly designed and easy to fold away, the Echelon Smart Rower is a stylish and convenient bit of kit for home rowers. We tested it out for several weeks and enjoyed the vast range of classes – available via the app – and the whisper quiet magnetic resistance on the machine.
There's a lot to like about this particular rower. We were really impressed with how easy it was to set-up (although it was heavy to move around) and the foldable mechanism is very straightforward to operate. And despite the folding hinge, the machine felt solid and sturdy throughout our rowing sessions.
There's no screen, which is a shame as you need to view the Echelon app to track your metrics. Instead, there's an 'arm' that can hold your tablet or phone (we'd recommend sticking with a tablet, as phone screens are too small.)
At $1299, this is a fairly mid-range option, but prices can soon rack up when you calculate the additional cost of the Echelon app subscription ($39.99 per month.) Without the app, you don't get any feedback on things like resistance levels or your speed – which means you can't really track your progression.
There are a wealth of classes available on the app though, so if you need a little extra motivation to get going then this could be a great option. It will certainly look the part in anyone's home gym, thanks to its sleek design.
User reviews
The Echelon Smart Rower has netted 4.5 out of five stars on Amazon, with users lavishing praise on its near-silent operation, straightforward assembly and sturdy design. Negative reviews focus on the costs of the app along with its clunky design.
---
Unusually for a rowing machine, we wouldn't say the Aviron Tough Series is designed with rowers in mind. Instead, the brand finds a way to make play a central theme of its workouts, using the incredible health benefits offered by indoor rowing as a vehicle for improving user's fitness.
It has an (ever-growing) selection of games to choose from, with each one providing a new twist on getting your fitness fix; whether that's guiding a flying rower through an icy tundra (this one was somewhat bizarre) or firing a laser at increasingly fast aliens in a Space Invaders-esque shooter (this one was a lot of fun). Either way, we were always shocked when we came to the end of each game to find we had rowed a few thousands of meters, and had plenty of fun doing it.
The games are displayed on a clear 22" touchscreen, while you can also choose to row while watching major streaming services like Netflix, Hulu, Amazon Prime and Disney+ if you fancy burning calories as you binge your favorite series.
The machine is well-made too, with a wide handle, adjustable footplate and high, ergonomic seat able to comfortably accommodate most body types. It looks sleek too, though it is on the larger side, so you'll need a fair bit of floor space to house it.
Overall, we think fitness fanatics and rowing aficionados may prefer the Concept 2 or Hydrow Wave for a more traditional workout experience. But, for those who've tried the classic home workout formula and want something new and different to keep them engaged, this is a unique bit of kit that can offer just that.
User reviews
The Aviron Tough Series Rower has more than 200 user ratings online, with an average score of 4.8 out of five. Among these reviews, many people praise its "fun and competitive" games as well as the option to row while streaming from the likes of Netflix and Hulu. A few say they wish the platform's membership was cheaper, but they still admit they "love" the machine for home workouts.
---
How do we test rowing machines at Live Science?
We've tried and tested some of the best rowing machines on the market — from the ever-popular Concept 2 RowErg to the pioneering Hydrow Rower — to find out whether they sink or swim when it comes to giving you a great workout.
Our fitness writers judge every aspect of each machine, including how easy they are to set up, the features that set them apart from their rivals and their functionality — for providing both a lung-busting workout and a realistic rowing experience. To do this, they row a range of distances from short sprints to longer endurance pieces, as well as trying the preset programs and follow-along sessions available on some machines.
After testing, all feedback is collated to award rowing machines a final star rating, with a maximum score of five.
Frequently asked questions