The Proform 750R combines a solid design and ergonomic features with a comprehensive workout app to deliver good value for money.
Pros
+

Very quiet

+

Ergonomic design

+

Access to iFit app
Cons
-

Monthly subscription

-

No integrated screen

-

No live rowing workouts
Why you can trust Live Science Our expert reviewers spend hours testing and comparing products and services so you can choose the best ones for you. Find out more about how we test.
The Proform 750R is an excellent choice for anyone wanting a mid-range rowing machine that comes with a membership workout program. It's well made and solid in construction, and although it's not the most stylish rower out there, it's certainly not ugly, redeemed in part by the flashes of red.
We rank it as one of the best rowing machines you can buy right now, although it doesn't quite sit at the top of our list. It's comfortable, with a smooth action that makes for an easy workout. It's also whisper quiet and folds away easily.
It doesn't have its own screen, which is a bit of a drawback. But the basic console will give you the key data you're likely to want, and it features a device holder which holds your phone or tablet securely so you can follow workouts. You can sync a Bluetooth-enabled heart rate monitor and your heart rate will then show up on the console and the screen if you're doing an iFit workout.
Specifications
Resistance: magnetic
Resistance settings: 24
Display: Own console plus device holder
Dimensions: 22"W x 86.5"D x 45.5"H
Folding? Yes
Heart rate monitor? No but syncs with Bluetooth-enabled heart rate monitors
App compatibility: Comes with 30-day iFit membership
The Proform 750R comes with a 30-day family membership of iFit, a membership fitness app that has a superlative library of workouts, from rowing (both studio and on the water, led by experienced instructors including Olympians) to a wide variety of cross training. Unlike other fitness apps, with iFit your resistance is adjusted remotely at the instructor's prompt, according to the conditions (for example if the instructor is rowing upstream or against the wind) or if you're putting on a spurt in a studio session.
The upfront price is mid-range, falling between the budget rowing machines and the premium ones, although the iFit app is quite pricey and only worth it if you're going to do several workouts per week.
Weighing up the benefits of rowing machines vs treadmills? Well, this particular machine definitely wins marks for its foldable design. Plus, it offers a low-impact workout option, for anyone who needs to go easy on their joints.
ProForm 750R: Design
The Proform 750R is built more for function than for form, but it's still reasonably nice to look at with that red and black color combo favored by home workout equipment designers. Because of the issues with assembly (see below) we had feared that it might prove to be an inferior construction but was pleasantly surprised when it was all assembled – it feels strong and solid.
It scores well on ergonomics. You can move the foot stretcher up and down to get the right body position for you, and the console arm moves up and down, too, which is essential so you don't strain your neck. We liked the chunky velcro straps on the foot stretcher, which gave a snug feel. There's a little bit of squidge in the seat, which means it's still comfortable after an hour on the machine.
The handle doesn't have the ergonomic design of the Concept2 RowErg handle but is still pretty comfortable and easily wipes clean after use.
The rowing action is smooth, with 24 levels of resistance to choose from (it gets satisfyingly challenging at the top end). When you row at a faster pace, the resistance feels lighter so you may need to adjust up (assuming this isn't being done for you - see below).
ProForm 750R: Functionality
Assembling the Proform 750R is a bit of a performance and definitely needs two people – even getting it out of the box involves quite an effort. As you can see in the image below, the screws are vacuum packed and we found it tricky to access them without spilling the parts across the floor.
We also found it tricky to get all of the screws and bolts to fit in the holes and only subsequently discovered a video with suggestions to help with this (which suggests it's a common issue). Note that you need to have both an adjustable wrench and a Phillips screwdriver for assembly. Once assembled, though, it was straightforward getting the app connected.
After our experience with assembling it, we were relieved to find that it was much more straightforward to fold up for storage – it folds smoothly when you pull on the handle. It wheels into position though I only tried it on a hard floor – it might be harder to move on a carpet.
Because it's magnetic, it is much quieter than a water or air rower and doesn't go much above 70dB, even on a strenuous workout (for comparison, the Concept2 RowErg can go up to around 100dB).
ProForm 750R: Performance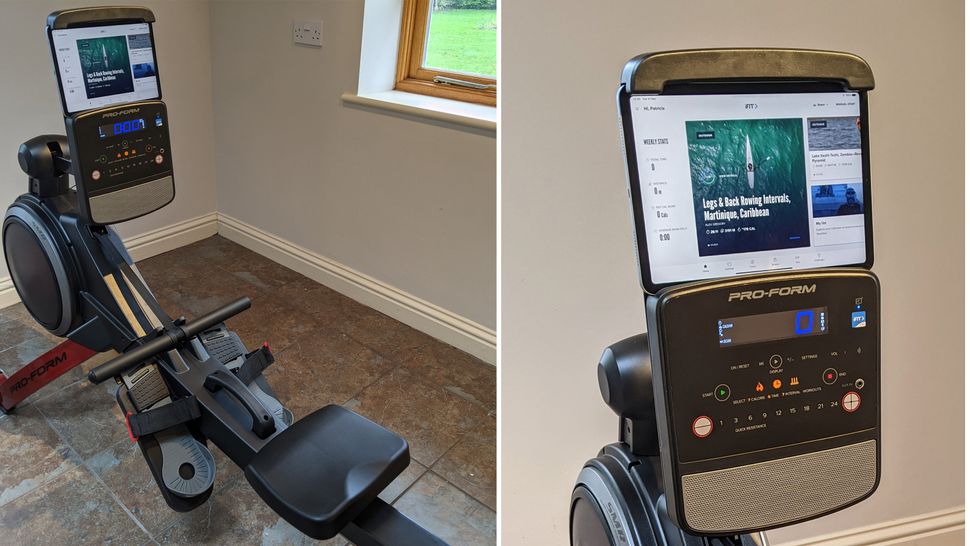 A magnetic rowing machine has a feel all of its own as there is constant resistance so you don't build momentum as you row – this can feel a little odd initially, although you soon become accustomed to it. We found the action of the Proform 750R reassuringly smooth.
The console gives you basic data including calories, distance, speed (split/500m), time and strokes per minute plus your heart rate if you've synced with a Bluetooth heart rate monitor. There's a data display at the top of the screen, too, if you're doing an iFit rowing workout, showing split/500m, heart rate, time elapsed, strokes per minute and distance. Your performance compared with other users is shown on a leaderboard at the side (along with your gender and what decade your age is in (e.g. 40s).
If you're likely to be competing in indoor rowing competitions, be aware that this machine is not calibrated the same as the Concept2 RowErg which is the standard machine used in competitions. The Proform 750R gives you much more generous splits than the RowErg!
The iFit rowing workouts are incredibly varied and include series so you can progress in your fitness. Browsing the app isn't the most intuitive process and it can be a challenge to find the kind of workout you're looking for, but it's worth spending a bit of time looking around.
Some of the rowing workouts are led by big name Olympians, which is a cool feature for sport fans, and the instructors are all enthusiastic and full of chat and technical instruction. You can choose between studio-style sessions with an instructor on a rowing machine (there's a spin class feel to these) and sessions led by rowers on the water, often in stunning locations such as Brazil or the Caribbean. Some are steady state or recovery rows; others are more energetic, such as minute-long intervals with rests in between.
The workouts off the rower are excellent and include strength training, HIIT, Pilates and yoga, many of which are filmed in beautiful and interesting places. If you have a compatible bike, treadmill or elliptical you can follow sessions for those, too. The instructors are encouraging and high-energy without the fist-pumping vibe that you get on some fitness platforms. With an increasing emphasis on the importance of mental health alongside physical health, there are also some sessions focusing on meditation and calm, but many of these are treadmill-only workouts.
Be aware that there are no live rowing classes – the only live sessions are for Proform treadmills, bikes and elliptical machines. Rowing sessions are all on demand. iFit cleverly manages to make them feel live, as your resistance is adjusted remotely on the instructor's prompt, and your performance is shown on a leaderboard. There's a community forum but it is fairly limited and mostly consists of people sharing their workouts as well as requests for advice.
If you just want to zone out rowing in front of your favorite show, there's always the option to just use your tablet to play Netflix instead – one of the advantages of not having an inbuilt screen.
ProForm 750R: User reviews
Users of the Proform 750R are mostly pleased with their purchase – as one reviewer puts it, "Awesome full body workout on a quality piece of equipment". Another concludes, "Overall I would say this machine is worth it if you are trying to find something mid-level that won't break the bank." Given the mostly positive reviews it's somewhat surprising that it only scores 3.5 out of 5 on Amazon.
Reviewers like the fact it's so quiet – "The most noisy thing you'll hear is your own breathing," says one, and most recommend it for its solidity and comfort. They find it easy to fold away – "It takes up less space than my dog's crate when it folds up", says an Amazon reviewer.
Some complain about assembly issues, and others criticise the console, which they find rather basic looking and hard to understand. "Think 1970s calculator display", says one. They also note that the preloaded workouts are hard to find.
Should you buy the ProForm 750R?
The Proform 750R is the rower for you if you're after a well-built and reasonably priced, quiet rowing machine to improve or maintain your fitness and want to take advantage of a more varied workout program led by expert instructors. It's great if you want a comfortable rowing machine, and if space is at a premium you'll appreciate the fact that it folds away.
If you value stylish design or state-of-the-art graphics it's probably not for you, and if you're likely to compete in indoor rowing competitions, or want to avoid an ongoing monthly cost, it won't be the best choice either.
If this product isn't for you
If you want live rowing sessions or contemporary design and money's no object, you should look at Hydrow, with its sleek lines and superb rowing workouts.
If you're likely to compete in indoor rowing competitions, or want a machine that doesn't come with a regular subscription, the Concept2 RowErg is a strong choice with its industry-standard data and standalone cost.
And if you fancy a machine that combines beauty with lovely sounds, consider the WaterRower Natural which makes a fabulous whooshing sound as you row.
Patricia Carswell is a freelance journalist specializing in health and fitness. She has written for a huge variety of national newspapers, magazines and websites, including Healthy, Top Santé, Women's Fitness and fitandwell.com, and writes a monthly column for British Rowing's content hub. She's the founder and host of rowing blog and podcast, Girl on the River, where guests have included Sir Matthew Pinsent and multiple Olympian Frances Houghton MBE. She keeps fit by rowing, walking, and wild swimming, and is at her happiest when on or in the water.