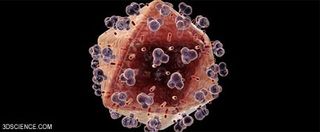 A virus is defined as any of a various number of submicroscopic parasites that can infect any animal, plant or bacteria and often lead to very serious or even deadly diseases. A virus consists of a core of RNA or DNA, generally surrounded by a protein, lipid or glycoprotein coat, or some combination of the three. No virus can replicate without the help of a host cell, and though they can be spread, viruses lack the ability of self-reproduction and are not always considered to be living organisms in the regular sense.Some of the most common or best known viruses include the human immunodeficiency virus (HIV), which is the virus that causes AIDS, the herpes simplex virus, which causes cold sores, smallpox, multiple sclerosis, and the human papilloma virus, now believed to be a leading cause of cervical cancer in adult women. The common human cold is also caused by a virus.Since a great deal of mystery still surrounds the origins of most modern viruses, ways to cure these viruses and the diseases they cause are still in the very early stages of development.
Explore Viruses, Infections & Disease
Stay up to date on the latest science news by signing up for our Essentials newsletter.
Thank you for signing up to Live Science. You will receive a verification email shortly.
There was a problem. Please refresh the page and try again.