Brown Rice: Health Benefits & Nutrition Facts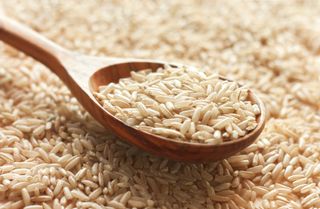 (Image credit: annata78 | Shutterstock)
Rice (Oryza sativa) is a food staple and primary crop grown all over the world. There are many different types of rice — including long-grain basmati, black rice, white rice and sticky (or glutinous) rice — but in terms of health benefits, not all are created equal.
Brown rice's health benefits are partially due to the way it is prepared, according to the George Mateljan Foundation for the World's Healthiest Foods, which promotes the benefits of healthy eating. Brown rice is a whole grain, meaning that it contains three parts of the grain kernel: the outer, fiber-filled layer called the bran, the nutrient-rich core called the germ, and the starchy middle layer called the endosperm, according to the Harvard T. H. Chan School of Public Health (HSPH). The outer, inedible hull is removed.
White rice, in contrast, is a refined grain, meaning that the bran and the germ have been removed, leaving just the endospore, HSPH says. (The outer hull is also removed.) This process strips away much of the fiber and nutrients. Some of these nutrients —including B vitamins and iron — are added back to "enriched" white rice, but fiber is not added back, according to the American Heart Association (AHA).
Nutrient profile
Brown rice is a highly nutritious food. It is a whole grain that is relatively low in calories (216 calories per cup), high in fiber, gluten-free and can be incorporated into a variety of dishes. The USA Rice Federation notes that brown rice contains no trans-fat or cholesterol. It has only trace amounts of fat and sodium.
Here are the nutrition facts for brown rice, according to the U.S. Food and Drug Administration, which regulates food labeling through the Nutrition Labeling and Education Act:
Brown rice health benefits
The health benefits of brown rice are largely due to it being a whole grain.
According to HSPH, the fiber in brown rice helps lower cholesterol, moves waste through the digestive tract, promotes fullness, and may help prevent the formation of blood clots.
Brown rice is considered a low "glycemic index" food. The glycemic index (GI) refers to how quickly and how much a food raises a person's blood sugar after eating, according to HSPH. Low-GI foods have a rating of 55 or less; the average GI for brown rice is 55. White rice has an average GI of 64, making it a medium-GI food. Previous research has shown a link between a high-GI diet and type 2 diabetes.
What's more, some of the phytochemicals and minerals found in whole grains may be associated with a lower risk of certain cancers, HSPH says. As a part of an overall healthy diet, whole grains may help improve cholesterol levels, and reduce the risk of heart disease, stroke and type 2 diabetes, according to the AHA.
The following nutrients are found in whole grains, according to the AHA:
B vitamins, which are involved in many biological functions;
Folate (folic acid), a B vitamin that helps the body form new cells and can prevent certain birth defects;
Iron, a mineral that the body uses to carry oxygen in the blood;
Magnesium, a mineral that is involved in more than 300 biological functions;
Selenium, a mineral involved the immune system and regulating the thyroid gland.
Arsenic in brown rice?
In 2012, Consumer Reports published an article stating that while arsenic is naturally present in a variety of foods, it is more likely to contaminate brown rice because brown rice absorbs a great deal of water while growing. However, the Food and Drug Administration analyzed over 1,000 rice samples, and in 2014 stated, "the arsenic levels that FDA found in the samples it evaluated were too low to cause any immediate or short-term adverse health effects." The FDA advised maintaining a diet that includes a variety of whole grains. Additionally, those concerned about arsenic levels can cook their rice in six times the normal amount of water and reduce the arsenic level by about half, according to the FDA.
Rice production
More than 740 million tons of rice were produced worldwide in 2013, according to National Geographic. Most of it, about 671 million tons, was grown in Asia. The Americas were second, with 36 million tons, while Africa was third, with 28 million tons.
Rice history
Recent archaeological discoveries have found primitive rice seeds and ancient farm tools dating back about 8,000 years in China, according to HSPH.
Arab traders introduced rice into ancient Greece, and Alexander the Great (356-323 B.C.) brought it to India.
The Moors brought rice to Spain in the eighth century, and the Spanish introduced it into South America in the 17th century.
Cooking brown rice
Brown rice, like all grains, should be rinsed thoroughly under running water, and any dirt or debris should be removed.
To cook brown rice, add one part rice to two parts boiling water or broth. After the liquid has returned to a boil, turn down the heat, cover and simmer for about 45 minutes.
Brown rice takes longer to cook than white rice because the fibrous bran layer and nutrient-rich germ layer have been removed, HSPH says. These layers also give brown rice a chewier, nuttier texture than white rice.
This article was updated on Oct. 3, 2018 by Live Science Health Editor, Sara G. Miller.
Stay up to date on the latest science news by signing up for our Essentials newsletter.