Best humidifiers 2023: Relieve dry skin & allergy symptoms
Invest in one of the best humidifiers and avoid a dry and uncomfortable home this allergy season.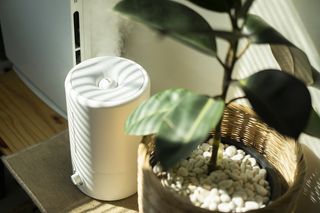 (Image credit: Getty Images)
The best humidifiers add moisture to the air to prevent dryness that can irritate the body. They are a great investment for treating dry skin, and can also help reduce some of the symptoms associated with respiratory conditions including the common cold and flu.
What the expert says
Humidifiers work by releasing moisture into the air to increase the humidity levels. "If air is too dry, this dries out mucous membranes and exacerbates coughing and wheezing," explains Dr Deborah Lee, MD and representative for Dr Fox Online Pharmacy. "If air is too humid, this can precipitate house dust mites and mold, triggering asthma symptoms. Overly humid air directly triggers the airways to constrict, resulting in allergens being trapped inside, and worsening asthma symptoms," she says.
The Environmental Protection Agency recommends that people keep indoor relative humidity to below 60% - ideally between 30% to 50%. If humidity levels are too low, the dry air can cause issues for people with allergies, asthma and skin conditions including eczema and acne. Dry eyes and dry skin can be another irritable side effect of low humidity, which could even lead to fatigue and sleepiness if moisture levels in the air drop. While the best humidifiers aren't a cure-all, they can certainly help reduce symptoms and issues like this.
At Live Science, we've tested some of the best humidifiers from top brands including Dyson, Levoit and Elechomes, putting them through rigorous testing, so you can find the right appliance for you. We've looked at price, technical spec, health considerations, design, durability and effectiveness in order to give you a true and honest recommendation. Our testing also takes into account the size of the humidifier, whether it emits cool or warm mist, how easy it is to use, clean and maintain, energy use, plus availability of additional parts. And we always look at online user reviews to see what people think of each product we test.
If you have the opposite problem and your air is too moist, check out our definite guide to the best dehumidifiers and don't miss our guide to the best air purifiers, too.
Best humidifiers we've tested
The best humidifier overall, and it's stylish too
Specifications
Smart enabled/compatibility?:
No
Water tank capacity:
3.5L
Dimensions:
8.7''D x 9.4''W x 22.8''H
Reasons to buy
+
Doubles as a fan
+
Very quiet
Reasons to avoid
-
Expensive
-
Small water tank
The Dyson AM10 is a sleek model that features a stylish loop design and a clear water tank.
What users say
Amazon reviews give the Dyson AM10 an average score of 4.2 out of 5, however 70% of them are five star reviews. Positive reviews commented on how well the ultraviolet light worked to kill bacteria in the water, as well as how easy it was to use. Negative reviews cited that the machine is quite complicated to set up and clean, and others commented on how small the water tank was, which means that you have to fill it up more often than other humidifiers.
It acts as both a humidifier and a fan, featuring 10 levels, and will look good in any office or living area space. With some great functions, it enables you to set it for sleeping, while an auto mode gives you a choice of your preferred humidity level. However, it's one of the most expensive models on the market and its water tank is relatively small - only holding 3.75 quarts.
One of the best things about this Dyson Humidifier is that before the water gets vaporized it purifies the water - getting rid of bacteria and minerals with its ultraviolet light. This is one of its best qualities, especially for those who are worried about the air quality in their house. It's easy to refill the water and our tester found that it ran continuously for 12 hours before it needed to be refilled. This model is better for smaller rooms up to 172 square feet.
Unlike other humidifiers we've tested, the Dyson AM10 Humidifier doesn't have multiple mist settings. Instead, it asks you to target a humidity level. The humidifier will run until your set humidity is reached and regulate the humidity from there. Humidity levels can be set to between 30 and 70 per cent. However, this humidifier also aims to regulate your desired temperature and will change according to the temperature in the room. Our tester also noted that the noise on any level was never louder than her air conditioner.
This Dyson humidifier is a great investment piece, especially as it doubles as a fan, which means that in the summer months it won't sit dormant.
---
The best humidifier for performance
Specifications
Smart enabled/compatibility?:
No
Water tank capacity:
3 gallons
Dimensions:
13.4''D x 21.3''W x 13''H
Reasons to buy
+
Two large water tanks
+
Humidifies quickly
This humidifier is great for big rooms due to its large water tank, which holds up to three gallons of water.
What users say
Reviews for the Honeywell Top Fill Cool Moisture humidifier on Amazon rate the model 4.5 out of 5, with the majority giving 4 or 5 star reviews. Happy customers comment on how quickly and effectively it humidifies a room. Others like that it is an evaporative humidifier, so no visible mist comes out. Negative reviews write about how expensive replacement filters can be.
However, it's a loud and bulky model, so it's not ideal for an office or sleeping environment. This humidifier features a fairly basic design, with fewer features than its competitors at this price range.
This model is easy to set up and it comes with two flat paddles, which are easy to install and two water tanks. As an evaporative humidifier, the model sucks in dry air from the room via a wet filter and then pumps out warmer air in order to change the humidity of the room. If you're looking for a high tech humidifier, then you might want to look elsewhere, as this model only has two buttons to control its humidity and fan speed. The fan speed can be either fast, medium or low, which is also its quiet setting. With no LED screens, being able to actually set the humidity level you're after can be confusing.
This humidifier performs well. In our at-home testing, it reached up to 63% humidity on its highest level, while on the lowest level it reached up to 53%. As its two water tanks are so large, it can also run continuously for 24 hours on its lowest setting before needing to be filled up again.
---
The best water tank for bedrooms
Specifications
Smart enabled/compatibility:
No
Water tank capacity:
1.5 gallon
Dimensions:
7''D x 10.5''W x 11.3''H
Reasons to buy
+
Large water tank
+
Ultra-quiet
Reasons to avoid
-
Auto setting not accurate
-
Warm mist relatively hot
The Levoit LV600HH humidifier has some interesting features, including three mist settings, an essential oil diffuser for aromatherapy and a dual nozzle that twists 360 degrees.
What users say
Customers on Amazon gave the Levoit LV600HH humidifier an average score of 4.5 out of 5 and mentioned its humidity levels and remote control the most. Positive reviews cite its high output of mist and how easy it is to clean, while negative reviews mention that the warm mist can get quite hot and how the auto setting isn't accurate.
As a smaller model, it's ultra-quiet but is capable of holding a large amount of water, which means that it can run for up to 36 hours.
This humidifier is great for larger rooms that measure between 430 to 753 square feet. The built-in water tank is see-through, which means that you always know how much water you have left in your tank. Able to sit on your worktop or tuck under a table, it's a little tricky to fill up. However, this humidifier is ready to use as soon as you get it out of the box, with nothing to set up aside from filling the water.
With a small LCD display on the front, it also has various buttons that enable you to control the mist level, humidity and how long the humidifier will run for. The mist function has three settings going from low to high, while the humidity button enables you to change the percentage of humidity in the air. During testing, we found that even on the highest mist level, the humidifier didn't need a refill until the next day, running for more than 17 hours. Meanwhile, the nifty remote control means that you can control the humidifier from up to 16 feet away.
Usefully, this humidifier is both easy to operate and extremely quiet.
---
The best humidifier with a remote control
Specifications
Smart enabled/compatibility:
No
Water tank capacity:
1.2 gallons
Dimensions:
6''D x 9''W x 11.5''H
Reasons to buy
+
Remote control
+
Performs well
Reasons to avoid
-
Leaks water on highest setting
-
Needs weekly cleaning
This is a small and attractive model that features touch screen buttons and a large display that shows the temperature and humidity levels.
What users say
The Elechomes HTJ-2119 Ultrasonic Humidifier fares well on Amazon, featuring a 4.5 out of 5 rating. Many like how sleek the humidifier was, along with its very low noise. Other positive reviews loved how it could be controlled via remote control and how easy it was to set a specific humidity level. Negative reviews concentrated on how small the handle of the model was, and others said that the lights on the model distracted them at night.
The humidifier pumps out a cool mist, while the built in humidity sensor enables you to set your preferred humidity level. Other functions include a child lock, sleep mode and the option to add essential oils.
This model is sleek, but tall, so you'll need around a foot of height if you want to tuck this into a corner or under furniture. Filling the tank is fairly easy and it performs best in a medium sized room or house – or anything that equates to 322 to 528 square feet. The buttons on the display are easy to use and very self explanatory, while the remote control can also control the humidifier as well.
The highest mist setting can raise the humidity levels in a medium sized room up to 69% in just under an hour, while the humidity target can be adjusted so you never feel uncomfortable with the humidity levels in the room. However, be careful that the water doesn't leak on the highest setting - our reviewer had a pool of water escape when it was tested. The aroma pad is also a nice extra, enabling you to add essential oils to the pad that the humidifier then emits with the mist, giving an extra scent to the air.
---
The best humidifier for easy cleaning
Specifications
Smart enabled/compatibility:
Yes, via WIFI
Water tank capacity:
1.5 gallons
Dimensions:
7.5''D x 9''W x 13.4''H
Reasons to buy
+
Connects to app
+
Good humidity levels
Reasons to avoid
-
Built-in humidity sensor is sensitive
-
Needs to be cleaned regularly
The only smart humidifier on our list, the Levoit Classic 300S humidifier connects to the VeSync app, which enables you to control the mist levels and notifies you when it needs cleaning.
What users say
The Amazon reviews for the Levoit Classic 300S humidifier scores an impressive 4.6 out of 5 with many happy customers commenting on how quiet it is and how easy it is to clean, because of its wide opening at the top of the humidifier. Negative reviews focused on how the humidifier was too sensitive and that the auto mode didn't work as well as other models.
A medium sized sleek model, the clear water tank sits on the top, giving you a clear indication of how much water is left.
Perfect for small or medium sized rooms, the humidifier will need some assembling, but it's not a complicated affair. With a large LED display, it clearly indicates the humidity level, while the buttons for mist levels, night mode and humidity levels sit around this. The connecting app is easy to download and connects via WiFi. Once downloaded, the app enables you to switch between the manual, auto and sleep modes. You can also set a timer and change the humidity levels via the app.
This humidifier is easy to clean and its humidity levels perform well on both the high and middle mist setting, climbing to a 68% level within two hours on the highest setting. Another quiet model, it will last for 19 hours on a high setting, but 60 on a lower setting. However, the built-in humidity sensor is quite sensitive and the model does need to be cleaned regularly to avoid bacteria getting into the water.
We also like the aromatherapy option on this humidifier. We added six drops of strongly-scented tea tree oil to the aroma pad and enjoyed the lightly-scented air in our room an hour later. Note that six drops is more than the recommended 2-3 drops.
---
One of the most stylish air purifiers we've tested
Specifications
Smart enabled/compatibility :
No
Water tank capacity:
1.47 gallons
Dimensions:
7.09"D x 7.09"W x 20.94"H
Reasons to buy
+
Whisper quiet operation perfect for night
+
3 x essential oil tray pads
+
Stylish design
Reasons to avoid
-
Quite flimsy
-
Large and bulky to move
If you're looking for a humidifier that seamlessly blends into your home without being an eyesore, the HoMedics TotalComfort Deluxe is a great option. This stylish, sleek appliance can hold 1.47 gallons of water, has a run time of up to 70 hours, and can cover large rooms up to 426 sq ft.
What users say
User reviews for the HoMedics TotalComfort Deluxe Ultrasonic humidifier are largely very positive, with the product scoring 4.1 stars out of five on Amazon. Users note that it is one of the most attractive appliances they have seen, and it is extremely quiet so doesn't keep them awake. However, some do think that it is slightly overpriced considering it is not smart enabled.
You can choose from three cool mist settings to best fit your space. These can be controlled using the intuitive buttons on the front of the humidifier. There is also the option to set an auto-off timer for four, eight or 12 hours.
The HoMedics TotalComfort Deluxe is whisper quiet (measuring around 13dB in our in-house tests), so you will hardly notice it in the background if you're trying to work, or when you're asleep at night. In fact, it also has a built-in nightlight and an auto-shutoff mode when the tank is out of water.
The humidifier does feel a little bit flimsy (which surprised us for the price), and leaked a bit when we tried to transport it into another room with water still in the tank. However, it's an efficient machine that does a good job of improving indoor humidity, and it has the added benefit of looking good too.
---
Our experts
Environmental Protection Agency
We spoke with members of the Environmental Protection Agency to confirm the latest research and findings on humidifiers, as well as advice on how to maintain a humidifier so that it performs smoothly.
Having worked for many years in the NHS, initially as a GP, and then as Lead Clinician for an integrated Community Sexual Health Service, Dr Deborah Lee now works as a health and medical writer, with an emphasis on women's health. She is a menopause specialist.
How we test
How do we test humidifiers on Live Science?
Every humidifier in this guide has been tested to the exact same standards, using the same processes.
We start by noting the humidity level of a closed room. We fill each humidifier's tank to the maximum and let it run on the highest setting (also noting how long it takes to empty the tank). While the machine is running, we measure the noise level of the machine in decibels. After an hour, we measure and take note of the humidity level in the room. This is repeated at the two hour mark, or when the tank is empty. This process is repeated for each mode the unit has, such as lower mode and night mode.
Our testing also takes into account the size of the unit, whether it emits cool or warm mist, the cost, ease of use, availability of additional parts, ease of cleaning and the energy use on the lowest and highest settings. Finally, we check online user reviews to see what people think, and we test for any persistent problems or defects that we read about.
As per our testing policy, we fully disclose all our findings in our reviews.
---
FAQs
Where to put a humidifier in your home
Where to put your new humidifier depends on the conditions of each room in your house and what you hope to achieve by using one. For instance, if you struggle with snoring, then it would make sense to put your humidifier in your bedroom. Humidifiers in the bedroom should be kept at least three feet away from the bed to avoid disturbing you while you sleep, although you might want it temporarily closer if you're battling a respiratory infection. Some humidifiers have LED displays and run louder than others, so you might want to place it somewhere the lights aren't directly visible from the bed and far enough away that the sound isn't disturbing.
Remember that humidifiers are releasing moisture, so you want to keep them at least a foot away from walls, furniture or curtains to avoid causing water damage, and direct the mist outlet towards the center of the room to enjoy the benefits. If the water is condensing on a surface before it can reach you, the humidifier will be less effective. This one foot rule also applies to floors and carpets; it's best to keep your humidifier at least one foot above the ground to avoid puddling. Ultrasonic humidifiers in particular are prone to puddling, as they release miniature water droplets as opposed to evaporating the water. The elevation also allows the mist to reach higher and therefore disperse further within the room.
If you have bought a humidifier for a baby's room or nursery, then ensure that the humidifier and power cords are kept out of the baby's reach to avoid accidents.
---
How to maintain your humidifier for optimum performance
The best humidifiers are great at ensuring the air quality and humidity levels in your home are kept at the best possible levels. There are some best practice guidelines you should follow to ensure they are running at their best, and we spoke to an expert, Tim Carroll, a representative from the Environmental Protection Agency, to get his breakdown of how to care for your humidifier:
• You should empty the tank of the humidifier, wipe all of the surfaces dry and refill the water in portable humidifiers daily. This will help to reduce the growth of microorganisms.
• Try to use water with a low mineral content in order to prevent the build-up of unwanted minerals in the tank. This will also reduce the potential dispersal of minerals into the air.
• You should aim to clean portable humidifiers every third day.
• Clean and dry the humidifier thoroughly when storing the product or when it is being used infrequently.
• Do not humidify to indoor relative humidity levels exceeding 50 percent.
• Do not allow the area around the humidifier to become damp or wet.
• Follow any specific manufacturing instructions regarding use, cleaning, and maintenance.
Stay up to date on the latest science news by signing up for our Essentials newsletter.
Sarah is a freelance writer - writing across titles including Woman&Home, Fit&Well, The Independent, LiveScience, and the BBC in the UK. She covers a variety of subjects, including trends in beauty, business, and wellness - but her biggest passions are health and fitness. She can normally be found trying out the trendiest fitness class or interviewing an expert about the latest health trends.