Best star projectors 2023: Bring the cosmos indoors
The best star projectors — both scientifically accurate and novelty ambiance-creating models that let you experience the cosmos without leaving the house.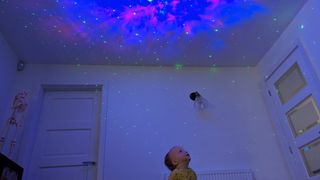 (Image credit: Tantse Walter)
We have separated the best star projectors and home planetariums that we've tried and tested into two sections — scientific and not!
The models that tend to be more affordable are those that give you an immersive experience, to give the feel of being somewhere other-worldly, and the colors and patterns are loosely 'inspired' by nebulas, auroras and galaxies. You've likely seen them at parties, in games rooms, in spas and so on.
On the other hand, scientific home planetariums generally project 'real imagery,' so you can study and enjoy real galaxies and nebulas from the comfort of your own home without investing in expensive astronomy equipment. These are much more likened to the more traditional planetariums that teach astronomy and related sciences.
We've scoured the market for the best models of star projectors and home planetariums, and we've noticed that over time, there's a growing competition of manufacturers bringing out newer versions, with additional functionality and better quality and packaging. We'll keep updating this list with new models as we get our hands on them. For now, here are the best ones currently available on the market.
Best star projectors for scientific learning
We really rated this projector in our recent review, it easily rivals the big brand competition
Specifications
Size:
160mm x 120 mm x 120mm
Projection surface:
13ft/ 4m
Reasons to buy
+
Large expandable collection
+
High-quality imagery
+
Looks stylish
+
Rechargeable
Reasons to avoid
-
Tiny disks
-
A touch noisier than some models
We were really impressed with the Orzorz Galaxy Night Light when we reviewed it recently. It easily rivals the Sega Homestar Flux in terms of image quality and functionality and comes at a fraction of the cost.
The colors produced by this projector are undoubtedly impressive — they are vivid and bright, and the images are incredibly sharp once focused. You can even enjoy the projections in the daytime; there's no need to be in total darkness. The projector ships with four disks — Pillars of Creation, NGC 2359 (Thor's Helmet), the Moon, the Milky Way and the Earth and Moon (on one disk), but there's a whole catalog of others to choose from to purchase separately. The disks also fit the Pococo Home Planetarium and vice versa, making the library of images to extend your collection even greater.
There is one rotation speed which is slow and soothing — there's a little bit of noise from the motor but nothing that would be distracting, and better than many models we've tested.
We've chosen to put this projector at the top of this list as it is much more affordable than the Sega Toys Homestar Flux, but we think it does the same job, making it much better value for money.
---
Undoubtedly an excellent Home Planetarium, but cheaper alternatives are rivaling its functionality
Specifications
Size:
160mm x 160 mm x 150 mm
Projection surface:
Max 8.9ft / 2.7 m
Reasons to buy
+
Illuminated controls
+
Additional disks available
Reasons to avoid
-
Expensive
-
Rival cheaper alternatives
There isn't a 'top X star projector list' you'll come across without finding the Sega Toys Homestar Flux taking a podium position. Unlike many 'star projectors,' this model's main focus (no pun intended) is to project a realistic-looking, high-quality image of extraterrestrial subjects onto your wall or ceiling, often using real photos from various observation stations around the world. It ships with two disks as standard, but with over 30 compatible disks available as additional add-ons, there's a greater level of exploration to be had than with other star projectors and home planetariums.
It has a sleek and mature design with a high-quality satin black finish. It also comes in an attractive and robust box which would be a delight to give or receive as a gift, and one that can be saved and used as storage rather than heading straight for the recycling bin.
The 5-Watt LED projects pin-sharp images across the whole projection, from edge to edge. The operation is quiet, and there are three sleep timers for automatic shut-off. There's no remote, app control, or in-built speaker, but these aren't functions you'll need if all you're doing is selecting your desired disk and switching the projector on to gaze at the stars.
There is a shooting star function, but this leaves a little to be desired, and we think it's an unnecessary add-on.
---
3. National Geographic Astro Planetarium
A multi-media home planetarium that's most suited to a younger audience
Specifications
Projection surface:
Max 8.9ft / 2.7 m
Reasons to buy
+
Time & Date selector
+
Five year warranty
+
In-built speaker & radio
Reasons to avoid
-
Not a Bluetooth speaker
-
Lacks premium finish
Like the Sega Toys Homestar Flux, the National Geographic Astro Planetarium appeals to a younger audience. Primarily due to the garish yellow accented buttons and detail on the device.
The images aren't as impressive as the Homestar Flux — if super vivid imagery is what you expect — but the price point is much lower. You can power it with either a user-supplied 5V DC power cable or three AA batteries which are included.
It has the functionality of an inbuilt speaker (requiring a 3.5mm audio cable — included) and a built-in radio. We wouldn't rely on using this as a radio though; you're better off plugging in a phone or smart device to play your chosen audio instead. The sound quality is surprisingly good, something that would be perfectly acceptable in a child's bedroom or for listening to in your kitchen.
---
4. Pococo Galaxy Projector
Another projector to rival the big names with a huge library of additional disks available to purchase
Specifications
Projection surface:
12meters squared
Reasons to buy
+
Rechargeable
+
Vivid imagery
+
Plenty of add-on disks
Reasons to avoid
-
Awful marketing language
-
On button controls not illuminated
The Pococo Galaxy Projector is ultimately the same technology as the Orzorz Galaxy Lite mentioned above, but in a different body. Scroll up to the top of the list to read all of the functionality, it's all the same and even uses the same shape disks; it's just the shape and color of this model that makes it different.
The Pococo's design is simple and stylish, with a pink and blue ombre paint job. Like the Orzors, the packaging and presentation are nice, so it would be good to give as a gift.
So, if it's exactly the same, why is it further down in this guide? A few reasons — one is we think the Orzors has a more 'grown up' design and would complement more decor — therefore, more of a 'safe bet' if you're purchasing it for someone else. The other reason is the strange marketing around the product, which seems to target ladies' insecurities (check it out for yourself if you don't believe us) — which we obviously disagree with. It also claims to be an 'eco-friendly' star projector, which simply isn't true. While this seems trivial, it's important to call out greenwashing.
---
A hands-on educational star projector, planetarium and night light for young astronomers
Specifications
Size:
130mm x 250mm x 320mm
Projection surface:
Projector 1m, stars not specified
Reasons to buy
+
Great for home-learning
+
Highly portable
+
Clear imagery
Reasons to avoid
-
Requires 3 x AA batteries
-
Educational supplements would be helpful
Here we have one of the most reasonably priced star projectors available. Think of it as an educational STEM toy for young budding astronomers rather than anything too sophisticated.
Its body resembles a well-known sci-fi character (R2D2); we're sure this wasn't an accident. A pill-shaped device pivots vertically on a stand to expose either the planetarium end, which is ultimately a light with a plastic cover over the top allowing small 'stars' to be outwardly projected or a slide projector with a focusing ring. Using another of the supplied light covers), the star projector can also be used as a simple blue-colored night light.
Three disks are supplied — one has spacecraft images, one has astronauts, and the other features eight images of nebulae and planets taken by the NASA Hubble Telescope. This is the most educational function and users are provided with a 'secret code' to unlock online learning material.
This is an excellent purchase for homeschooling or to simply spend some time with your child learning about the wonders of space.
Best for non-scientific light displays
Excellent value for money, impressive tech and three means of control make this one of the best non-scientific star-projectors
Specifications
Control:
App, voice and single button
Projection surface:
Laser — 30 x 30 ft, Nebula cloud — 15 x 15ft
Reasons to buy
+
App, voice & button control
+
Color blending
+
Good value for money
Reasons to avoid
-
Heavy button on the cable
-
Mains power only
Here we have the newest version of BlissLights 'galaxy lights,' the Evolve, available with green, blue or no lasers. Unusually, it has voice control (Google Assistant /Amazon Alexa), single button control and app control. As we found out in our BlissLights Evolve Star Projector Review, the app is responsive and effective.
The spherical projector isn't fixed to the supplied base so gives maximum positioning flexibility. Point it at walls, ceilings and even the floor if you have high shelving, and you won't have a problem angling the Class 2 laser away from vulnerable eyes.
It displays an immeasurable amount of color combinations from a bright 5-watt bulb. The colors are vivid and immersive, and the BlissLights Evolve uses unique color blending technology to allow for pastel-style colors rather than highly contrasting color patterns. You can spend hours gazing up at the soothing changing patterns and experimenting with color combinations and brightness in the app. Turn on the laser 'stars' to further transform your space (up to 30x30 feet!) into an otherworldly sensory experience.
Though clearly not a scientific star projector, it would transform your gaming room, party atmosphere or sleeping environment. As the motor is very quiet — near silent, in fact, the motor noise won't be a distraction, allowing you to focus on the immersive and impressive light patterns.
---
2. BlissLights Sky Lite 2.0
Create cool party lighting with this easy to use, app controlled projector
Specifications
Sleep timer:
Yes (via app)
Projection surface:
Laser - 30 x 30 ft, Nebula cloud - 15 x 15ft
Reasons to buy
+
App control
+
Bright & vivid colors and lasers
+
Powered by USB
Reasons to avoid
-
Has been superseded
-
Cheaper similar alternatives
Bliss Lights SkyLite 2.0, although superseded by the Evolve as mentioned above, is still an excellent star projector that features most of the same functionality, just not Google or Alexa voice control. It looks different because it is 'wheel-shaped' rather than spherical, but it slots nicely onto a bookshelf without taking up much space.
The colors of the lights and lasers are vivid, and the dedicated app still affords you many customization options in terms of color mix, speed, timing modes, brightness and so on. Be mindful that the app is connected over Bluetooth and not Wi-Fi, so you have to be pretty near it to make any changes to the settings — if you're looking to control it remotely from a different room (e.g if it's in a child's bedroom and you don't want to disturb them), you'd probably want to consider something that is connected by Wi-Fi.
The operation of the motor is nearly silent, so it would be a perfect sleeping aid if that is what you're looking for a star projector to help with.
---
A conversation-starting novelty star projector, geared towards children but still excellent quality
Specifications
Control:
On-body and remote
Projection surface:
Not specified
Reasons to buy
+
Novelty design
+
Good build quality
+
Plenty of color combinations
Reasons to avoid
-
DC power port (USB would be preferred)
-
Basic packaging
This is a great quality star projector for any space fan. We were dubious how good this star projector would be, as historically, novelty-shaped star projectors are pretty disappointing. We're pleased to say that during our Astronaut Starry Sky Projector review, this 'cute' projector meets space-themed ornament surpassed our expectations.
The lights and laser are projected out of the astronaut's space helmet, and the buttons are on their backpack, but you can also use the handy remote control so you don't have to leave your seat to alter the color, speed and brightness settings.
There's also a 45-minute or 90-minute sleep timer (that you can also set using the remote), which we found ideal for a child's nursery, as you don't need to go in and risk disturbing the child to turn it off.
This projector would be most suited to a child's bedroom, just be mindful that the lasers aren't pointing directly in anyone's line of sight — pretty easy to accomplish given the positioning flexibility the magnetic space helmet allows.
---
4. Encalife Ambience Galaxy & Star Projector
A good projector/speaker combo that displays vivid nebula-inspired patterns over a large projection area
Specifications
Size:
168.9 x 167.89 x 134.87mm
Control:
On-body and remote
Projection surface:
160 - 540ft
Reasons to buy
+
Surprisingly good quality Bluetooth speaker
+
Faceted dome
+
USB
Reasons to avoid
-
Dull packaging
-
Lacks premium feel
-
Remote needed for all functionality
The Encalfe Ambience Galaxy & Star Projector is a combination star-projector meets Bluetooth speaker, perfect for a child's bedroom. Be aware of the lackluster packaging and slightly disappointing build quality, but the device performs surprisingly well.
The Ambience Galaxy & Star Projector resembles a UFO shape and has a faceted dome to help disperse the LED over 180 degrees. After reviewing lots of star projectors, this is a unique design.
The lights are bright and vivid, and there is a fair amount of customization, but you'll need to use the supplied remote to access some of the functions (rather than being able to access them using the buttons on the device). Other star projectors on this list, namely the Bliss Lights models, offer more color combinations, but there's more than enough here to entertain yourself and your children.
There is a USB port for plugging in a flash drive to play music from, although admittedly, these are somewhat outdated now, so this probably won't see much use. That said, we can see why this function would be useful if you were to pre-load an mp3 playlist (e.g. sleep sounds), an audiobook, or similar to a flash drive.
---
Four-in-one functionality in this eye-catching hatching egg projector
Specifications
Laser:
Yes (Class 1 or 2 — not specified)
Control:
Button or remote control
Projection surface:
20-80 square meters
Reasons to buy
+
Giving as a gift
+
Multifunctional
+
Reasonably priced
Reasons to avoid
-
Difficult to control in the dark
-
No laser warning label
Here's one for space fans and paleontology enthusiasts alike. The second novelty-shaped projector in this guide and it's surprisingly capable in terms of functionality, and during our Dinosaur Egg Galaxy Star Projector review our children loved it!
When in one piece (with the 'lid' on the egg), you have a fun night light, emitting an ambient-colored light through the cracks of the hatching egg. Remove the lid and you have a star projector that can display wavy patterns in a multitude of colors in your choice, as well as a Class 1 or 2 laser (this isn't specified) which can be turned on or off independently.
Not only this but there's also an in-built Bluetooth speaker. As with most 'cheap' Bluetooth speakers, the sound quality won't win any awards as it lacks bass and sounds a little tinny, but for background music or for reading aloud an audiobook, it does the job just fine.
On top of the Bluetooth speaker, there is also in-built 'white noise' functionality, presumably to be used as a sleeping-aid first and foremost. There's a catalog of 19 different sounds from a cow moo-ing and a dog barking, to more sleep-appropriate 'watery noises,' piano tunes and 'standard' white noise.
---
Stay up to date on the latest science news by signing up for our Essentials newsletter.
Tantse Walter is a photographer and adventurer that's spent seven years facilitating global adventurous expeditions. She loves getting into the nitty-gritty of sourcing and planning trips. Whether that be for astrophotography location scouting, or just for the love of exploration. Tantse enjoys taking creative, bright and bold photos of people, places, animals and the night sky.