Best binoculars for kids 2023: beginner binoculars and toys
Help your kids explore the natural world with the best binoculars for kids, with young adventurers of all ages.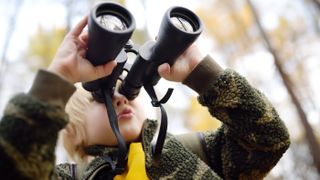 (Image credit: Shutterstock)
Small hands and young minds doesn't immediately mean 'toy' binoculars. There are loads of proper binos that can be a perfect fit for kids interested in exploring.
But what makes the best binoculars for kids? Well they need to be compact and lightweight so they can carry them about, while also being robust and well-built to survive bumps and drops. They should also be easy to use so kids don't get frustrated.
Rubber grips and rubberized binocular bodies should withstand the odd knock or accidental drop, while waterproofing is an added asset given this age group. Compact binoculars typically come with a smaller price tag, so should anything untoward happen to them, it's not the end of the world.
While compact proportions typically mean a modest magnification of 8x or 10x and a relatively small 25mm objective lens to go with it, which means that they're not great for low light observation, most kids won't be out as dusk falls anyway. You can check out our best binoculars for stargazing guide if you want to introduce your young ones to the night sky.
And if you want a new pair of binos so you can join your kids, be sure to also check out our guide to the best binoculars for older teens and adults,
Best binoculars for kids (Ages 8+)
The best binoculars for kids overall
Specifications
Objective Lens Diameter:
25 millimeters
Field of View at 1000m:
108 meters
Size:
4.49 x 4.53 x 1.77 inches / 115 x 114 x 45 mm
Reasons to buy
+
Compact build is ideal for kids
+
Robust
+
Great viewing quality
Reasons to avoid
-
Small objective lens limits use in low light
-
End caps can get lost easily
This ultra portable option from a recognised name brand is a good option for kids, but also those looking for a lightweight, pocketable pair of binoculars. High quality optics and a waterproof, fogproof, and dirt proof build tick the boxes for the essential features we're seeking for younger observers; even if the small objective lens size means they're better suited to daytime use.
These compact binos will fit comfortably in the palm of an adult hand in its entirety, while weighing no more than a small plastic water bottle a child might have in their lunchbox. We were impressed with the image quality here too, which was better than we expected given the diminutive size. That's no doubt down to the manufacturer choosing class leading BaK-4 porro prisms in the construction as well as featuring fully multi coated lenses to improve light transmission.
Easy to use, fuss free, ultra portable and very reasonably priced, there's not much as regards the Olympus 8x25 WP II that either us or our youngest would take issue with.
---
2. Celestron Nature DX 8x32 Binoculars
The best nature binoculars for kids
Specifications
Objective Lens Diameter:
32 to 56 millimeters
Field of View:
1,273 feet (88 meters) / 3,280 feet (1,000 meters)
Size:
5 x 4.9 x 1.8 inches
Reasons to buy
+
Carrying bag included
+
Waterproof and fogproof
+
Wide FOV
Reasons to avoid
-
Not built for small children's hands (or eyeballs)
Think your child's outdoor hobbies might turn into a career? The Celestron Nature DX 8x32 Binoculars are a great premium choice for older kids with steadier hands; they'll definitely appreciate the enhanced optics of a quality pair. If you've got a semi-seasoned bird-watching enthusiast in your family already, these binoculars pack impressive specs for the price.
The multi-coated 8x32 lenses ensure bright imagery, but if you want more power, you can upgrade all the way to a 12x56 model. You get the perfect combination of magnification, field of view and close focus distance for most nature scenes. They're even eyeglass-friendly, for those of us who are already bespectacled, and come with a nifty built-in tripod mount for long periods of steady observations.
Bonus: For a few extra bucks, you can splurge for the extra smartphone adapter, which lets you take pictures through the binoculars' viewfinder.
---
The best premium binoculars for kids.
Specifications
Objective Lens Diameter:
42 millimeters
Field of View at 1000m:
126 meters
Size:
5.98 x 5.12 x 2.13 inches / 152 x 130 x 54mm
Reasons to buy
+
Slimline design should suit smaller hands
+
Optical quality better than expected at this price point
+
High-end feel despite reasonable price tag
Reasons to avoid
-
Lens cap and neck strap lack the quality of the rest
The Nikon Prostaff P3 8x42 from Nikon are beginner friendly, straightforward to operate roof prism style binoculars from a brand you can trust.
Nikon is known for its optical excellence, which may not mean much to younger minds, but they'll be captivated by the relatively sharp view provided here. This product marries a modest 8x magnification to a large-ish 42mm objective lens size, which does make it slightly weightier than more modest proportioned alternatives.
The rubberized body will afford enough of a grip for smaller hands that they'll be able to enjoy a judder free view with it. We found the operation of the focus wheel to be slow and steady, which means greater precision when zeroing focus in on subjects. We'd argue they will also get more mileage out of this binocular than a cheaper priced toy alternative; in fact these capable binos can be shared around by all the family.
We were a little disappointed by the cheapness of the lens and eyepiece covers provided here and the thin neck strap, but add in water and fog proofing and in being lightweight, comfortable and tough Nikon has ticked most boxes for a binocular to get young minds engaged and enraptured.
---
The best binoculars for older kids and teens
Specifications
Objective Lens Diameter:
42 millimeters
Field of View at 1000m:
126 meters
Size:
5.98 x 5.12 x 2.13 inches / 152 x 130 x 54mm
Reasons to buy
+
High magnification and large objective lens
+
Top tier Bak-4 glass prisms
Reasons to avoid
-
Chromatic aberration between areas of high contrast
-
Focus falls off towards the edges
Good optical performance for a fair price – that's the crux of these budget binoculars. 10x magnification coupled with a 42mm objective lens, meaning a marginally weightier build overall, does however suggest to us these would be more of a match with older children rather than the under tens.
Youngsters are here provided with enough magnifying power to be able to observe birds and wildlife at sufficient distance as to not scare off such skittish creatures. Raised nodules on the flanks of this binocular aid grip for handheld observation, even if the overall feel is quite smooth.
Overall image quality is a little softer than we'd have expected given the objective lens size, especially when light levels fall, and focus doesn't completely maintain its sharpness into the corners of the frame. Still, for the price being asked this is a more than acceptable starter model that should maintain the interest of older children, and won't weigh heavy on their parents' wallet if it doesn't.
---
The best cheap binoculars for kids.
Specifications
Objective Lens Diameter:
25 millimeters
Field of View:
896 feet (273 meters) / 3,280 feet (1,000 meters)
Size:
4.4 x 4 x 1.9 inches
Reasons to buy
+
Great for low-light environments
+
Wide FOV
+
Water-resistant
Reasons to avoid
-
More expensive than other children's binoculars
-
Not fully waterproof
Looking for a pair of powerful binoculars that you can share with your kid? The Occer 12x25 Compact Binoculars with Low Light Night Vision are an impressive piece of hardware for the price, boasting 12X magnification (the highest offered on this list) in an ultra-compact package.
The plastic and rubber construction is (mostly) waterproof, and the 15mm eyepiece is easy to adjust. The FMC multilayer broadband film and BAK4 prisms are designed for exceptional low-light performance, which is great for watching sunsets. (Or sunrises, if your youngster is an early bird.) In short, these deceivingly powerful binoculars are the perfect pocket companion for outdoor excursions, no matter the time of day.
Best binoculars for young kids (Ages 3 - 8)
1. Promora Binoculars for Kids
The best binoculars for young kids.
Specifications
Objective Lens Diameter:
21 millimeters
Field of View:
400 feet (122 meters) / 3,280 feet (1,000 meters)
Size:
4.8 x 4.1 x 2.1 inches
Reasons to buy
+
Soft eyecups are great for young explorers
+
Three different color choices
+
Kit includes compass and magnifying glass
Reasons to avoid
-
Subpar durability, according to some reviews
For the naturally curious kid in your household, Promora's Binoculars for Kids come with a complete explorer's kit (in miniature, that is). In addition to the preschool-friendly 8X binoculars, your little one also gets a magnifying glass, compass (with clippable carabiner) and a handy carrying bag for their next woodland adventure.
From hiking and camping to beginner birdwatching, your kid will feel like a bonafide outdoorsman with the adjustable central axis and central focusing wheel. (Pre-school-friendly models don't always include this kind of customization.) The comfortable rubber eyepieces include a diopter knob as well, to ensure high-res close-ups for all.
Some reviewers reported not-so-kid-resistant build materials, but you're still sure to get your money's worth from this nifty, all-inclusive set.
---
2. BESPIN Binoculars for Kids
The best binoculars for young birdwatchers.
Specifications
Objective Lens Diameter:
21 millimeters
Field of View:
400 feet (122 meters) / 3,280 feet (1,000 meters)
Size:
4.1 x 3.8 x 1.4 inches
Reasons to buy
+
Inexpensive
+
Aluminum-and-rubber construction
+
Ergonomic design
Reasons to avoid
-
Bird map not included (according to Amazon reviews), though marketing materials imply otherwise
For a little extra magnification than you'll find in many kid-friendly binoculars, the BESPIN Binoculars for Kids are a solid choice for most youngsters. The grip is ergonomically designed for smaller hands, and the sturdy aluminum construction should last a while; it's easy to focus on distant objects by turning the central adjustment wheel. (A nylon case and neck strap are also included.)
At an entry-level price, these 8x21 binoculars still use premium blue-coated optics for crisp, colorful imagery; a shock-resistant rubber casing for extra durability; and a wider 7.2-degree viewing angle for aspiring bird-watchers. (Or squirrel-watchers. Any animal watching, really.)
---
3. Explorer Kit for Kids by Mini Explorer
Best entry-level binoculars for young kids.
Specifications
Objective Lens Diameter:
30 millimeters
Size:
7.5 x 5.2 x 3 inches
Reasons to buy
+
Diverse set of educational tools
+
Binoculars are shockproof
+
Includes carrying case
Reasons to avoid
-
Limited to 4X magnification, so won't satisfy older kids
Are you raising a future survivalist? Then an ordinary set of binoculars just won't do. For the aspiring Bear Grylls in your life, gift them with the Explorer Kit for Kids — an awesome 9-in-1 outdoorsman set that includes not only 4x30 binoculars, but also a magnifying glass, crank flashlight and handheld fan, all tucked inside a carrying case that looks like a vintage lunchbox. (The included 5-in-1 multitool houses a built-in compass, thermometer, whistle, instant flashlight and mini-magnifying glass.)
When it comes to sunshine-soaked excursions with your kid, every walk in the woods is a potential learning experience — when you have the right educational tools on hand, that is. And if birdwatching is only a bullet point on your child's list of outdoor interests, binoculars are just the beginning. (Trust us.) Turn hours of playtime into days of adventuring with the Explorer Kit for Kids.
---
Best value binoculars for young kids.
Specifications
Objective Lens Diameter:
21 millimeters
Field of View:
400 feet (122 meters) / 3,280 feet (1,000 meters)
Size:
4 x 3.5 x 1.1 inches
Reasons to buy
+
Durable, expandable construction
+
Shockproof, waterproof
+
Tons of color options
Reasons to avoid
-
Poor-quality neck strap, according to some reviews
If you're on the lookout for a pair of shockproof, waterproof binoculars that are available in (just about) every color under the sun, look no further than the Obuby Kids Binoculars. Recommended for ages 3 and up, these are more professional looking than the average kiddy binoculars in this tech category.
Available in 13 different colors, there's a lot to like about the 5.9-ounce Obuby Kids Binoculars. The wide-angle 8X magnification is excellent for woodland hikes, seaside boat trips and live sporting events, to name a few uses. The compact-yet-expandable design, diopter adjustment — which lets you adjust for differences between vision in each eye — and myriad color choices make these binoculars as useful as they are … well, eye-catching.
---
5. Educational Insights GeoSafari Jr. Kidnoculars Extreme
Best cheap binoculars for young kids.
Specifications
Objective Lens Diameter:
N/A
Size:
11.6 x 9.8 x 3.1 inches
Reasons to buy
+
Inexpensive
+
Designed for younger children
+
STEM-friendly toy
Some binoculars are kid-friendly, but as Educational Insights implies with its branding, the GeoSafari Jr. Kidnoculars Extreme were actually made for kids. Featuring a modest 3X magnification, these focus-free binoculars feature a perfect-fit eyepiece that's universally comfortable for any child's face. (Sorry, wide-eyed adults, you'll have to get your own.) There's also a breakaway neck strap for on-the-go multitasking. And with the built-in speakers (which hover over the ears sort of like sunglasses), kids get to experience the many sounds of nature from the safety of your backyard. This feature — which the company calls "headset-free audio amplification" — requires 2 AAA batteries.
For parents interested in STEM-friendly education, this pair of binoculars is more than just a colorful toy; it's also an introduction to a scientific tool that can help your toddler explore the sights and sounds of their environment. Keep your kids curious with the GeoSafari Jr. Kidnoculars Extreme. (They'll be smarter than you in the blink of an eye.)
How to choose the best binoculars for kids
The best binoculars for kids aren't just toys — they're also potential tools for your child's personal growth. Here are a few factors to consider before introducing your children to the wonderful world of wilderness watching:
Budget - Most kid-centric binoculars have a price point of $30 or less, but if your offspring are old enough for the investment, there are plenty of premium picks that cost $50 or more. Nowadays, you can get a decent pair of (expendable) binoculars for under $15; these models usually have lower magnifications, cheaper build quality and a smaller field of view.
Magnification - The more magnification, the better, right? Not so fast. For small, fidgety humans with shaky hands, overly powerful optics might actually be counterproductive. When it comes to young explorers, here's a rule of thumb: The younger the child, the lower the magnification. Magnifications between 2X and 8X are the most common recommendation for kids under the age of 10.
Size and shape - Some binoculars are specifically built for tiny fingers, while others can be used by explorers of all ages. For children under the age of 5, look for extra kid-friendly features, like rounded edges, rubberized (shockproof) construction, breakaway lanyards, padded eyepieces, lightweight construction and focus-free lens options. For older adventurers, look for pocket-friendly binoculars that feature more powerful optics in a more professional package.
Interpupillary distance (IPD) - One reason to spring for smaller binoculars has to do with interpupillary distance: the measurement between the center of your pupils. If the ocular lenses don't line up properly with the middle of your eyeballs, the end result is a dark halo around the image (and partially obscured scenery). Your youngster will get bored fast if they can't see anything through the eyepiece, so make sure the binoculars can be adjusted accordingly.
Field of view (FOV) - This refers to the width of the image you can see through a given binoculars' optics. The wider the FOV, the easier it will be for your kid to find what they're looking for when they raise the eyepiece to their face. This is of particular importance for grade-schoolers and pre-teens, who may be pickier than your typical toddler.
Stay up to date on the latest science news by signing up for our Essentials newsletter.
Gavin has over 30 year experience of writing about photography and television. He is currently the editor of British Photographic Industry News, and previously served as editor of Which Digital Camera and deputy editor of Total Digital Photography.
He has also written for a wide range of publications including T3, BBC Focus, Empire, NME, Radio Times, MacWorld, Computer Active, What Digital Camera and Rough Guide books.
He also writes on a number of specialist subjects including binoculars and monoculars, spotting scopes, microscopes, trail cameras, action cameras, body cameras, filters, cameras straps and more.