Best binoculars 2023: Our picks for stargazing, bird watching, and observing wildlife
Use the best binoculars to hunt for wildlife, stargaze, go bird watching or spot planes - find something to suit any budget and age.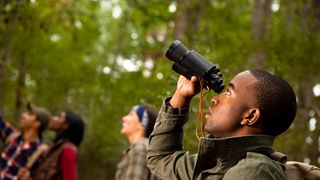 (Image credit: fstop123 via Getty Images)
The best binoculars will not only be optically proficient but suitable for the subject you're observing. Whether you're bird watching, stargazing or nature spotting while hiking, each application requires different specifications and features to get the best results.
Luckily, we've reviewed and tested the very best binoculars for all these areas and have covered a wide range of binocular types - from porro to roof prism - and sizes. So we know exactly what binocular is right for your needs. Read below to discover how we test the best binoculars.
Want to observe the dim starlight in the night sky? You'll need binos with large objective lenses to soak up as many photons as possible. Bird watching binoculars typically have sharp edge-to-edge performance and give adequate magnification to track flighty subjects. However, more generalist binoculars may need to meet stricter budgets and be suitable for all-sized hands in the family.
While we've taken a broad remit in this buyers' guide to highlight the best binoculars on the market, if you have more specific requirements, such as seeking out the best binoculars for stargazing, or the best binoculars for kids, then follow our links to be taken to an alternative product selection.
Best binoculars we recommend in 2023
Why you can trust Live Science Our expert reviewers spend hours testing and comparing products and services so you can choose the best ones for you. Find out more about how we test.
Best overall
Premium build with powerful magnification suitable for just about any observational pursuit
Specifications
Objective lens diameter:
56 mm
Field of view at 1,000 meters:
78 m
Reasons to buy
+
Durable construction
+
Precision engineered
+
Multiple lens coatings boost clarity
Reasons to avoid
-
Requires steady hands or preferably a tripod
-
Not exactly pocket sized
-
Focus wheel can get slippery if wet
Bushnell is a reputable brand known for their outdoor pursuits products like trail cameras, scopes and binoculars. Known for their good value and reliable performance, the Forge 15x56 binoculars are no exception.
A huge 15x magnification means you get up close and personal with your subjects so they're ideal for spotting small songbirds or distant aircraft. However, they also boast large 56mm objective lenses. This big opening on the front of the binoculars allows a lot more light through than a generalist binocular and as such perform well in low light conditions. Whether that's skywatching at night or tracking animals deep into twilight.
Rain or shine, these binoculars are great for the outdoors as they're waterproof. In addition to this, its large objective lens lets in as much light as possible and sharpness is boosted via prime ED glass (a generous application of lens coatings to improve light transmission).
Inevitably these aren't the lightest binos to use, at around 1 kg, though a neck strap is provided for added comfort. And it has to be noted that flagship, premium build binos such as these do command a premium price, even from the normally cost-conscious Bushnell. You do get a few extras, however, such as Bushnell's exclusive 'EXO' barrier protection – a lens coating that bonds to the glass at a molecular level which prevents scratches while repelling water, oil, debris, and dust.
---
Best value
An able travel companion, these portable roof prism type binos are for bringing wildlife closer
Specifications
Objective lens diameter:
42 mm
Field of view at 1,000 meters:
13.1 m
Reasons to buy
+
Shrugs off any inclement weather
+
Compact and portable
+
Delivers decent magnification…
Reasons to avoid
-
… although an even greater magnification may be beneficial for wildlife watching
-
High-end features mean high-end prices
Wildlife watchers who love being out in nature may want to consider the Olympus 8x42 PRO binoculars from a brand that is well-known for their optics and camera production.
Olympus is all about packing a punch, feature-wise, in an affordable product and is much more affordable than the much more expensive Leica or Zeiss. This pair provides a good balance when it comes to size and weight, especially as they offer peace of mind courtesy of a whopping 15-year warranty.
Defined as a 'Pro' option, they feature the same nano-coated high-performance 'Zuiko' optics, complete with ED lenses, as the Olympus camera range. This results in unprecedented light transmission for their class. With a slender and simple nitrogen-filled construction, we get the ability to focus on subjects as close as 1.5 m, as well as 1,000 m away. Plus, a dioptric adjustment ring and extendable eye relief provide comfort for those who wear glasses.
Those wanting something even more powerful and willing to spend a little bit more are directed to the alternative 10x42 model, also from Olympus. However, you may need to mount these on a tripod with a compatible binocular tripod adapter, especially when observing for long periods, simply due to their high 15x magnification.
---
Best styling
Mid-range multi-purpose binoculars suitable for observing nature in the great outdoors
Specifications
Objective lens diameter:
56 mm
Field of view at 1,000 meters:
96 m
Eye relief:
0.63-inch / 16 mm
Weight:
2.26 lbs / 1.03 kg
Reasons to buy
+
Large objective lens for better quality in low light
+
Rugged polycarbonate construction
+
Multi-coated optics to further optimize light transmission
Reasons to avoid
-
Heavy in the hand when used for extended periods
-
Tripod adapter not included
As the binocular lenses get bigger, they perform better in low light and the Nature DX's 56 mm objective lenses on this variant of the line make it a great option for those who want to continue observing nature into the twilight hours. They're also suitable for any wet and wild adventures due to the binoculars' housing being nitrogen-purged to avoid fogging in damp conditions, as well as being waterproof.
Long, twist-up eyecups provide comfort, which will be a relief to anyone wearing eyeglasses, negating the need to take them off during use but ideally, we'd like to see slightly more than the 16mm provided.
To further aid visibility the lenses are multi-coated to protect against ghosting and flares. The Celestron Nature DX 12x56 has a durable polycarbonate construction and a closest focusing distance of 3 m.
However, a large lens does result in a heavy device, with these weighing in at just over a kilo, and this means that extended use may result in weary limbs. Yes, it can be attached to a tripod, but you'll need to buy an additional adapter to be able to do that. Nevertheless, this is a great value option for those seeking a brighter pair of optics, despite the weight.
---
Best for sharpness
Well-constructed flagship binoculars marry a respectable 10x magnification to a large-ish objective lens
Specifications
Objective lens diameter:
42 mm
Field of view at 1,000 meters:
120.2 m
Reasons to buy
+
Edge to edge image sharpness
+
Easily transportable
Reasons to avoid
-
No on-board image stabilization
-
Occasional color fringing visible around areas of high contrast
There's a reason these binoculars sit at the very top of Nikon's binocular line. A jewel in the crown, the Monarch HG 10x42s are far and away some of the best we've ever tested. They're built exquisitely, feel great in the hand and have off-the-charts optics that are pin-sharp edge-to-edge.
A roof prism design ensures it's compact enough to slip into a jacket pocket, or alternatively, there's a cushioned neck strap for when you're hiking or traveling around.
They'll work anytime anywhere because they're waterproof and nitrogen-purged to prevent fogging inside. That means rain doesn't stop play when wildlife watching, even if you jump straight out of a warm house or car into a cold winter snap outside.
Their soft all-over rubberized armor meant we could always keep a firm hold, keeping these premium binoculars secure during use.
Light transmission is good too, ensuring we can keep using these even when light levels drop. Simple and elegant with a high level of finish and a great performance, this Nikon example is one of the best binoculars on the market.
---
Best compact binos
5. Steiner 10x26 Safari Ultrasharp
Compact and ultra-portable binoculars suitable for sightseeing, and that's just for starters
Specifications
Objective lens diameter:
26 mm
Field of view at 1,000 meters:
101 m
Reasons to buy
+
Ultra-compact and lightweight
+
Good value for money option
+
Decent quality waterproof construction
+
Respectable results
Reasons to avoid
-
Not great in low light
-
No tripod connectivity
Steiner is another well-respected binocular brand. This ultra-compact offering is perfect for anyone wanting to watch sports or who just requires a small yet powerful option when traveling. In short, the 'Safari' in Steiner 10x26 Safari Ultrasharp doesn't even begin to convey the broad range of uses these binos offer.
The 26 mm objective lens appears modest on paper compared to the alternatives in our buyer's guide, but these polycarbonate binos make an ideal companion for those seeking an all-in-one device: They're waterproof, fog-proof, and their rubber eyecups are comfortable whether used with or without glasses. Plus, their rubberized finish, with a ridged and roughened body, feels great to grip.
The UV glass-coated Steiner 10x26 Safari Ultrasharp binoculars maintain sharpness across the field of view and commendably into the corners. Even when conditions aren't the best, these deliver accurate colors and reasonable brightness.
Due to the lightweight build, it's tricky to hold the binos completely steady, particularly when viewing objects at greater distances. That said, for operability and an almost pocket-money price, these German-brand binoculars are hard to beat.
---
Best for color reproduction
6. Leica Trinovid 8x42 HD
Premium build allied to a premium performance that'll last a lifetime
Specifications
Objective lens diameter:
42 mm
Field of view at 1,000 meters:
123.5 m
Reasons to buy
+
Razor sharp viewing
+
Accurate color fidelity
+
Broad depth of field
+
Water resistant construction
Reasons to avoid
-
Expensive when compared with other brands boasting similar features
-
Power users may be better off spending a bit more on the 10x42 option
-
Weighty
While they may be pricey when compared with 'budget' binoculars, this series is actually Leica's entry-level option. However, if you're looking for a well-crafted pair of binoculars that'll last a lifetime, we believe that the Leica Trinovid 8x42 HD is worth investing in.
German brand Leica's 'Trinovid' comes with an ergonomic construction, true internal focusing, and superior optical performance. These binos are roughly the width of a CD case when unfolded and offer a closest focusing distance of 1.8 m. We particularly love that when gripped with both hands, the central focusing wheel falls directly under the forefinger.
For power users, Leica offers a 10x42 version, but as ever it's a tradeoff between power, physical size, and price. With this brand, we get durability too, with the claim being that they're water resistant to a depth of 4 m, along with the fact they're O-ring sealed and nitrogen purged to prevent fogging.
In short, if we really are looking for the best binoculars, then this device has most of the boxes that matter ticked. Years of use will reward those brave enough to put up the cash.
---
Best small waterproof model
Affordable entry-level pair of binoculars that are foldable for added portability
Specifications
Objective lens diameter:
25 mm
Field of view at 1,000 meters:
108 m
Reasons to buy
+
Lightweight and portable thanks to folding design
+
Waterproofed plus nitrogen-filled to prevent fogging
Reasons to avoid
-
Central focusing wheel is a bit stiff
-
A larger objective lens would improve view clarity
Those looking for one of the best budget binoculars should look no further than the Olympus 8x25 WP II. Suitable for a wide range of scenarios, this foldable option from Olympus is waterproofed and is also rubber coated for an improved grip. Providing fuss-free operation, we were able to pluck these binos from the box and start using them straight away.
A centrally positioned focus knob affords easy adjustment and prevents needing to take a step forward or backward. Similarly, the multi-coated lenses ensure sharpness into the corners, for crisp and clear observation, while the on-board dioptric correction can be adjusted to suit individual eyesight – handy for those who wear glasses.
While these binos are obviously designed to bring the faraway up close and personal, they also have a close focusing distance of 1.5 meters. All this coupled with a whopping 25-year warranty make the Olympus 8x25 WP II one of the best binoculars out there.
---
Best for shaky hands
Want built-in image stabilization and a compact pair of binoculars to boot? Then look no further.
Specifications
Objective lens diameter:
20 mm
Field of view at 1,000 meters:
93 m
Weight:
430 g without batteries
Reasons to buy
+
Body integral image stabilization reduces eye strain
+
Relatively compact and lightweight
Reasons to avoid
-
Not water-resistant
-
Paying a premium for the built-in anti-shake technology
Resembling something out of Star Wars, these bulbous lens-shifting, image stabilized, porro prism type binos are some of the best out there in terms of ensuring a steady image when held in the hand. Once again, if we need an integral anti-shake feature powered by a responsive built-in gyro sensor, we look to Canon. Requiring a single lithium-ion battery lasting up to 12 hours of use to power said anti shake feature, the weight without is a manageable 430 g, making them the world's lightest of their type.
Attendant features of the Canon 10x20 IS include a closest focusing distance of 2 m, while a neck strap and carry case are included. These would be ideal for wildlife and sports, for which clarity and sharpness are especially essential.
However, be warned if outdoor use is your thing; this particular option makes no claim for being water resistant. Nor does it claim to be fogproof so moving between warm and cold climes quickly will introduce internal fogging which can take a while to reduce. It's quite surprising for a binocular that costs around $500.
You can also check out the slightly larger Canon 10x32 IS if you need something with a little more zoom.
---
Best for stabilization
Powerful binoculars that stand out from the crowd thanks to its built-in image stabilization
Specifications
Objective lens diameter:
42 mm
Field of view at 1,000 meters:
104 m
Reasons to buy
+
Easy to maintain a firm grip
+
Canon's first IS binoculars to offer waterproofing
+
Powerful magnification
+
Offers anti-shake observation
Reasons to avoid
-
Requires 2 x AA batteries for image stabilization
-
Lens caps don't match the quality of the rest of the device
-
Weighty to hold for extended periods
-
Expensive
A powerful magnification combined with a relatively large objective lens can often result in bulky, heavy binoculars which can lead to a wobbly handheld view. However, Canon avoids this in the Canon 10x42L IS WP, with the 'IS' denoting a built-in image stabilization powered by two AA batteries – the outcome being a judder-free view of faraway subjects.
Of course, the need for batteries inevitably adds both weight (here over 1 kg in total) and bulk, but keen birdwatchers who are holding binos for longer periods may well find the tradeoff is worth it.
However, this pair of binos is not just a one-trick pony. Unlike the 10x20s above these are fully waterproof and have a minimum focusing distance of 2.5 m. Equipped with ultra-low dispersion glass elements the binoculars correct distortion and avoid purple fringing between high-contrast elements in an image.
In short, this Canon provides a rock-solid combination of wobble-free viewing and image clarity, albeit at a price.
---
Best for bird watching
Large lensed premium binoculars that are a birdwatcher's dream
Specifications
Objective lens diameter:
42 mm
Field of view at 1,000 meters:
135 m
Reasons to buy
+
Compact yet durable construction
+
Rubber armored exterior aids grip and absorbs impact
+
Watertight to a depth of 5 m
+
Excellent light transmission
Reasons to avoid
-
High price
-
Relatively weighty
Leica is another key brand providing some of the best binoculars out there when it comes to optical excellence tied to a durable build. Here the Leica Noctivid 10x42 comes in either 8x42 or 10x42 combinations of magnification and objective lens size. Other pluses include a compact construction with a rubber-armored exterior aiding a tight grip, while possible lens reflection is suppressed enough to deliver a detailed view with plenty of contrast.
Though suitable for general-purpose use, these would be ideal for viewing nature, sports, and outdoor events. Its large-ish objective lens is not only great for daytime viewing but also in the early evening. On top of this, the Leica Noctivid has a nitrogen-filled magnesium housing to help prevent fogging and is watertight to a depth of 5 m.
Possible accessories for the more adventurous include an optional floating strap and an adapter for a tripod. If you're buying a Leica, you're buying a tool for life and that feels very much the case here.
How to choose the best binoculars for you?
The best binoculars typically offer that sweet spot between good magnification, large-ish objective lens, size, weight and cost.
Which of these factors is most important to you will depend on what you're planning to use your binoculars for. We've gone over each of these specs below to help you figure out which you should prioritize when choosing a pair of binoculars.
Lens size and magnification
The stronger the magnification and the bigger the objective lens, the closer we can bring faraway subjects and the sharper the overall image. While that sounds great, there is a trade-off, however: a chunkier pair of binoculars and a higher price tag. Additionally, the stronger the magnification, the trickier it can be to achieve a steady, judder-free view when using the binocular handheld.
Portability and stability
Not all models offer a workaround via a screw thread for tripod mounting, and of course not all of us want to be karting around a tripod anyway. So, in some circumstances – for example, if our key purchase requirement is a device compact enough to fit in a pocket or purse – then less can actually be more.
If we want a binocular to take to the sports stadium, theatre, music festival, or even for that weekend city break, portability is as important as power. If our chief concern is wildlife watching and identifying rare breeds from a fairly static viewpoint, however, then bigger binos all around are going to be the better option.
Other features to look out for
Further features to look out for if we're going to be primarily using them outdoors include a degree of weather resistance. This typically involves nitrogen-purged housing to avoid lens fogging, while various lens coatings are applied to both offer improved light transmission and also cause any droplets to simply run off and avoid obscuring our view.
How we test the best binoculars
Live Science tests a huge and diverse range of products, from Legos to binoculars, and from exercise bikes to dehumidifiers. Depending on just what we're reviewing, a product will be subjected to an array of different tests relevant to its purpose and use. This may include in-lab benchmarks, extensive use in our test centers or thorough road-testing in real-world conditions.
We'll examine performance against the manufacturer's claims and test the accuracy of those claims to the very best of our ability, sourcing input from independent experts where needed. We will also evaluate a product on its ease of use, ergonomic success and performance relative to its competitors. Price will also be a factor with value for money affecting our overall evaluation and review rating.
Through this combination of extensive testing, research and expert consultation, Live Science is confident that it offers readers authoritative advice on all the products it reviews.
Stay up to date on the latest science news by signing up for our Essentials newsletter.
Gavin has over 30 year experience of writing about photography and television. He is currently the editor of British Photographic Industry News, and previously served as editor of Which Digital Camera and deputy editor of Total Digital Photography.
He has also written for a wide range of publications including T3, BBC Focus, Empire, NME, Radio Times, MacWorld, Computer Active, What Digital Camera and Rough Guide books.
He also writes on a number of specialist subjects including binoculars and monoculars, spotting scopes, microscopes, trail cameras, action cameras, body cameras, filters, cameras straps and more.