A simple, sleek design paired with excellent optical quality makes the Trinovid binoculars a strong option if you're looking to drop around $1,000 on a pair of binoculars.
Pros
+

Slim profile design

+

Great optical clarity

+

Simple operation
Cons
-

No locking diopter

-

Longevity concerns

-

Odd carry pouch design
Why you can trust Live Science Our expert reviewers spend hours testing and comparing products and services so you can choose the best ones for you. Find out more about how we test.
The Leica Trinovid 10x42 HD binoculars, which also come in an 8x42 variant, are a nifty pair of binoculars that are useful for general observing but have great sharpness and minimal, if any, distortion.
Leica Trinovid 10x42 HD specs:
Design: Roof prism
Magnification: 10x (8x also available)
Objective lens aperture: 42mm
Angular field of view: 61 degrees
Eye relief: 15mm (0.59-in)
Weight: 25.75 oz (730g)
Dimensions: 4.6 x 5.5 x 2.6 in (140 x 117 x 65mm)
Priced one dollar shy of $1,000 these aren't a beginner-friendly pair in terms of their price point, but they are incredibly simple to use. Their simplistic layout and neat design makes observing a pleasure.
Their middling weight when compared with other brands of 10x42 binoculars of differing price points means they suit anyone who wants to travel with them or simply use them for spotting birds in the backyard. But do they stack up to the competition within their class and is the nearly four-figure price tag worth it?
Leica Trinovid 10x42 HD binocular: Design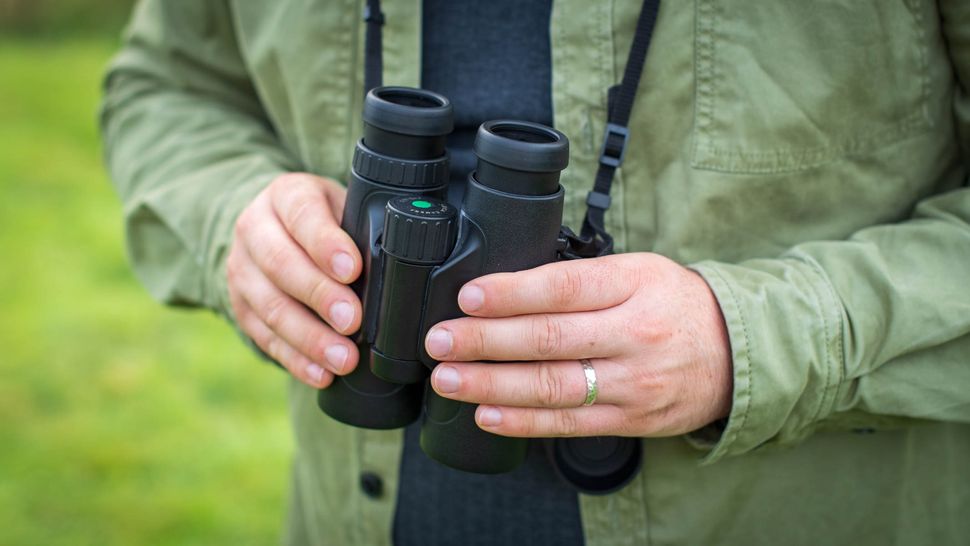 Clear red marker on diopter ring
Fantastically slim design with small form factor
Comfortable to hold and wear with accompanying neckstrap
Leica has done a great job at streamlining the shape of the Trinovid 10x42 HD binoculars. A solid rubber armor envelopes the binocular body from front to back and top to bottom, even wrapping itself around the end of the binoculars and back toward the objective lens. This is neat and we were impressed with the way this all-encompassing armor looked. Many other manufacturers have solid squared ends at the objective-side of the binoculars with a chunky surround but the Trinovids' ends are slight and almost razor-thin.
This was continued all over the binoculars, with the form factor maintaining a slim and sleek ergonomic. We love the way Leica binocular eyecups seemingly mold their way effortlessly around the eyepiece lenses, and simply looking at them standing up on a table is pleasing with the large eyepiece lenses so visible.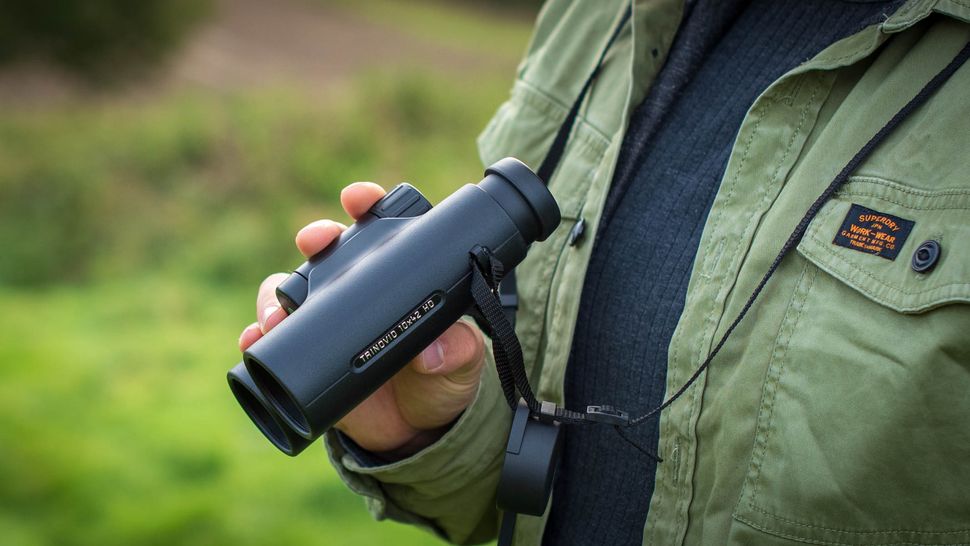 We found them easy to hold during all temperatures and weathers during our testing. They lack the extra texture around the gripping area that other brands utilize but at no point did we feel they would slip out of our hands and the all-in-one design made them look great. Wearing the wide neoprene neckstrap was also comfortable, even when hiking out to hides for two or three hours.
The eyecups gave plenty of eye relief, 15mm to be exact, but we would've liked a little more. The 8x42 version of the Trinovids has 17mm of eye relief and we suspect this would be absolutely perfect.
The diopter on the right eyepiece has a clearly visible red marker to show how much positive or negative focus is dialed in, but we were surprised to see this almost $1,000 binocular not have a locking diopter clutch. The Nikon Monarch HG 10x42 binoculars that we previously reviewed are the same price, and they do have this feature. It's not essential as the Leica's diopter ring is stiff enough not to move during regular use, but seeing as their Ultravid and Noctivid models have a locking mechanism it's surprising not to see this on the Trinovids.
Leica Trinovid 10x42 HD binocular: Performance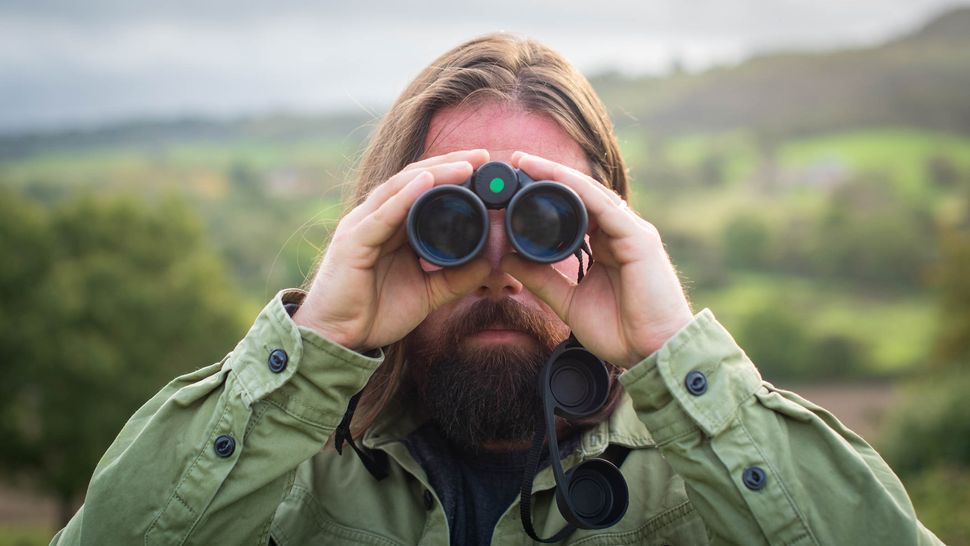 No black vignetting around edge of image circle
Superb optical clarity when viewing subjects
Some purple fringing around highly contrasted edges
Optically the Trinovid 10x42 HD binoculars are spectacular. We observed sharp scenes and subjects consistently during our time reviewing them and even at their minimum focusing distance they were still ultra sharp. Views all around the image circle (the visible circle you see when looking through the binoculars) were sharp. We saw no evidence of coma distortion or flaring/ghosting even when looking toward (not at) the sun. Never look directly at the sun with binoculars.
One area where they fared worse than we'd have expected is when observing subjects in highly contrasted scenes, such as spotting birds at the ends of tree branches set against a bright, overcast sky. At this point, we noticed some purple fringing. There wasn't a lot, but it was consistent throughout the image circle and throughout our use. Ordinarily, this would be something we'd be happy to live with but considering these binoculars must compete in a high-end market due to their price point we have seen better performance in this class.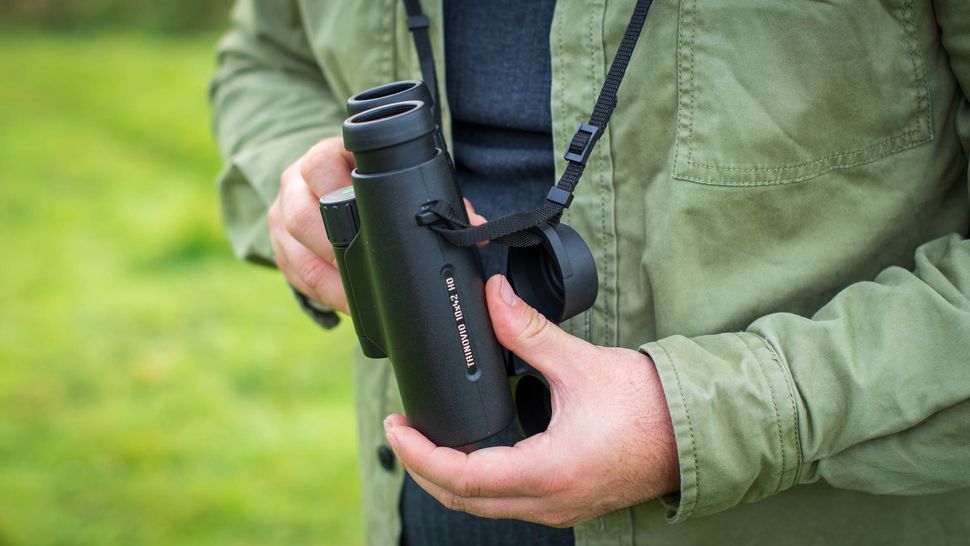 We had them out in a few rain showers and the non-stick coating on the exterior lenses seemed to hold up well and water easily splashed off. The moisture was easily cleaned with a microfiber cloth without smearing.
The 15.7mm of eye relief might be a little problematic for those who need to wear spectacles, particularly if the glasses aren't pushed right up against one's face, but for non-glasses wearers, it is perfectly suitable. Three steps on the twist cup eyepieces made it fast and simple to adjust.
Leica Trinovid 10x42 HD binocular: Functionality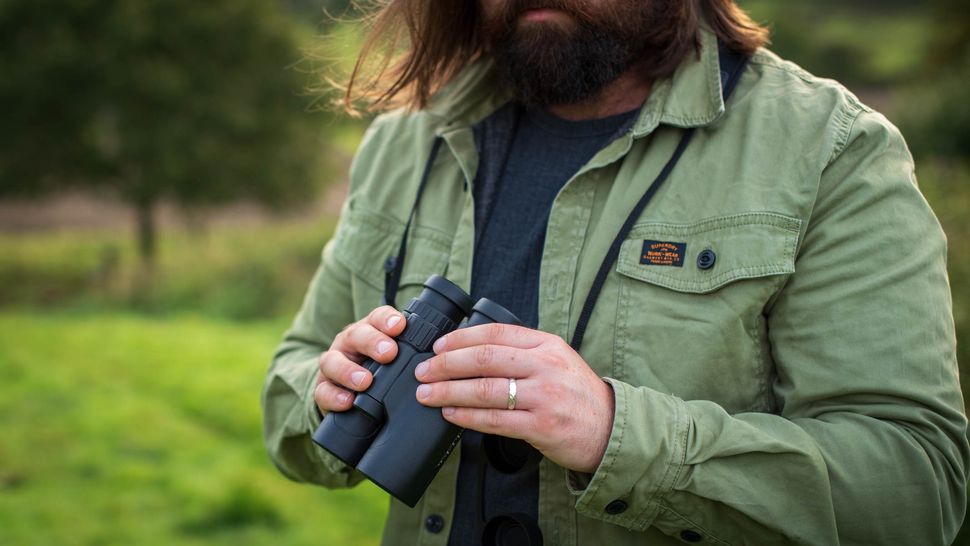 Tripod adapter mounting point helps to keep binoculars steady during use
Removable eyepiece cups to help with eyeglasses wearers and maintenance
Carry bag has an unusual shape
There are some really clever features built into the Trinovids that we adore. One of which is the removable eyepieces. Simply twist the eyecups up four stops to fully extend them and then gently pull them off. With the eyecups now removed those that wear spectacles should be able to get as close as required to view through the binoculars without issue.
This feature helps two-fold because by removing the eyecups in this way we now have access to the outer eyepiece assembly. A quick brush around with a lens cleaning pen or a microfiber cloth can remove any excess dust and debris caught underneath the eyecups without having to delicately work a Q-tip around inside the eyecups as we sometimes have to do with other brands.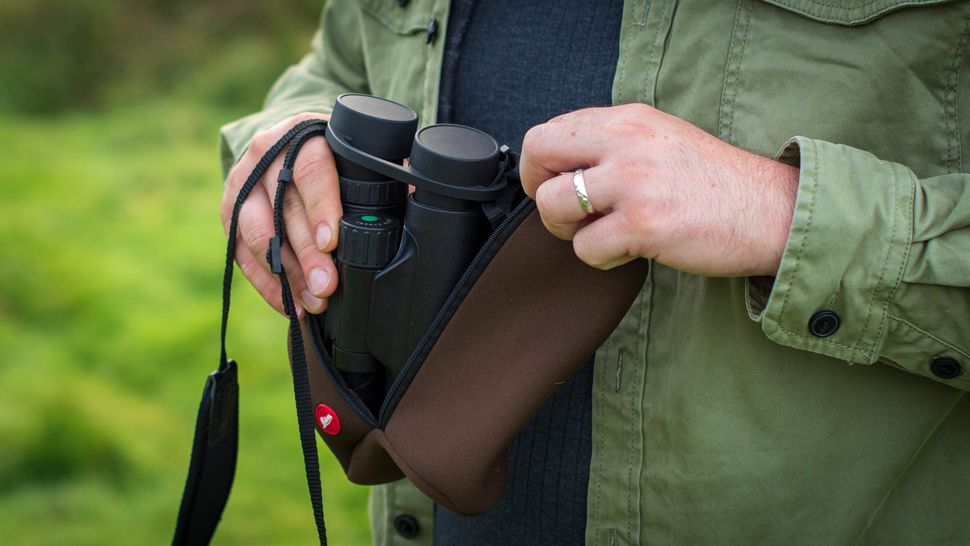 With several good swivels, the front-facing tripod adapter mount is revealed underneath the threaded cap within the binocular's hinge. This allows attachment to a tripod or monopod to keep the binoculars steady during use. A hands-free approach like this helps to alleviate arm fatigue, especially when bird or wildlife spotting or observing aviation shows or sports from afar. While the Trinovids aren't particularly suited to astronomy, this feature will also help to keep the image steady when getting a closer look at the moon.
However, users should note that the thread isn't a standard 1/4-inch thread taken by most cameras, tripods, monopods and binocular adapters and instead employs a smaller diameter thread proprietary to Leica and therefore the company recommends the use of their own binocular adapter. We're certain that most owners could get a step-down adapter for their existing binocular adapter mounts, should they wish to use them, but the Leica adapter wraps around the entire binoculars for a more secure connection — we prefer over the traditional binocular adapter anyway.
The provided carry case takes some getting used to with its central zip wrapping around the form-hugging neoprene that protects the binoculars. It won't house the neckstrap if you're a fan of using that, but there are rubber grommets through which to push the neckstrap before attaching it to the binoculars. This allows observers to walk and observe whilst maintaining protection during longer hikes when not in use.
Should I buy the Nikon Prostaff P7 10x42 binoculars?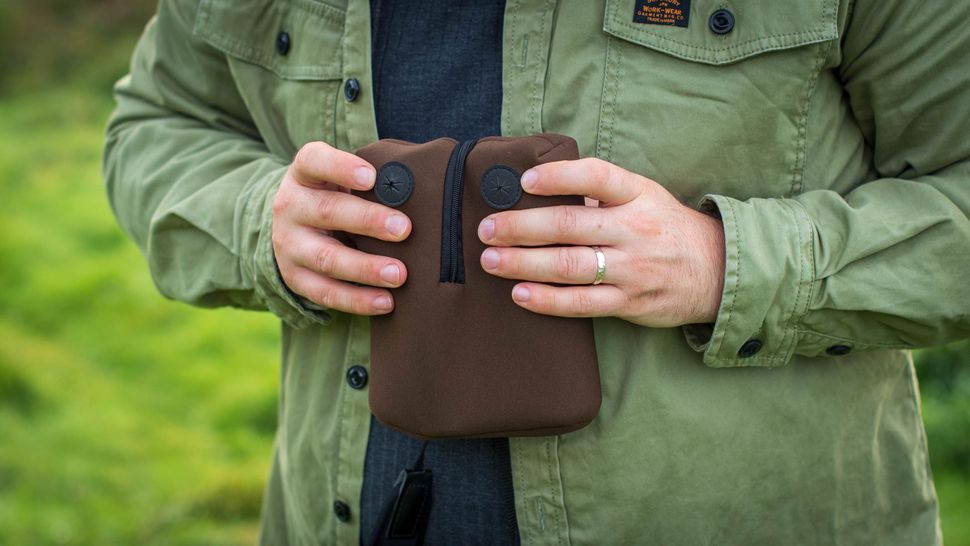 If you want a simple design, with attractive styling and excellent optics — and you have the budget — then we highly recommend you grab this pair. Their finish is second to none and they are comfortable to use in most situations.
There's also the bragging rights that come with a pair of binoculars like this. Swish them out in a bird hide and other observers who know their stuff will automatically recognize the little red dot logo at the end of the barrel and know you're holding a quality pair of binoculars.
If this product isn't for you
For those with tighter budgets or who want to view the stars in detail, we would say these might not be the right fit. Instead, for astronomers, we'd say the Bushnell Forge 15x56 are the better binocular with their larger objective lenses to allow more starlight through to your eyes and the higher 15x magnification for closer views of the cosmos.
However, those who do have the budget but want slightly more may want to check out the Nikon Monarch HG 10x42 binoculars. Optically they felt slightly better than the Trinovid's to our eyes and they also come with a locking diopter ring to maintain sharpness in both eyes even when pulling them in and out of the bag.