Thanks to their roof prism construction the Nikon Monarch HG 10x42 binoculars are more narrow in profile compared to a similarly specced porro prism bino. Because of this they're lighter, too so it makes traveling with them much easier. Able to perform in all weathers they're waterproof and fogproof so whether you're caught outside in a shower or moving between inside and outside these premium binos from Nikon will be able to keep up with you.
Pros
+

Narrow and slender design

+

Image circle is sharp right to the edge

+

Color fringing almost impossible to see
Cons
-

Fully optical, no image stabilization

-

A fraction of aberration around dark edges
Why you can trust Live Science Our expert reviewers spend hours testing and comparing products and services so you can choose the best ones for you. Find out more about how we test.
As Nikon's top of the line binoculars, the Nikon Monarch HG 10x42 performs excellently across a wide range of parameters. Sure, they're priced accordingly, but for that you're getting quality build and optical clarity that is near perfect. Part of that quality includes a Field Flattener Lens System, designed to retain sharpness across the entire imaging circle which would otherwise become blurry as you observe near the edges of the view. Color fringing (chromatic aberration) is also massively suppressed thanks to the Extra-low Dispersion (ED) elements that sit inside the binoculars.
With an MSRP of $999.95, the Nikon Monarch HG 10x42 binoculars won't be for everyone, but they do represent great value for money. If you purchase these binoculars you'll not only get a high-spec optical observing instrument but every single part of the binocular and the rest of the kit, such as the neck strap, carry pouch and lens caps feel premium.
Ideal for birding or observing wildlife, the 42mm objective lenses allow observers to use them into twilight and are best suited for those that prefer a slightly wider field of view with their 10x magnification.
Able to be used in all climes, these waterproof and fogproof binoculars can even be submerged for up to ten minutes, five meters underwater. Therefore, we think these are comfortably some of the best binoculars on the market.
Nikon Monarch HG 10x42 binocular: Design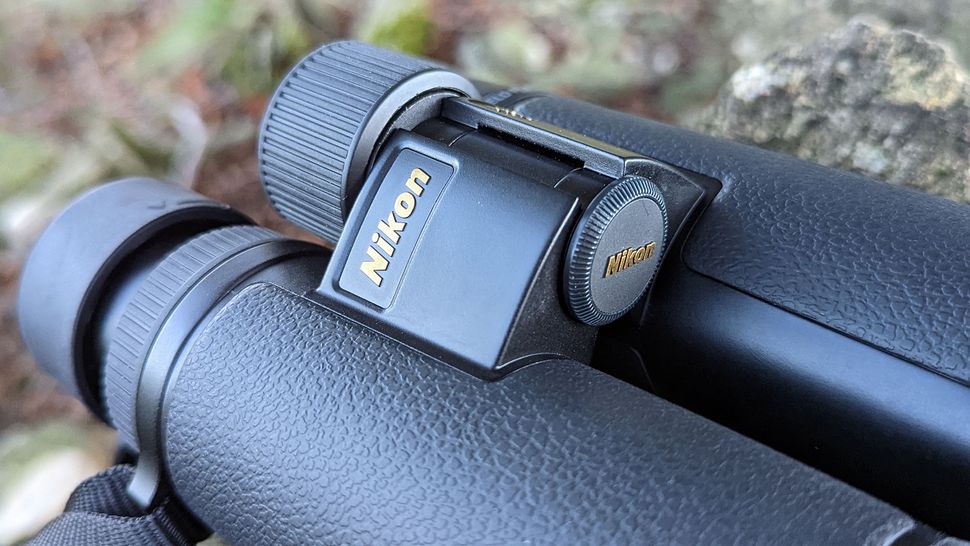 Strong magnesium alloy body is lightweight
All lens caps and seals fit snugly
Premium finish on every part of the Monarch package
It's hard to find any flaws with the design of the Monarch HG 10x42 binoculars. Nikon have done an excellent job of making sure each functional part of the binos not only operate effectively but also look and feel great in the hand.
The first and most obvious stand-out feature is the rubberized armor that envelopes the magnesium alloy binocular body. Unlike cheaper rubbers, Nikon have avoided the hard, slippery finish that inferior binoculars suffer with and have instead provided a plump, soft finish with appropriate texturing that aids good grip in all weathers, even while wearing gloves.
A design feature we love is the locking diopter ring which also features on the Prostaff P7 series. Simply lift and click the lock into place to retain the diopter setting to ensure that even when taking them out of the bag multiple times you won't knock it. This is essential to accurate and sharp viewing when moving around outside or passing them to others briefly to observe with.
Nikon has turned the emblems on the binoculars into gold (embellished from the matte black or silver stamps on less expensive models). The twist-up eyecups feel sturdy and once clicked into place feel stiff enough not to be knocked through mishandling.
Nikon Monarch HG 10x42 binocular: Performance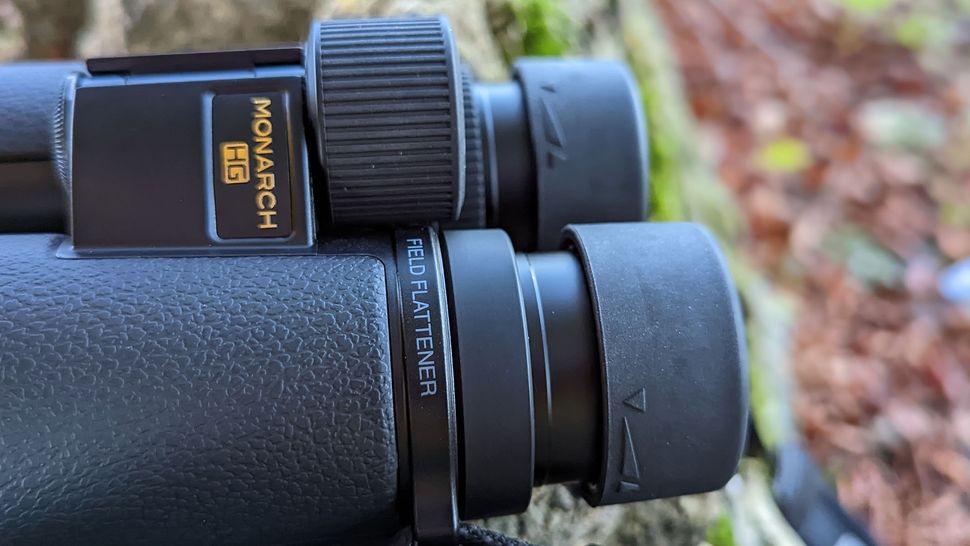 Edge-to-edge sharpness through the binoculars
No chromatic aberration to speak of which is outstanding
Good light transmission thanks to 42mm objective lenses
To the occasional binocular user, the retail price of nearly $1000 might seem wild but as well as the premium exterior design of the binoculars it's what's inside the Monarch HG's that make them so special.
Sharpness from edge-to-edge is attained through the development and implementation of Nikon's field flattener lens which alleviates optical disparities in the curved glass. That means you can view right up to the edge and things are still super sharp.
The same is true for observing subjects with contrasted edges (like dark-feathered birds against bright skies). Extra-low Dispersion glass inside the binoculars prevent color fringing — the purple, blue or red outlines that can be seen at contrasted edges — for more accurate viewing. That means birds, wildlife, stars and other subjects will be rendered with supreme clarity.
These binoculars are suited to general observing thanks to the 10x magnification but their inclusion of slightly larger 42mm objective lenses means they're much more usable in lower light environments like during periods of heavy cloud or even observing into twilight. This is supported by multilayer coatings on each glass element within the binoculars to amount to 92% or better light transmission according to Nikon.
Nikon Monarch HG 10x42 binocular: Functionality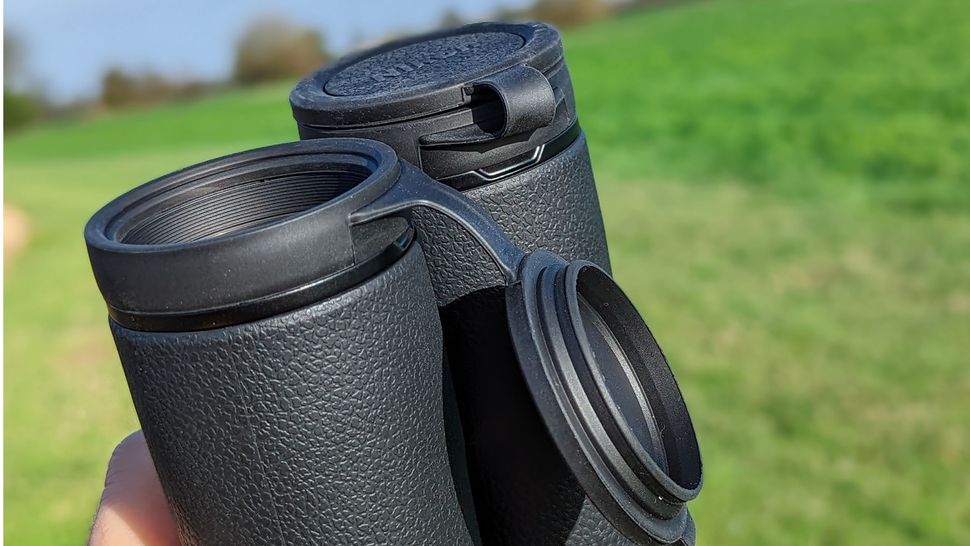 Lightweight at just 1.5lbs / 680g
Smooth focusing wheel makes it easy to pull focus
Locking diopter ring keeps things sharp
Operating the Nikon Monarch HG 10x42 binoculars is a dream. A smooth but strong hinge centers the binoculars which is constructed of a magnesium alloy base to keep things lightweight (at just 1.5lbs / 680g). The texturized rubber armor cladding that base is easy to use with or without gloves and adds a softer, more hand-friendly tactile feel to the otherwise metal build.
This continues into the focus wheel that sits at the helm of the binoculars which are neither too stiff or too loose. A smooth action with just the right amount of friction allows us to pull the focus quickly and accurately but it holds the focus perfectly even when moving around or putting them back into the carry pouch provided.
The eyecaps are intelligently designed with a simple push-in suction that keeps them in place, the neckstrap is supremely cushioned which makes them a dream to use for hours without a sore neck. The carry bag has a clasp to ensure the binoculars can't fly out if you trip up (which doesn't feature on cheaper binocular carry bags) and the diopter ring benefits from the locking feature to retain sharpness at just the right degree for users.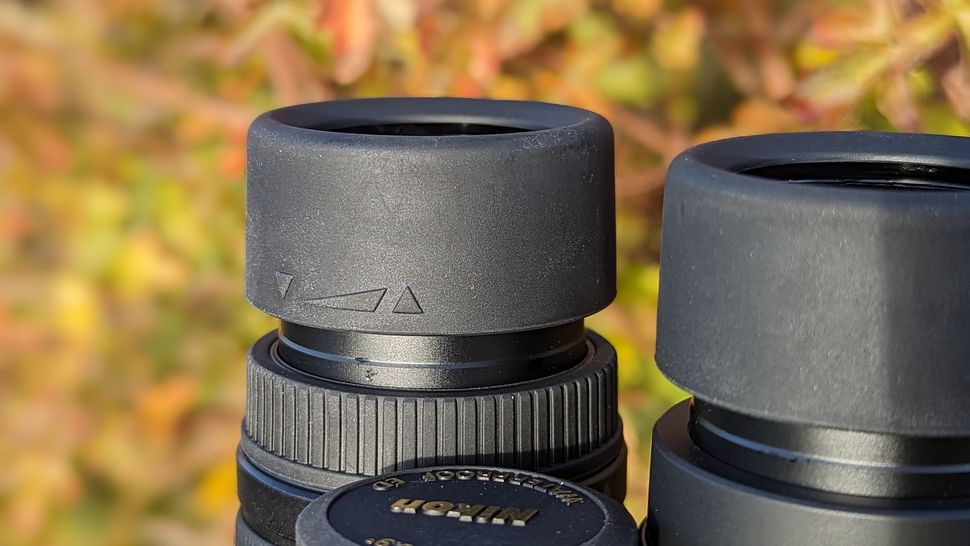 Overall then, it's difficult to point to any weakness in these binoculars. We'd perhaps like to see them include some kind of image stabilization (or Vibration Reduction as Nikon labels it) but we're sure this would push both the price and the size/weight up considerably.
Should I buy the Nikon Monarch HG 10x42 binoculars?
If you want a pair of binoculars that are premium in almost every respect, then look no further than the Nikon Monarch HG 10x42 binoculars. The only downside is in the price but the old saying 'you get what you pay for' really does apply here because both inside and out these binoculars are worth every penny. High-quality optical glass elements inside, all of which are multicoated to improve light transmission, premium exterior finish for better handling and more reliable focusing, plus a whole host of excellent accessories that owners won't need to upgrade mean they'll last for years to come.
For beginner users or those with a limited budget, we'd probably not recommend the Monarchs, but with those that want to save up and splash out, or for observers that want the best possible clarity and sharpness, it's hard to beat the Monarchs.
If this product isn't for you
While we'd recommend the Nikon binoculars here with only one caveat (the price) some in the market for a pair of binoculars that are happy to splash the cash may want to go all-in on an image stabilized pair of which we would recommend the Canon 10x32IS binoculars. Be aware though, they're not fogproof, so if moving from colder to warmer climes (in and out of a house or a car) you'll likely experience the frustrating fog.
For those that want to retain as much optical quality as possible but are otherwise happy to skimp on other features for a massive reduction in cost, why not check out the Nikon 10x50 Aculon A211 binoculars which are almost a tenth of the price, costing around $139.99. The larger 50mm objective lenses make them better at drinking in the light even during twilight but bear in mind they're bigger and bulkier thanks to their Porro prism design.