The 13 best electric toothbrushes 2023 for a deeper clean
Take control of your oral health with the best electric toothbrushes, tried and tested by Live Science.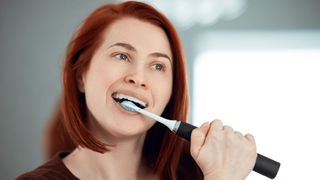 (Image credit: Getty)
The best electric toothbrushes can elevate your brushing experience and bring your oral health to the next level. Whether you're looking for a basic model that does the work for you, or a high-tech option complete with bells and whistles, our guide to the best electric toothbrushes will have something for you. We've considered a variety of budgets and dental needs when testing these brushes, so you can rest assured they are the best options on the market.
What the expert says
"Electric, sonic, or powered toothbrushes are clinically proven to be more effective than a manual brush in keeping gums and teeth healthy." — Amarjit Sohal, principal dentist at Broadway Dental Boutique.
If you're not sure how to use an electric toothbrush, you'll be pleased to find that even the more basic models come with personalized features such as pressure sensors, built-in timers and connected apps to help you improve your brushing experience. The more expensive options tend to give you a full breakdown of how well you're brushing your teeth and if there are any spots you're missing.
In some cases, you can also connect multiple toothbrushes to a family plan, so if you're looking to upgrade everyone in the family, don't miss our guide to the best electric toothbrushes for kids.
How we tested
How do we test electric toothbrushes at Live Science?
All of the electric toothbrushes in this guide have been through the same testing protocol by the Live Science team.
First, we run the toothbrush on its various settings and measure how loud it is with a decibel counter app. We then compare these results to other appliances and noise levels. We run and use the toothbrush on its different settings and modes, noting any differences in intensity and durations between settings. We also test the charging process, including how long it takes to reach a full charge, and for the battery to deplete. Finally, we submerge each toothbrush underwater for the length of a brushing cycle to test its water resistance.
The best electric toothbrushes we've tested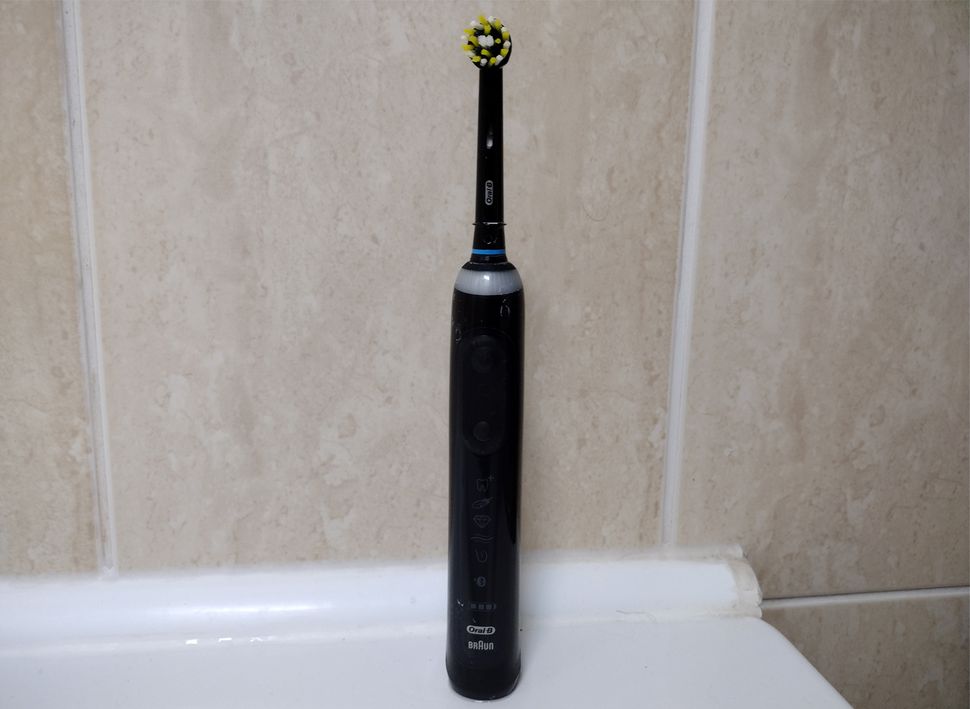 Our favorite electric toothbrush overall
Specifications
Battery/Rechargeable:
Rechargeable
Cost of replacement heads:
$19.99 for a pack of 4
Reasons to buy
+
Sleek and stylish design
+
Actively improves technique
+
Connectivity and smart features
Reasons to avoid
-
Noisy in comparison with sonic models
-
Some users report problems with the app
The Oral-B Genius X is the ideal next-level toothbrush for anyone wanting to improve and maintain good dental hygiene. An interactive app tracks and monitors your brushing habits and patterns using A.I. technology, while extra features help users set oral hygiene goals with coaching tips and tricks.
And if you're not interested in using the app, there's plenty to like about the Oral-B Genius X itself. Featuring six cleaning modes, including tongue cleaning, sensitive, whitening, gum care and pro cleaning alongside standard daily clean, this toothbrush delivers on oral hygiene with a powerful oscillating-rotating brush head. A sturdy travel case is included, with a charging travel case offered on some models.
Users who prefer a quieter brushing session may find the Oral-B Genius X a little noisy, given that it isn't a sonic toothbrush. Operating at around 70 decibels, it's similar to a dishwasher or washing machine. But for anyone who's been advised by their hygienist to improve their brushing technique, it could be a game-changer.
Our tester found the daily cleaning mode and pro clean mode to be very similar, but pro clean had the edge when it came to that "clean-mouth feeling" after brushing. Gum care mode had a gently massaging, rhythmic oscillation that moved up and down in intensity, while 3D white mode echoed that sensation of having a polish at the dental hygienist.
User reviews
User reviews on Amazon for the Oral-B Genius X are overwhelmingly positive, with an average of 4.5 stars out of five. Positive reviews mention a "glossy, smooth feeling" after cleaning, while many users enjoy the coaching aspects of the app. However, some users report quickly becoming bored, and using the toothbrush as a regular electric toothbrush without the bells and whistles of the app.
---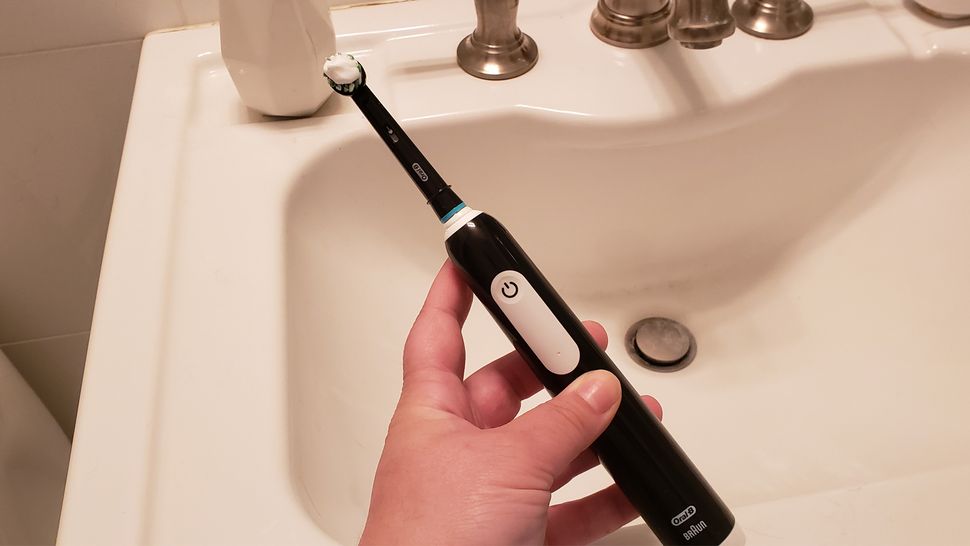 Best low-cost electric toothbrush
Specifications
Battery/Rechargeable:
Rechargeable
Cost of replacement heads:
$12.99 for a pack of 8
Reasons to buy
+
Compatible with multiple Oral-B brush heads
+
Built-in pressure sensor
+
Affordable price point
Reasons to avoid
-
Just one cleaning mode
-
Can be noisy during operation
One of Oral-B's most popular electric toothbrushes, the Oral-B Pro 1000 is a budget-friendly electric toothbrush that does away with all the bells and whistles of its hi-tech neighbors and simply cleans well.
One cleaning mode is all you get with the Oral-B Pro 1000, so it's just as well the price point is low. But if you're after simplicity, it could be the right toothbrush for you. The user guide says that the Oral-B Pro 1000 takes 22 hours to fully charge. We found it to be only slightly shorter. After depleting the battery fully, it took 20.5 hours for the Oral-B Pro 1000 to become fully charged.
Despite its simplicity, this toothbrush also includes some helpful features. There's a built-in pressure sensor that alerts you to when you're brushing too hard (when our tester pushed it against their teeth, the spinning brush head turned off) and a timer that helps you remember when to move to the next quadrant of your mouth. It also alerts you when you complete the recommended two minutes of brushing time. Just like the handset itself, replacement brush heads are also very affordable.
Given that most people tend to use just one or two cleaning modes on even the most sophisticated brushes, the Oral-B Pro 1000 clears away the confusion and focuses on delivering a powerful clean with its round cross-action brush head. However, if you have sensitive teeth or gums, you may find it just a little too powerful. And if you want a toothbrush that promises to whiten teeth, or massage gums, you'd be better looking elsewhere.
User reviews
The Oral-B Pro 1000 scores an impressive 4.7 out of five stars on Amazon. A lot of users enjoy the pressure sensor and 30-second quadrant timer, and many note the difference in the cleanliness of their teeth and reduction in cavities. Negative reviews focus on the 'violent' speed of vibrations and how long the brush takes to charge.
---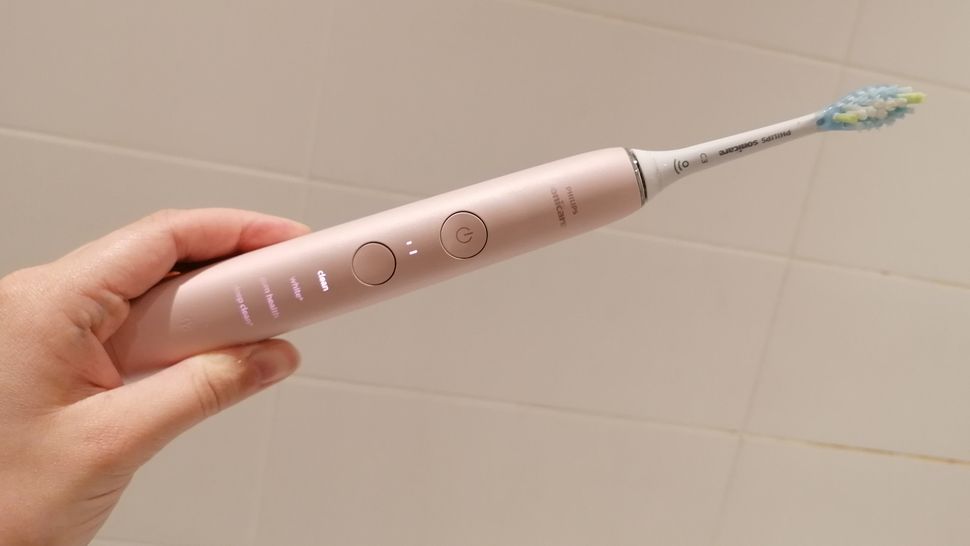 This electric toothbrush is easy to personalize
Specifications
Battery/Rechargeable:
Rechargeable
Cost of replacement heads:
$31.99 for a pack of 3
Reasons to buy
+
Personalized brushing experience
+
Syncs mode to brush head
+
Automatic pressure sensor
Reasons to avoid
-
Limited color options
-
Extra brush heads not included
-
App is limited in functionality
Sleek and stylish, the Philips Sonicare DiamondClean 9000 features no less than four brushing modes: clean, white+, gum health and deep clean+. Each of these modes can be further tweaked to an intensity setting that suits you, giving you a wide range of brushing experiences to choose from.
Our tester noticed a big difference between clean/deep clean+, the latter leaving their teeth feeling cleaner. However, over a few cleans, they didn't notice an enormous amount of difference between the other modes, except that Gum Health was a bit softer on the gums.
The DiamondClean 9000, like the Oral-B Genius, also comes with a free app to help you keep track of your oral hygiene and help you keep track of when you need replacement brush heads. You can even set up automatic re-ordering to keep your bathroom cabinet stocked up.
However, where the Oral-B Genius app helps users actively improve their technique by identifying areas they've missed during brushing, the DiamondClean 9000 app simply charts your brushing activity, and how much pressure you apply during sessions. So unless you need to be reminded to brush your teeth every day, or to ease up on pressure while brushing, you might not get as much from the app as you'd like.
A huge plus point for the DiamondClean is that it comes with its own USB-charging case, perfect for travel, or if you like to brush your teeth after lunch, at the office. Its high price point may be a deal-breaker for many users, but the DiamondClean 9000 has enough features to impress, with or without the app.
User reviews
Users rave about the DiamondClean too. It scores a huge 4.5 out of 5 stars on Amazon for its ability to deep clean teeth and remove stains, despite its almost silent operating volume. Battery life is also praised, while users love the convenient USB charging case. However, negative reviews point out the app's limitations and the fact that the toothbrush doesn't come with extra heads, which can be expensive to purchase further down the line.
---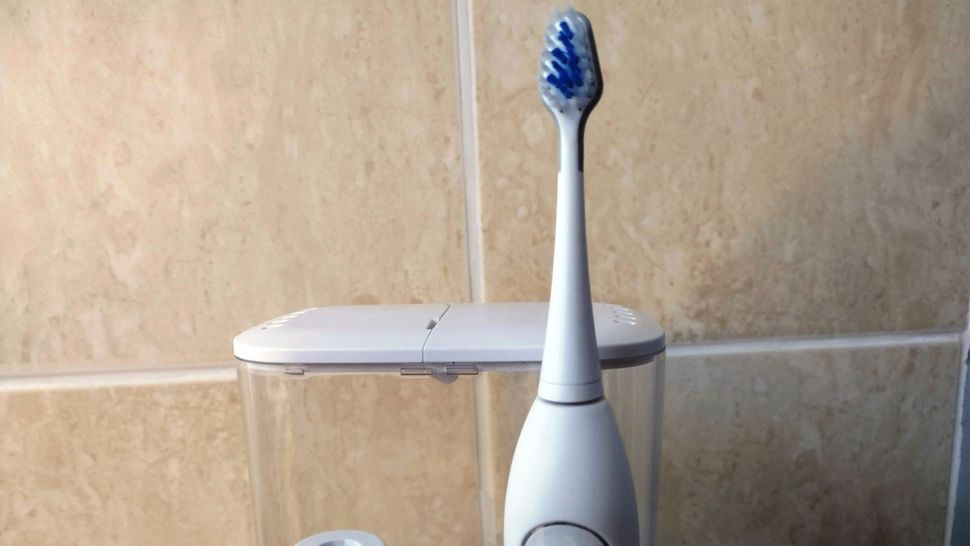 Best electric toothbrush with water flosser
Specifications
Battery/Rechargeable:
Rechargeable
Cost of replacement heads:
$22.77 for a pack of 3
Reasons to buy
+
Combines two devices in one
+
Plenty of extra accessories
+
Sleek and well-designed
Reasons to avoid
-
Requires socket in bathroom
-
No pressure sensor
The Waterpik Complete Care 9.0 delivers two oral hygiene must-haves in one fell swoop, by combining a separate sonic toothbrush and water flosser in one compact device, making it cost-effective and space-saving.
Offered with a host of extras, such as 5 water flosser tips, 2 brush heads, a storage case and travel case, the Waterpik Complete Care 9.0 also features 3 cleaning modes and a bevelled tongue-cleaning feature.
We tested each of the cleaning modes in turn several times. General clean mode operates at a slightly lower frequency compared to whitening mode, which added extra polishing to a brushing session during the recommended two minutes. Massage mode was the most impressive mode our tester used, providing a gentle massaging pulse to stimulate the gum area, while giving that 'deep clean' feeling.
Designed to be plugged into a bathroom socket near a basin, it may not be right for everyone, and a lack of extra features may disappoint some users. But when it comes to value for money, you could do worse than investing in the Waterpik Complete Care 9.0, rather than shelling out separately for an electric toothbrush and a water flosser.
User reviews
The Waterpik Complete Care 9.0 scores an impressive 4.5 stars out of 5 on Amazon, with a whopping 76% of users scoring it the full 5 stars. Users highly rate its ability to deep clean teeth, its ease of use and its timer function. Negative reviews mention problems with the battery if it is continually charging on the unit, leakage from the water reservoir and the water flosser itself being too noisy during operation.
---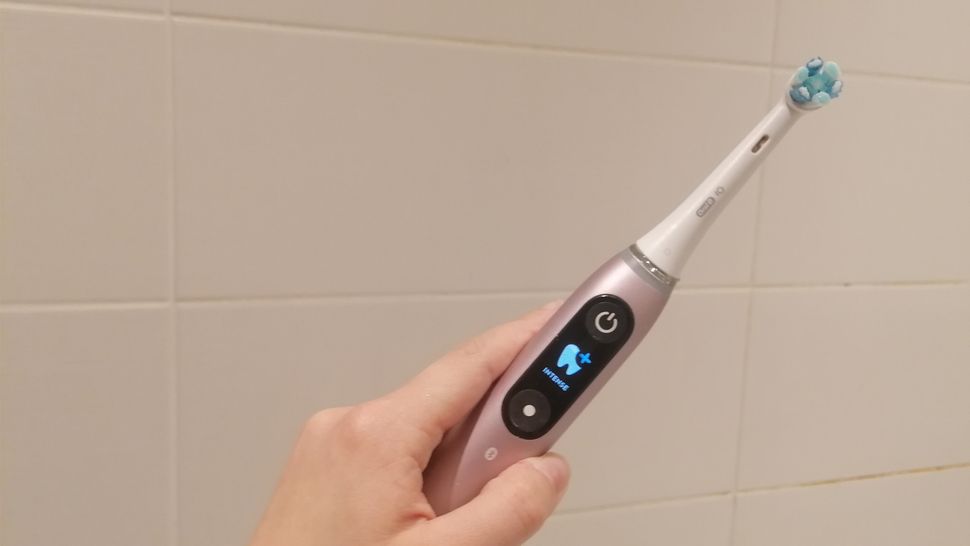 This model boasts an in-depth app that will allow you to track your brushing data
Specifications
Battery/Rechargeable:
Rechargeable
Cost of replacement heads:
$37.44 for a pack of 4
Reasons to buy
+
A.I. powered tracking app
+
7 modes to choose from
+
Charging travel case
Reasons to avoid
-
Expensive price point
-
Refill toothbrush heads are costly
Marketed as the ultimate clean electric toothbrush, the Oral-B iO Series 9 offers a truly personalized brushing experience.
It features an in-built pressure sensor which flashes red when too much pressure is applied, white when brushing is too soft, and green when it's just right, giving brushers the full Goldilocks experience when it comes to brushing. No less than seven brushing modes include daily clean, sensitive, gum care, intense+, super sensitive, tongue clean and whiten.
Apart from a change in intensity between the daily, intense+ and sensitive/super sensitive modes, our tester didn't notice a huge amount of difference between the modes. As this reviewer has sensitive gums, the only suitable mode was super sensitive mode. Even gum care was very harsh on their gums, and left them with an uncomfortable tingly feeling. If you're looking for a toothbrush with a good amount of pressure, this is the choice for you, but if you're a bit sensitive, there might be better options out there.
A smart, connected app completes the brushing experience, offering a 3D A.I. view during brushing to ensure no areas are missed out on. Users can also track brushing data and gum health over weeks, months, and years.
Available in three colorways, the handset also features a magnetic charger for easy docking. The handle powers up quickly too, with a full charge in just three hours. The Oral-B iO9 also comes with a handy travel case that doubles up as a charger, and a travel refill holder, although just one brush head is provided with the starter kit.
If you're after a super smart, connected clean, with a brush that looks sleek and stylish on the bathroom shelf, the Oral-B iO Series 9 could be the perfect electric toothbrush for you.
User reviews
A whopping 85% of users on Amazon give the Oral-B iO Series 9 the full 5 stars, rating its powerful cleaning ability and app functionality. Negative reviews mention little difference between cleaning modes and problems connecting to the app.
---
This silicone electric toothbrush has an impressively long shelf life
Specifications
Battery/Rechargeable:
Rechargeable
Cost of replacement heads:
$24.90 (lasts 6 months)
Reasons to buy
+
Sleek design
+
365-day battery life
+
Simple to use and control
Reasons to avoid
-
Silicone brush takes some getting used to
-
Users have to manually clean teeth
-
No pressure sensor feature
Sleek and stylish, the Foreo ISSA 3 has innovated the design of electric toothbrushes. With a curved ergonomic handle and a 365-day battery life, this 4-in-1 toothbrush is designed to clean the teeth, gums, cheeks and tongue. Made from bacteria-resistant silicone and using silicone bristles as well as thermoplastic bristles, this sonic electric toothbrush goes easy on gums while delivering a whole mouth 'deep clean' feel.
16 intensity settings allow users to set the level of cleaning, while an angled brush head and extended bristles let you access those hard-to-reach areas of the mouth. A ridged panel at the back of the toothbrush head allows for cheek and tongue cleaning.
Although our tester worked their way through the 16 levels of intensity, they tended to find that the highest level setting gave the best results, or results closest to that of a regular sonic toothbrush, while the lower levels were largely redundant. However, users with sensitive teeth or painful gums may prefer operating this toothbrush at a lower setting.
While it might not have the extra features found in Philips and Oral B models, such as a pressure sensor or a sturdy travel case, the Foreo ISSA 3's futuristic style will certainly give your bathroom shelfie the wow factor. And the 365-day battery life cuts down on energy, time and money.
User reviews
Amazon reviews for the Foreo ISSA 3 are largely very positive, with users citing improved gum health and cleaner-feeling teeth after use. They also rate the longer battery life over several weeks, the stylish ergonomic design, and ease of use. Negative reviews criticize the high price point of the Foreo ISSA 3 as being too expensive. Others say they're not sure how well the toothbrush is cleaning their teeth, as they don't have that 'clean feeling' after brushing.
---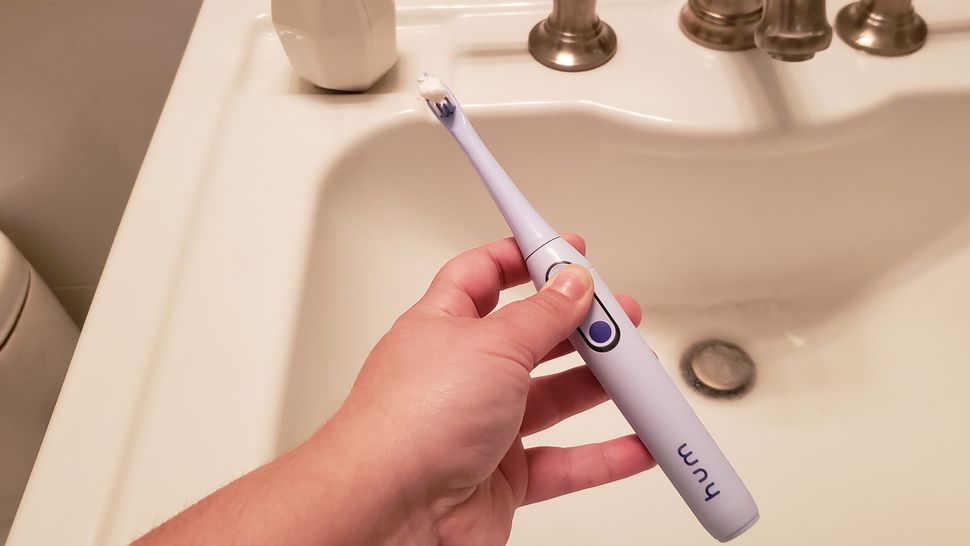 An app-connected toothbrush with an attractive design and price
Specifications
Battery/Rechargeable:
Option of both
Cost of replacement heads:
$9.89 for a pack of 2
Reasons to buy
+
Fun, attractive design
+
Smart, connected app
+
Ergonomic handle
Reasons to avoid
-
Battery model has just 2 modes and lower sonic vibrations per minute
-
App only available in the U.S.
This sonic toothbrush is Colgate's answer to providing an accessible smart brush at a low price point. Users can choose from a rechargeable or battery-operated model and a range of colors, including blue, green, purple and black. The design differs slightly from the rechargeable to the battery models.
Featuring three brush modes, normal, sensitive and deep clean, the brush also has an in-built timer and an ergonomic handle, designed for comfort and accuracy while brushing.
The toothbrush also connects to the smart Hum app by Colgate, which allows users to track their brushing progress, and target brushing to neglected areas, helping you to brush your best. You can even earn points towards rewards, which you can redeem in the app's shop towards replacement brush heads.
It took our tester just five hours to fully charge the battery, which is impressive given other brands can take over 20. However, the rechargeable toothbrush does hold less charge than some other electric toothbrushes, lasting only 10 days when others might last weeks or months between charges. If you were going on a long holiday, you would definitely need to pack the charger.
Based on its low price point and connected, smart features, we think you could spend a lot more cash on a toothbrush and still get the same experience. The Hum by Colgate is great value for money and fun to use.
User reviews
Amazon users love the Hum by Colgate, giving it 4.5 stars out of 5 on the online retailer. They rate the connected app experience as easy-to-use and operate, while many praise the toothbrush's ability to give a powerful clean. Negative reviews say the bluetooth connection can be intermittent, and the case is a little on the flimsy side.
---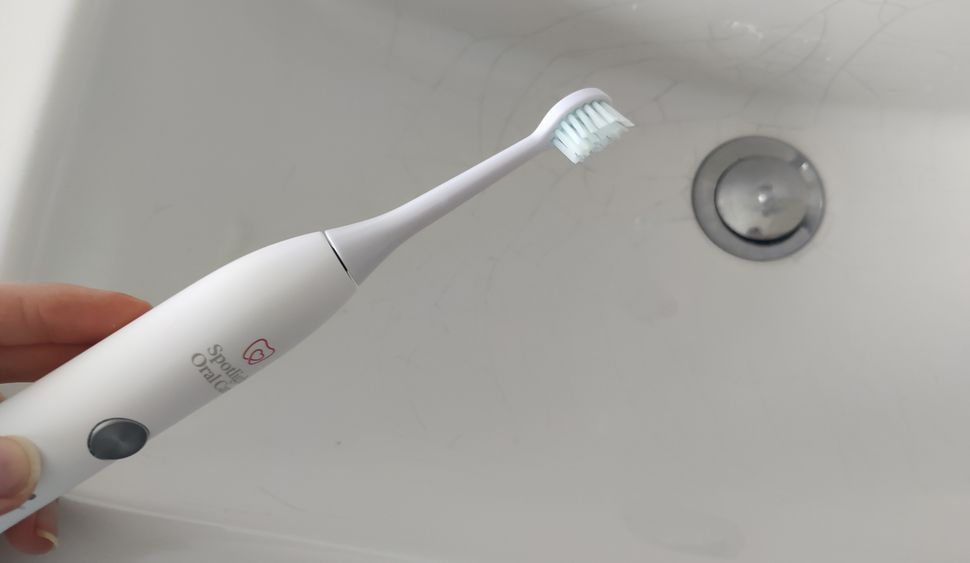 A straightforward option for those who want minimal fuss
Specifications
Battery/Rechargeable :
Rechargeable
Cost of replacement heads:
$30 for three
Reasons to buy
+
Three cleaning modes
+
Hygienist-like clean
+
Sleek and minimalistic design
Reasons to avoid
-
Noisy on highest mode
-
No Bluetooth connectivity
-
Adapter required
The Spotlight Oral Care Sonic Toothbrush is an affordable option for those switching from manual to electric for the first time. Designed by dentists, it uses sonic technology to mimic the gentle feel of a manual toothbrush with a deep-clean effect.
Although fairly basic, there is plenty to like about the Spotlight Oral Care Sonic Toothbrush. It's has an elegant, minimalistic design, available in three stylish colors - white, graphite grey and rose gold (and a limited edition Pride print) and three cleaning modes (sensitive, clean and white). A sturdy travel case is also included, as well as a charging dock. One drawback is that whilst this toothbrush is widely available in the US, the charging plug is designed for the UK, so you will need an adaptor in order to use it. However, the brush does come with an impressive three toothbrush heads, with replacements costing only $30 for a pack of three.
We worked our way through all three cleaning modes in our at-home testing. Whilst sensitive and clean gave good results, we tended to find that the highest setting - white - gave the best results. However, users with sensitive teeth or painful gums may prefer operating this toothbrush on the sensitive mode. We found the brush to be highly effective in removing plaque and discoloration, providing a clean finish that felt not too dissimilar to a deep clean you might receive at a hygienist - and all for an affordable price tag.
User reviews
User reviews of the Spotlight Oral Care Sonic Toothbrush are very positive, with the majority of users also citing a really deep clean. Negative reviews focus on the 3-pin charging plug. It's also worth noting that there is no accompanying Bluetooth app with this toothbrush, so if you're really looking to upgrade your oral hygiene routine, you might want to invest in a more premium option.
---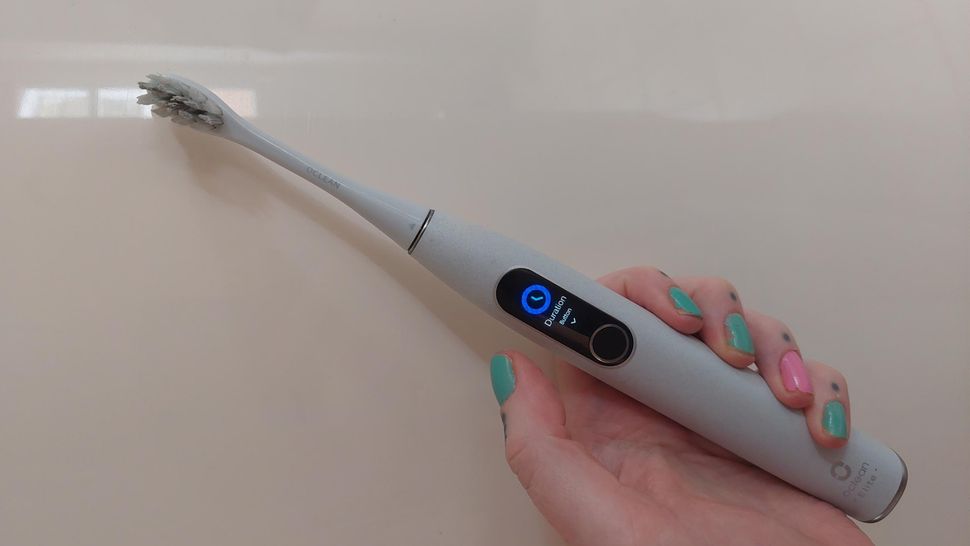 The Oclean X Pro Elite is an app-aided, sleek-looking electric toothbrush that monitors your brushing
Specifications
Battery/Rechargable :
Rechargeable
Cost of replacement heads:
$19.99 for 4 (8 and 10 packs available)
Reasons to buy
+
App and touchscreen allow insight into brushing, particularly useful for parents
+
Sound-dampening tech for quiet brushing
+
Long battery life and fast charging time
Reasons to avoid
-
Limited color options
-
'Tongue cleaner' on back of brush-head isn't effective
-
No particular grip design
The Oclean X Pro Elite electric toothbrush is a budget-friendly option for those who want to try out a sonic toothbrush. The sleek gray design will compliment any bathroom, and the built-in touch-screen gives users insight into their brushing time. The app offers a more in-depth analysis of brushing and also offers the option to monitor children's brushing through "family mode".
With 32 intensity levels and four brushing modes, you can find a setting that works for you whether you have sensitive teeth, or want a deep clean. The standard brushing time is set for two minutes, but you can change this if you want, with the touchscreen giving the option to customize the mode, duration and intensity from the brush itself. The Oclean app has a quiz to help you find the right brushing settings for your needs. Our tester had theirs set on white mode, intensity four and set for three minutes of brushing time. Overall, they found the touchscreen functional and simple to use and the app made it easy for them to keep track of brushing performance and target areas.
The charger is USB compatible, which makes it convenient for travel, and the battery life lasts over a month, taking just 3.5 hours to reach a full charge from empty – one of the fastest brushes we've tested.
User reviews
User reviews for the Oclean X Pro Elite are mostly positive, with the product scoring a four star average on Amazon. Users praise the extended battery life and smooth, clean feeling of teeth after use. Less positive reviews note that the brush doesn't vibrate with the strength or intensity of competitor brands like Oral-B and Philips.
---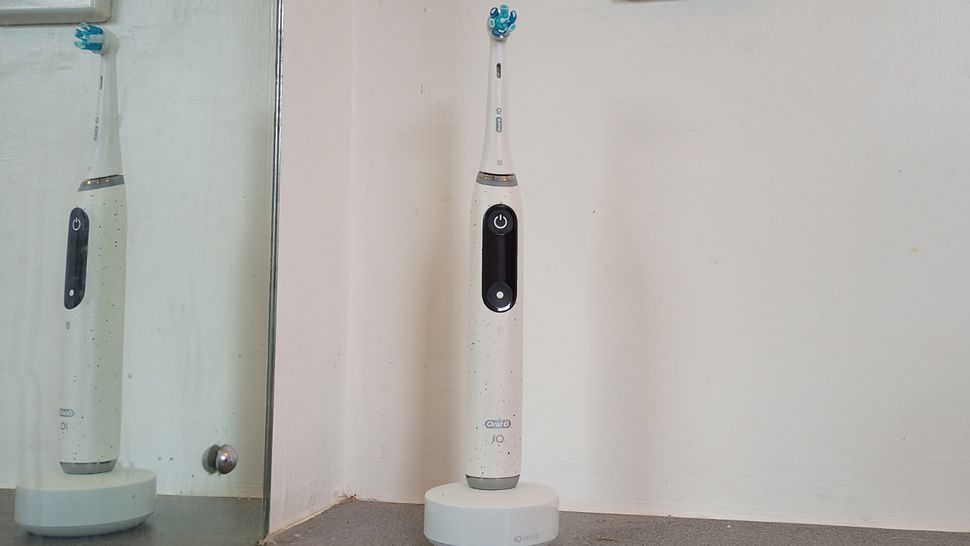 The newest, premium offering in the Oral-B iO series
Specifications
Battery/Rechargable :
Wireless charging
Cost of replacement heads:
$37.44 for a pack of 4
Reasons to buy
+
Visible pressure sensor
+
Seven intelligent modes
+
Wireless fast charging
+
Quieter than predecessor
Reasons to avoid
-
High price point
-
Expensive head replacements
-
Limited travel case
The Oral-B iO Series 10 offers more features and smarts than any brush the brand has created before. As such, it comes with a premium price tag that makes it one of the most expensive brushes we've tested. Spending that extra does get you new features like fast wireless charging, quieter operating, and smart tracking features. But does this model justify that extra expense over the competition?
If you're a committed user who takes advantage of the tracking features, this can give you the best possible teeth and gum care. The new base with live feedback removed the need to rely on a connected phone for live feedback as you brush, which makes it less fiddly.
The round, rotating head on this brush also vibrates at a micro level, giving it the ability to provide the best clean yet. Combined with the iO specific heads, along with seven cleaning modes, this brush should be able to keep even the most challenging of mouths up to the highest dental standards.
The case has a lovely slim design which is ideal for compact travel but it only holds one extra head. This may be a negative for some who want different types of heads on the go. There is that extra case for carrying these though, so we see this as well addressed by Oral-B. Also, the case charges using the proprietary charger, not using your phone charger cable, to get this juiced up on the go, which we thought was a useful feature.
---
Our favorite for brushing personalization
Specifications
Modes:
3 default modes, but can be personalized
Cost of replacement heads:
$24.99 for a pack of 6
Reasons to buy
+
Touchscreen
+
Highly personalized brushing plans
+
Festive greetings
Reasons to avoid
-
App can be a little confusing
-
Loud compared to previous Oclean models
-
Wall mount not strongly magnetic
Of the three Oclean brushes we've tested, this is our favorite. It's powerful without causing bleeding gums and gives extremely in-depth feedback and brushing recommendations in the app. This is also the only Oclean brush we've tested that came with two brush heads, one for plaque control and one for sensitive teeth.
The downsides are the price, which is heftier than more basic Oclean models, and the app can be a bit confusing when you try to set up a personalized plan. However, for those who are into their tech, this brush is a dream to use and gives you a lot of information about your brushing habits. It's also a very sleek, attractive brush and comes in a couple of metallic shades.
We aren't sure if we received a faulty wall mount, but ours wouldn't hold the toothbrush and it kept falling off. It worked fine as a charger and a base though, so we stored the toothbrush standing rather than on the wall.
User reviews
Users enjoyed the high tech aspects of the Oclean X Pro Digital, with an overall rating of 4.5 out of 5 on Amazon. As it's a new release, there aren't many reviews yet, but one user said: "It functions as expected like many other vibrating brushes. I did appreciate that the head was a little larger than normal which helped with coverage. Now on to the tech...it's admittedly pretty neat stuff having a touchscreen toothbrush that is app compatible. The app itself gives you some decent insight on your brushing habits and the brush shows where you can improve."
We are in the process of testing the Oclean X Pro Digital and will post a full review once testing is complete.
---
Best electric toothbrush with lots of complimentary heads
Specifications
Cost of replacement heads:
Unavailable currently
Reasons to buy
+
Includes two years of toothbrush heads
+
Handy USB charging
+
30 day battery life
Reasons to avoid
-
Can't buy replacement heads separately
-
No space for charging cable in travel case
-
Have to lie the brush down to charge
Bitvae says its R2 Rotating Electric Toothbrush, available in three colorways, cleans up to four times more plaque than a normal manual toothbrush, while the impressive 30-day USB charging feature offers quicker charging and longer usage between charges. With five cleaning modes, a pressure sensor and a handy travel case, it has pretty much everything you'd come to expect from a more expensive toothbrush, and at a fraction of the price.
If you like the idea of having a powerful electric toothbrush with a variety of modes, but you don't want to spend a lot of money opting for one of the big names in oral healthcare, the Bitvae R2 Rotating Electric Toothbrush is the ideal solution for you. And given how expensive toothbrush heads are to replace, the two-year supply will save you even more money.
The speedy three-hour charge is a welcome point of difference to many electric toothbrushes, some of which can take up to 18 hours for a full charge. And the extra-long battery life is a huge bonus, especially if you're traveling or share the brush handle with other members of your family.
However, if you want high-end Smart features, coaching to improve your brushing technique or a super-stylish ergonomically designed handle, you may need to part with more pennies and shell out for one of the other available choices.
User reviews
The Bitvae R2 Rotating Electric Toothbrush enjoys hundreds of positive reviews on Amazon, with a 4.5 star rating out of 5 stars. In fact, 89% of purchasers give it 4 or 5 stars. In particular, they like that it comes with a two-year supply of toothbrush heads and that it offers an effective performance at a low price point. One user comments, 'This is a powerful toothbrush. The charge lasts a long time and with all the different cycles it covers everything. Super easy to travel with.'
---
A toothbrush that promises to leave your teeth clean and shiny in 30 seconds
Specifications
Timer:
30, 60 or 90 seconds
Modes:
3 cleaning, 3 whitening
Warranty:
2 years or lifetime with brush head subscription
Cost of replacement heads:
$12
Reasons to buy
+
Good for reluctant brushers
+
Three light therapy modes
+
Three cleaning modes
Reasons to avoid
-
Branded toothpaste is expensive
-
A new style of brushing that is tricky to get used to
The AutoBrush Sonic Pro is one of the most unusual-looking toothbrushes in this guide. It's unique U-shaped configuration is designed to clean all of your teeth in just 30 seconds — great for reluctant brushers.
There are three sonic vibration cleaning modes: Care (gentle), Deep Clean and Massage. The whitening LED lights are a welcome inclusion and not something you often find on your typical electric toothbrush. Though AutoBrush claims this toothbrush will clean your teeth in just 30 seconds, there are also 60-second and 90-second timers available — something we were pleased to find during our hands-on AutoBrush Sonic Pro review.
It takes a while to adapt to this new style of brushing, as it's likely very different to how you'll have ever brushed before.
User reviews
The AutoBrush Sonic Pro has a respectable, but not hugely impressive, 3.5 stars out of 5 on Amazon. Those who have given it more than four stars say it's great for kids, people with disabilities (e.g. limited hand dexterity), or users with sensory issues, as it reduces the need to move the brush around the mouth.
Our experts
Amarjit Sohal MDDR. BSC. is a principal dentist and co-founder and at Broadway Dental Boutique. He obtained his BSc. Degree at Kings College London and furthered his MDDr. Degree at the 1st Faculty of Charles University. He has a love of Dentistry; considering it a hobby as well as a profession and practices it as an art.
Dr. Khurrum Hussain, a clinical periodontist at Bupa Dental Care. BDS MFDS RCSEd Dip BDS, MFDS, PG Cert, MClinDent (LOND), MPerio RCS (Ed). Dr. Hussain is a highly experienced GDC registered Specialist Periodontist, and Implant Surgeon. He completed specialist training at the Eastman Dental Institute (UCL). As a practicing clinical periodontist, he manages both periodontal disease and complex restorative complications. He is now based in the North-west of England, where he is a Clinical Lecturer at the University of Manchester Dental Hospital.
Faizan Zaheer is a dentist at Bupa Dental Care and a GDC-registered Specialist in Periodontology with a Master's degree in Dental Research. He is proud to have had several prestigious publications in gum grafting techniques and continues his passion for research at the University of Manchester in the UK. He is a staff member teaching the postgraduate Master's program in Periodontology at the Dental Hospital, also based in Manchester, UK.
---
Do dentists really recommend electric toothbrushes?
Do dentists really recommend electric toothbrushes?
When it comes to maintaining oral health, you're likely to hear one piece of advice from any dentist: brush your teeth regularly. The American Dental Association recommends brushing for two minutes twice daily, whether you opt for an electric or manual toothbrush. However, choosing between the two is a matter of personal preference, considering age, technique, and individual needs.
Having said that, electric toothbrushes are generally considered to be more effective than manual toothbrushes for several reasons:
1. Consistent brushing: Electric toothbrushes often have built-in timers and sensors to help you brush your teeth for two minutes. They also provide consistent and even brush strokes, which can be difficult to achieve with a manual toothbrush.
2. Optimal cleaning: Electric toothbrushes can generate more brush strokes per minute than manual toothbrushes. This increased motion can improve plaque removal, especially in hard-to-reach areas.
3. Pressure sensors: Some electric toothbrushes feature pressure sensors that alert you if you're pressing too hard, which can help prevent gum damage and enamel erosion.
4. Multiple brushing modes:: Many electric toothbrushes offer different brushing modes (such as sensitive, whitening, and gum care) to cater to individual oral care needs.
5. Easy to use: Electric toothbrushes do most of the brushing work for you, making it easier for people with limited dexterity or those who have difficulty using a manual toothbrush effectively.
6. Child friendly: Electric toothbrushes can make brushing more fun and engaging for children, encouraging better oral hygiene habits. Live Science spoke to Faizan Zaheer, a dentist at Bupa Dental Care, to find out more. While Zaheer recommends children start out with a manual toothbrush, an electric brush can be a good choice further down the line. "As they get older, electric options are good as they tend to remove plaque more efficiently. I recommend a rechargeable option with a small head for children," said Zaheer.
The research also shows that electric toothbrushes, on average, tend to remove more plaque and result in better oral hygiene than manual toothbrushes. Here's how the evidence stacks up:
A study spanning 11 years, published in the Journal of Clinical Periodontology, revealed that electric toothbrushes are significantly more effective than manual toothbrushes in cleaning teeth and gums, leading to reduced risk of tooth decay and loss.
A 2014 Cochrane Review of electric toothbrushes showed that they lower plaque levels by 11% to 21% compared to manual toothbrushes and are more effective at preventing gingivitis.
A study published in the International Journal of Dental Hygiene in 2022 confirmed that electric toothbrushes work better at getting rid of plaque. The movements of the bristles in electric toothbrushes - whether they spin, rotate, or vibrate - can clean spots that are hard to reach with a regular toothbrush.
Electric toothbrushes are beneficial for people with braces, like those getting orthodontic treatment. A study in 2020 published in the Stomatologiia journal looked at teenagers who had braces and found that those who used electric toothbrushes had fewer dental issues, such as gum inflammation and weak tooth enamel, than those who used regular manual toothbrushes.
However, it's important to note that using any toothbrush effectively depends on your technique, the time you spend brushing, and your overall oral hygiene routine.
When selecting an electric toothbrush, focusing on effectiveness rather than extra features is essential. Zaheerrecommends looking for a model from a reputable manufacturer rather than merely plumping for the most expensive option. "Pricier electric toothbrushes tend to boast fancy features, such as Bluetooth connectivity to a smartphone app, but these are 'nice to have' rather than essential," said Zaheer. Choosing a model that effectively cleans plaque, bacteria, and debris from your teeth and gums is more important."
How to choose
How to choose an electric toothbrush
There are several factors to think about when choosing the best electric toothbrush, but it's worth thinking about comfort first as, if you're caring for your teeth correctly, you're going to be using the device a lot, up to twice daily or more. Look for an ergonomic handle that sits nicely in the palm of your hand and offers a firm but comfortable grip.
A key factor for many users is battery life. If your electric toothbrush spends most of its life in a charging dock by your bathroom basin, then battery life is not much of a problem. But if you travel regularly, then you may benefit from an electric toothbrush with a long-lasting battery. Look for toothbrushes that carry an internal lithium battery, as these can often hold their charge for several weeks.
Many electric toothbrushes come with additional features, and while these can be great, the simplest features are often the best. These are pressure sensors which alert you when you press too hard on your gums or teeth, and automatic timers which can be set to ensure you clean your teeth for the recommended amount of time, usually 2-3 minutes.
More advanced options tend to boost additional cleaning models and Bluetooth app connectivity. How useful you find these apps depends on the individual user, but the smartest apps can map your mouth to provide real time feedback and encourage you to make sure you don't neglect any areas of your mouth. Kids especially can enjoy that kind of interactivity ⁠— although they may prefer a slightly smaller model from our guide to the best electric toothbrushes for kids.
Electric toothbrushes usually come in two forms: oscillating and sonic. Oscillating toothbrushes have been around longer, and feature round brush heads that rotate at high speeds – anywhere between 2500 – 7500 BPM (brushes per minute) – to remove plaque and buff teeth to a shine.
Sonic electric toothbrushes feature brush heads that more closely resemble traditional manual toothbrushes but employ sonic technology that vibrates the head up to an incredible 60000 BPM for a truly thorough clean. That said, there is little evidence to support one method over another, so your choice could come down to whether you enjoy the slightly less intense oscillating brush head over the sonic brush.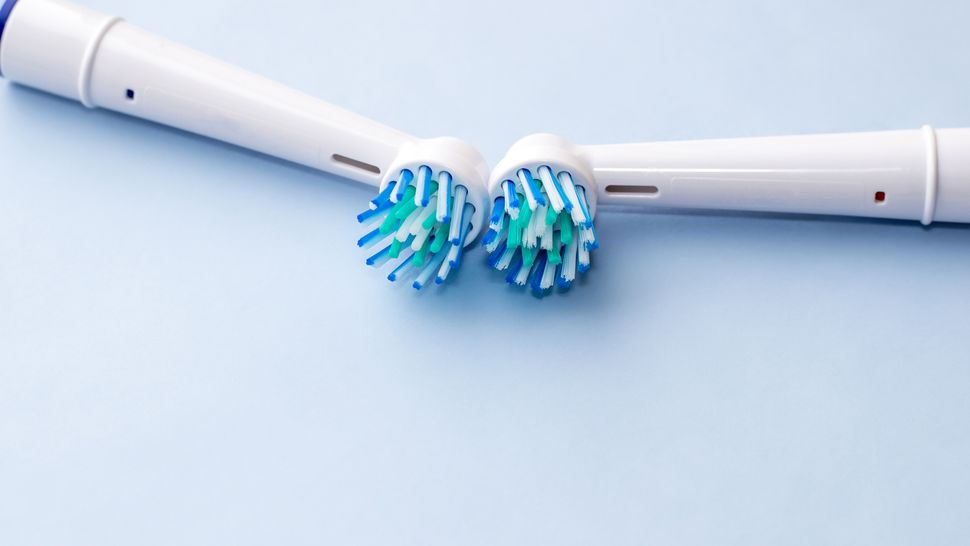 How long do brush heads last?
How long do electric toothbrush heads last?
The American Dental Association (ADA) recommends replacing your toothbrush head every three to four months. This is because the bristles on the toothbrush head wear out or break down through everyday use. If you don't replace it, you may not get the most effective brushing experience and could be at risk of bleeding gums and plaque build-up.
Some people may need to replace their toothbrush head sooner if the bristles are beginning to fray. The good news is, lots of brands like Oral-B allow you to buy toothbrush heads in bulk.
Which is better: manual or electric?
Are electric toothbrushes better than manual toothbrushes?
When removing dental plaque, the evidence is clear: electric toothbrushes have the upper hand over manual toothbrushes. A review in the International Journal of Dental Hygiene conducted in 2022 confirmed that powered toothbrushes are more effective at eliminating plaque. Electric toothbrush bristles' oscillating, rotating, or sonic movements can reach and clean areas that are challenging to access with manual brushing techniques alone.
Electric toothbrushes provide consistent brushing techniques, such as rotating or vibrating motions. If you brush too harshly or lightly with a manual toothbrush, an electric toothbrush will help you improve your technique.
Electric toothbrushes have proven to be particularly beneficial for those undergoing orthodontic treatment, such as braces. A 2020 Stomatologiia study into teenagers wearing braces found that those using an electric toothbrush were less likely to have dental problems, such as gingivitis and poor tooth enamel than those using manual toothbrushes.
Electric toothbrushes also improve brushing time, according to the results of a randomized controlled trial in Clinical Oral Investigations. Today's electric toothbrushes come with built-in timers or alerts to encourage brushing for the full recommended two minutes. And studios have found that electric toothbrush users brush for approximately 10 seconds longer than manual users, ensuring a more thorough clean, according to the same trial.
For people with limited mobility, or problems with dexterity, electric toothbrushes can be a lifesaver, as they do all the heavy lifting for you with their oscillating or vibrating. Their smaller heads are also ideal for the back of the mouth, where manual toothbrushes are often too big to get an effective clean.
Electric toothbrushes offer additional features, such as different brushing modes and interchangeable brush heads for specific oral care needs. So you can tailor your brushing experience according to your requirements, such as sensitive teeth, orthodontic appliances, or gum health concerns.
In addition to their superior performance, electric toothbrushes reduce plastic waste. You can significantly reduce your plastic waste by replacing only the brush head every three months instead of the entire toothbrush.
When it comes down to choosing one or the other, it's worth knowing that manual toothbrushes can still be effective if used with proper brushing technique and the recommended brushing time. Regular brushing, regardless of the type of toothbrush used, is crucial. If you don't like the feel of an electric toothbrush, or you're on a budget that means it's unaffordable, you can still maintain good oral hygiene with a manual toothbrush instead.
How to use
How to clean your teeth with an electric toothbrush
Cleaning with an electric toothbrush is easy and effective. Here's a step-by-step guide on how to make the most of your electric toothbrush:
Clean twice daily for 2 minutes each time
Dental experts recommend brushing your teeth for two minutes twice a day with a pea-sized blob of toothpaste that contains at least 1,350 parts per million (ppm) fluoride.
Proper positioning
Hold the electric toothbrush at a 45-degree angle against your teeth and gums. This angle effectively cleans plaque and debris, especially near the gum line, where oral health issues often arise.
Let the brush do the work
Switch on your electric toothbrush and let the powered movements of the brush head do the cleaning for you. Divide your mouth into four quadrants: upper outside, upper inside, lower outside, and lower inside. Many electric toothbrushes have quadrant pacers to guide your brushing. These handy features emit a beep or stutter, signaling when to switch to the next quadrant of your mouth. However, if your electric toothbrush doesn't have a quadrant pacer, you can still maintain a balanced brushing session by setting a timer on your phone for 30 seconds.
Use gentle pressure
Avoid applying excessive pressure while brushing. The pulsating or rotating motions of the electric toothbrush bristles, combined with gentle pressure, are sufficient to remove plaque. Pressing too hard can irritate your gums and wear down enamel.
Don't forget the gumline and tongue
Plaque and bacteria can accumulate along the gumline and on the tongue's surface. Take some time to gently brush along the gum line and give your tongue a light brush to help maintain overall oral hygiene.
Rinse and clean
After brushing, rinse your mouth thoroughly with water to remove any residual toothpaste or debris. Clean the brush head by rinsing it under running water and allowing it to air dry. Replace the brush head every three months to ensure you get the most from your electric toothbrush.
Remember, in addition to regular brushing, maintaining a consistent oral hygiene routine that includes flossing, using interdental brushes, or rinsing with mouthwash can also enhance the cleanliness and health of your teeth and gums. Regular dental check-ups are also important for professional cleanings and comprehensive oral care
How to look after your brush
How to care for your electric toothbrush
Investing in an electric toothbrush will benefit the overall health of your teeth and gums, but it's essential to properly care for it to ensure it continues to work effectively. Live Science spoke to Dr. Khurrum Hussain, a clinical periodontist at Bupa Dental Care, to find out more. "Properly cleaning an electric toothbrush involves a few additional steps due to its moving parts and potential build-up of water and bacteria," says Dr. Hussain.
Follow these tips from Dr. Hussain to keep your electric toothbrush in great condition:
Clean after each use: Cleaning your toothbrush helps prevent the buildup of hard water deposits. After brushing, rinse the brush head while it is still moving and detach it from the handle. Clean both parts separately, ensuring water runs through the top of the handle and the brush head. Wipe all parts of your toothbrush dry before reassembling, or store your brush upright. This helps it to air dry.
Replace your brush head regularly: Over time, the bristles wear down, reducing their effectiveness in plaque removal. By regularly replacing the brush head, you'll ensure optimal cleaning power.
Charging practices: It's a common question -should you keep your electric toothbrush on its charging stand? Some manufacturers recommend running the toothbrush until it requires recharging to maximize the battery life. Check your electric toothbrush's instruction manual for specific charging frequency and duration guidance.
Travel with care: If you're taking your electric toothbrush on the go, use the travel pouch provided or place it in a clean travel bag. This protects your toothbrush from damage and keeps it hygienic while you're on the move.
Clean the handle: Regularly use a damp cloth or antibacterial wipe, ensuring it remains free from dirt and residue.
Avoid sharing: It's essential to keep your electric toothbrush personal and avoid sharing it with others. Sharing toothbrushes can lead to the transfer of bacteria and potentially oral infections.
Can they be used with braces?
Can you use an electric toothbrush with braces?
Yes, you can use an electric toothbrush with braces. Many orthodontists recommend using an electric toothbrush, according to Orthodontist Baltimore, because it can provide more effective cleaning than a manual toothbrush, especially when cleaning around braces. Dr. Hussain has more: "Using an electric toothbrush with braces is highly recommended for effective cleaning," he told Live Science. "But it might feel awkward because of the various attachments and wires."
A 2020 Russian study in Stomatologiia revealed that the type of toothbrush you use for your daily oral hygiene during orthodontic treatment could affect the occurrence of gingivitis and enamel demineralization.
Gingivitis is a common form of gum disease caused by plaque buildup, a sticky film of bacteria that forms on the teeth and along the gum line. Enamel demineralization is a process that occurs when the hard outer layer of the teeth, known as enamel, loses minerals such as calcium and phosphate. It happens when the acids produced by bacteria in the mouth metabolize sugars and carbohydrates from food and drinks.
The study found that people using manual toothbrushes were likelier to have gingivitis and enamel demineralization. In contrast, those who used electric toothbrushes were less likely to experience poor oral hygiene.
Opt for a brush head that is small enough to reach all areas of your teeth and braces comfortably. Some electric toothbrushes offer brush heads suitable for braces, which may have shorter bristles or a specific shape to clean around brackets and wires. Dr. Hussain suggests a smaller child-size toothbrush head to help you get into those awkward spots.
Try to be gentle when brushing around your braces to avoid damaging them. Let the electric toothbrush do the work, and don't apply too much pressure. Allow the bristles to clean around the braces gently and along the gum line.
Don't forget to floss. While an electric toothbrush can help remove plaque from the surfaces of your teeth, it may not effectively clean between the teeth and around the wires. Consider using interdental brushes, floss or one of Live Science's best water flossers to clean these hard-to-reach areas.
Stay up to date on the latest science news by signing up for our Essentials newsletter.
Joanne Lewsley is a UK-based freelance writer and editor, covering health and lifestyle news and features. She mainly creates evidence-based health and parenting content and has worked with a number of global sites, including BabyCentre UK, Medical News Today, Fit & Well, Top Ten Reviews, and Yahoo!