If you're serious about oral health and don't mind splashing some cash, the Oral B-io Series 9 is one of the most premium electric toothbrushes on the market. It has seven modes to choose from, leaves your teeth sparkling clean, and includes an AI-powered app that tracks your brushing.
Pros
+

Seven brushing modes

+

AI-powered app

+

Sleek design

+

Charging travel case
Cons
-

Very expensive

-

No changeable intensity levels

-

Few color choices
Why you can trust Live Science Our expert reviewers spend hours testing and comparing products and services so you can choose the best ones for you. Find out more about how we test.
In the world of electric toothbrushes, Oral B is one of the biggest brands alongside Philips Sonicare. The Oral B-io Series 9 is one of the brand's most high-tech models, with plenty of smart features and an incredible AI-powered app.
But is this electric toothbrush worth its very high price? We've analyzed its design, specs and performance to give you a full overview of the quality of the product, so you can assess whether it's a worthwhile investment for you.
Oral B-io Series 9: Essential info
2 week + battery life
Comes with a charging portable case
Comes with one replaceable brush head
Comes in pink, white or black
7 brushing modes
AI-powered app
Built-in timer
Built-in pressure sensor
2-year warranty
Replacement heads cost $37.44 for a pack of 4
There's no doubting the fact that the Oral B-io Series 9 has many standout features, including a sleek design and a color display. It looks premium and is a cool gadget to display in your bathroom. The great appearance is backed up by a solid performance with a great battery life, seven brushing modes, and a pressure sensor to improve your brushing. The highlight of this product, however, is its companion app you can connect to via Bluetooth. Using AI, it shows you a 3D map of your mouth and tracks your brushing in real-time to ensure you don't miss any spots.
Is the Oral B-io Series 9 the best electric toothbrush for you? Read on to find out.
Oral B-io Series 9 review: Design
The Oral B-io Series 9 is a beautiful piece of kit, and will look good on any bathroom shelf. It comes in a choice of three colors: rose quartz, white alabaster or black onyx. We tested the rose quartz model, which we found was actually more purple than pink, but a lovely muted color all the same.
The handle is made of brushed metal and is smooth to the touch, but the rounded shape ensures a good grip. It's relatively short, and we found our thumb automatically hovering over one of the buttons, which meant we accidentally switched modes more than once while brushing. If you have bigger hands, definitely consider a toothbrush with a longer handle like the Philips Sonicare DiamondClean 9000.
On the handle, you will find an interactive color display that lights up automatically when you pick the toothbrush up. It greets you with a little "Hello" before displaying the current selected mode, which you can switch thanks to the button just below the screen. There is another button just above the screen with a power logo, which as expected powers the toothbrush on and off.
At the top of the handle, just below where the toothbrush head is inserted, there is a ring of light which lights up in different colors according to the pressure applied while brushing. The ring is green if you are using 'correct' pressure, red if you're pressing too hard, and white if you're not pressing enough. This is a useful tool to ensure you're not damaging your gums, but it can be really distracting while brushing your teeth.
The Oral B-io Series 9 comes with a single replaceable head, which slots onto the body of the toothbrush easily. One complaint is that the heads don't stand up by themselves, which means we had to leave them lying down on the sink, which didn't feel very hygienic. The toothbrush head is round and has seemingly very few bristles, but Oral B says this is optimized with the micro-vibrations of the toothbrush to remove plaque more efficiently.
As well as the toothbrush, you get a magnetic charger which you just need to place the toothbrush and plug in to start charging. It's fairly simple looking and won't be an eyesore in your bathroom, which is a bonus. The Oral B-io Series 9 also comes with a travel case that fits the toothbrush body and up to two heads. Best of all, this case can charge your toothbrush on the go with just a USB cable, which is a nifty feature if you're on the go a lot.
Oral B-io Series 9 review: Functionality
It couldn't be easier to start using this toothbrush: the screen lights up when you pick it up and displays the selected mode, which you can switch by pressing the button below the screen. The icons change as you press the button to show the modes available. To start brushing, simply press the power button, and the toothbrush powers on.
There are seven modes to choose from: daily clean, sensitive, gum care, intense+, super sensitive, tongue clean and whiten. Apart from a change in intensity between the daily, intense+ and sensitive/super sensitive modes, we didn't notice a huge amount of difference between the modes. As this reviewer has sensitive gums, the only suitable mode was super sensitive mode. Even gum care was very harsh on our gums, and left us with an uncomfortable tingly feeling. If you're looking for a toothbrush with a good amount of pressure, this is the choice for you, but if you're a bit sensitive, there might be better options out there.
Once you start brushing, you can look at the ring of light below the toothbrush head to see whether you're applying the correct amount of pressure. It flashes green if you're doing well, white if you're not putting enough pressure, and red if you're pressing too hard. This is handy but also proved quite distracting when trying to remember where we needed to keep brushing.
Like most electric toothbrushes, the Oral B-io Series 9 has a built-in two-minute timer that vibrates twice quickly every 30 seconds to indicate a change of zone, and three times when your brushing cycle is done. Unlike some other toothbrushes, this one doesn't stop once the two minutes are over - if you miss the three buzzes, you could end up brushing significantly longer than planned. Luckily, the time spent brushing is shown on the color display, so you can always check that if you're unsure.
If you want to start brushing with the app straight away, there are a few steps to go through: downloading the app onto your device, pairing the toothbrush via Bluetooth (which took seconds), registering an account, and verifying your email. All in all, this took about five minutes, so we couldn't complain. Once you've downloaded the app, we were really pleasantly surprised to see it synced past sessions during which we hadn't used the app too, which made tracking the frequency of our brushing easier.
The instructions recommend cleaning the toothbrush after every use, removing the head and wiping it clean with water, and wiping the handle of any grime and toothpaste. It is recommended to store the toothbrush and head separately between uses to avoid the buildup of toothpaste and dirt, which would make it harder to connect the head to the base. As mentioned above, we found it a bit annoying that the toothbrush head couldn't stand upright by itself, and we thus had to store it head up on the side of the sink.
Charging this toothbrush is also incredibly easy: all you need to do is plug the charger in and place the toothbrush handle on the magnetic charger base. The battery level is indicated on the screen, so you don't have to wait for longer than it takes to fully charge the battery (slightly less than three hours).
Oral B-io Series 9 review: Performance
The Oral B-io Series 9 has seven modes to choose from depending on your preference and sensitivity. We tried all the modes and noticed the most difference between daily clean/intense +/and the sensitive modes. The vibrations were much stronger on the intense and daily clean modes, which didn't suit our teeth at all. The sensitive and super sensitive modes were better suited to our gums, so we used that regularly.
Overall, brushing with this electric toothbrush made our mouth feel really clean and gave us the impression of an in-depth brush every time. After weeks of using it, we definitely felt like there was less plaque build-up between our dentist appointments. The tongue brushing mode is a fun feature to use once in a while too, and not one we've seen on other toothbrushes.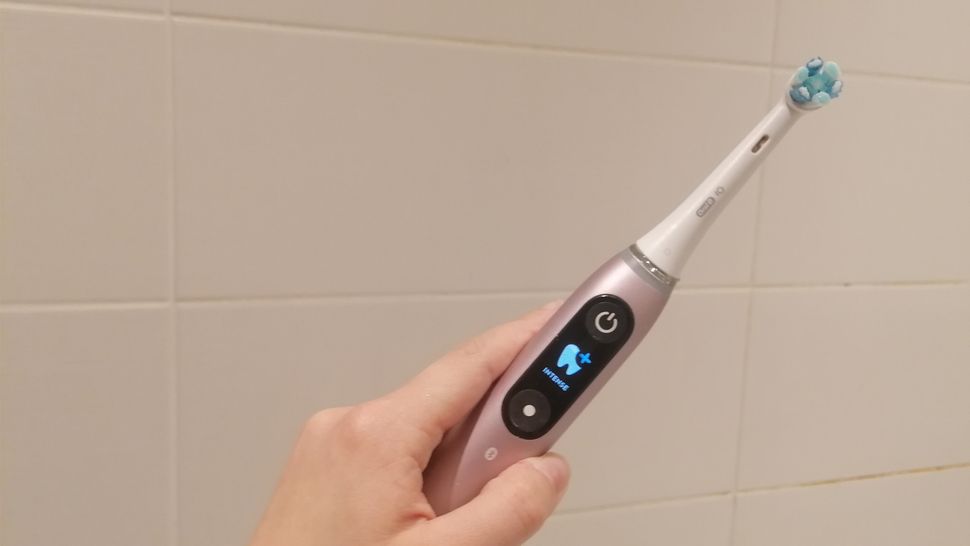 The highlight of this toothbrush is the AI-powered app that comes with it. Once you're connected, you can bring it up as you press the power button, and it will automatically track your session. Your device's screen will show you how long you've been brushing for, but also the zones of your mouth where you're brushing. The 'cleanliness' of each zone changes as you brush it more or less, showing you where you need to pay more attention.
After each session, you get assigned a score and shown exactly how to improve for next time, which is really useful. You can look back on your sessions in the app and see how often you brush, for how long, and how well you did. The app comes with other learning materials such as videos, and a smart feature that reminds you when you'll need to buy more replacement heads.
We were also really impressed by this toothbrush's battery life. Oral B claims it is two weeks, and we found this to be true, if not an understatement! We went through 15 days of regular brushing without needing to recharge it, so we'd feel very confident taking it on holiday without the charger. With the added benefit of the chargeable case, this toothbrush is a reliable travel buddy, for sure.
Oral B-io Series 9 review: What's good about it?
The Oral B-io Series 9 is a premium product. It looks sleek and high-tech with its color display and comes with a nifty charging case you can take on the go.
What differentiates it from competitors, though, is the incredible AI-powered app it comes with. This app gives you tons of information and allows you to track your brushing in real-time, ensuring you don't miss a spot. Based on your past brushing, you get customized advice to improve your brushing technique.
Oral B-io Series 9 review: What's not so good about it?
Apart from its very high price, which we think is justified by the host of smart features it offers, the Oral B-io Series 9 doesn't have many downsides. The brushing modes could perhaps be a bit more different from one another, or each could be adjustable in terms of intensity to suit people with sensitive gums, for example. Apart from that, we don't have many bad things to say about it!
Oral B-io Series 9 review: User reviews
Users clearly agreed with us, as the Oral B-io Series 9 scores an incredible 5 stars out of 5 on Amazon, out of 769 ratings. Positive reviews raved about the battery life, the comfort, and the practical charging case, which makes traveling with it really easy.
One three-star review stated: "I feel that I overpaid for something that I'm not using, such as Bluetooth. I wish this toothbrush was coming with a small clock that is displaying time and everything instead of connecting it to my phone. I don't see much sense in using it every time, to see once how I'm brushing my teeth is enough." We agree with the sentiment; if you're not that interested in your brushing habits and improving your oral hygiene, this product is definitely a gadget you don't need to splurge on.
Value for money and longevity are two criticisms that come up in a minority of reviews, but aside from those, customers seemed overwhelmingly satisfied.
Should you buy the Oral B-io Series 9?
The answer to that question depends on your budget, and how invested you are in your oral health.
If you're really curious about how you brush and want to improve your technique, this toothbrush is really helpful. It also helps with motivation to brush as it 'gamifies' the process and rewards you for regular and in-depth brushing. However, the amazing app and smart features come with a high price tag, which for many will be unattainable or simply unjustified.
We really enjoyed using the Oral B-io Series 9 and have felt a definite improvement in the regularity and longevity of our brushing, as well as our overall oral health, but you could probably achieve similar results with a cheaper toothbrush, a timer, and a habit-tracking app.
If this product isn't for you
Unless you've got a spare $300 to spare on a toothbrush, this product might not be the best option for you. Rest assured, there are plenty of cheaper alternatives that do a great job of keeping your teeth clean.
If you're on a budget or simply looking for a no-thrills electric toothbrush, the Oral B Pro 1000 is a good option. It has a single brushing mode and a two-minute timer and comes with a charger and a replaceable toothbrush head. While it's got none of the smart features of the io Series 9, it does a completely adequate job of brushing your teeth.
If you're feeling bold, the Foreo ISSA 3 is a quirky toothbrush made entirely out of silicone that comes in bright colors. It has a 365-day battery life and you only need to change the heads every six months, making it a more eco-friendly and cheaper choice. It has 16 brushing modes and an integrated cheek and tongue cleaner.
Mina is the Reviews Editor at Top Ten Reviews. She works with section editors to create accurate, detailed and in-depth reviews to populate buying guides. She has degrees in Linguistics and Investigative Reporting, and is also a freelance writer and editor. When she's not testing kit and agonizing over commas, Mina can be found reading, running, eating good food and drinking wine.