Best air purifiers for allergies 2023: Tried and tested
Breathe easy with the best air purifiers for allergies, tested by Live Science.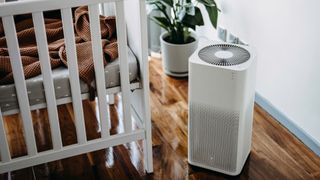 (Image credit: Getty)
The best air purifiers for allergies can make all the difference for people who struggle with sensitivities to pollen, dust or pet dander, especially through the months of March to September. These clever devices contain a piece of technology called a high efficiency particulate absorbing (HEPA) filter, which traps 99.97% of indoor air pollutants down to 0.3 microns in size. For context, pet dander is around 2.5 microns — easy work for a HEPA filter.
What the expert says
"Although we cannot see them, there are many different particulate matters in the air. Some examples are dust, pollen, mold, smoke, and airborne bacteria and viruses. Most of these airborne particles are allergens, that is, the triggers of asthma and allergies." — Wei-Ning Wang, aerosols expert and associate professor at Virginia Commonwealth University.
Some of the best air purifiers for allergies also come with extra filters like activated carbon, which traps bad smells caused by pets, cooking and smoke, and a pre-filter, which traps larger particles before they get caught up in the HEPA filter.
At Live Science, we've put a number of air purifiers through our rigorous testing process to bring you a round-up of the devices that are really worth your buck. Below, you can find options for a range of budgets, and for small spaces through to larger rooms. We've also spoken to some of the top experts in the field to answer some of your burning questions, including Wei-Ning Wang, an aerosols expert and associate professor at Virginia Commonwealth University. For more information on how we test, we have a detailed explanation further down the page.
Looking for a less specialized appliance? Find more top-performing all rounders from Levoit, Dyson and more in our general guide to the best air purifiers.
Best overall
Most powerful and best overall performance
Specifications
Energy star certified:
Yes
Reasons to buy
+
Powerful capability at high settings
+
Good value for money
+
Simple to get up and running
Reasons to avoid
-
App can cut out
-
May be too bulky for smaller homes
The Levoit 400S is our top choice for an air purifier that effectively captures allergens in your home, and with good reason.
What the users say
The Levoit 400S scores a seriously impressive 5 stars out of 5 on Amazon. Reviewers commented on its ability to clean the air of odors and dust. Positive reviews were also gained thanks to the stylish look of the Levoit 400S, but some think it is a little bulky.
Not only did it perform well in all of our tests, it's also an affordable option, meaning those on a budget don't have to compromise their air quality. Thanks to its True HEPA H13 filter, this air purifier aced our tests under a number of conditions, removing 99.9% of particles smaller than 0.3 microns at certain times. The air purifier also captures some bacteria and viruses, and with an advanced activated carbon, the machine filters volatile organic compounds from the air.
Not only is the Levoit 400S a powerful air purifier, but it also gains points for its stylish design, with sleek edges and handles for easy maneuvering. Setting up this appliance is easy thanks to the intuitive controls, and there's plenty of information accessible on the app connected to your purifier, which gives you statistics on historical and current air quality within your home.
---
Best budget friendly air purifier
The best budget option
Specifications
Energy star certified:
Yes
Reasons to buy
+
Simple controls
+
Charcoal filter to remove odors
Reasons to avoid
-
Only coverage to 152 feet
-
Design won't blend with home interior
If you're on a budget and need an air purifier to tackle your allergy symptoms, then the GermGuardian AC4825E will be an inexpensive purchase that can go a long way to help you breathe easier.
What the users say
The Germ Guardian AC4825E has an average score of 4.7 out of five stars from a huge 34,876 reviews gathered on Amazon. Many users said this smaller air purifier was great for everyday use, and helped alleviate allergy symptoms. Other less impressed reviewers said they felt they needed a more complex filtration system.
Complete with a HEPA filter and a charcoal filter to filter odors, this appliance can make your living space a nicer place to be. It's also ultra-quiet, meaning it can work away in the background without alerting you.
As you might expect with a smaller unit, the coverage of this air purifier is not quite as extensive as bulkier models. It would be suitable to single rooms, rather than expansive spaces, and stands at just 22 inches tall, meaning it won't be too disruptive to your room's decor. There are some other handy features too, including a light to indicate a filter change is due and three speeds including an ultra-quiet sleep mode so that you can keep your machine running into the night.
We were impressed by how much it reduced particles in our match and incense tests, especially for its price point. If you want a no-frills, but a very effective air purifier, we'd recommend the GermGuardian.
---
Best for energy consumption
Air purifier with the lowest energy consumption
Specifications
Energy star certified:
Yes
Reasons to buy
+
Perfect for larger spaces
+
Sleek design, despite size
Reasons to avoid
-
Not smart-enabled
-
Bulky, heavy unit
If you suffer from allergies and need a unit in order to cover larger rooms in your home, then the Blue Pure 211+ is the ideal choice for you.
What the users say
The Blue Pure 211+ scores an excellent 4.8 out of five stars on Home Depot. Those who left positive reviews were impressed by this air purifiers ability, as well its sleek design. Some less impressed users commented on the expense of replacing filters.
While it's a larger and bulkier model, the outcome is that it can cover rooms up to 600 feet large, which is seriously impressive. Handily though, this increase in coverage doesn't mean that running the Blue Pure 211+ is going to break the bank. Instead, this air purifier is also economical to run and is available in a range of colors to make it a little easier to camouflage into your home.
The performance of the Blue Pure 211+ in our range of tests proves its place in the top ranks of air purifiers of its kind; it was able to absorb particles in a number of conditions in the most effective way we've seen. If you're a smart home fan then the lack of features with the Blue Pure 211+ might be a little lacking for you, but for simple, straightforward running, this appliance should be an excellent fit.
---
Best for aesthetics
Our favorite for sleek design
Specifications
Energy star certified:
Yes
Reasons to buy
+
Classic modern Dyson design
+
Powerful enough to handle peak pollen season
Reasons to avoid
-
Expensive outlay
-
Can get noisy at high levels
As with any Dyson product, a sleek and well-engineered design was to be expected of the Dyson Purifier Cool.
What the users say
The Dyson Purifier Cool has an average score of 4.2 out of five stars on Home Depot. Unimpressed reviewers cite problems with the sensors' baseline readings and noisiness when in use. On the other hand, positive reviews praise the purifier's ability to improve the symptoms of allergy sufferers, as well as getting rid of bad smells. Of course, customers also particularly like the integration with smart devices, the auto setting, and the purifier's cutting-edge design.
This appliance definitely doesn't disappoint on those grounds, and has a practical edge too, doubling as a cooling fan. Beyond aesthetics, this purifier also performed exceptionally well in our testing protocol, with our tests concluding that it often captured more than 95% of monitored particles when used at its highest setting for at least 30 minutes.
When it comes to assisting with cleansing the air of allergens, the Dyson Purifier Cool aims to pick up microscopic particles smaller than 2.5 microns, including smoke, bacteria, and allergens – shown as PM 2.5. If you want your home to be a relief from allergy symptoms - especially in peak pollen season for example - then another neat trick with the Dyson Purifier Cool is that you can set your machine to start working remotely, all from the comfort of your machine's app. Though this air purifier might not be within everyone's price range, it has a lot to deliver, and an eye-catching design to sweeten the deal.
---
Best for large spaces
Best for larger spaces
Specifications
Energy star certified:
Yes
Reasons to buy
+
Sleek look
+
Six stage filtration system
+
Ability to wall mount
Reasons to avoid
-
An expensive investment
-
Not as "whisper quiet" as advertised
-
App is tricky to use
If you struggle with allergies and are looking for an inconspicuous air purifier to add to your home, then the Rabbit AirMinus A2 Spa-780a has a design that's made for sleek, stylish homes.
What the users say
The Rabbit AirMinus A2 Spa-780N has an average score of 4.7 out of five stars from reviews gathered on the Rabbit Air website. Some unimpressed reviewers complained of a fiddly set up, but many positive reviews praised the capability of this air purifier for cleaning the air in large areas.
Able to be wall mounted or used as a portable purifier, this appliance is impressive on many counts. It has a standard coverage of 815 square feet, which is perfect for larger spaces, and a CADR capable of trapping pollen, dust and smoke in your designated space within that size. It's crucial when shopping for an air purifier for allergies that you look out for a solid clean air delivery rate (CADR), and this air purifier claims to have high delivery rates with all of those allergens.
When it comes to selecting an air purifier for your home, there's a number of practical features to think about too. This Rabbit Air AirMinus A2 Spa-780N has been engineered to be ultra quiet, which is bound to be a top consideration for light sleepers. Having said this, we measured 48 decibels on turbo speed, so it's not quite as quiet as advertised. The design of this air purifier means you probably won't even notice that it's there (especially with the wall mount option) but you're bound to feel its benefit when it comes to air quality. In our tests, it removed between 84-90% of particles between 0.3 and 10 microns in size in just 30 minutes.
---
Best for monitoring your air quality
Best for monitoring your air quality
Specifications
Energy star certified:
Yes
Reasons to buy
+
Ultra-stylish design
+
Real-time air quality monitoring
Reasons to avoid
-
Not smart enabled
-
Quite an investment
The Coway AirMega 250 is a popular air purifier due to its high-end design and claims that it can capture 99.99% of fine airborne particles.
What the users say
The Coway Airmega 250 has an average score of 4.7 out of five stars from 92 reviews gathered on Amazon. Fans of this air purifier were impressed by the quiet running of this unit, but others were left a little confused by the setup process of this model.
It has a three-stage filtration system, which makes it a good choice for allergy sufferers, and gives you helpful indications of when to change your filters, as well as filters that are in themselves easy to clean. It's also thorough in its performance, with a capability of covering up to 930 square feet, one of the most impressive coverages we've seen.
Although it's pretty pricey, the Coway AirMega 250 doesn't have the smart-enabled features you might expect. Despite not being able to control this device via your phone, there are smart features though. We like the ability to set the air purifier on a Smart mode that adjusts the fan speed based on the quality of the air in the room, ultimately saving energy and time. Rapid mode is a unique feature of the Coway Airmega 250, which we liked because it helps to quickly clear the air in cases when your air quality turns bad — for our tester, that often happens when she's searing a steak. Rapid mode circulates the air at maximum power until the air is clean.
---
Best for humidifier capabilities
Doubles as a humidifier
Specifications
Energy star certified :
No
Reasons to buy
+
2-in-1 humidifier and air purifier
+
Energy efficient
+
Easy to use and assemble
Reasons to avoid
-
Expensive compared to alternatives with similar capabilities
-
Pricey filter replacements
-
Bulky design
When it comes to air purifiers, Turonic may be a new kid on the block — but don't let that put you off. The Turonic PH950 2-in-1 model may be a strong contender for the title of best mid-range air purifier.
Weighing in at almost 24 lbs, it's definitely not the lightest piece of equipment on the market. It is also bigger and wider than most competitors, so you may need to sacrifice some floor space. But taking into account what the Turonic PH950 can offer, this is not necessarily a deal breaker.
What the users say:
The Turonic PH950 scores 4.3 stars out of 5 on Amazon, with reviewers praising its ease of setup and effectiveness at improving air quality. Negative reviews focus on the high cost of replacement filters.
Indeed, the Turonic PH950 is a powerful 2-in-1 machine combining an air purifier and a humidifier. This complex piece of equipment is equipped with an ionizer, UV-C technology and several different filters designed to neutralize up to 99.98% of unwanted particles as small as 0.1 microns. It also comes with 10 different operating modes, a handy remote control, a designated app, a timer, PM2.5 laser air quality sensor, and a child lock — all for approximately $400 per unit. It may sound like a hefty price tag, but we found the Turonic PH950's performance to be superb in our tests. And since this piece of equipment is highly energy efficient, it will not rack up your energy bills.
We also found the Turonic PH950 easy to assemble and use. Its circular display is pleasant to look at and the color-coded indicators are easy to understand. The display is also suitable to use in a bedroom at night, as the icons are bright, but not flashy.
The downsides? For a relative beginner, the Turonic PH950 may seem like an overly complicated piece of machinery. Changing a filter in this piece of equipment can also prove quite costly — a price for a single filter pad tends to fall between $45 and $60.
---
Best for homes with pets
Best for homes with pets
Specifications
Energy star certifed:
Yes
Reasons to buy
+
Impressive air-cleaning performance
+
Easy to use and control via app or voice
+
Four fan speeds plus three extra modes
Reasons to avoid
-
May be too large for small spaces
-
Cheaper Levoit models are available
Putting the Vital 200s through its paces in our at-home testing, we found it impressive and efficient at removing particles measuring as small as 0.3 microns. Pet dander, mold, dust and smoke were absorbed while chemicals and odors from everyday household cleaning and cooking were neutralized by the three-stage filtration system. This includes a washable pre-filter, an H13 True HEPA filter and a high-efficiency activated carbon filter.
What the users say:
"Ok, I am a believer now in air purifiers. We originally purchased this as we have new puppies and wanted to help eliminate the slight 'puppy smell.' It not only did that but also got rid of the cooked bacon smell after breakfast that previously would tend to linger," remarked one BestBuy customer. BestBuy users award the Vital 200s a five-star rating.
While the large boxy design may not be suited to users who want a sleek and stylish air purifier, or those with small rooms, the no-frills aesthetic makes the Levoir Vital 200s the perfect choice for most users. While it's not cheap, it is relatively affordable, and if you value clean indoor air quality, you won't be disappointed with its performance.
The Levoit Vital 200s offers four fan speeds, three separate modes including pet, auto and sleep mode, and a connected app that allows you to control your air purifier remotely, wherever you are. It also works with Google Assistant and Alexa voice control devices.
The Vesync app is easy to use and allows users to track their real-time air quality data and historical data, revealing peaks in poor air quality over the day and taking the guesswork out of what's causing bad air quality in your home.
---
Best for commercial spaces
For people with large, airy homes or commercial premises
Specifications
Energy star certified:
no
Reasons to buy
+
Smart-enabled
+
Great performance in testing
+
Easy to set up and use
Reasons to avoid
-
Bulky design
-
Air quality indicator could be better
-
Filters are expensive to replace
The Sciaire+ HEPA air purifier by DH Lifelabs is designed to maintain clean and germ-free living spaces efficiently. It utilizes 16 ion generators to bond with airborne particles actively, achieving a 99.99% elimination rate of bacteria and viruses. The 3-in-1 filter system, including pre-filter, HEPA filter, and activated carbon filter, effectively removes particles as small as 0.1 microns, addressing pet dander, pollen, dust, allergens, and volatile organic compounds (VOCs).
What the users say
The DH Lifelabs Sciaire + HEPA Air Purifier has an impressive average rating of 4.6 out of 5 stars on Amazon, and more than two-thirds of satisfied customers have given it a perfect 5-star rating. In fact, not a single purchaser has rated it with fewer than three stars. Despite its size and relatively expensive cost, users rate this air purifier. They enjoy how easy it is to set up and start using immediately. Many love the large design and glossy screen at the top, with one user commenting, "First impressions were that this purifier looks superb - a sleek silvery tapered tower design that's the polar opposite from an industrial box." They also enjoy how quiet the purifier is during operation.
The purifier also features a dual air deodorization process, breaking down odors and neutralizing unpleasant smells. It covers areas up to 452 sq. ft., with Wi-Fi connectivity and app control. The design is big, though, measuring 35.4 inches in height and 13.6 inches in diameter. It may be too large for smaller homes. It performed well in our at-home user testing and was super-quiet during operation, even on auto-mode.
With a 4.6 out of 5-star rating on Amazon, users enjoy how easy it is to use and how well it performs. However, they raise concerns about its size being more suited for commercial premises and the potential expense of filter replacements.
Due to its large size, we'd recommend the DH Lifelabs Sciaire+ HEPA Air Purifier for those with spacious homes or commercial spaces. Despite its substantial dimensions, it offers efficient air purification and ease of use, making it a suitable choice for the right environment.
---
Our Experts
Wei-Ning Wang is an aerosols expert and associate professor at Virginia Commonwealth University. He is an editorial board member for several scientific journals, including Nanotechnology, KONA Powder and Particle Journal, Applied Sciences, Nanomaterials & Nanotechnology and is an advisory panel member for the Journal of Physics D.
Dr. Sameer Nakedar is a medical doctor and the chief medical officer at Welzo, a personalized healthcare service based in London, England. He is a portfolio general practitioner with a particular interest in promoting digital technology solutions in medical settings. Sameer has built several cross-platform applications used by primary and secondary healthcare providers worldwide.
Abbas Kanani is a qualified independent prescriber and a superintendent pharmacist at Chemist Click, an online pharmacy based in England. He is a member of Royal Pharmaceutical Society, National Pharmacy Association and General Pharmaceutical Council. As a consultant for the National Health Service, Abbas also provides advisory services on cost savings and clinical efficiencies.
How we test
How do we test air purifiers at Live Science?
Every air purifier for allergies in this guide has been tested to the exact same standards, using the same processes. We created a series of tests to measure particles of different sizes, to see how each air purifier performs with certain types of impurities. We use a particle counter for all our testing, and our equipment is capable of measuring the smallest pollutants (0.3 microns) that can be removed from the air by a purifier.
We start by running an ambient air quality test, where we run the air purifier in multiple rooms in a home to see how it performs at the regular setting, and the highest possible setting (below 50 decibels). We make note of readings after 15 and 30 minutes to see the speed at which the machine removes particles from the air. We also measure the noise levels generated by the fan, to comment on how noticeable the purifier will be in an average home.
We then test different particle sizes using matches and incense to generate different types of smoke, taking measurements at regular intervals and on different speed settings.
Our testing also takes into account the size of the unit, the cost, ease of use, availability of additional parts, and the energy use on the lowest and highest settings. Finally, we check online user reviews to see what people think, and we test for any persistent problems or defects that we read about.
As per our testing policy, we fully disclose all our findings in our reviews.
FAQs
How can you maintain your air purifier for allergies?
Remember to keep your air purifier clean, and change your HEPA filter as recommended to ensure that it keeps running correctly. You can buy reusable filters that only require cleaning, but these do have a limited life expectancy and will still need to be completely replaced eventually.
Try to adhere to the room-size specifications that come with your air purifier for the most effective air cleaning possible. If placed in rooms with high foot traffic or rooms too large for their capacity, air purifiers will not clear the air of irritants as well as if they are used correctly. Don't forget to wipe down the outside of your machine with a dry or slightly damp cleaning cloth.
Dr. Lee also recommends keeping your home clean to reduce the burden on the air purifier. "Reduce environmental triggers by hoovering twice a week or more with a hoover with a HEPA filter." she advises. "Don't smoke in the house or anywhere near the bedroom. Take your shoes off as soon as you come into the house to avoid treading allergens into the carpets and up the stairs. Keep the house clean by regularly washing the basins, baths and showers with an anti-mold cleaner."
Do air purifiers help with allergies?
Air purifiers help reduce the number of allergens - particles that cause allergic reactions - circulating in the air indoors. Therefore, air purifiers may provide some relief to people with hay fever, especially when they are used alongside other mechanical barriers, such as masks and nasal filters, according to the American Academy of Allergy, Asthma & Immunology. However, it is unclear exactly how effective these machines are when used solely on their own. Air purifiers come with a variety of different filters and technological solutions, some of which may be more efficient at trapping airborne particles than the others. In addition, people with hay fever tend to have different levels of sensitivity to allergens, thus making it difficult to make direct comparisons.
Hay fever can be triggered by a wide range of airborne substances, but it's predominantly caused by pollen, Dr. Sameer Nakedar, a medical doctor and chief medical officer at Welzo, a personalized healthcare provider based in London, England, told Live Science. "The most common allergens that cause hay fever include tree, grass and weed pollen. Grass pollen is by far the most common, it affects up to 95% of sufferers," he said. Mold spores and animal dander can also contribute to hay fever symptoms. "However, these allergens are not specific to hay fever, and they can trigger allergic reactions in some people all year round," Nakedar said. Pollen, animal dander and other common indoor allergens are relatively large particles. According to the U.S. Environment Protection Agency (EPA), "some controversy exists about whether air cleaners can reduce the allergic reactions" produced by such sizable allergens. They don't tend to linger in the air, but rather end up settling on surfaces in the home, such as cushions or carpets. Air purifiers may not be able to remove these allergens unless they are "disturbed and re-suspended in the air," EPA said.
Complicating the situation, two individuals with the same allergy may have vastly different reactions to the same amount of allergens present in the air. Some people may experience mild symptoms, while others may have more severe or persistent issues, Nakedar said. As a result, it is likely that the same air purifier may have a different impact on hay fever symptoms, depending on one's sensitivity to allergens.
Moreover, air purifiers are not created equal. They come in many shapes and sizes, and with many different technological solutions. Therefore, some air purifier models may be better at easing allergic reactions than the others. For example, machines equipped with HEPA filters may be more effective at reducing airborne allergens than air purifiers which use different filters. According to the EPA, High Efficiency Particulate Air Filters, commonly known as HEPA, have been shown to reduce at least 99.97% of dust, pollen, mold, and any other airborne allergens with a size of 0.3 microns (µm). At the same time, some HEPA filters are more complex than the others, and it is likely that such differences in the design have an impact on their overall effectiveness.
What is better for allergies: a humidifier or an air purifier?
Air purifiers help clean the air by trapping and removing fine airborne particles, including allergens like pollen, dust mites and pet dander. By reducing exposure to substances that cause allergic reactions, air purifiers may ease hay fever symptoms. Humidifiers, on the other hand, do not remove allergens or pollutants from the air, so they are not directly addressing the source of the allergies. However, they can still offer benefits for people with certain allergies, Abbas Kanani, a superintendent pharmacist at Chemist Click, an online pharmacy, told Live Science.
"Dry air can exacerbate respiratory conditions and allergy symptoms, as it can irritate the nasal passages and throat," he said. "Humidifiers work by adding moisture to the air to combat dryness. By increasing humidity levels, they can help alleviate dryness, soothe irritated airways, and provide relief for nasal congestion and dry coughs. A combination of both a humidifier and an air purifier may be beneficial in some cases, particularly during the winter months when indoor air tends to become dry due to heating," Kanani said.
However, humidifiers may not be suitable for people with dust mite and mold allergies, according to the AAAAI. Mold spores tend to grow rapidly in places with excessive moisture, such as bathrooms, roofs or windows. Dust mites - microscopic, insect-like pests that feed off dead human skin cells - also thrive in humid environments. According to the EPA, humidity levels above 60 percent may vastly increase the number of these allergens in the environment, while levels between 30 and 50 appear to keep dust mites and mold spores at bay. Unfortunately, many humidifiers do not come with humidity meters and extensive moisture control settings, which makes it more difficult to adjust their output.
In addition, humidifiers themselves may add to the mold problem, AAAAI said. If the filters are not cleaned or changed on a regular basis, it can create a perfect environment for mold spores to grow within the unit. This in turn can lead to humidifiers blowing a vapor containing a high number of allergens. To prevent that from happening, the AAAAI recommends using distilled or demineralized water. Minerals found in tap water may increase the growth of pathogens and spores, as well as create white dust that can irritate the sinuses and contribute to allergy symptoms.
How to choose an air purifier for allergies
While all air purifiers are designed to remove harmful particles from the air, not all models can be helpful with easing hay fever symptoms. Seemingly similar models may use different filters and offer vastly different technological solutions. This can make some air purifiers way more effective at removing specific airborne allergens than the others. When choosing a model, look out for certain features. If your aim is to reduce allergens in your home, your best call is to pick an air purifier equipped with a HEPA filter, Nakedar told Live Science.
HEPA filters, short for "High Efficiency Particulate Air [Filter]", are mechanical air filters composed of a mesh of randomly placed fibers. According to the U.S. Environmental Protection Agency (EPA), HEPA filters have been shown to remove at least 99.97% of airborne allergens with a size of 0.3 microns (µm), including pollen and mold spores. It needs to be stressed, however, that most studies into HEPA filters were conducted in highly-regulated laboratory conditions, and there are only a handful of studies that investigated the effectiveness of HEPA filters at reducing allergy symptoms in human subjects. Nevertheless, the results are promising. For example, a 2020 clinical trial published in the Yonsei Medical Journal found that patients with dust mite allergy may need fewer allergy medications following six weeks of exposure to air purifiers equipped with HEPA filters.
Another feature to look out for is the Clean Air Delivery Rate, or CADR, according to The American College of Allergy, Asthma & Immunology (ACAAI). The CADR value measures how fast a certain number of airborne particles can be trapped by an air purifier. Even the most technologically advanced air purifier may struggle with removing allergens if it's not big or powerful enough to cover enough space. When picking your model, make sure its CADR matches the size of the room where you intend to use it, ACAAI recommends.
Moreover, certain air purifier models may actually exacerbate your allergy symptoms, rather than alleviate them, ACAAI said. For example, ionic electrostatic air purifiers work by releasing ions - molecules with an electric charge due to the loss or gain of one or more electrons - which then force harmful airborne particles to stick to walls and other household surfaces. Although this helps to clean the air from allergens, it does not remove them permanently. Moreover, ionic air purifiers are known to produce ozone, a gas molecule composed of three oxygen atoms, ACAAI warned. And according to the American Lung Association (ALA), ozone can irritate the airways and nasal passages, increasing the risk of respiratory problems and potentially aggravating hay fever symptoms. In addition, some ionic air purifiers come with additional UV light, which aims to kill bacteria and other harmful pathogens. However, there is no scientific evidence that this feature can be effective for alleviating allergic reactions, ACAAI said.
Lastly, choose an air purifier that comes with affordable replacement filters, Kanani told Live Science. Filters need regular changing to maintain the device's efficiency, which is particularly important during heavy pollen season, he said.
Stay up to date on the latest science news by signing up for our Essentials newsletter.
Molly Cleary is an ecommerce editor at Livingetc and Homes and Gardens, and was previously a writer at Top Ten Reviews. For Live Science, she covers a range of subjects including fitness, health and homes. Molly graduated from the University of Exeter in the UK. with a degree in English Literature, and previously undertook internships at The Economist.