This huge $49 discount takes the Lululemon Take Form yoga mat down to its lowest ever price
The Take Form is one of our top-rated yoga mats, with a grippy surface, 3D texturing for alignment, and a 5mm thickness to support your practice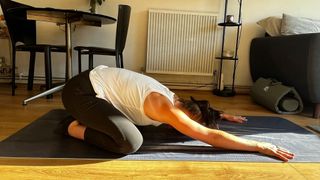 (Image credit: Sam Hopes)
Lululemon's yoga mats are some of the best around, but they don't come cheap, leaving you with small change from $140. But right now, you can pick up the Take Form with FSC-certified rubber for 35% less directly from Lululemon's store.
This one size, 5mm thick mat is usually one of the most expensive mats, but even at full price, we think it's one of the best yoga mats, thanks to the comfortable, grippy top surface, and textured 3D design to help with your posture and alignment during poses.
The Take Form comes in a wide range of colors, but this $49 discount only applies to the marble-effect edition. It's an eco-friendly option, as it is made from sustainably sourced FSC-certified rubber. So, if you have a rubber or latex allergy, opt for the Manduka PROlite yoga mat instead.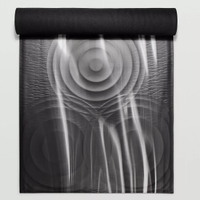 Overview: The Lululemon Take Form mat is designed with sustainable natural rubber, is long and wide enough to support most practices, and has a 5mm thickness to make it suitable for beginners and experienced yogis.
Product launched: March 2021
Live Science: ★★★★½ | Tom's Guide: ★★★★½
Price history: Lululemon rarely discounts mats and accessories, so it's worth grabbing any opportunity to pick one up at a discount. In July, Tom's Guide spotted the Take Form mat reduced down to $99, so today's price saves you an additional $10 on one of Lululemon's top mats.
Key features:
Size: 66 x 180cm / 26 x 71 inches
Thickness: 5mm
Weight: 4.9lbs
Materials: Natural rubber, thermoplastic elastomer, synthetic rubber, polyurethane, polyester, cotton
Buy it if: The 3D textured design allows you to feel your way into the right position, gradually helping you to learn instinctively how you need to move your body. The grippy surface keeps you in place during challenging poses, and the FSC-certified rubber makes it a more eco-friendly option.
Don't buy it if: The Take Form is made from sustainable rubber, so you'll want to avoid this mat if you have a rubber or latex allergy. And at 4.9lbs, it isn't light, so it's not ideal if you want to take it out of the house. The JadeYoga Travel Mat is almost half the weight (2.8 lbs), making it a better option for carrying with you throughout the day.
Stay up to date on the latest science news by signing up for our Essentials newsletter.
James is a Staff Writer for Live Science's sister site, Fit&Well. Before joining Future in 2021, he was the Buyer's Guide Editor and a Senior Staff Writer for the consumer technology website MakeUseOf and has bylines at Blocks Decoded, Lifewire, and Happiness.
He regularly tests out fitness equipment, including smartwatches, headphones, and writes about affordable ways to improve your health and wellbeing. James studied Mechanical Engineering at the University of Surrey, which is where he learned about the fundamentals of thermodynamics, fluid mechanics, and material design.