Best yoga mats 2023: The best designs for hot yoga, travel and general home use
We've tested the best yoga mats for beginners and experts alike: here's what we found.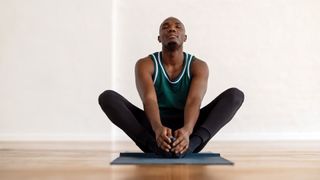 (Image credit: Getty)
When searching for a yoga companion, you really can't go wrong with one of the best yoga mats. At Live Science, we know there's a staggering number of products available on the market right now, not to mention, a number of brands are currently offering great deals and discounts. So, we've decided to cut through the noise and bring you our honest reviews after trying out the top yoga mats ourselves, helping you make an informed choice.
We understand how difficult it is to predict how resilient and functional these mats are without testing them yourself several times. You may easily end up splashing out on a mat from a big reputable brand, just to discover that it does not suit your preferred practice. That's why we've put the mats through our rigorous Live Science testing protocol, to help you find the best yoga mat for your budget, needs, and preferences.
Whether you're a seasoned yoga enthusiast or a beginner attempting a downward dog for the first time, a yoga mat isn't just a mat. Yoga puts your mind and body to the test. The last thing you want during a class is to be distracted by slippery floors or uncomfortable grip. If you want to reap all the benefits of this ancient practice, you need a product that is durable, resilient, and the right size and thickness. It also helps if it looks great and folds easily.
So which yoga mats take the ultimate crown? From the affordable to the luxury, it's all here. Read on to find the best yoga mats of 2023. Stretching for recovery? Check out the best foam rollers too.
Best yoga mats
The best yoga mat for all types of yoga
Specifications
Weight: :
2.38kg / 5.24lbs
Materials: :
Polyurethane and rubber
Colors: :
Green twill/rainforest green, black/tiger, black/white/dark red, true navy/sonic pink, chalky rose/pink mist
Reasons to buy
+
Multi-purpose design
+
Resilient and scratch-proof (rubber side)
+
Non-slip
Reasons to avoid
-
Very squishy
-
Heavy (5lbs) so not easy to travel with
-
Contains latex
For once you can believe the hype: the Lululemon Reversible 5mm Yoga Mat is worth every cent.
Well made, durable and with excellent traction in both wet and dry conditions, it's the yoga mat that keeps on giving.
It's springy enough to move around on with great cushioning to support bones and joints. Its thin polyurethane layer and 'sweat-wicking' natural rubber base, does a good job at absorbing moisture and the antimicrobial additive in the mat prevents bacteria from building up.
It's a bit smelly when you first open it, and tends to scratch easily. It's also a little on the heavy side at 2.38kg but that doesn't matter if you're driving to class or you usually workout from home. Plus, the 5mm thickness means you get the support where you need it most.
User reviews
On the whole, user reviews on this mat are positive with many people claiming it the 'best mat they've ever used'. One Lululemon reviewer said that it was "the ultimate mat. Quality unbeatable. Versatile from yoga to HIIT and this mat will last you, so value for money". However. one Lululemon user wasn't happy with the color of the mat compared with the website image, comparing it to "a piece of ham".
---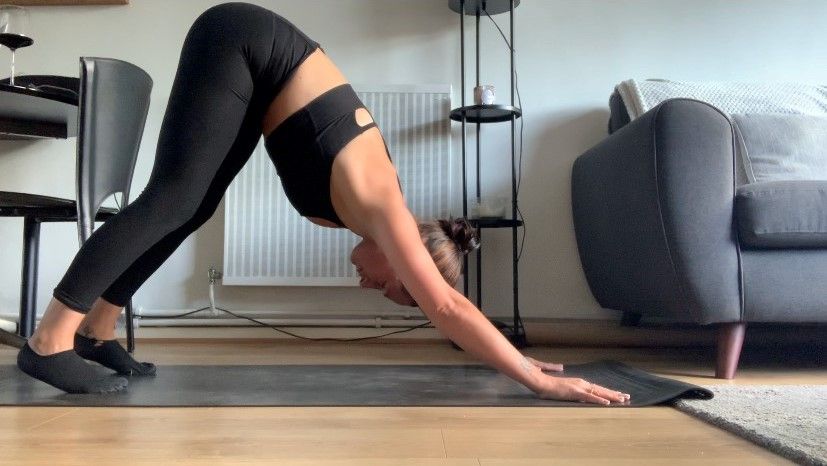 The best yoga mat for extreme grip
Specifications
Materials:
Natural rubber and PU
Colors:
Grey, green, black, blue, red
Reasons to buy
+
Beautiful design
+
Extreme grip perfect for hot yoga classes
+
Eco-friendly natural rubber material and dyes
+
Not too thick
Reasons to avoid
-
Picks up scuff marks and dirt quite easily
-
Heavy for travel
-
Expensive
The Yogi Bare Wild Paws yoga mat is one of the more expensive brands we tested and sits just above the $100 mark. However, we highly doubt you'll need to replace this mat for years.
4mm of springy thickness provides enough padding for classes like Yin but still allows you to feel grounded and well connected with the floor and mat. However, we recommend travel yogis look for other brands in our round-up because this mat weighs 2.5kg and feels heavy-duty under your arm. The good news is that the weight prevents the mat from sliding around or furling at the sides.
If you're after sustainable design, this mat also ticks the boxes. It's made of natural rubber and PU (polyurethane synthetic leather), making it both non-slip and fully recyclable. We love that Yogi Bare encourage buyers to send in their old mats to be repurposed as part of their recycling campaign, bagging you a discount on a future purchase.
We noticed scuff marks and paw prints (yes, our dog also enjoys downward dog) after the first use, but the mat is easy to clean (warm water and diluted lemon juice at the ready), and we did test the black design – a notoriously tough color for hiding wear and tear.
If you're looking for grip factor and a posture boost, this mat won't fail you – even in humid hot yoga classes. The lack of slippage makes it perfect for dynamic classes and hot yoga, but it can hold its own during low-impact classes and even when you're keen to get playful with arm balances or inversions.
User reviews
4.7 out of 5 stars on Amazon isn't bad for the Yogi Bare Wild Paws yoga mat. It has been described as 'pretty and functional,' and one buyer said they are a 'Yogi Bare convert for life.' One user mentioned that the stickiness wore off after around 10 hot yoga classes and another noticed some wear and tear – but that was after 1.5 years.
---
The best folding yoga mat
Specifications
Size:
172.7cm x 61cm x 0.41cm / 68" x 24"
Colors:
Grey, Pink, Lime Green, Orange
Reasons to buy
+
Lightweight
+
Travel friendly
+
Great length
Reasons to avoid
-
Thin and narrow
-
Lacks grip
-
Folds prevent a flush connection to ground
The Primasole folding yoga mat will have frequently traveling yogis rejoicing. The lightweight 2 lbs yoga mat folds neatly into a compact square and is brilliant for slipping into your work bag or luggage for practicing wherever you happen to be.
Made from PVC, the 4mm thick Primasole comes in four striking colors and costs less than $20 on Amazon. We found it very convenient, and it's definitely worth its price tag, but you may struggle for grip during hot yoga without a grip towel. We also recommend yoga props if you plan to engage in stretching and restorative exercise, as it feels thin underfoot even though it's 4mm thick.
You can whip this mat out in any hotel room or class, quickly (and easily) wipe it down afterward, neatly fold it back up and stow it away. The grey color is ideal for hiding wear and tear, too.
User reviews
The Primasole folding yoga mat was rewarded a 4.5 out of 5 Amazon stars. Users complimented how easy it was to travel with, and one user said it 'works well for the casual yogi,' while another simply stated 'perfect.'
Negative feedback mentioned the thickness, with one user saying they bought two and doubled up for classes. Another user commented that the mat was slippery and began to wear after five months.
---
The best yoga mat for eco-friendly credentials
Specifications
Size:
68"/ 173cm, 71"/ 180cm, and 74"/ 188cm
Materials:
Natural rubber (may contain latex)
Colors:
Wide variety of colors available, availability subject to mat length
Reasons to buy
+
Sustainable and eco-friendly
+
Resilient natural materials
+
Brilliant grip
+
Versatile use and reversible
Reasons to avoid
-
Unsuitable for latex allergies
-
Heavy
-
Sweat and dust are hard to wipe off
-
Expensive
Self-titled 'nature's best yoga mat', the standout feature of this yoga mat is the rough, grainy texture of the natural rubber. This has been sourced from rubber trees – a rapidly renewable resource – and contains zero nasties, but JadeYoga recommends avoiding this mat if you have a latex allergy as the mat could contain traces.
There has been no compromise in quality when keeping to a sustainable ethos. The material isn't like the soft PU coating of other mats, which might not be for everyone, but it's well suited to anyone who gets creative with balances, tends to sweat more, or just prefers hot yoga classes. We found the texture harder to wipe down for this reason, and the mat is sensitive to sunlight and chemicals, so water and a damp cloth will be your new best friend. It's also reversible, which should help improve durability.
We recommend this mat for most ability levels and practices, but while it is 5mm thick (slightly thicker than the Yogi Bare Wild Paws yoga mat), it actually felt thinner and less suited to restorative classes. Those who favor a creative practice will love the design, but beginners or anyone nursing bad knees will benefit from trying another mat from this round-up.
The rougher rubber texture attracts dust and sweat staining, but this is typical of grippy mats and can be combatted by simply cleaning it down after every class. We also recommend picking a more travel-friendly option from our lineup if you plan to take your mat away with you. All, in all, if you want to shop with a brand whose heart and soul are rooted in being Earth-conscious, this mat will serve you well, alongside a durable design.
User reviews
JadeYoga website reviews are glowing. One person said 'thank you! … I loved it immediately," and another said 'thank you for creating the ultimate mat. Your mats are hands down the very best I have ever used … You understand what it means to be in your body and not thinking about slipping."
These comments come from around the world and span a range of climates and abilities which bodes well for the brand and its versatility.
---
The best yoga mat for balance
Specifications
Materials: :
Natural latex
Colors: :
Slate, mountain green, marina green, nerine pink, cornflower blue
Reasons to buy
+
Non-slip
+
Excellent grip
+
Eco friendly
Reasons to avoid
-
Marks easily
-
Avoid if allergic to latex
-
Quite heavy
The Sweaty Betty Super Grip Yoga Mat lives up to its name on the grip front and provides excellent support and stability for all types of yoga.
Its sticky latex surface makes it durable enough to withstand a hot yoga session, and its non-slip nature makes it great for stability, meaning that you can stay in balance poses such as downward dog for longer.
Our one complaint is that due to its stickiness, this yoga mat is also somewhat of a dust and dirt magnet. It also picks up marks easily, but this is nothing that regular cleaning (and a carry bag for storage) can't resolve.
Because this eco-friendly mat is made from natural latex (avoid if you have a latex allergy) you should expect a strong odor at first. However, this does wear off in time. We would note that this mat is a little thin for headstands, so you might need to add a towel to make it thicker.
User reviews
The Super Grip Yoga Mat gets lots of five star reviews on Sweaty Betty, with praise for the mat's durability and support. Customers love the design and look of the mat, as well as the fact that it is biodegradable. Many reviewers had bought the mat multiple times, claiming it offered the perfect amount of grip and thickness. Negative reviews cite problems with the mat being too hard, losing its grip after a year and the logo peeling off.
---
The best yoga mat for travel
Specifications
Materials: :
Natural rubber
Colors: :
Black, midnight blue, olive green, purple
Reasons to buy
+
Great grip
+
Compact
+
Tree planted for every mat sold
Reasons to avoid
-
Quite thin
-
Rubbery smell lasts few weeks
-
Limited color choice
The Jade Yoga Travel Yoga Mat is perfect for travel as it's thin, lightweight and compact.
It easily folds down to the size of a yoga block, and has a textured design that gives it great grip. While this mat will take up very little space in your luggage or your closet at home, the downside is that its super thin profile means that there is zero padding in this travel mat. We would also recommend rolling the mat out after you unpack it to minimize creases.
This yoga mat is made from PVC-free natural rubber so expect a rubbery smell for the first few weeks (and avoid this product if you have a latex allergy). It has an open cell construction and is really sticky, which is ideal as it means that you won't slip and slide during your yoga session.
We would note that the mat can be a little slippery when sweat-soaked, but it doesn't tend to mark or stain which is a big bonus. Jade Yoga has a plant-based mat wash you can use for cleaning, but we found that regular sprays worked just as well (although avoid UV cleaners as these can damage the rubber). Overall a great value mat with good performance for travelling yogis.
User reviews
The JadeYoga Travel Yoga Mat scores an impressive 4.6 stars out of 5 on Amazon, with 76% of reviews giving it the full five stars. Positive reviews praise the lightweight design and the fact it's thin and portable. Customers particularly liked the grip and support it offered. They also appreciated that it was made from renewable resources. Negative reviews cite problems with the mat being difficult to clean, as well as leaving hands and feet feeling greasy after a workout.
---
The best yoga mat for alignment and posture
Specifications
Size:
66cm x 180cm (26"x 71"), 5mm (0.19")
Materials:
Natural rubber
Colors:
Peri Purple/ Pastel Blue/ White, Tidewater Teal/Wasabi/White, Dusty Rose/Sunset/White, Silver Blue/Tidewater Teal/Sheer Blue, Black/White/ Black
Reasons to buy
+
Beautiful 3D ridged design helps improve alignment and positioning
+
5mm padding
+
Fantastic grip
Reasons to avoid
-
Heavy-duty
-
Collects sweat and dirt
-
Contains latex
The Lululemon Take Form 5mm yoga mat is one of the most expensive on our list, retailing at over $100. But its beautiful design and cleverly subtle alignment cues allow every yogi to lead intuitively with their senses.
The goal of this mat is to create a more sensory and naturally flowing experience, using a 3D design to help improve your practice and better guide and position you. It comes in a range of soft marbled tones and features delicate concentric circles that look like raindrops spanning and rippling across your mat; each one is slightly ridged and helps guide your hand and foot positioning, as well as indicating the midline of the mat.
As always with Lululemon, materials are carefully considered. This model is crafted from natural rubber (certified by the Forest Stewardship Council) and is plushly padded and super grippy. We found it held its own in heated dynamic classes and more restorative Yin-based practices and cushioned enough that we could still hold firm on our balances.
Some users found the sticky grip prevented smooth transitions and others felt the ridges didn't provide enough guidance, but we loved our time on this mat. Those seeking a lightweight design should consider others in our round-up, and the Take Form looked noticeably heftier than its Jade Harmony yoga mat counterpart.
Those trying to save some cash could benefit from the popular Lululemon Reversible 5mm yoga mat, but we felt extremely at home on this model, and there's plenty of space to have some fun.
User reviews
The Lululemon Take Form yoga mat garnered 3.4 stars out of 5. Positive reviews complimented the thickness of the mat while others praised how much grip it offers even in hot yoga classes.
Negative reviews complained the 3D design didn't help enough with positioning and the markers were too subtle. Some also thought it felt thinner than 5mm, but we disagree. Another user said the Take Form was 'too sticky' which made transitioning harder.
---
The best yoga mat for teachers
Specifications
Size: :
71"x 24"/ 180cm x 61cm, Long: 79" x 24"/ 200cm x 61cm, Long and wide: 79" x 30" / 200cm x 76cm
Weight::
4lbs/1.9kg, 4.5lbs/2.1kg, or 5lbs/2.7kg
Materials: :
Certified STANDARD 100 by OEKO-TEX®️, PVC
Colors: :
13 striking block colors to choose from
Reasons to buy
+
Easy to clean
+
Spacious range of sizes
+
Closed-cell antibacterial design
Reasons to avoid
-
Slippery –grip towel or gel required
-
Requires breaking in
The 100% latex-free, recyclable, and OEKO-TEX certified PVC (free from hazardous chemicals) Manduka Prolite Yoga Mat is a favorite among yoga teachers and students.
Three size options – regular, long, and long and wide – make this mat suitable for yogis of all shapes and sizes, and the dotted proprietary dotted underside keeps you secure as you practice.
We tested the regular mat from the PRO series – one of the OGs of the Manduka range. It offers 4.7mm of thickness to provide for your joints but retains enough stability to support inversions and balances. The textured top layer is designed with teachers in mind, helping you to move through your flow without sticking to the mat – a gripe often found with super grippy mats.
However, we found the closed-cell material – designed to prevent the absorption of bacteria and sweat – created a filmy top layer that caused a lot of slippages. Manduka recommends 'breaking in' your mat with repeated practice and a grip towel to help ramp up the grip factor over time. If your patience wears thin, you can also perform a salt scrub to help speed things up.
We love how much room this yoga mat offers, and the standard size weighs 1.9kg; this should be travel-friendly for most.
User reviews
The Manduka PROlite yoga mat pulls in 4.33 out of 5 stars on their website and a more impressive 4.7 on Amazon. Users compliment how well-made it is and like how it stays in place during practice. One user said 'it's lightweight and stays firm on the floor during yoga class…the thickness is just right, allowing cushioning when doing poses on knees.' Another loved the balance between thickness and weight and how much stability it offers.
Negative feedback reported how slippery the mat was, with one user reporting theirs didn't improve over time despite breaking in using sea salt.
---
9. Gaiam Premium Solid Color Yoga Mat
The best yoga mat for people on a budget
Specifications
Colors:
Midnight blues, plum jam, granite storm, honeydew, icy frost
Reasons to buy
+
Sweat absorbent
+
Reversible
+
Latex-free
Reasons to avoid
-
Slippery
-
Short lifespan
-
Not suited to hot yoga
The Gaiam Premium Soldi Color Yoga Mat is reversible, so you can choose which side suits your yoga style or activity.
It comes in at under 50 bucks so it's a solid budget-friendly option for people new to yoga.
It's a good size for taller people who need a bit more mat space, and has great cushioning to support joints and bones. That makes it a good choice for anyone using it for circuits or HIIT workouts, too.
Our main complaints are that it tends to mark easily and the stickiness doesn't last very long. It's sweat absorbent to an extent, but not compatible with hot yoga. The plus side is that it's latex-free and comes with Gaiam's lifetime guarantee.
User reviews
This mat scores 4.1 stars out of 5 on Target, with 59% of reviews giving it the full five stars. Positive reviews praise the price, cushioning and color choices as well as the thickness of the mat. Taller customers particularly liked the size and extended length. Users also appreciated the quality and thickness, while negative reviews cite problems with the grip lessening the sweatier the user got.
This mat is still undergoing testing and we will update this guide when testing is complete.
---
10. Heathyoga Yoga Mat with alignment lines
The best yoga mat for beginners
Specifications
Materials: :
Thermoplastic elastomers
Colors: :
Turquoise, grass green, charcoal, purple, pink, blue
Reasons to buy
+
Firm grip
+
Good for hot yoga
+
Eco friendly
Reasons to avoid
-
Corners roll up
-
Quite thick
-
Keep away from extreme heat
New to yoga? The Heathyoga alignment system yoga mat is a solid choice because it comes with marks for hands and feet placement.
This is really helpful for newcomers to yoga, as you can work on correct technique and positioning with less risk of injury.
It's slip resistant, easy to clean and stays nice and flat once it's unrolled. It's thick enough to do prolonged yin practice poses with comfort and has excellent grip, even in hot yoga classes. We love how durable it is, with just the right amount of cushioning for standing poses.
Longer and wider than standard yoga mats, the Heathyoga TPE Body Alignment System Yoga Mat comes with a free Velcro strap and carrying strap
User reviews
This yoga mat gets a lot of love of Amazon - 4.6 out of five stars and 77% of users gave it the full five stars. Reviewers praised the grip, cushioning and non-slip surface, while many also appreciated the alignment guide on the mat, which helped people get into the right positions. Negative reviews cited issues with the initial rubbery odor of the mat when you first open it. Some users claimed the mat lost its grip after a few months, too.
This mat is still undergoing testing and we will update this guide when testing is complete.
---
How we test yoga mats
To ensure we only recommend the best yoga mats, we put each one through its paces in two types of yoga classes – gliding gracefully through a 60-minute restorative yin and powering through a sweaty 60-minute hot vinyasa.
We tested each mat for comfort, grip, versatility, and value for money as we lunged, flowed, and navigated inversions, also noting standout features like sustainable materials or design perks like alignment cue lines and fun patterns. Each model was awarded a final score out of five stars, determining how likely we are to recommend the product to yogis seeking a new mat for finding their zen.
FAQs
Lifestyle
If life has you traveling here, there, and everywhere then you'll want a lightweight mat that's easy to stow in a suitcase or throw under your arm. Anything under 2kg is ideal, but it depends on what you personally consider 'heavy-duty.'
Skinner recommends mats with a carrying strap and protective case and something light enough to throw over your shoulders. "You can always double up your personal mat on top of a studio mat if a travel mat feels too thin," she says.
JadeYoga Travel yoga mats and the Gaiam brands are hugely popular. We also rate the Primasole folding yoga mat because it folds like paper into a compact and easy-to-carry parcel.
Just because a yoga mat is thick doesn't necessarily indicate that it's heavy. Thickly padded foam mats are harder to roll up and tend to curl as they roll out, but they can still be lightweight and are perfect for low-impact classes, beginners, and those on the move. In this instance, you'd need to check the material and weight to see just how lightweight it is.
Material
If you're trying to be more sustainable with your choices, or suffer from allergies, check the materials in the specifications before you buy your mat. Cork and PU are brilliant options, and natural rubber is hugely popular as it's a biodegradable and rapidly renewable resource, although it may contain latex.
Many brands now combine synthetic with natural materials that are all recyclable. Brands like JadeYoga and Yogi Bare have even partnered up to plant trees or recycle mats on your behalf when you buy with the brand.
Different materials will determine durability, grip, and thickness. Natural rubbers tend to result in a course mat that is great for grip, but PVC-based yoga mats are arguably more durable.
Our expert
Eloise Skinner is a qualified yoga, Pilates and mindfulness teacher. She currently holds classes at various studios across London. She's also an author and the founder of two educational start-ups.
---
This article is for informational purposes only, and is not meant to offer medical advice.
Stay up to date on the latest science news by signing up for our Essentials newsletter.
Sam Hopes is a level III fitness trainer, level II reiki practitioner, and resident fitness writer at Future PLC. Having trained to work with both the mind and body, Sam is a big advocate of using mindfulness techniques in sport and aims to bring mental wellbeing to the forefront of fitness. She's also passionate about the fundamentals of training and how we can build more sustainable training methods. You'll find her writing about the importance of habit-building, nutrition, sleep, recovery, and workouts.