The Liforme yoga mat offers a balance of portability and durability, with its weight and thickness providing ample cushioning and support. While its grip and alignment design enhances performance, its heaviness may limit travel convenience.
Pros
+

Impressive grip and stability for various yoga poses

+

Eco-friendly construction with recyclable materials

+

Generous size and thickness
Cons
-

Premium price

-

Heavy for transporting
Why you can trust Live Science Our expert reviewers spend hours testing and comparing products and services so you can choose the best ones for you. Find out more about how we test.
The Liforme Yoga Mat is one of our top contenders for those looking to take their yogi game to the next level. From the mat's appealing aesthetics to its impressive functionality, this yoga mat has left a lasting impression on us.

Upon first touch, the mat promises a sense of reliability and support. With a thickness of 4.2mm, it strikes the ideal balance between cushioning and stability, which provided a comfortable yet grounded experience throughout our practice. The Liforme Yoga Mat boasts an attractive design that caught the eyes of fellow yoga class attendees with its colorful and gold embellished alignment.
Specifications
Size: 185cm long x 68cm wide
Thickness: 4.2mm
Weight: 2.5kg
Materials: Rubber base, polyurethane top surface, high grade non-toxic and eco-friendly ink
Colors: Black, Blue, Dusk Blue
The generous dimensions of the Liforme Yoga Mat, measuring 185cm long and 68cm wide, offer ample space for fluid movement and unrestricted positioning. Whether we were trying to master challenging poses like the headstand or indulging in restorative stretches during the testing of this mat, we found this Liforme number accommodates a range of needs, making it a top contender for one of the best yoga mats.
We found transporting the mat was a breeze with a complimentary carrying bag included by Liforme. The main reason why we found the handled bag useful is that the mat falls on the heavier side, weighing approximately 2.5kg.
We tested this yoga mat in a Vinyasa class, indoors at home and outdoors on a hot summer's day to test out how anti-slip this mat really is when things get hotter. Despite finding this mat a little on the heavy side, we certainly were not disappointed with the quality, stunning aesthetic and how supported we felt on this mat during our various practices but in this review, we will guide you through all of our praises and critiques in more detail. Check out the many benefits of yoga, or keep reading as we reveal all on the Liforme yoga mat…
Liforme yoga mat: How we tested
To help our readers who are considering buying the Liforme mat, we subjected the mat to rigorous testing in various environments and yoga sessions to establish where it excels and how it could do better.
Firstly, we took the Liforme Yoga Mat to a Vinyasa class, where we explored its performance during fast-paced sequences and challenging transitions. We paid close attention to how well the mat held its grip on different surfaces and whether it provided the necessary stability for smooth movements.
Next, we brought the mat indoors for home practice sessions. Here, we tested its anti-slip properties on different flooring types, including hardwood, laminate, and carpet. We focused on stability during static asanas and monitored whether the mat stayed securely in place, preventing any unwanted slipping or sliding.
To further gauge the mat's anti-slip capabilities, we took it outdoors on a hot day in summer. With temperatures rising, we put the Liforme Yoga Mat to the test in a high-intensity mobility session. The goal was to assess its grip under potentially sweaty conditions, ensuring it maintained stability even when temperatures soared.
Liforme yoga mat: Price and availability
Currently, this model is available for purchase directly from the official Liforme website, or from Amazon. Priced between $149 and $185, this Liforme Yoga Mat reflects its exceptional quality and attention to detail. This is likely to put a fairly large dent in many buyers' pockets, especially during a cost of living crisis but we couldn't fault the mat's durability and performance making the investment justifiable for those seeking a long-lasting and reliable yoga companion.
The Liforme Yoga Mat is a premium choice that will appeal to dedicated yogis who prioritize quality, durability, and enhanced performance, and are willing to invest in a mat that will support their practice for years to come.
Liforme yoga mat: Design
First of all design-wise, we were impressed by its thoughtful construction and attention to detail. We tested out the Black option but the Liforme mat is available in several charming colors to suit different preferences.
The mat is constructed from planet-friendly materials. This was a big plus for us as we strive to make environmentally conscious decisions when reviewing and weighing up different products. It's PVC-free and made from high-quality, non-toxic materials. Notably, these mats are biodegradable within one to five years in normal landfill conditions, contributing to a more sustainable approach to yoga equipment. Additionally, the mat features durable, non-toxic, and eco-friendly ink in its printing process, ensuring a vibrant design that stands the test of time.
The Liforme Yoga Mat exhibits a 'warrior-like' grip. This feature helps to provide an exceptional non-slip surface, maintaining stability and safety even during intense and sweaty sessions. Its unique three-layer construction and quick-drying CleanGrip® technology is there to prevent sweat from penetrating the natural rubber base, maximizing hygiene and grip for a confident practice.
Weighing 2.5kg, it requires some extra effort when it comes to transporting it to yoga classes or travelling further afield with it. Nonetheless, the 4.2mm thickness offers enhanced comfort and stability during your yoga practice, making up for the mat's heaviness by ensuring a solid and grounded feel that allows you to fully immerse yourself in each movement and posture without discomfort or distractions.
Liforme yoga mat: Performance
We have tested out some of the best yoga mats for grip in the game so our standards are high, just read our Yogi Bare Wild Paws Natural Rubber Extreme Grip yoga mat review to see the competition.
Lo and behold, the Liforme yoga mat held its own when we put its grip quality to the test. We found that the mat's "warrior-like grip" played a pivotal role in enhancing our yoga practice, particularly when it came to more challenging transitional moves in a Vinyasa class. We also found that moves which require a wide leg stance were executed with confidence and stability, thanks to the mat's exceptional grip.
While the black color option added a touch of elegance to our yoga sessions, we did notice that dust and small smudges were more noticeable but that is to be expected with a darker shade of mat. However, the it's easy-to-clean nature, combined with the included storage bag, allowed us to keep it tidy and protected when not in use. The complimentary storage bag proved to be a convenient accessory for safeguarding the mat from dust and maintaining its overall cleanliness.
The alignment design featured on the Liforme yoga mat was a valuable tool for maintaining balance and establishing proper positioning on the mat. The alignment markers act as helpful guides, which assisted us in aligning our hands, feet, and body in various poses.
The only grumble we had and one aspect to consider when choosing the Liforme yoga mat is its size and weight. The mat's generous dimensions, measuring 185cm long and 68cm wide, provide ample space for unrestricted movement. However, in smaller yoga environments such as a busy class, in a bedroom or other small space at home or during travel, we found that its larger size became a limitation. The mat's substantial footprint and weight made it less suitable for easy transportation, as it occupies significant space and adds to the overall load.
Liforme yoga mat: Care
We recommend our handy go-to guide on how to clean a yoga mat, but for this review we also sought out instructions for care via the Liforme website itself, which offers plenty of advice on keeping your mat in good shape and maintaining its pretty design and overall cleanliness.
After each practice, especially those that induce a good sweat, we made sure to allow the mat to thoroughly dry before rolling it up. If we used it in a class where we had to vacate the space promptly, we unrolled it at home to allow it to air dry as soon as possible.
While we didn't purchase the Liforme cleaning solution specifically, we achieved excellent results by wiping down the mat with a mild detergent solution and a soft towel, ensuring to remove any dirt or residue. We then carefully dried it using a separate towel, guaranteeing its complete dryness before storage.
Taking the mat's biodegradable nature into consideration, we were mindful of prolonged exposure to direct sunlight, which can accelerate degradation. We followed the manufacturer's recommendation to roll the mat with the colored side and alignment design facing outward.
Other than a few small oily looking smudges showing on the mat there are no visible faults to this mat. Liforme does warn customers to avoid practicing on the mat after using body oils or moisturizers, which is where we fell short. All in all, the mat remained in tip-top position during our testing and we think this is down to it being made of quality materials and the helpful up-keep guidelines set out by Liforme.
Liforme yoga mat: User reviews
Of the twelve reviews left on the Liforme website for this model, just about every one scores the mat five stars out of a total of five, bar one who only dropped one star from their rating. This buyer admires the look of the mat but had a few small qualms, "Debris shows up on it because it's so dark. If you do warrior poses quickly it's difficult to turn quick and keep your balance BUT for gripping it's superb! Your palms/ fingertips, pads of toes and feet are like suction cups."
The other reviews shout out the great quality of the materials and how this Liforme option is a big upgrade from previous less grippy models bought from other brands. One buyer claims this is the best yoga mat ever. They left the following words in their five-star review, "They seem expensive but when you get these mats you realize they're actually cheap considering the craftsmanship that's gone into them." They also commented on how suitable it is for other forms of exercise including bodyweight exercise and HIIT classes.
Another person says this Liforme mat has allowed them to perform kneeling poses again, with the thickness of the mat fully supporting them from hard surfaces.
If this yoga mat isn't for you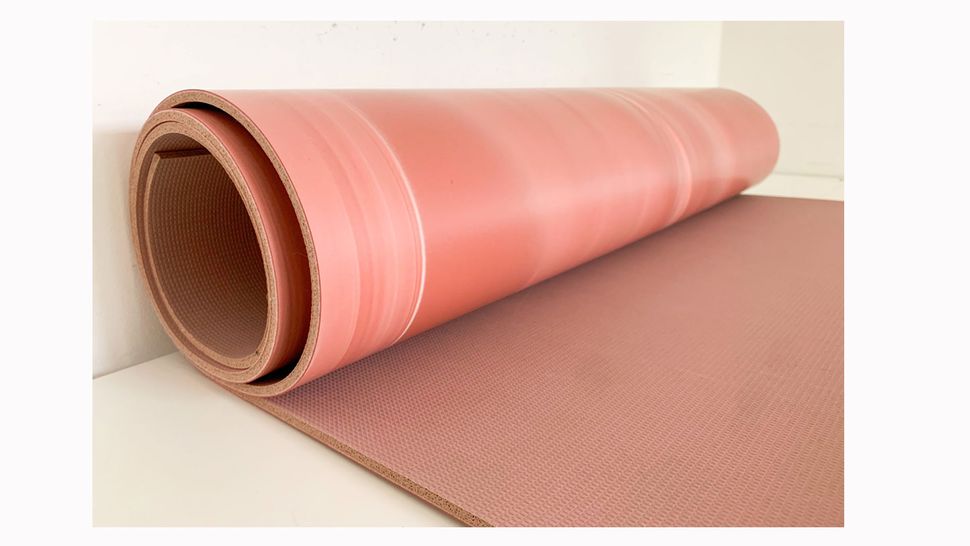 As much as we enjoyed testing out this Liforme mat, we appreciate that it won't be the right fit for everyone. Thankfully, if it doesn't tick all your boxes, your options aren't narrowed down as there are plenty more great options out there.

One such option is the Heathyoga Yoga Mat with Alignment Lines, priced considerably cheaper than the Liforme mat at $37.99. It too has been designed with markings for hand and foot placement and is an excellent choice for beginners looking to ensure correct alignment and minimize the risk of injury. With its wider and longer dimensions compared to standard mats, it also comes with a free Velcro strap and carrying strap for added convenience.
Another noteworthy choice is the Lululemon Reversible 5mm Yoga Mat, which is another pricier mat but less than the Liforme option, costing you $128. Renowned for its quality, this mat offers durability and outstanding traction in both wet and dry conditions. While it may have a slight initial odor and is prone to scratching, its performance compensates for these minor drawbacks.
Or for travelers seeking a highly portable option, the JadeYoga Travel Yoga Mat is an ideal choice. Moderately priced at $69.95, this mat is thin, lightweight, and compact, folding down to the size of a yoga block. Its textured design provides excellent grip, ensuring stability during your practice. While it lacks significant padding, it takes up minimal space in your luggage or storage. Although it can become slightly slippery when heavily saturated with sweat, it resists marking or staining.
Jessica is a Staff Writer at our sister site Fit&Well. Her love for keeping fit and fueling her body with healthy and enjoyable food led her to write about all things fitness and health-related. If she isn't out testing the latest fitness products such as the latest running shoe or yoga mat then she can be found on the Fit&Well news desk writing news and features on the best ways to build strength, active aging, female health, and anything in between. Before then she had a small stint writing in local news, has also written for Runners World UK (print and digital), and gained experience with global content marketing agency, Cedar Communications.