Save $135 on this compact under-desk walking treadmill right now at Amazon
There's a huge 34% discount on the UMAY Fitness Walking Pad, with three speed settings, a built-in LED display, and a suspension system for at-home exercise.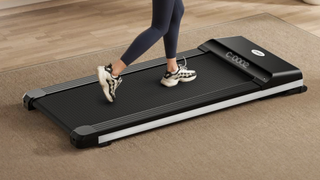 (Image credit: Amazon)
Investing in a walking treadmill can be a great way to hit your step count and keep active without leaving the house. And it doesn't have to break the bank — the UMAY Fitness Walking Pad is currently 34% off at Amazon, saving you $135 right now on this home workout equipment.
Space-saving options feature on many of the best walking treadmills, and this machine is no different. It doesn't have handlebars or a large display, instead, there's an LED panel just in front of the running surface to view your stats. When you're done, you can unplug it and roll it away for storage, or you could position it under your desk to take a gentle stroll during your next work call.
There are three speeds; 1.2mph for walking, 2.5mph for jogging, and 3.9mph for running. The 2.5HP motor can reach 65dB, which is about as noisy as a dishwasher, but shouldn't disturb anyone else at home or in your apartment block.
Overview: Hit your step target, boost your cardio fitness, and move your body with this compact walking treadmill. Designed to fit under your desk with convenient storage in mind, you can choose from one of three speeds and keep tabs on your progress with the built-in LED display. The motor doesn't create too much noise either, so it's a good option to keep active without disturbing the neighbors.
Product Launched: May 2023
Price history: This is the first time the Walking Pad has been on sale since it launched earlier in the year, with the sizeable 34% discount saving you $135.
Key features:
Dimensions: 123 x 50 x 12 cm / 48.4 x 19.7 x 4.7 inches
Weight: 57.3 lbs
Tread belt size: 104.5 x 41.9 cm / 41.5 x 16.5 inches
Max user weight: 265 lbs
Display: LED
Speed: 0-3.9mph
Warranty: 1-year warranty
Decibel reading: 60dB
Buy it if: The 2.5HP motor sets up three speed modes for slow walks up to gentle runs, and it's not likely to disturb others in your household either. If you're tight on space, you can quickly unplug the machine and store it away when not in use. The built-in suspension system also reduces the impact on your joints, making it a lower-impact alternative to sidewalk jogs.
Don't buy it if: The Walking Pad is a great option if you want to take a stroll or fast walk/jog, but the 3.5mph top speed isn't ideal for intense indoor runs. If you're looking for something with a higher top speed, you might be better off with one of these excellent treadmills instead, as most get up to around 12mph.
Stay up to date on the latest science news by signing up for our Essentials newsletter.
James is a Staff Writer for Live Science's sister site, Fit&Well. Before joining Future in 2021, he was the Buyer's Guide Editor and a Senior Staff Writer for the consumer technology website MakeUseOf and has bylines at Blocks Decoded, Lifewire, and Happiness.
He regularly tests out fitness equipment, including smartwatches, headphones, and writes about affordable ways to improve your health and wellbeing. James studied Mechanical Engineering at the University of Surrey, which is where he learned about the fundamentals of thermodynamics, fluid mechanics, and material design.