Asics on sale: Great savings on Asics running shoes
The best Asics deals currently on sale will help you smash your running goals and save money at the same time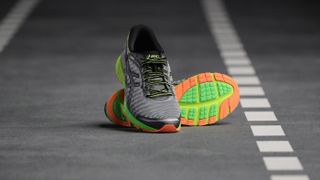 (Image credit: Neilson Barnard/Getty Images for ASICS)
Looking for the best Asics sales deals online? Lucky for you we've scoured the internet and found you the best savings around. For those that don't know, Asics is a Japanese athletic shoe brand founded in 1949. Their fitness shoes are designed to help athletes and fitness enthusiasts reach peak performance through superior cushioning and stability. They also offer a wide range of running shoes, including trail running shoes, road racing shoes, and cross-training shoes.
Running is a great sport for many reasons. It helps you lose weight, improves your cardiovascular system, reduces stress levels, and builds muscle strength. Running also gives you an opportunity to enjoy nature while getting fit. And the best part of running anywhere, at any time, and in any weather condition is to have comfortable, well-fitting shoes to keep you active and safe.
Asics provide an extensive range of shoes suitable for any runner with myriad degrees of cushioning, stability, traction and airflow. So, whether you have running issues caused by historical foot problems or require specific shoes with solid heel and arch support Asics have you covered. In fact, Asics have developed specific models that cater for those with plantar fasciitis and other foot ailments.
At Live Science, our goal is to help you find the best Asics deals to save big. That's why we've put together this guide of the best Asics on sale today and regularly maintain it to keep things updated. However, if you're searching for a little something else to go with your new Asics, go check out our other deals hubs for treadmill deals and other running shoes deals.
Asics deals
Which pair of Asics is best for you?
Founded in Japan over 70 years ago, Asics tests all of its shoes and shoe materials in the Institute of Sport Science located in Japan. Their gel cushioning technology, which Asics have coined GuideSole, is designed to absorb shocks in the heel and sole of the foot.
Keeping up with modern demands for animal-free products Asics has even developed plant-based responsive foam named FlyteFoam — which can be found in the Gel-Kayano 27 shoes above. But if you're hoping to run on multiple types of terrain like muddy off-road trails and then smooth, flat tarmac, keep a keen eye out for models that have the ASICSGRIP Technology.
We're sure there are many types of runner reading this, and Asics has a shoe for everyone thanks to their high-tech, high-quality shoe production. Whatever your abilities and needs, Asics has likely developed a high-tech, high-quality pair of shoes suited to them. That's why we've rounded up the best Asics on sale, to help you save money on your next pair of exercise shoes.
To ensure you're tracking your activity accurately be sure to take a look at our Fitbit deals page and peek at this roundup of the best treadmill deals to round out your exercise regime.
Best Asics shoes on sale now
these Asics Hyper Speed shoes should perform well overall. One issue often encountered during running is the build up of heat from friction between foot and shoe, fortunately, the upper part of these shoes is made from a breathable mesh with holes all along to help dissipate heat. Part of the reason these shoes are lightweight is that they lack a little padding inside, but most should find they are comfortable with enough support for running.
Those with a high arch and wide feet may want to try before they buy as these shoes fit with a low arch and narrow fit. There should, however, be enough bounce thanks to the toe spring which makes them perfect for sprinting or high intensity classes. They also have a suitable outsole grip for runners that want to work on their speed, track running or like to run on the road without fear of slipping.
Runners of half and full marathon routes need look no further than the Asics Metaracer. Ideal to wear during training or even on the race day itself, these trainers have a superior forefoot design and integrated GUIDESOLE technology. They also make use of a carbon plate in a bid to keep the ankle solid and stacked while running, providing better shock absorption when the foot lands. It should handle multiple terrains and weathers well too, with a strong grip provided by Asics' ASICSGRIP Technology and blend of organic and non organic materials.
As well as providing grip and support, the shoes have drainage ports for those that like to run in the rain, though it should be noted that these don't work quite as well in the toe section. In hot weather the seat wicking design allows airflow, keeping feet cool. A FlyteFoam Midsole Technology in the shoes gives great bounce back while running.
Save money on your next pair of running trainers and opt for the Asics Men's GT-1000 10. Although they're less expensive than other running shoes these Asics still feature some of the company's best design benefits without the cost. Stylish aesthetics make them an attractive running shoe, but equally double up as a comfortable everyday shoe as well. It has good breathability thanks to the lightweight mesh on the front, however it's not quite as durable as others Asics models.
At the forefront of the shoe sits a DuraSponge layer, instead of gel, that gives flexibility to the toes, while the midsole is constructed from Asics' DuaMax material to provide stability while running. In a bid to provide additional comfort these shoes even have an EVA sockliner which can be removed and washed.
Stay up to date on the latest science news by signing up for our Essentials newsletter.
Sarah is a freelance writer - writing across titles including Woman&Home, Fit&Well, The Independent, LiveScience, and the BBC in the UK. She covers a variety of subjects, including trends in beauty, business, and wellness - but her biggest passions are health and fitness. She can normally be found trying out the trendiest fitness class or interviewing an expert about the latest health trends.