Plantar Fasciitis: Causes, Symptoms & Treatment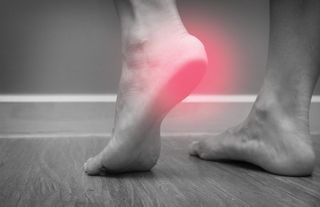 (Image credit: Shutterstock)
If the first few steps you take in the morning are painful, you might be experiencing plantar fasciitis. It's one of the most common causes of foot pain, with 2 million to 3 million patients seeking medical treatment each year, said Dr. Michael Greaser, an orthopedic surgeon and assistant professor at McGovern Medical School at The University of Texas Health Science Center at Houston. Many of the patients typically seek treatment after having months or years of heel pain. There are most likely many others who have plantar fasciitis that never seek treatment.
The stabbing pain that is felt is caused by inflammation of a band of tissue known as the plantar fascia that connects the heel bone to the toes. The pain is normally localized near the heel but can be felt anywhere along the plantar fascia ligament, according to Dr. Dominic Catanese, professor and chief of podiatric surgery at Montefiore Medical Center at Albert Einstein College of Medicine in New York.
The pain tends to beworse first thing in the morning and after long periods of sitting or standing. When there is no weight put on the foot, the ligament shortens and tightens, Catanese said. Then when the patient stands, the sudden stretching of the plantar fascia with the added weight may result in pain. Usually the pain subsides after a few minutes of walking and stretching.
Causes and diagnosis
There are many reasons why one might develop plantar fasciitis, according to the American Orthopedic Foot & Ankle Society. Some of these factors include being overweight, being on your feet for extended periods and wearing shoes with inadequate support. In addition, impact exercises such as running, tight calf muscles that limit ankle mobility, flat feet or high arches, excessive pronation (when the foot rolls severely inward when walking) or wearing high heels on a regular basis can be aggravating factors.
Heel spurs are commonly thought to cause plantar fasciitis, but the opposite is more likely to be true, Greaser said. A heel spur is the bony outgrowth on the edge of the heel that's often the result plantar fasciitis, but it's rarely the cause of heel pain.
Treatment options
To diagnose plantar fasciitis, a doctor will question the patient about their pain and examine the foot, including looking for areas of tenderness, the height of the arch and ankle mobility, according to the American Academy of Orthopedic Surgeons (AAOS).
Imaging tests such as X-rays or MRIs may also be used to rule out other potential causes of foot pain, such as fractures or arthritis.
According to Catanese, there are three main ways to treat plantar fasciitis: stretching the plantar fascia and the muscle group in the back of the leg, using good quality and supportive shoes or orthotics, and reducing inflammation. More than 90 percent of people with plantar fasciitis experience a significant reduction in pain after less than a year of treatment.
Stretching is the single most important thing to do to eliminate and prevent pain, Catanese told Live Science. According to AAOS, two of the most important stretches are for the calves (place one leg in front of the other with the front leg bent, both heels on the ground, and lean into the wall) and the plantar fascia (from a seated positing, cross the foot with plantar fasciitis over the knee of your opposite leg and carefully stretch the toes towards your body). Doctors recommend taking a break from high-impact exercises like running and switching to low-impact exercises like swimming or yoga.
Over-the-counter anti-inflammatory medications such as ibuprofen or a steroid injection are other ways to reduce the inflammation and associated pain. Ice and massage are also used to reduce inflammation.
Another option is to use splints at night to stretch the plantar fascia while sleeping. Physical therapy and extracorporeal shock wave therapy, which sends high-energy pulses to stimulate the plantar fascia, may also promote healing.
If none of those options improve plantar fasciitis, more invasive options are available. Common surgical options include removing scar tissue around the plantar fascia, partially removing the plantar fascia from the heel, or surgically lengthening the calf muscles.
Don't ignore it
If plantar fasciitis remains untreated, chronic heel pain can develop with irreversible consequences, including scarring and thickening of the plantar fascia at its origin in the heel, Greaser said. The ligament could also become partially or completely ruptured if a person with plantar fasciitis continues their high-impact activities.
Some cases of chronic heel pain have also been found to develop into distal tarsal tunnel syndrome, similar to carpal tunnel syndrome in the wrists, where the nerves running along the bottom of the foot can become entrapped. According to Johns Hopkins Medicine, symptoms can include shooting pain, a tingling or burning sensation, or numbness.
The feet are relatively small body parts that experience significant pressure and stress on a daily basis for most people, according to the Institute for Preventive Foot Health. For that reason, it's important to make sure your feet stay healthy and be aware of the symptoms of foot conditions such as plantar fasciitis.
Additional resources:
This article is for informational purposes only and is not meant to offer medical advice.
Stay up to date on the latest science news by signing up for our Essentials newsletter.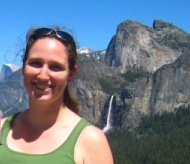 Rachel Ross is a science writer and editor focusing on astronomy, Earth science, physical science and math. She holds a Bachelor of Arts in Philosophy from the University of California Davis and a Master's degree in astronomy from James Cook University. She also has a certificate in science writing from Stanford University. Prior to becoming a science writer, Rachel worked at the Las Cumbres Observatory in California, where she specialized in education and outreach, supplemented with science research and telescope operations. While studying for her undergraduate degree, Rachel also taught an introduction to astronomy lab and worked with a research astronomer.