Each week we find the most interesting and informative articles we can and along the way we uncover amazing and cool images. Here you'll discover incredible photos and the stories behind them.
A LOT of Squid
A trio of divers off the western coast of Norway had a close encounter with a drifting gelatinous blob — a squid's egg sac as big as an adult human.
[Full Story: Human-Size Blob Drifts by Divers. And It's Packed with Hundreds of Thousands of Baby Squid.]
Terrifying Reality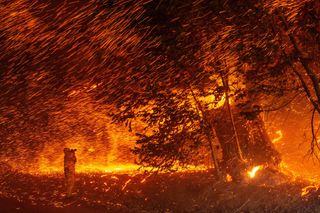 The Earth may be entering an era in which natural and human-generated fire together are reshaping the planet.
[Full Story: California Wildfires Signal the Arrival of a Planetary Fire Age]
His Last Steps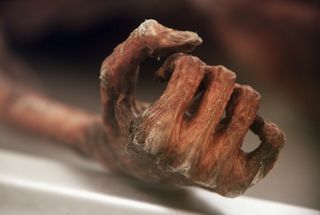 The mummified body of Ötzi the Iceman was discovered alongside 75 different species of mosses and liverworts, some of which he carried with him.
[Full Story: Ötzi the Iceman's Unfortunate Last Journey Possibly Uncovered]
An Expansive Spread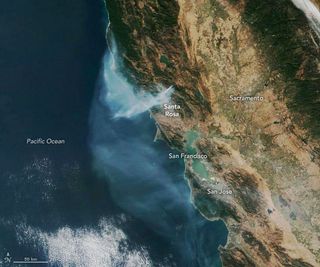 Smoke from the Kincade wildfire drifts over Northern California in new satellite imagery.
[Full Story: California's Kincade Fire Spawns Huge Plume Visible from Space]
Cosmic Haunting
Astronomers have just observed a ghostly nebula of gas resembling the shape of an hourglass, surrounding a known galaxy. This ghoulish structure has dwarfed the galaxy it is surrounding.
[Full Story: Astronomers Discover Glowing 'Galactic Ghoul']
Ice Lost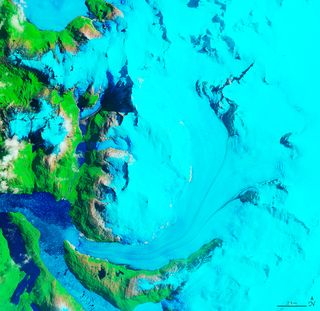 Scientists have identified the world's fastest-thinning glacier: a stream of rapidly-retreating ice in Patagonia.
[Full Story: The World's Fastest-Thinning Glacier Identified]
Ghostly Galactic Face
A ghastly face with glowing eyes glares in deep space in a new image from the Hubble Space Telescope.
[Full Story: Colliding Galaxies Form Piercing Eyes of 'Ghost Face' in New Hubble Telescope Image]
Rippling Air
Satellite images captured a rare glimpse of a phenomenon known as atmospheric gravity waves.
[Full Story: These Mesmerizing Images Show 'Invisible Gravity Waves' Rippling Over Australia]
Pretty Pee?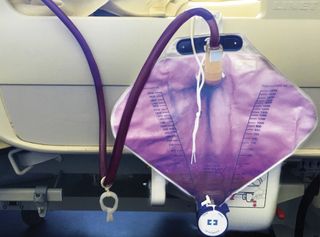 A relatively rare chemical reaction can turn people's pee purple.
[Full Story: What Turned This Woman's Pee a Striking Shade of Lilac?]
Bad Hiding Place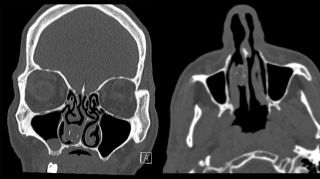 A balloon full of weed sat unnoticed in a man's nose for 18 years before it was finally removed.
[Full Story: 'This Man Hid Weed in His Nose. It Got Stuck for 18 Years.]