Each week we find the most interesting and informative articles we can and along the way we uncover amazing and cool images. Here you'll discover incredible photos and the stories behind them.
Giving History New Life
A toothless skull was all that researchers had of one of Scotland's oldest known Druids, but now they have something more: a wax re-creation of her face.
[Full Story: Toothless Druid Woman's Face Comes Alive in Wax, Wrinkles and All]
Stretchin' On Up There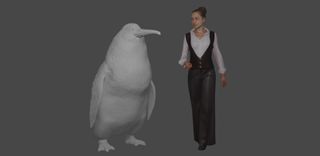 Fish swam for their lives when they encountered a forbidding, ancient "monster" penguin that would have towered over today's largest penguin.
[Full Story: Newly Discovered 'Monster' Penguin Was As Tall As an Adult Human]
Mystery Solved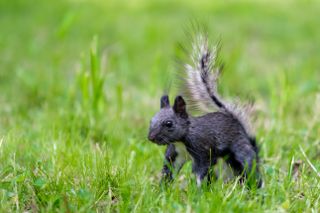 A team of biologists from the United Kingdom thinks that they've decoded the mystery of all the gray squirrels running around the United States with black fur.
[Full Story: Scientists Figure Out Why There Are Black Squirrels All Over the United States]
A First!
A team of four NASA spacecraft finally caught sight of a phenomenon scientists have been hunting for years: an interplanetary shock.
[Full Story: 'Interplanetary Shock' Seen for 1st Time]
Reacting to the Soup
Why do some pulsars "glitch out" every few years? The answer could be in neutron soup.
[Full Story: Maybe Neutron Stars 'Glitch Out' So Much Because They're Full of Soup]
Wintering Sharks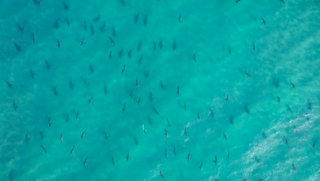 In the past, the Carolinas were the sharks' destination of choice. But not anymore, thanks to Climate Change.
[Full Story: Droves of Blacktip Sharks Are Summering in Long Island for the First Time]
Unexpected Find
Ancient sailors courted adventure and risked death on the Aegean Sea, as shown in five 2,000-year-old shipwrecks and a giant, granite anchor pole found near the Greek island of Levitha.
[Full Story: Divers Find 2,000-Year-Old Shipwreck Graveyard Near Tiny Greek Island]
Sneaky Arachnid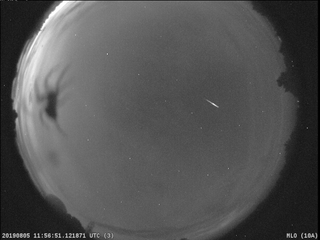 A NASA camera designed to photograph meteors got a visit from a spider in the midst of a noted meteor shower.
[Full Story: Skywatching Spider Photobombs Perseid Meteor Shower]
Historic Postage
A set of four new stamps created by the U.S. Postal Service highlight the fearsome and much-loved king of the Cretaceous — Tyrannosaurus rex.
[Full Story: Fuzzy Baby T. Rex Is One of 4 New Stamps Featuring the Dinosaur King]
Busy Builders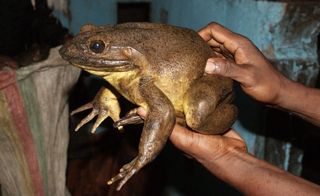 Giant Goliath frogs actually build "nursery ponds" for their tadpoles.
[Full Story: World's Largest Frogs Can Move Rocks Half Their Weight ... for Their Wee Pollywogs]