Save yourself a fabulous 22% on the VEWIOR 4.5L Top Fill Cool Mist Humidifier (opens in new tab) this Prime Day, down from $89.99 to $69.99. The super functional design features a one-piece water tank which won't leak during the misting process. The user-friendly wide top-fill opening design allows you to add water from the top, and you can add a few drops of essential oil if you would like, as this humidifier also functions as a diffuser.
It has a large capacity tank of 4.5 liters and can work in rooms up to 354 square feet. It will last for 60 hours on low setting, so you don't have to worry about frequent refills. There are three mist output modes: high, medium, and intermittent. The maximum mist output is 350 mL per hour.
But if you are looking for something different, make sure to check our guide to best humidifiers (opens in new tab) for useful tips and advice to help you find a product that ticks all your boxes. Or, if humidifiers aren't your thing, our guide to the best air purifiers (opens in new tab) gives you options for cleaner indoor air.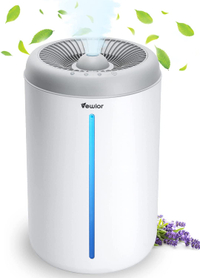 (opens in new tab)
VEWIOR 4.5L Top Fill Cool Mist Humidifier| was $89.99, now $69.99 on Amazon (opens in new tab)
Save 50% on this compact humidifier and diffuser combo this Amazon Prime Day. Users enjoyed the fact it runs quietly, particularly with 'sleep mode' and that it is easy to fill and clean. It measures 7.7"D x 7.7"W x 12.5"H and weighs 2.66 Pounds.
Whether you live in a dry climate or struggle with respiratory problems such as a dry throat or snoring, this VEWIOR 4.5L Top Fill Cool Mist Humidifier will be a great addition to your office, bedroom or living room. Add a few drops of essential oil to use it as a diffuser and set yourself up with a calming, positive environment through aromatherapy.
Features an easy to fill and easy to clean tank, saving you the hassle dealing with of spillages or having to dismantle the humidifier to clean it. Using ultrasonic technology, this humidifier can improve the humidity in a space up to 354 square feet and is small and light enough to sit on a desk or shelf. The white and grey color makes it melt into the background, so you won't notice it working away, and if you do it's pleasing design will add to any room.
Suitable for babies and the elderly, it is particularly useful if you struggle with symptoms such as dry skin, hair and eyes, cracked lips or sinus headaches. It can also help to alleviate symptoms of bronchitis or flu by keeping the air moist.
Check out Live Science's Amazon Prime Early Access deal hub (opens in new tab) for more amazing offers on health and fitness products.