Any journey of discovery and learning can be fun, but little can match unlocking the secrets of your own family with a DNA (opens in new tab) test kit, and AncestryDNA has one of the best around. These Ancestry DNA kit deals bring great discounts on several kits. For instance, Amazon is selling the AncestryDNA: Genetic Ethnicity Test for $99.00, which is 34% off the normal price (opens in new tab). A perfect gift for the person in your life who already seems to have everything, Ancestry draws on its database of 18 million customers covering 1,500 different regions to give you ethnic and ancestry (opens in new tab) information. The 23andMe Traits kit (opens in new tab) builds on that information with additional reports on your physical and sensory traits like what foods you might react to and hair or eye color traits.
It couldn't be simpler to set up either. After you've ordered the kit, you'll receive a saliva collection tube, instructions and a pre-paid return envelope. Take the test, put it in the post back to Ancestry or 23andMe, and you should get your results back in six to eight weeks. Your DNA is compared with everyone in the company's database, "from small tribes in Africa to farmers in the Irish countryside," according to the website, giving you amazingly detailed background information.
Related: How accurate are DNA tests? (opens in new tab)
Ancestry and 23andMe aren't the only choice, of course; there are lots of excellent alternatives out there (and even some for your pets)!
Today's best DNA kit deals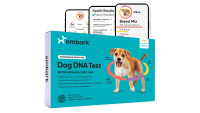 (opens in new tab)
Embark Dog DNA Test Kit $199 $149 at Amazon (opens in new tab)
Identify the exact breed or any hereditary health issues with your four-legged friend, with this DNA test kit designed just for dogs. Save 25% at Amazon.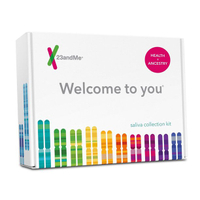 (opens in new tab)
23andMe DNA Test - Health + Ancestry: $184.29 at Walmart (opens in new tab)
If you're looking for a test that also digs deeper into your health predispositions for things like Parkinson's and carrier status for inherited conditions like cystic fibrosis, then this deal from Walmart is the place to look. 23andMe offers a comprehensive service and results in six to eight weeks.
How to choose a DNA kit
There are a growing number of competitively priced DNA testing kits on the market now and how much you want to learn can greatly alter the final amount you'll be paying. You want to make sure that you're spending your money in the right way, paying for the information you want and not things you're not interested in. Here are some of the key differences in DNA test kits to look out for.
Traits: The cheaper kits will often offer genetic traits as a feature of the results you'll receive back from the company. This means getting information about whether or not your taste buds react negatively to certain foods, chances of passing along certain hair and eye colors and other genetic, but not medical, features that your DNA holds.
Health: The next level up of DNA testing kits will offer health information based on your results. This will include your chances of contracting certain medical conditions such as diabetes, celiac disease and more. Many can also tell you if you're a carrier for certain conditions that could be passed onto future generations.
Community features: Most DNA testing kits will give you a robust report on your family heritage and the makeup of your genetics based on the regions that your ancestors came from. The next tier of experience is often a subscription that connects you to a wider community of members who share and investigate information to build out even more complete family trees. If this is the area you want to pursue, consider packages that offer this service.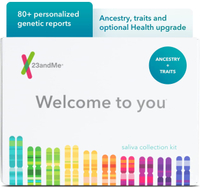 (opens in new tab)
23andMe Ancestry + Traits: $92.50 $69 at Amazon (opens in new tab)
To get a thorough breakdown of your ancestry, some genetic traits you might carry and connections to begin exploring in your family history, this 23andMe kit offers all the essential details to get you started on your DNA journey.