Each week at Live Science we find the most interesting and informative articles we can. Along the way, we uncover some amazing and cool images. Here you'll discover the most incredible photos we found this week, and the remarkable stories behind them.
A Siberian scorcher
Siberia — the land of black snow, blood rain and spontaneous solar eclipses — may have just set a dire new climate record. On Saturday (June 20), temperatures in the far-north town of Verkhoyansk broke 100 degrees Fahrenheit (38 degrees Celsius) for the first time, according to news reports. If verified, that makes Saturday's high the hottest-ever temperature documented above the Arctic Circle, The Washington Post reported.
Verkhoyansk is a town of some 1,300 residents in the Siberian Arctic, about 3,000 miles (4,800 kilometers) east of Moscow. The town has one of the most extreme temperature ranges on Earth, with winter lows hitting an average of minus 56 F (minus 49 C) and a previous all-time summer high of 98.96 F (37.2 C), according to Brittanica.com. On Saturday, several weather stations reported a new high of 100.4 F — the town's all-time hottest temperature since record keeping began in 1885.
That sweltering new high arrives on the heels of Siberia's hottest May on record, with average temperatures soaring roughly 18 F (10 C) higher than the May average from 1979 to 2019, according to a special report from the European Union's Copernicus Climate Change Service.
Read more: Siberian town records 100 degree F day — the hottest in Arctic history
The secret neighbor of Stonehenge
Just down the road from Stonehenge, researchers have uncovered what may be the largest prehistoric monument in the United Kingdom. Digging around a massive nearby monument called Durrington Walls, the team found evidence of at least 20 gigantic holes — each measuring at least 32 feet (10 meters) in diameter and at least 16 feet (5 m) deep — forming an enormous, mile-wide ring around the ancient site.
According to the researchers, both Durrington Walls and the newfound holes date to approximately 4,500 years ago, suggesting they may have been constructed in tandem. It's possible, the researchers wrote, that the shafts surrounding Durrington were meant to mark the boundaries of some kind of sacred site — however, the pits could have also served a more functional purpose; they may have been designed to stockpile rainwater during the wet season, the researchers wrote.
Stretching 1,640 feet (500 m) in diameter, Durrington Walls is one of the largest ancient structures in the U.K. The newly discovered string of holes around it has that record soundly beaten.
Read more: Biggest prehistoric monument in UK discovered just a stone's throw away from Stonehenge
The sun's decade in review
What does 10 years mean to our 4.6 billion-year-old sun? Probably about as much as the last millionth of a second meant to you. Still, every decade that our old sun burns on is a decade of turbulent, sometimes violent change — a fact that becomes beautifully evident in a new time-lapse video from NASA's Solar Dynamics Observatory (SDO).
In the stunning video, titled "A Decade of Sun," astronomers compiled 425 million high-definition images of the sun, snapped once every 0.75 seconds between June 2, 2010 and June 1, 2020. Each second of the video represents one day in the sun's life, and the entire decade blazes by in about 60 minutes (Live Science also created our own 6-minute highlight reel, available at the link below).
The video reveals the sun's 11-year solar cycle in detail, showing sunspots and solar flares appear increasingly in the sun's upper atmosphere until the sun's peak of magnetic activity in 2014; following this, the spots and flares quiet down until the sun appears as a relatively tranquil sea of fire. That brings us to the solar minimum — the period of the sun's least magnetic activity — that we're in currently.
Read more: Incredible time-lapse video shows 10 years of the sun's history in 6 minutes
A jaw-dropping reconstruction
8,000 years ago, the jawless head of a Stone Age man was placed upon a spike on the bottom of a lake in what is now Motala, Sweden. It was, arguably, that man's worst day. Now, scholars are allowing the world to relive it with a stunning facial reconstruction that reveals what the man looked like before his death (when his jaw was still in-tact).
Live Science Associate Editor Laura Geggel writes: "Oscar Nilsson, a forensic artist based in Sweden, used this skull as well as genetic and anatomical information gleaned from it to create a bust of the man — a blue-eyed, brown-haired and pale-skinned individual in his 50s."
Genetic information helped Nilsson trace the man's heritage to a group of hunters and gatherers who came to Sweden from the north and east, allowing him to better recreate the man's erstwhile physical traits. Animal jawbones also found at the gravesite helped inspire the man's furry wardrobe.
Read more: This Stone Age man's jawless skull was found on a spike. Here's what he looked like.
Mary no more
It happened again.
Once again, a famous work of religious art in Spain was due for a restoration, and once again an amateur art-restorer botched it. Once again, it was hilarious.
The painting in question this time is one panel of "The Immaculate Conception of El Escorial," part of a famous series by the 17th-century Spanish artist Bartolomé Esteban Murillo. The original, thankfully, is stored in the Prado Museum, but this copy is also thought to be by Murillo's hand. The private collector who owned the painting hired a professional furniture restorer to fix the artwork up — and received, for his money, an unrecognizable smudge where the Virgin Mary's face used to be.
The restorer was given a second chance with the painting and returned it looking even worse. Contrary to the teachings of the church, this episode shows that perhaps some people don't deserve a second chance.
Read more: Famous 'immaculate conception' painting is unrecognizable after art restoration failure
Long live Zealandia
Earth's mysterious eighth continent doesn't appear on most conventional maps; that's because almost 95% of its land mass is submerged thousands of feet beneath the Pacific Ocean.
Zealandia is a 2 million-square-mile (5 million square kilometers) continent east of Australia, beneath modern-day New Zealand. Scientists discovered the sprawling underwater mass in the 1990s, then gave it formal continent status in 2017. Still, the "lost continent" remains largely unknown and poorly studied due to its Atlantean geography. Now, GNS Science — a research and consultancy organization owned by the government of New Zealand — hopes to raise Zealandia (in public awareness, at least) with a suite of new maps and interactive tools that capture the lost continent in unprecedented detail.
The new maps reveal Zealandia's bathymetry (the shape of the ocean floor) as well as its tectonic history, showing how volcanism and tectonic motion have shaped the continent over millions of years. The team also released interactive versions of both maps on a new Zealandia webpage. Spend a few minutes clicking around the hyper-detailed images — and, when someone asks what you're doing, simply tell them you're "discovering Earth's lost continent."
Read more: Lost continent of Zealandia mapped in unprecedented detail
The oldest Viking crash pad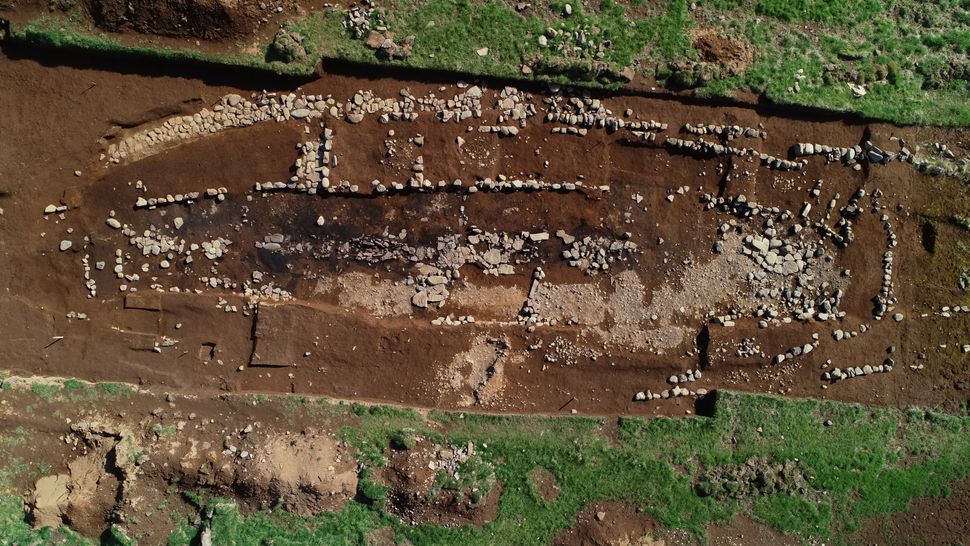 Researchers have unearthed what may be the oldest Viking settlement in Iceland (and no, there were no horned helmets there).
The find includes two longhouses (long, wooden halls that could be shared by several families) at Stöð, near the village and fjord of Stöðvarfjörður in the east of Iceland. Live Science contributor Tom Metcalfe wrote: "The ancient longhouse is thought to be a summer settlement built in the 800s, decades before seafaring refugees are supposed to have settled the island, and was hidden beneath a younger longhouse brimming with treasures, said archaeologist Bjarni Einarsson, who led the excavations."
Among the treasures were Roman and Middle Eastern silver pieces, beads, rings and fragments of gold. If the longhouses do indeed date to the early 800s, that will make this the earliest Viking settlement in Iceland, long before the country was permanently settled.
Read more: Oldest Viking settlement possibly unearthed in Iceland
A mountain range of dust
Earlier this week, an enormous dust bunny coughed up by the Sahara Desert started drifting across the Atlantic Ocean — and now, it has reached America.
The plume is 3,500 miles (5,600 kilometers) long, according to Reuters, and will impact regions as far flung as Puerto Rico, Texas and North Carolina over the weekend, according to the National Weather Service (NWS). The plume extends vertically 5,000 to 20,000 feet (1,500 to 6,000 meters) into the atmosphere, making it about as tall as Denali, the largest mountain in the United States.
While this is the largest dust plume of its kind seen in at least 50 years, such trans-Atlantic dust voyages are not uncommon. Live Science Staff Writer Rafi Letzter writes: "Hundreds of millions of tons of dust from the giant North African desert collect in plumes and move west every year, and those plumes have long helped build up Caribbean beaches and fertilize soil in the Amazon… The dust also routinely poses respiratory issues for people in impacted areas."
Read more: Dust plume bigger than Texas crashes into the US
A feast of snakes
For cave dwellers in ancient Israel, snakes and lizards were part of a balanced breakfast, new research suggests.
During a recent excavation of el-Wad Terrace, a cave site near Israel's Mount Carmel that was occupied by humans between 11,500 and 15,000 years ago, researchers discovered more than 3,000 bones belonging to various reptiles (pictured above). To find out whether these bones were left by hungry humans or other local predators, the researchers conducted "weathering experiments" on modern bones to see what the telltale marks were left behind after they were digested by birds of prey.
The team found that many of the bones at el-Wad Terrace had not been digested by birds, and were almost certainly digested by humans. This provides fresh insight into the eating habits of the ancient humans who lived there — and could inspire a few recipes, while we're at it.
Read more: First evidence that ancient humans ate snakes and lizards is unearthed in Israel
Number salad
What looks like an 8 to you looks like a jumble of noodles to a man known simply as RFS, the subject of a bizarre new case report published in the journal Proceedings of the National Academy of Sciences. Live Science Staff Writer Yasemin Saplakoglu writes:
"RFS has a rare degenerative brain condition that does not allow him to 'see' numbers — on paper, as objects or even those secretly embedded in scenes. There are exceptions: While the numbers 2 through 9 look like a scramble of meaningless curves to him, he has no problem seeing the number '0' and the number '1,'" according to the case report. "RFS' case is more evidence that even in healthy brains, we aren't always aware of what we see."
To the researchers' knowledge, RFS is the first patient with an inability to see numbers.
Read more: This man can't see numbers. But his brain can.
Originally published on Live Science.