How good is the PSVR2 for fitness?
The PSVR2 is an impressive bit of tech with more than enough key features to stand out among its peers. Here's how to fit it into a fitness regimen.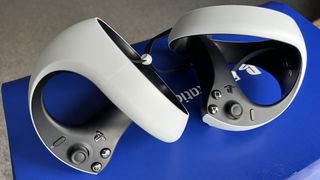 (Image credit: Future)
If you're thinking of picking up a PSVR2 for fitness, you'll be pleased to hear that it's a great way to get a little exercise into your life.
Though VR fitness may not replace the gym, it can be a great supplement for when you don't really feel like going. And the PSVR2 provides a light and comfortable headset that's well suited to getting a swear on in virtual reality.
We've spent a couple of weeks putting the PSVR2 through its paces and exploring the fitness options that it offers. It's a gaming machine first and foremost, that's for sure, but there are loads of VR games that offer a workout alongside the gameplay and they can be a great addition to your routine, especially if you're getting bored of the gym.
Read on to find out just how good the PSVR2 is for fitness, and be sure to also check out our full PlayStation VR 2 review if you're considering picking one up.
Why should you consider VR for fitness?
The gym can often be a big commitment. You've got to buy a membership, pack a bag and get there — you don't often just pop in for 10 minutes. VR gives you the freedom to lightly explore exercise at lunchtime or quickly wake up your body first thing in the morning. You can also do it at home in your pants.
VR excels at offering experiences. Going to work on the same machines at the gym can be a little boring, but there are always new surroundings to explore in VR, and switching up the song pack or workout routine can give you a second wind.
That being said, it's much harder in VR to train certain muscles or work towards some grander end goal — the gym is still the best place for that. As a supplement for light exercise, VR fitness is more for building up a sweat and working towards general fitness. VR is also great because you get exercise in, even if that's not your main goal.
How good is the PSVR2 for fitness?
The PSVR2 has pros and cons when it comes to fitness. It is a tethered machine, meaning you have to plug it into the PS5 itself. The wire is reasonably long at 14.7 feet (4.5 meters), so you shouldn't have too much problem with it if you pay attention. But untethered headsets offer a slightly wider range of motion.
It has built-in tracking cameras which mean you don't have to look in a certain direction while you play. It also has a field of view of 110 degrees, allowing it to track your arms and movements at a wider range than the Meta Quest 2.
More importantly, the PSVR2 is one of the most comfortable headsets on the market, with a light design, comfortable support for your nose and eyes, and a vivid and clear screen. As far as tethered options are concerned, this is one of the very best VR headsets on the market, and a good price point makes it a solid choice for fitness.
The PSVR2 game library is still pretty small and isn't focused on fitness. That being said, with the right game and the right setup, you can comfortably get some exercise in.
What are the best PSVR2 games for fitness?
The PSVR2's flagship title Horizon Call of the Mountain can give you a bit of a workout. With a focus on climbing and shooting, the game really tires out your arms after a little while. The main campaign will take you about 10 hours to get through, but there are extra modes and alternate paths to extend that playtime. This isn't a game you will be playing after 50 hours, but it eases you into VR and really takes advantage of the impressive hardware.
Though Beat Saber isn't available on the PSVR2 just yet, Pistol Whip is a similarly physical rhythm game. Challenging you with shooting bad guys to the rhythm, you have to duck, weave, and move your entire body to the beat to get high scores. This is one of those games that is deceptively active. You feel your heart beating after that killer soundtrack slows down.
Launched on April 4, 2023, Creed: Rise to Glory - Championship Edition is one of the best fitness games. As the name suggests, this is a boxing game with a focus on training you up for the big fights, then letting you loose on opponents. The excellent tracking and cross-platform PvP make this game a welcome addition to your virtual fitness regime.
If you're looking for something a little different, Synth Riders is a "freestyle-dance rhythm game" that is designed to accommodate a wide range of tastes. The base version of the game comes with more than 58 tracks and even lets you make your own custom maps. This is one of the best games for burning calories as it makes you move your whole body, and songs keep you constantly moving. There's so much to do in Synth Riders that it's easy to jump in for 15 minutes to get energized.
The PSVR2 library is due to increase, and the last few years have seen an explosion of VR fitness games such as Supernatural, FitXR, and OhShape. It's probably only a matter of time before a big fitness-focused game arrives on the platform.
The PSVR2 vs Meta Quest 2
The Meta Quest 2 is one of the very best VR headsets out there for fitness. While other headsets may come with a higher resolution or more advanced haptics, Meta Quest's size, price, and function make it a wonderful little machine to take around with you. It can really take advantage of your surroundings with room-scale technology, and it's super easy to set up.
However, the PSVR2 also makes a good sales pitch for a fitness headset. It has comfortable controllers that you can charge from the console itself, the headset is one of the most well-fitting out there, and the quality of the games so far is truly top-notch.
You should go for the Meta Quest 2 if you don't like the idea of being tethered to a machine and your budget is a little smaller. And if you are purely looking to get into VR for fitness purposes, then this is probably the better choice.
You should go for the PSVR2 if you already want a PS5 and really care about the fidelity of the games. PSVR2 is a stronger piece of tech with the potential for incredible games in the future, but it may take a little while to see its full potential.
Stay up to date on the latest science news by signing up for our Essentials newsletter.
James Bentley (he/they) is a freelance games and virtual reality journalist with over 500 pieces published at outlets including TechRadar, GamesRadar, NME, Prima Games, VG247, and God is a Geek.