Best VR fitness apps and games 2023
Whether you want to break a sweat slicing blocks in neon worlds or work out while exploring stunning aquatic environments, these are the best VR fitness apps and games on the market.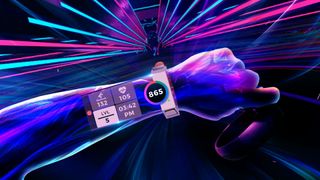 (Image credit: Kluge Interactive)
If the monotony of treadmills and hefty gym fees are cause for concern, and you can't stomach wiping down another shared weights bench, this list of the best VR fitness apps and games is for you.
With exercise, there is no one size fits all, and the dynamic worlds and activities available in Virtual Reality can twist classic repetitive workouts into interesting adventures, where you're one button press away from exploring intriguing worlds and rocking out to music, all while working up an impressive sweat.
When discussing the best VR fitness apps and games, it's important to mention that cleaning your VR headset is a must. Just like any other kind of gym equipment, wiping down and keeping the headset bacteria-free will ensure its long life. Additionally, being aware of your surroundings is always worth a thought. While some of the best VR headsets offer cable-free VR experiences, like that found in the Meta Quest 2, creating a clear workout space for maximum safety is always important.
The world of VR is growing fast, and the VR experiences on offer now branch into all aspects of life, from working in VR to play and beyond. No matter how you like to exercise, our comprehensive list of the best VR fitness apps and games will have you covered.
Best VR fitness apps and games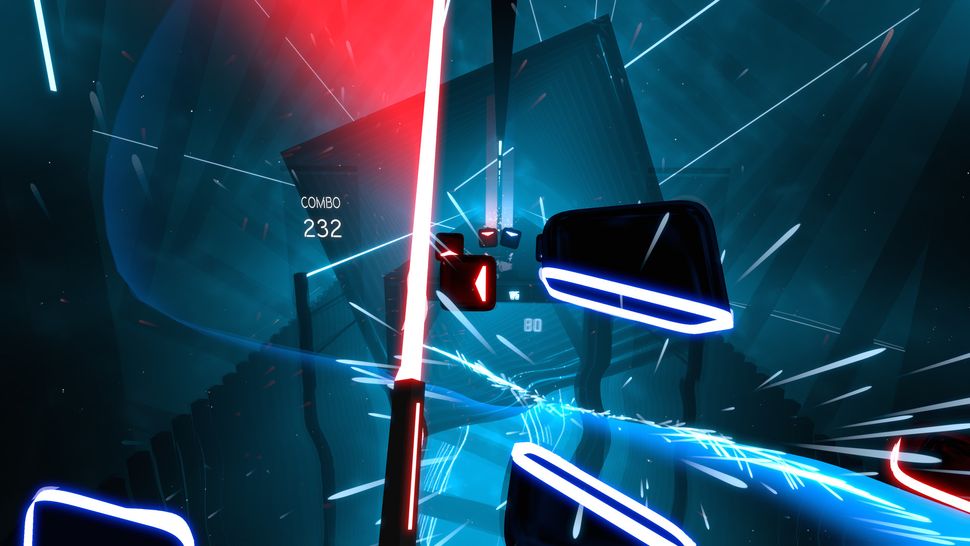 1. Beat Saber
Rhythm is a dancer.
Specifications
Platforms:
Steam, Oculus/Meta Quest, PSVR
Release date:
May 1, 2018
Reasons to buy
+
Rhythm games don't come better than this
+
Diverse soundtrack and custom levels
+
Comes with a free fitness-focused song
Reasons to avoid
-
PSVR multiplayer doesn't support cross-play
Beat Saber is one of VR's most acclaimed games, and for good reason. Created by Beat Games, this iconic rhythm game is a great example of a simple premise executed perfectly, swapping the plastic accessories of older music games for a VR headset and motion controllers. Giving you two colored light sabers in each hand, all you need to do is slice the corresponding blocks, avoiding any obstacles like bombs or walls along the way.
It's a brilliant workout and the game has always warned players this requires high physical activity levels, so get those warm ups in first. However, Beat Games took this a step further post-launch with FitBeat, a free fitness focused song that's an intense ride on higher difficulties. Beyond this, Beat Saber's largely been fueled by an active modding community on PC and Quest, who've continued making new maps and songs at pace, alongside official DLC packs.
---
2. Kayak VR: Mirage
Making a splash.
Specifications
Publisher:
Better Than Life
Release date:
January 12, 2022
Reasons to buy
+
Stunning hyper realistic environments
+
Intuitive easy-to-follow tracks
+
Meditation mode for post-workout cooldown
Kayak VR: Mirage offers an intense upper body workout set in some of the world's most stunning aquatic vistas. Using controllers in unison as a paddle, players row their way through a series of incredibly detailed real-world locations, spying local wildlife along the way. From the vibrant beaches of Papagayo in Costa Rica to the glaciers of Ciera Cove in Antarctica, each location can be explored at your own pace and intensity.
If self-led workouts aren't your thing, there's a Time Attack mode that plots a specific course, leading to some high-octane racing. This works great when paired with the game's asynchronous multiplayer and leaderboard systems, which add a highly competitive angle to your kayaking. Each setting in Kayak VR: Mirage also features a meditative mode that works well as a cool-down after your workout. Here the kayak leads itself down a track with peaceful music and wildlife all around.
---
3. Gym Class VR
Everybody wants to be like Mike.
Specifications
Price:
Free (Pro version - $14.99/£10.99)
Platforms:
Meta Quest & Meta Quest 2
Publisher:
IRL Studios Inc.
Release date:
Oct 13, 2022
Reasons to buy
+
Stat tracking
+
Great controls
+
Customization options (premium version)
Reasons to avoid
-
Only available on Meta Quest and Quest 2
Those panicking about gym class trauma from school years can lay those concerns to rest despite Gym Class VR's title, because this particular title is all about playing basketball to improve and maintain your fitness.
While some games take a more "functional" look in VR, Gym Class VR looks great, with customizable courts and characters available in the premium version, and matches against both AI and friends or players online.
Pass, shoot, dribble and even dunk, with your shot charts and stat records held to help you improve over time. You may have so much fun, you won't even realize you're building up a sweat. Quest 1 owners should note that there are fewer modes for the older headset.
---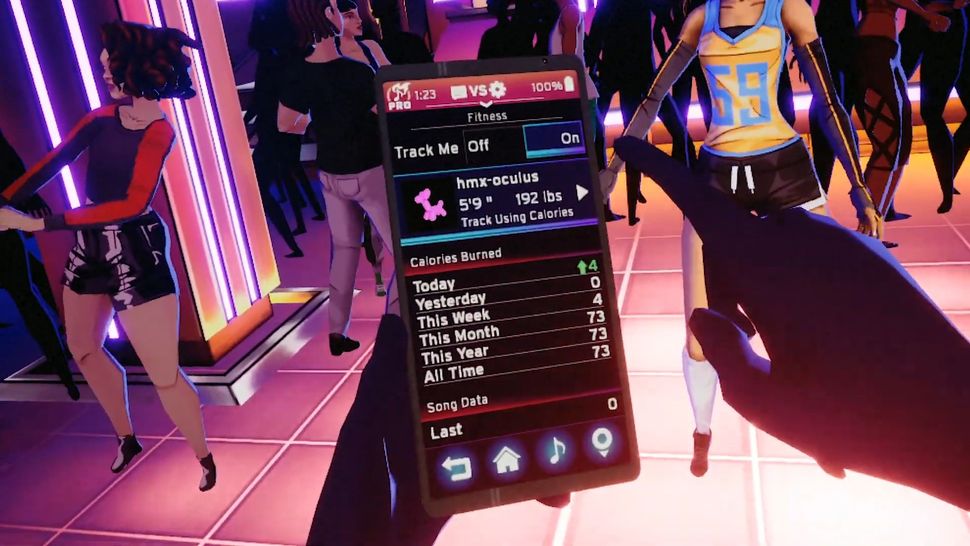 4. Dance Central
It's a dance revolution.
Specifications
Platforms:
Oculus/Meta Quest, Oculus Rift
Publisher:
Oculus Studios
Release date:
May 21, 2019
Reasons to buy
+
In-depth fitness tracker
+
Feels like a natural fit for VR
Following its success on Guitar Hero and Rock Band, Harmonix established itself as the king of rhythm games, and many of us remember Dance Central from the Xbox 360 days. Starting life as a Kinect launch game, Harmonix took a small hiatus before making a surprise return with Dance Central (2019). Bringing us a new 32-song soundtrack, this latest entry ditched those camera peripherals for VR.
It adapted to this new format well and Dance Central leaned into the fitness aspect of VR gracefully. However, this isn't just another incidental workout. Harmonix went further by releasing an integrated fitness tracker. Appearing in-game as a virtual smartphone, Dance Central estimates how many calories you've burned during a dance off once you've input your weight and height. Even if you're not playing to lose weight, it's a great time that comes highly recommended.
---
5. Synth Riders
I like to move it, move it.
Specifications
Platforms:
Oculus/Meta Quest, Steam, PSVR
Publisher:
Kluge Interactive
Release date:
July 12, 2018
Reasons to buy
+
Great full-body workout
+
Fitness updates make workouts easy to track
Reasons to avoid
-
Additional packs for music can get expensive
A good soundtrack can make a workout, and Synth Riders understands that concept and runs with it. Where Beat Saber has players slice blocks and dodge to the music, Synth Riders asks you to move and flow along with tracks, riding a fun variety of neon rails to a curated list of bangers. A Gorillaz song pack recently launched for Synth Riders, bringing classic upbeat tracks like Feel Good Inc into the fold.
Glorious cyberpunk stages set the scene for players to really engage with each note, while a range of fitness updates have provided new features to boost workout potential. An in-game watch has been added that tracks your heart rate alongside how many calories you've burned, and the introduction of a non-stop mode means no interruptions as you get into a fitness flow.
---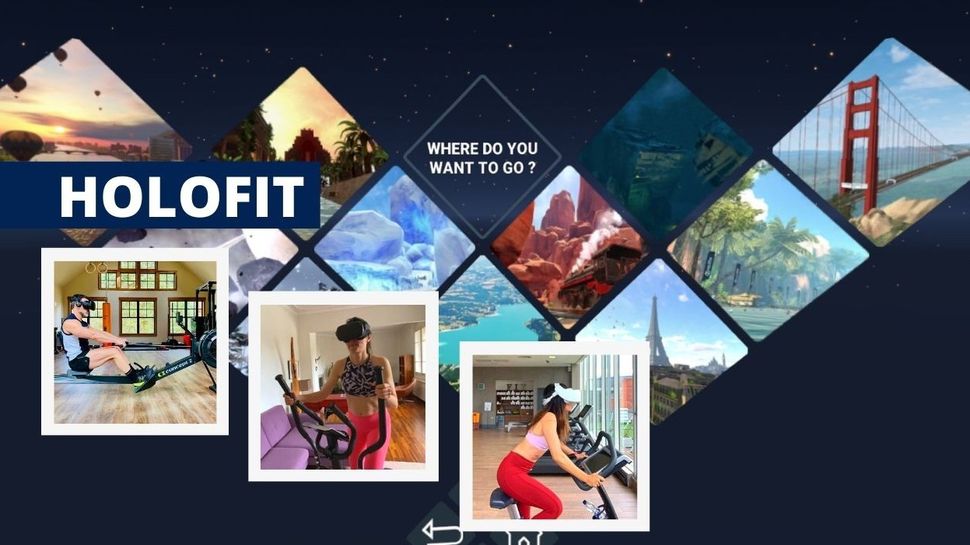 6. Holofit
Your holographic workout coach.
Specifications
Price:
Free download (7-day free trial, $11.99 monthly subscription)
Platforms:
Oculus/Meta Quest, HTC Vive, Mobile
Release date:
November 14, 2019
Reasons to buy
+
Pairs up with existing cardio machines
+
Won't leave you staring at walls during exercise
Reasons to avoid
-
Wired headsets risk potentially getting tangled with machines
-
Uses subscription model
Holofit is best described as a companion app to existing fitness equipment, compatible with any Bluetooth enabled exercise bike, rowing machine, or cross trainer. Featuring over 100 different workout settings, Holofit aims to liven up your home exercise experience when using these machines. This provides 10 different environments, taking us to space stations or tropical environments, instead of spending your time staring at walls.
Boosted by a virtual coach and five workout modes, there's plenty to keep you occupied here. Because of its reliance on physical exercise machines, Holofit is best suited for those who already own one, so it won't universally appeal. Still, you can trial it for seven days free first to decide if it's for you. While it's available on PC, the Meta Quest's wireless design makes it a much more preferable platform to test this out on.
---
7. Viro Move
Fight your way to fitness.
Specifications
Release date:
October 20, 2021
Reasons to buy
+
Enjoyable program
+
Challenges those seeking a tough workout
Reasons to avoid
-
Visuals could benefit from sharper resolution
Fit Reality's Viro Move is a strong choice for PC players, aiming to replicate your gym results. Career Mode offers four sports with 30 levels each. Boxing turns your motion controllers into punching gloves, hitting blue and orange orbs while dodging incoming walls. Swords has you swiping through these orbs without the color coordination. Shooting sees you taking down enemies once a hitbox aligns with them. Finally, Weapon Master combines all three into one mode.
If Career Mode starts getting too easy, Viro Move houses some tougher 'Challenges' that'll keep you on your toes, awarding new cosmetics once completed. Alternatively, should you seek variety without necessarily making it harder, 'Playlists' mix up the levels to keep it interesting. It's a good workout, there's a fun EDM soundtrack backing it up, and if you're playing alongside friends, you'll also find some online leaderboards.
Check out Viro Move on Steam.
---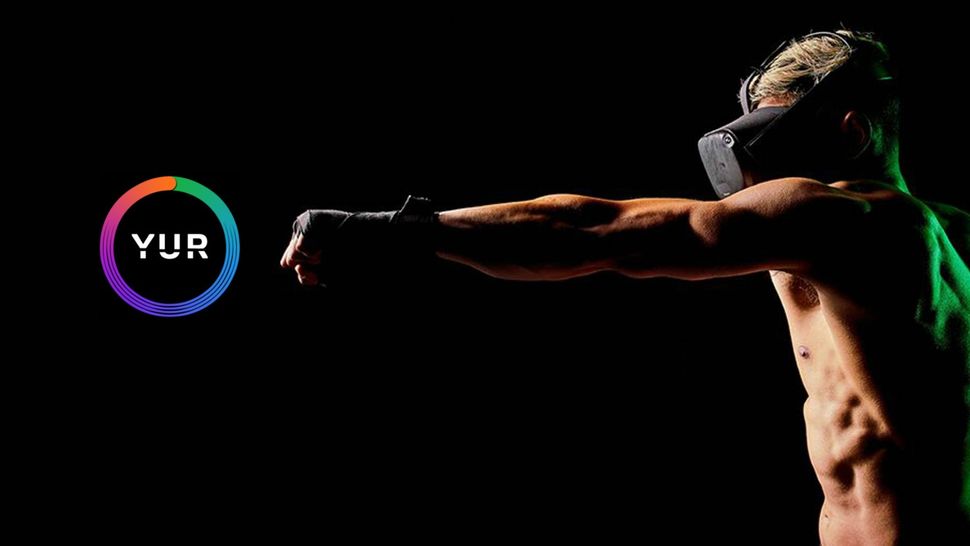 8. YUR.Fit
An excellent fitness companion.
Specifications
Platforms:
Steam, Oculus/Meta Quest
Release date:
September 2, 2020
Reasons to buy
+
Keeps track of progress across all Steam VR games
+
Compatible with heart rate monitors
+
Direct app integration in several games
Reasons to avoid
-
Not officially available on Quest
YUR.Fit is an app that provides a real-time overlay, monitoring your heart rate when playing VR games to track your weight loss. Ranking progress through a level system, YUR breaks down your workout for each game. So, when you've finished your latest round on Pistol Whip, expect an email detailing how long you played, calories burned, and more. It's a good fitness companion and for greater accuracy, one that's also compatible with Bluetooth heart rate monitors.
If you're not fond of the set overlay, some games directly integrate YUR support. Often, that's achieved via unofficial mods, though official adoption of the YUR Watch has increased. Allowing you to track progress through an in-game virtual watch, it's supported by games like Gym Masters, OhShape, Synth Riders, and more. Quest users can access it through SideQuest, though there's a similar built-in app called Oculus Move.
---
9. The Thrill of the Fight
Rising up to the challenge.
Specifications
Platforms:
Oculus/Meta Quest, Steam
Publisher:
Sealost Interactive LLC
Release date:
July 1, 2016
Reasons to buy
+
Offers a real boxing regime
+
Challenging but fun difficulty curve
+
Low cost
Reasons to avoid
-
Graphics aren't as crisp as other fitness games
Sparring in the ring can be a scary, adrenaline-heavy approach to working out. The Thrill of the Fight doesn't pull any punches with its VR adaptation of that process, even if your adversaries are AI. This lifelike boxing simulator prepares fighters with a Rocky-esque training regime before making them step up against a series of challenging opponents as they grow their virtual fighting careers.
The Thrill of the Fight deftly teaches you boxing skills and techniques that will buff players with confidence and push them to become the next world champion. The simulated weight of your controllers adds to the hyperrealism, making it feel as if the gloves are well and truly on. Sizing up your opponent between rounds and throwing your body weight around to slip away from their reach makes for a consistently exhilarating experience.
---
10. Stride
Parkour!
Specifications
Platforms:
Oculus/Meta Quest, Steam
Release date:
June 10, 2022
Reasons to buy
+
Engaging high-intensity workouts
+
Leaderboards keep it competitive
+
Multiplayer game mode makes working out with friends easy
Reasons to avoid
-
Features high altitude environments
If you're looking for a high-intensity VR fitness experience, there are few more thrilling than Stride. In this parkour-focused platformer, the exciting nature of navigating a metropolis and evading enemies makes exercising feel secondary to the fun. Losing yourself to the imagined city skyline can be thrilling, if not a little scary at times, and adds to the heart-pounding excitement of the workout.
A suite of game modes provides players with options to finetune the game's intensity, opening it up to all kinds of fitness styles. Time Run focuses on speed and careful route choices, whereas Endless Mode rewards long-term commitment, calculated decisions, and high scores, offering a slower but more intense workout. In addition to solo modes, Stride also boasts a decent selection of multiplayer game types that can make working out with a crew an exhilarating experience.
Which VR headset is best for fitness?
There are more than a handful of excellent VR headset models, but they're not all created equally. While some offer incredibly high resolution in each eye, they often require a powerful PC to get the most out of – or to use at all.
Trying to move your body, throw punches, or slam dunk a basketball with a cable tied to the back of your head is more than a little uncomfortable, but there are some impressively long cables available for headsets that allow it to be swapped out.
Better yet, though, we'd advise something wireless like the Meta Quest 2. Everything is built into the headset itself, so you don't need to connect to anything else to install apps. The battery life is solid enough to work out for a while (although we'd advise picking up rechargeable ones for the included controllers) and the Meta store has a huge number of the best VR fitness apps and games available.
Meta's library includes plenty of the games on this list, and while its not the cheapest storefront (PC fans will know all too well how affordable Steam can make PC VR titles), regular discounts and gift vouchers certainly help users build up their own fitness game and app libraries. You can even plug it into a gaming PC and use it as a more powerful Oculus Rift, too.
Aside from the advantages we've already mentioned, the Meta Quest 2 is still one of the most affordable entry points for VR, even after a price hike to $399 in 2022. It's not got the power or pixel count of the HTC Vive Pro 2 or Valve Index, but at a considerably lower price it's much easier to recommend for a foray into VR fitness and exercise.
Stay up to date on the latest science news by signing up for our Essentials newsletter.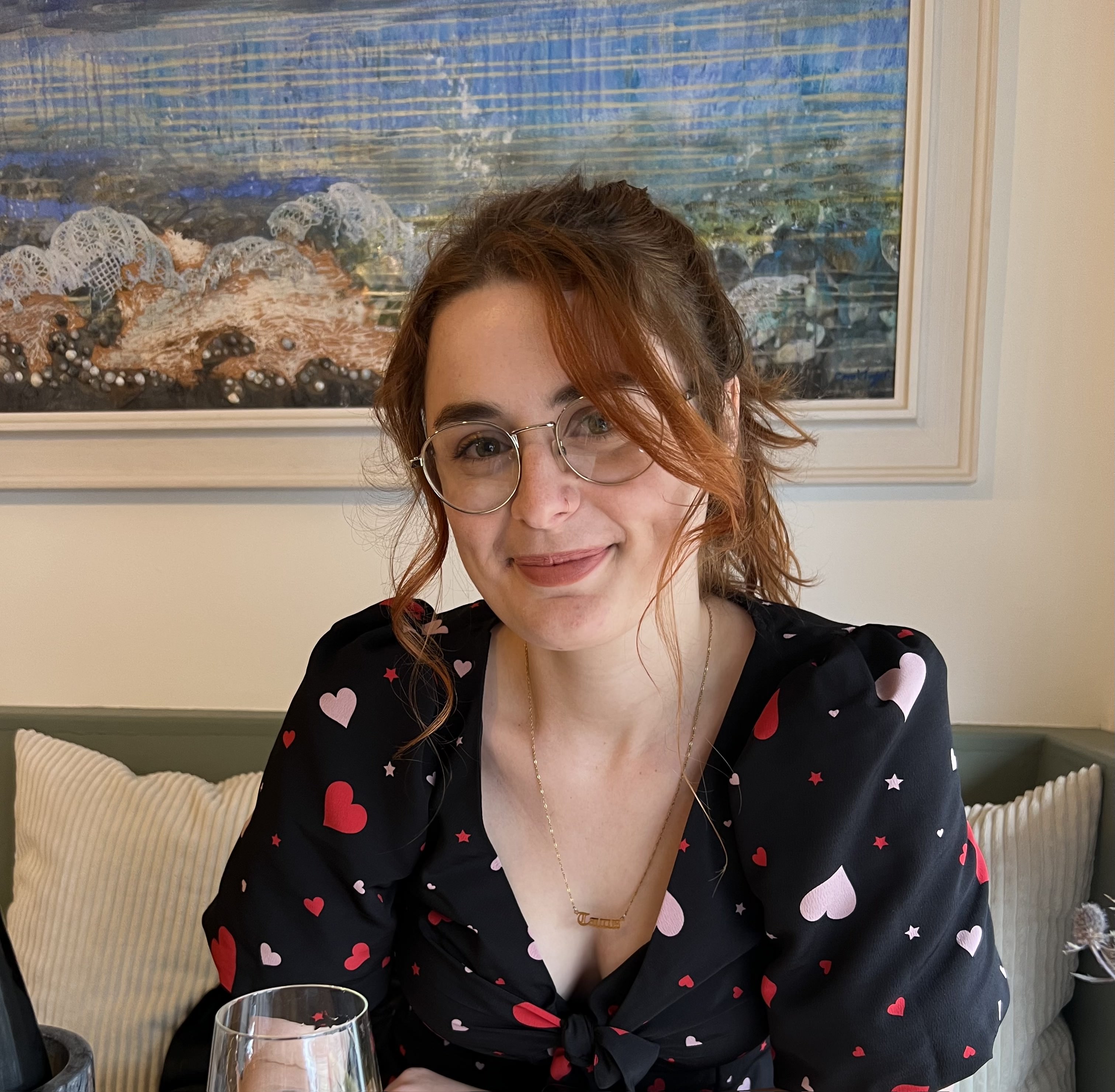 Sarah is an Australian freelance journalist based in the North East of England. Her work has been published on Polygon, Eurogamer, TechRadar and in Wireframe Magazine. She loves to cover the intersections between technology and mindfulness, as well as research video game history and its many oddities. She also has a keen interest in art and how it is being nurtured through the medium of Virtual Reality.