Meta Quest 2 is a full VR ecosystem in a box for $399/£399, making it an attractive proposition for VR newcomers while still offering desirable features for experienced users.
Pros
+

Still cheaper than competition

+

All-in-one with controllers included

+

Extensive app ecosystem
Cons
-

Apps can be expensive

-

Not the bargain it once was
Why you can trust Live Science Our expert reviewers spend hours testing and comparing products and services so you can choose the best ones for you. Find out more about how we test.
Oculus essentially kickstarted a consumer-level push for VR, causing Meta to snap the company up a few years back. The Meta Quest 2 remains the most popular headset available right now, but is it worth buying in 2023? After all, aside from a name change and a price bump, it's not really changed since it debuted in 2020.
We've decided to revisit our Meta Quest 2 review to help answer that question, and thankfully the result is still a resounding "yes". That's thanks to a price point and series of features that make the Meta Quest 2 easily one of the best VR headsets available today.
A big part of the strength of the Meta Quest 2 is that it can be all things to all people – as a wireless, all-in-one VR setup it's easy to use and operate for relative novices, offering everything you need right in the box. Plug it into a PC, and it essentially becomes a Rift S, meaning if you've got the requisite power you can play PC VR titles like Half-Life Alyx, too.
We're also very pleased to say that Meta has rolled out an update that means you'll no longer need a Facebook account to enjoy everything the Quest 2 has to offer. For those that disagree with Facebook's privacy settings, or that don't care to be found there, that means you can sign up with a Meta account instead.
Meta Quest 2 review: Setup and usability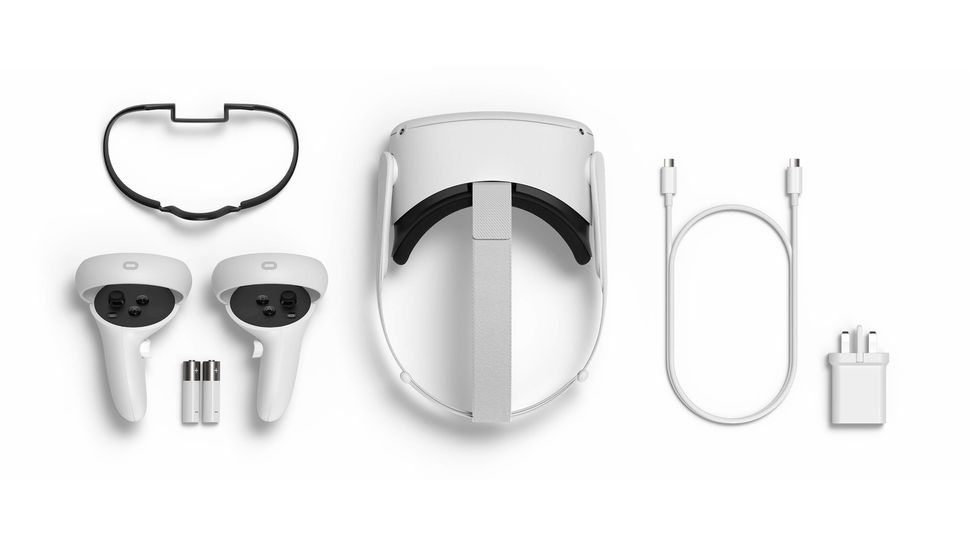 Opening the Meta Quest 2 box, you'll be presented with the headset, two controllers, the charger, and an eyeglasses spacer to fit the headset over your existing eyewear.
Each controller requires an AA battery which slides into a compartment in each handle, while the headset itself charges via a USB-C charger in the box. It is possible to play while the headset charges, as long as you're not expecting to throw your head around.
The first thing you'll need to do is download the Meta app on your smartphone, and either log in with your Facebook account or create one to get started.
Once you're ready, strap the headset on (the fabric strap is adjustable, but can be a little fiddly to get just right) and tap the power button on the right side to get started. Volume buttons can be found on the underside of the headset.
The rest of the setup process is completed through a combination of the headset and your app, and you'll also be able to set your "safe area" using Meta' "Guardian." This will ensure you're not going to smack into a wall or trip over the coffee table, and you'll need to set it whenever you turn the headset on.
Meta Quest 2 review: Design and display
Key specs
Platforms: Standalone, PC via Meta Link
Price: $399.99/£399.99 for 128 GB
Resolution: 1832 × 1920 per eye
Field of view: 90 degrees
Refresh rate: 60, 72, 90 Hz (120 Hz experimental)
Controllers: Touch Controllers (included)
The Meta Quest 2 is a pretty compact package, and it's also impressively sturdy. The area that touches your face is lined with a soft-touch material – but, as you can imagine with any VE headset, your comfort will suffer after long play sessions.
The onboard speakers work well enough, but there's the option for headphones via a 3.5mm headphone jack next to the charger port which can be ideal for the likes of rhythm games like Beat Saber.
The front of the device is fairly nondescript outside of a series of infrared circles that help with the aforementioned Guardian system (see image below), as well as tracking controllers in all directions.
The controllers offer two face buttons each, as well as a menu button on the left and the Meta button on right. There are triggers on the back of each controller, as well as a button in the grip of each. They're lightweight and thankfully come with wrist straps to keep them from being thrown across the room early Wii style.
When it comes to the display, each lens has an 1832 x 1920 resolution. That's a sizeable jump if you're coming from the PSVR (960 x 1080) and is higher than the 1600 x 1440 of the Valve Index. Sadly, there's only a 90-degree field of view, just shy of the PSVR, but the Meta Quest 2 can hit a 120 Hz refresh rate.
The Meta Quest 2's display is LCD, but thanks to a vibrant series of menus, it never feels flat or lacking in contrast.
Meta Quest 2 review: Features, games, & apps
The Meta Quest 2 starts strong, with a free-floating menu hovering in your view with smart cursor controls, a look at what your friends are doing on the platform, and access to the store.
Purchases are easy to make, but we do have some hang-ups. Many games cost more on Meta Quest 2 than they do on more open storefronts, like SteamVR, and cross-buy functionality is restricted to some games but not implemented store-wide. As a result, your old Oculus Rift purchases may not show up in your Meta Quest 2's library, meaning you'll have to splash out again.
Still, the Meta Quest 2 will play original Oculus Quest titles, and works just as well seated and standing – this may help alleviate some nausea and help some earn their "VR legs." If you're looking to find a way to play the likes of Beat Saber and Superhot VR, you'll find it here.
If gaming isn't your thing, there are also a host of interactive experiences, virtual tours, and scientific recreations to check out on the Meta store. Likewise, there are mindfulness and VR fitness apps to help you look after yourself, body and soul, so to speak.
The real power of the Meta Quest 2, though, is that it's two headsets in one. If you've got a capable gaming PC (we tested it with a GTX 2070 Super), you're able to connect to the headset through the Windows Meta app (you'll need a long USB-C cable or you can connect wirelessly) and play Oculus Rift and Rift S games through the Meta Quest 2.
The lack of universal cross-buy we mentioned earlier can make it confusing to remember which platform you've purchased things on, but it means you'll have access to more demanding VR games like Asgard's Wrath, a mythical Norse adventure.
And that's not all, because the Meta Quest 2 will also play nicely with SteamVR. That means if you've got a few games with VR modes, either in your Steam library or externally, you'll be able to enjoy those in VR. We tested the headset with the VR version of Elite Dangerous and the Xbox Game Pass version of Star Wars: Squadrons and had a blast – at least before the VR motion sickness kicked in. So, yes, that means Half-Life: Alyx is very much an option.
Image 1 of 2
Meta Quest 2 review: Performance
While the original Oculus Quest was no slouch, the Meta Quest 2's increased RAM (6 GB) and new processor (Snapdragon XR2) makes everything buttery smooth. Playing games, bringing up the Meta menu, and jumping straight into something else is a simple process, and even though there are understandable load times, they're usually brief.
A firmware update has unlocked the 120 Hz refresh rate on the Meta Quest 2 as well, making the likes of Superhot VR more fluid. However, developers also need to update to the new refresh rate, but expect to see more of them do that as time goes on.
We're also quite impressed by the headset's audio. While you'll get much more bass from adding your own earbuds, the internal speakers aren't a hindrance in games that rely on clear audio. You can also stream your viewpoint via a Chromecast.
Finally, a word on storage. Meta has phased out the 64 GB version, so your options now are 128 GB or 256 GB, with a $100 difference between the two. While more storage is never a bad thing, if you're looking to play the majority of your games from your PC, you may find that the 128 GB version will be perfectly fine.
Should you buy the Meta Quest 2?
Whether you're a VR novice or a seasoned pro, there's a lot to like about the Meta Quest 2 – particularly at such a low price point compared to many competitors.
From classic games and VR experiences like Beat Saber, to being able to plug into a gaming PC for PC VR titles, it's a sensational all-rounder that has everything you need right within the box. There is a lot more competition out there these days, but for now the Meta Quest 2 still reigns supreme.
Lloyd Coombes freelance tech and fitness writer for Live Science. He's an expert in all things Apple as well as in computer and gaming tech, with previous works published on TopTenReviews, Space.com, Dexerto and TechRadar. You'll find him regularly testing the latest MacBook or iPhone, but he spends most of his time writing about video games as Editor in Chief at GGRecon.com. He also covers board games and virtual reality, just to round out the nerdy pursuits.