Best laptops for students 2023: Get the perfect laptop for college
Ideal for work and for play, these are the best laptops for students in 2023.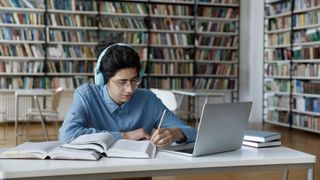 (Image credit: fizkes via Shutterstock)
Best laptops for students: Quick List
Student life can be difficult, so let us make finding the best student laptop for you easy. Whether you're after a laptop for that can handle your workload or you want a device that'll help you to relax and unwind in the evenings, we've got something for you and all your needs.
With so many options, it can be overwhelming – especially if you're not entirely sure what's best for you or your child. Chromebooks are affordable, but their app lineup is limited. Macs are an excellent combo of portability and power, but they're very expensive. Windows machines are consistent and widely used, but they come in a huge variety of configurations and from dozens of different manufacturers.
Naturally, your requirements will need to match the tasks you'll be throwing at your laptop. So, there's no need to buy a super-powerful machine just for taking notes. Our advice is to look towards a blend of a lightweight machine that can be docked to a larger screen if needed, but is just as capable on its own.
With that in mind, we've narrowed down the best laptops we can find, across ChromeOS, macOS, and Windows to identify the best options for a variety of students. If you want something with a bit more oomph, then you're better off checking out our best laptops for coding. Or, if already have your heart set on a Mac, then you may prefer to browse our best MacBooks for students guide instead (plus there's also that sweet, sweet Apple Student Discount).
The Quick List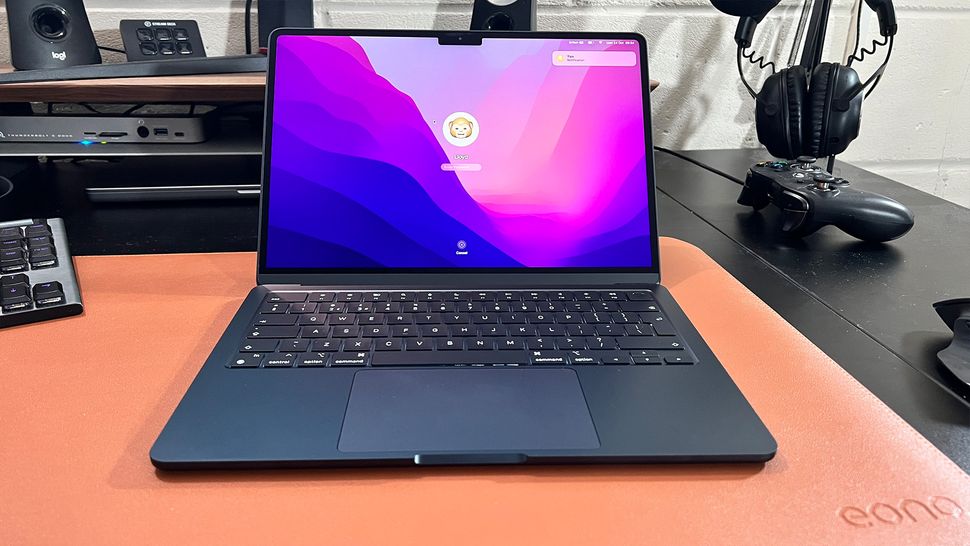 Best laptop for students overall
This ultra-portable laptop is a great way to get to grips with macOS, and offers plenty of performance in its compact package – weighing just 2.7 lbs (1.2 kgs).
Best value laptop for students
With an Intel Core i5 at the low end, this value-minded laptop runs Windows 11 and offers a svelte build that fits easily in a bag.
Best creative laptop for students
With a bigger screen and powerful M2 chip, the MacBook Air 15-inch M2 can handle those heavyweight creative tasks that you'll throw at it.
Best Windows laptop for students
Not the flashiest-looking laptop (and we'd have liked a better build quality), but this HP laptop has Windows 11, powerful components, and a 1080p touchscreen.
Best cheap MacBook for students
It may have an older design, but the MacBook Air M1 is a powerful, efficient machine that's whisper quiet and easy to carry.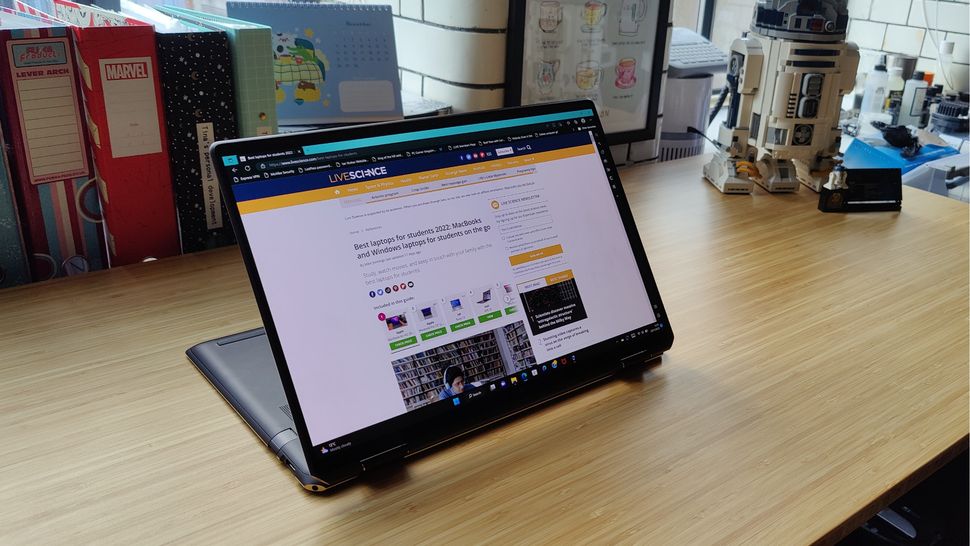 Best premium 2-in-1 laptop for students
Looking for some grunt to go with your versatility? This HP hybrid is worth a look with its excellent battery life and impressive performance. It also has a gorgeous OLED display.
Best eco-friendly laptop for students
This eco-friendly laptop may be a little heavier than some alternatives, but it's a solid enough performer with a fantastic battery life.
Best all-rounder
With a comfortable typing angle and decent specs for the price, this business-focused laptop is ideal for students. It's light, too.
Best laptop for students overall
A faster processor and key improvements make the updated Air a tempting choice.
Specifications
CPU:
Apple M2 chip 8-core
GPU:
Integrated 8-core GPU / 10-core GPU
Storage:
256 GB, 512 GB, 1 TB, 2 TB
Screen size:
13.6in, Retina 2560 x 1664 display
Weight:
2.7 lbs (1.24 kg)
Dimensions:
11.97 x 8.46 x 0.44 in (304 x 215 x 11.3 mm)(WxDxH)
Reasons to buy
+
Impressive M2 processor
+
A bigger, brighter screen and numerous feature improvements
+
Retains its svelte, robust design
Reasons to avoid
-
Pricier than M1 model
-
More power available elsewhere
Apple now sells two varieties of MacBook Air. Both remain superb, but the updated M2 model delivers loads of upgrades.
The biggest change is the new M2 processor, which supplies improved performance in tough creative situations, like photo- and video-editing. You'll have to spend more to get your hands on this silicon – the entry-level Air M2 costs $1,199 / £1,249 and $1,499 / £1,549 for a beefed-up GPU and larger SSD – but if you need power for creative workloads, that's worthwhile.
Apple has improved the Air in other departments. It's got a sleeker, lighter design, and larger and brighter screen, and a crisper FaceTime camera – it's moved from 720 p to 1080 p. Elsewhere, you'll find improved audio quality, support for high-impedance headphones, and a MagSafe port for easier, faster charging that doesn't occupy a Thunderbolt socket.
The Air retains the same superb keyboard, robust aluminum chassis and fantastic all-day battery life. As ever, you'll get better performance from a MacBook Pro, and the MacBook Air M1 remains a great choice for good-looking, light and capable everyday computing.
If you'd like a slim, light Apple rig with more power, ports and features, though, the Air M2 is a superb choice – it will tackle virtually every student scenario.
Best value laptop for students
Students on a tight budget will love this best value laptop.
Specifications
CPU:
Intel Core i5-1240P, Core i7-1260P or Core i7-12700H
Screen size:
14 in 2,560 x 1,440 IPS or 2,880 x 1,800 OLED
Weight:
2.75 lbs (1.25 kg)
Dimensions:
12.63 x 8.3 x 0.62 in (321 x 211 x 15.9 mm)
Reasons to buy
+
Good value
+
Sharp screen
+
Metal outer casing
Reasons to avoid
-
Touchpad and keyboard could be better
Acer's Swift line comes in 1, 3, 5 and 7 varieties. The higher the number, the fancier the laptop. Acer's Swift 3 is the sweet spot for students on a sensible budget.
It offers excellent performance, the kind that isn't going to seem to slow you down when doing more than writing essays or doing web research. The current model is still on Intel's 12th Gen processors, but these aren't too far behind the 13th Gen ones found in cutting-edge laptops.
The Acer Swift 3 also has a surprisingly punchy screen. Its QHD resolution makes images and text look far sharper than the 1080p we typically expect when paying this sort of money, and contrast is excellent. Color is not ultra-deep, but is good enough to look natural, not undersaturated. US buyers willing to shop around can even get an OLED Swift 3.
Factor in the decent-looking aluminum casing and you may start to wonder why you'd ever pay more. Well, the keyboard is on the soft side. If your work involves a lot of long-form typing, an Apple or HP may suit you better. The touchpad also has quite a hollow character.
It's a case of: insides are good, but a few parts on the outside are less hot. We also think Acer's claims of 13-hour battery life are a bit ripe in most scenarios. 8-hour stamina is a more realistic expectation, even with fairly light work.
The Acer Swift 3 has an MSRP of $949 in the U.S. and £799 in the UK, but we've seen them selling for significantly less online.
Best creative laptop for students
Specifications
CPU:
Apple M2 chip (8-core CPU, 8-core GPU, 16-core Neural Engine)
GPU:
M2 includes 8-core GPU (configurable with 10-core GPU)
RAM:
8 GB as standard, 16 GB and 24 GB options available
Storage:
256 GB, 512 GB, 1T B, or 2 TB versions
Display:
15-inch Liquid Retina display with 2650x1664 resolution
Weight:
2.7 lbs (1.23 kg)
Reasons to buy
+
Portable
+
Larger display
+
Great design
Reasons to avoid
-
Still not cheap
-
Lacks HDMI port
The MacBook Air was supersized this year, and the result is predictably excellent. While we had very few complaints with the 13-inch model (the price of which arguably makes it a better option for many students), the MacBook Air 15-inch makes it much easier to multitask or use macOS' Stage Manager system for managing windows.
The M2 chip is powerful, and while there's no battery life improvement, it's still easily able to last a full day of use while still being lightweight enough to carry from one lecture to another. We'd argue it's the best-looking MacBook, too.
Wondering about the MacBook Pro? We'd say that unless you're desperate for features like an HDMI port or an even more impressive display, the M2 MacBook Air is likely to be more than enough Mac for your workload – and it's more portable for slipping into a backpack, too.
Best windows laptop for students
If Windows is your jam, then you'll get on well with this laptop.
Specifications
CPU:
Intel Core i5-1135G7 / Core i7-1165G7
GPU:
Nvidia GeForce MX450
Screen size:
13.3 in, 1920 x 1080 IPS touch
Dimensions:
12 x 7.6 x 0.6 in (306 x 194 x 17 mm) (WxDxH)
Reasons to buy
+
Solid Intel-powered internals
+
Slim and light design
+
Great 1080 p touchscreen
Reasons to avoid
-
Affordable, but with mediocre build quality
With its clean aluminum design the HP Envy 13's looks decent, and its 1.3 kg weight and 17 mm body mean it's easy to slip inside a bag and take to lectures.
The comfortable and quiet keyboard is ideal for the library or lecture theatre, and the 1080 p touchscreen is versatile, bright, and bold.
HP's notebook has full-size USB ports, which is rare on such a slim machine, and it has reasonably punchy speakers. The Envy has a webcam, but no Thunderbolt or HDMI.
On the inside, it's available in two configurations: an Intel Core i5 model with 8 GB of memory and a Core i7 spec with 16 GB of DDR4 RAM. The former is fine for everyday work, and the latter is well-suited to trickier tasks. On the battery front, expect between 12 and 14 hours of longevity – a healthy result.
These configurations aren't too expensive: the Core i5 rig costs $939 / £899, while the Core i7 machine arrives at $1,049 / £1,049. It's also worth remembering that HP offers 14 in, 15.6 in, and 17.3 in versions of this machine if you'd like something larger.
The lower price does mean that the HP has some minor issues: build quality could be better, and Apple and AMD processors are faster. They're not dealbreakers though, and the HP Envy 13 stays one of the best laptops for students on a budget.
Best cheap MacBook for students
Start your Mac journey with this sleek and great value MacBook for students.
Specifications
CPU:
Apple M1 chip 8-core
GPU:
Integrated 8-core GPU
Storage:
256 GB, 512 GB, 1 TB, 2 TB
Screen size:
13.3in, Retina 2560 x 1600 display
Weight:
2.8 lbs (1.29 kg)
Dimensions:
11.97 x 8.36 x 0.63 in (304 x 212 x 16 mm) (WxDxH)
Reasons to buy
+
Great-looking, slim, and light design
+
Excellent Apple M1 processor
+
Superb high-resolution display
Reasons to avoid
-
Limited connectivity and battery life
While it has been replaced by the newer M2 model, the MacBook Air M1 is still a great choice for students. It weighs just 1.29 kg and it's only 16 mm thick – and, despite that, it's got a rock-solid aluminum body with a great-looking design in three colors. If you want a machine that'll turn heads and survive busy campus life, this is a top contender for one of the best laptops for students.
The 13.3 in display has a 2560 x 1600 resolution alongside bold colors, which means your browser windows, work apps, and media all look fantastic. The speakers are decent, too – easily good enough for movies and music, even if they lack a little punch. Battery life peaks at 14 hours, and the MacBook has a couple of Thunderbolt ports and a webcam, but that's it for connectivity. The keyboard is responsive and suitable for a day of working.
On the inside the Apple M1 processor will handle almost any student task – you'll only need more power if you want to run high-end design or creative software. We'd recommend the 16 GB Air to get the most out of multi-tasking, and the reduced price of $999 / £999 is a great deal.
If you want to stick with Mac OS, you'll get more speed, battery life, and storage on the MacBook Pro. However, if you want the slimmest, lightest Apple laptop around, then the MacBook Air is excellent.
Best 2-in-1 laptop for students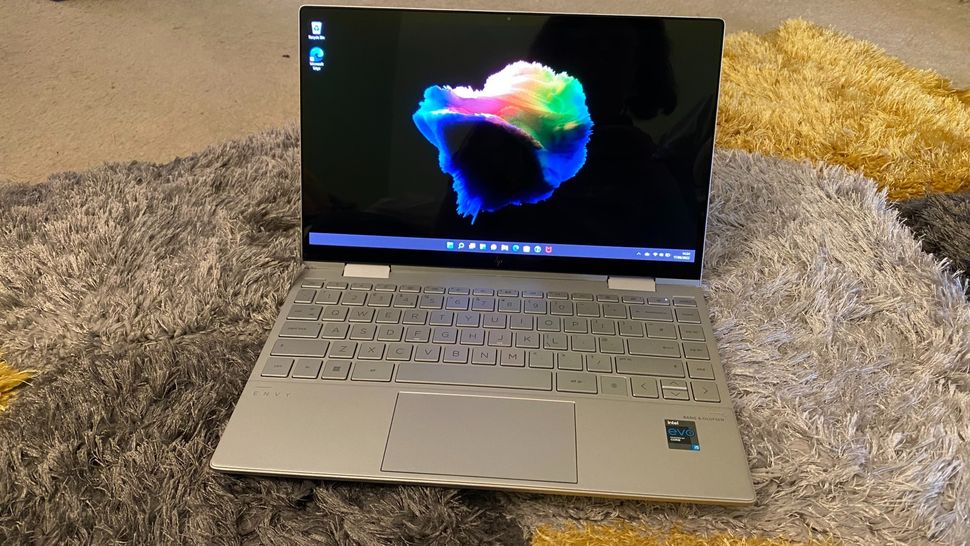 Best hybrid laptop for students
Specifications
CPU:
AMD Ryzen 5 5600U / Ryzen 7 5800U / Intel Core i5-1135G7 / i7-1165G7
GPU:
AMD Radeon integrated/Intel Iris Xe integrated
Screen size:
13.3 in, 1920 x 1080 IPS touch
Weight:
2.9 lbs (1.32 kg)
Dimensions:
12.1 x 7.6 x 0.64 in (306 x 194 x 16.4 mm) (WxDxH)
Reasons to buy
+
Slick, versatile convertible design
+
Good choice of processors
+
Decent features and ergonomics
The HP Envy x360 13's prices almost always duck below $1,000 / £1,000, which is a great starting point for a student laptop, and it's the only convertible in this group – so you can flip it around and use it as a tablet or prop it up to watch movies or TV shows. When student laptops need to exhibit versatility, that's a boon.
The lightweight HP Envy x360 has good build quality, and its 1080 p display has solid contrast and reasonably accurate colors – you'll only be disappointed if you want to use this machine for color-sensitive creative tasks. The speakers are fine for casual media, but they're not brilliant and lack bass.
This rig has full-size USB ports, a comfortable keyboard, and a webcam with a privacy shutter and a microSD card reader. On the inside, it's available with AMD Ryzen 5 and Ryzen 7 chips and their Intel equivalents. The AMD chips are better, with the former fine for everyday multi-tasking and the latter more powerful. Expect up to 11 hours of battery life.
It's cheaper, so you do get what you pay for and you can get better tech elsewhere if you're willing to pay more, but the HP Envy x360 13 remains a good choice for students who want a versatile and affordable convertible.
Best premium 2-in-1 laptop for students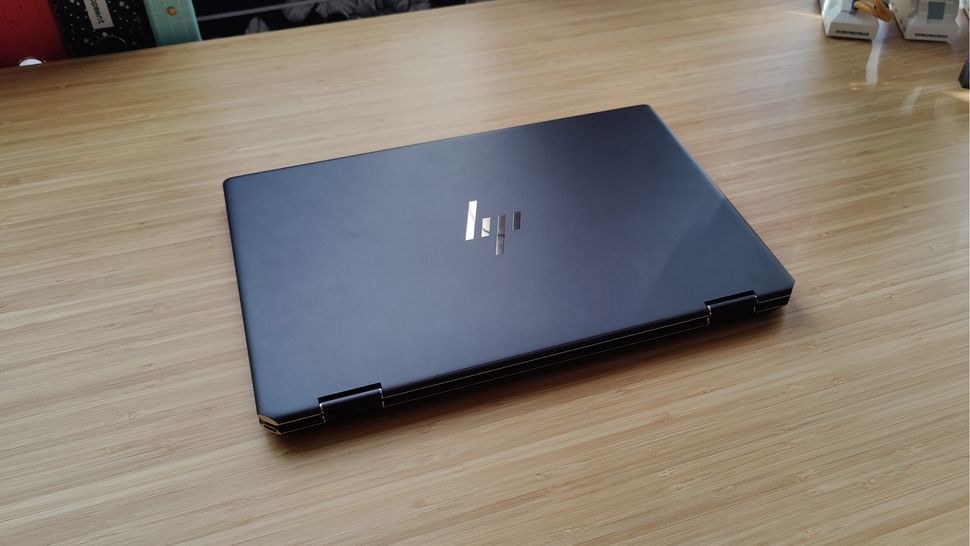 An incredible OLED screen and versatile convertible design make a tempting creative partnership.
Specifications
CPU:
Intel Core i7 12700H / Intel Core i7 1260P
GPU:
Intel Iris Xe graphics / Intel Arc A370M
Storage:
512 GB / 1 TB / 2 TB
Screen size:
15.6 in, 1920 x 1080 IPS
Dimensions:
14.01 x 10 x 0.79 in (356 x 254 x 20.3 mm)(WxDxH)
Reasons to buy
+
An amazing, high-resolution OLED screen
+
Intel Core i7 CPU and all-day battery life
+
A robust, versatile 2-in-1 design
+
Surprisingly good pricing
Reasons to avoid
-
Overkill if you don't tackle creative tasks
-
Disappointing speakers
-
Bulkier than most tablets
Convertible laptops are usually small, but there's no such compromise on the Spectre – this notebook has a 16-inch OLED display. The 16:10 touchscreen has a monster 3840 x 2400 resolution, it displays the DCI-P3 color gamut and it includes a Tilt Pen – it's unrivaled for creative work.
The robust aluminum chassis flips into tablet and tent modes, so you can deploy the Spectre like a laptop, TV screen or graphics tablet. Its Intel Core i7-1260P processor is ideal for mainstream creative tasks even if it can't cope with top-end work, but that should be enough for student scenarios – especially with 16 GB of memory and an Intel A370M GPU.
Connectivity is good thanks to two Thunderbolt ports, an HDMI 2.1 output and a microSD slot, and internally you get a 5 mp webcam, a fingerprint reader and a superb keyboard. The 2 kg weight isn't bad for a 16 in device, and the HP's battery lasts for a working day. There aren't many negatives, although the Bang & Olufsen speakers aren't very good.
Whilst not cheap, the Spectre offers fantastic value for money when you consider that large OLED screen and convertible form. For art and design students, it's a stunning buy, but it's probably overkill for most students.
Best eco-friendly laptop for students
An environmentally-friendly student laptop with the quality for mainstream usage.
Specifications
CPU:
Intel Core i5-1235U / Core i7-1255U
GPU:
Intel Iris Xe graphics
Screen size:
15.6 in, 1920 x 1080 IPS
Weight:
3.8 lbs (1.76 kg)
Dimensions:
14.2 x 9.3 x 0.74 in (363 x 238 x 17.9 mm)(WxDxH)
Reasons to buy
+
Eco-friendly design with all-day battery life
+
Ample computing power for everyday student tasks
Reasons to avoid
-
Thicker and heavier than other laptops
-
Not fast enough for high-end creative workloads
There's lots to like about the Vero's eco-friendly credentials: thirty percent of the chassis is made from recycled material, and those percentages increase in the screen, keyboard and packaging.
That's great if you want eco-friendly tech, and the Vero continues to impress. Acer's latest models have new Intel Core i5-1235U and i7-1255U processors, with the former ideal for everyday work tasks and the latter capable of light content creation. For student workloads, those processors are ideal. You'll have to pay $899 / £899 for the Core i7 model and $749 / £749 for the Core i5 rig.
We criticized the Vero in the past for connectivity issues, but those have been fixed with the additions of Thunderbolt 4 and USB charging. This year's model has improved Bluetooth 5.2 and the slower USB 2.0 ports have gone.
Its keyboard remains impressive, the battery lasts for an entire day, but the screen is mediocre and the chassis is bulkier and heavier than most contemporaries. You'll have to pay extra to fix those issues, though, and the Vero is a good option in key areas. It's ideal if you want affordable, eco-friendly computing.
Best all-rounder
A solid productivity all-rounder if you can find it at the right price.
Specifications
CPU:
Intel Core i5-1240P or Core i7-1280P
Screen size:
14 in 1920 x 1080 IPS
Weight:
2.84 lbs (1.29 kg)
Dimensions:
12.6 x 8.62 x 0.63 in (319 x 219 x 15.9 mm)
Reasons to buy
+
Good performance for the money
+
Comfortable for typing
+
Light
Prestige is one of MSI's business laptop lines, but the MSI Prestige 14 Evo is also just about perfect for students. It doesn't cost a fortune, uses quality components that breeze through most kinds of course work, and is light enough to carry around all day, every day.
There's a smart touch to the design too. Open up the lid and the hinge pushes the back of the laptop upwards slightly, for a more comfortable typing angle. MSI is probably a brand you're less familiar with than most others here, but maybe it's time to get acquainted.
The keyboard is solid, the screen is contrasty if not impeccably sharp thanks to its 1080p resolution, and the battery lasts for a full day of light work. Want the downsides? The MSI Prestige 14 Evo's speakers are weak and we are not big fans of the touchpad. Consider plugging in a mouse.
MSI's Prestige 14 Evo range starts at $579 and £699, although you may have to shop around a bit to find the best deals.
Most stylish laptop for students
A true next-generation laptop design for the intrepid.
Specifications
CPU:
Intel Core i5-1240P, i7-1260P, or i7-1280P
GPU:
Intel Iris Xe graphics
Storage:
512 GB, 1 TB, 2 TB
Screen size:
13.4 in 1920 x 1200 IPS, 13.4 in 1920 x 1200 IPS touch, 13.4 in 3840 x 2400 IPS touch, or 13.4 in 3456 x 2160 OLED touch
Weight:
2.77 lbs (1.26 kg)
Dimensions:
11.53 x 7.84 x 0.6 in (295 x 199 x 15.3 mm)
Reasons to buy
+
Slick and advanced-looking
+
Good build quality
Reasons to avoid
-
Limited connectivity
-
Contentious design elements
Dell's XPS 13 has been high on our list of recommendations for years, but the Dell XPS 13 Plus is something new, and much more unusual. It is futuristic and stylish, a laptop statement for students with a bit more money to spend. But will you like it?
The Dell XPS 13 does not have a traditional touchpad. It's built into the palm rest, with no indication of where it starts and ends. The keyboard doesn't have normal function keys either, just a series of light-up touch buttons above the rest of the keys. Even those keys are a bit odd as there's no significant gap between them, and you may need to carry an adapter around as this laptop only has a couple of USB-C ports.
Style over substance? Maybe. It's a case of perspective, but this is still a top-quality super-portable laptop. And one with powerful speakers and a bright screen - handy if it will also double as a TV at times.
However, don't discount the more classic-design XPS 13 if you'd prefer something more conventional. Prices start at $1,149 in the US and £1,298 in the UK for the XPS 13 Plus family.
Student tech buying advice
There's no shortage of student tech advice here on LiveScience, either: explore our advice on the best MacBooks for students or best tablets for students, and if you need some more specialized kit, there's our best laptops for coding and programming and best laptops for photo editing guides too.
We've also got advice on how you can save money on Apple tech with out Apple student discount guide, so you can grab one of those expensive MacBooks at a more student-friendly price tag.
How we test
Picking up a laptop for college should be seen as an investment in your future, because it really is – it's a tool for getting your best work done, as well as all the fun that comes with it, too, like streaming movies and music, or playing games.
So, how do we condense years of use into our review period? For one, we use every laptop we test as our "daily driver," working through our daily tasks with the unit, noting both where they excel and where they fall short.
We know your laptop needs to be dependable, so we move between locations to ensure we're testing its portability as well as working the battery down from full to empty while testing. Whether we're on Windows, Chrome OS, or macOS, our experts take performance seriously – testing across a variety of scenarios from photo editing, to web browsing, and everything in between.