The HTC Vive Pro 2 is an impressive step forward for fidelity when it comes to virtual reality hardware. But HTC needs to focus its attention on the overall package to win the ongoing VR race.
Pros
+

Incredibly sharp resolution

+

Wide field of view

+

Fast and smooth refresh rate

+

Compatible with a giant PC VR software library
Cons
-

Expensive

-

Ageing controller accessories

-

Can get hot in use

-

Set up can be time consuming
Why you can trust Live Science Our expert reviewers spend hours testing and comparing products and services so you can choose the best ones for you. Find out more about how we test.
HTC led the charge with the modern wave of interest in virtual reality hardware. Its top-tier HTC Vive Pro 2 VR headset carries on the impressive lineage of PC-powered virtual reality devices first introduced by the original HTC Vive.
Specs
Platforms: Steam VR (PC) / Viveport (PC)
Price: $1,399/£1,299 for full kit, $799/£719 for headset only
Resolution: 2448 x 2448 per eye
Field of view: 120 degrees
Refresh rate: 120 Hz
Controllers: HTC Vive and Vive Pro Controllers (support for Valve Knuckles, sold separately, also compatible)
With an incredible display and well-balanced ergonomics, the HTC Vive Pro 2 is an immersive and comfortable virtual reality device. It really goes the extra mile to make digital worlds look as realistic and clearly presented as possible.
However, in pursuit of visual perfection, HTC has missed a beat with its overall VR experience, with its own-brand controllers particularly showing their age.
Some aspects of the spec sheet here are unbeaten by the competition, which is why its one of the best VR headsets, and there's a lot to love here. Yet, to get the most out of the HTC Vive Pro 2, you'll have to mix-and-match it with some rival manufacturer hardware, too.
HTC Vive Pro 2: Set up & usability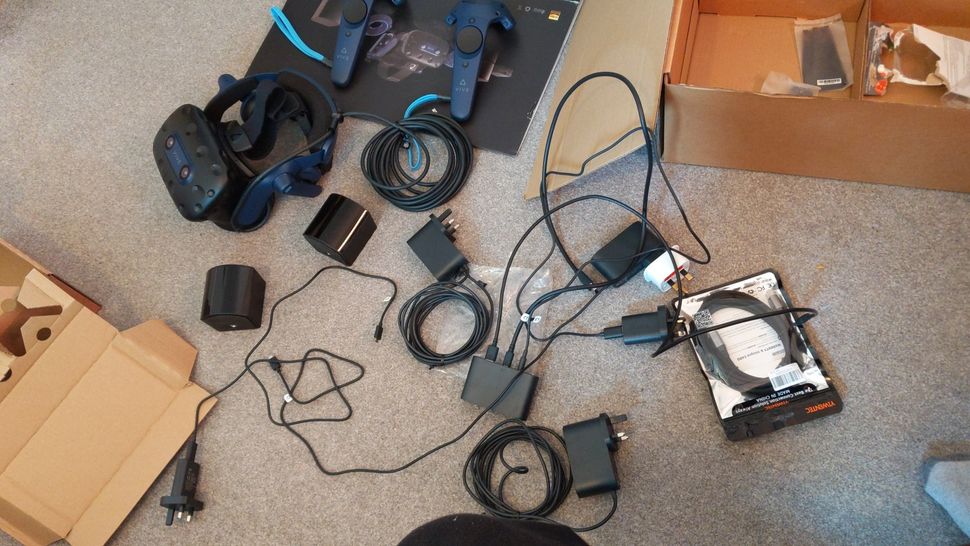 We have conflicting feelings when it comes to the setup process for the HTC Vive Pro 2.
On one hand, once you've got everything in place, ideally in a space where it can be left to live without disruption, its systems work in tandem incredibly well to ensure your movements in VR are always well tracked (even if you're waving your arms behind you), and that you're safely aware of the limits of your real-world surroundings.
On the other hand, it can be a real pain to initially set up. It requires multiple cables, a large play space, and some finicky positioning of external accessories.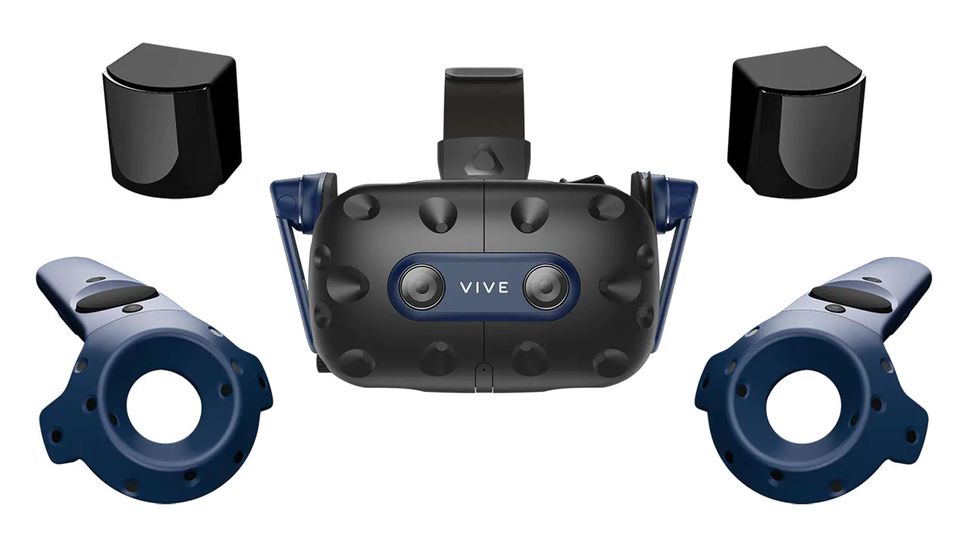 Though both seated and standing set-ups are supported, the free-roaming 'room scale' experience is likely what most people think of when imagining playing in virtual reality. The HTC Vive Pro 2 requires a minimum of 2 x 1.5 m of unobstructed space, which may be difficult to pull off in some smaller rooms. Once that space has been found, you'll then need to place the two Base Station units in opposite corners of the designated area – ideally slightly above head height, pointing down towards the middle of the area.
Keep in mind that each of these units requires its own wall socket power supply, so that limits where you can put them (thankfully they come with long enough cables to allow for some flexibility). For ease of use, you'll ideally want all this within the same room that your PC is in.
The headset comes with a 5 m cable connected to it, which plugs into a separate breakaway "Vive Link" box (this also requires its own additional power supply). This box then hooks up to your PC over USB 3.0 and DisplayPort connections. If you then want to charge the two controllers simultaneously, you're looking at five wall sockets in use at once, and that's before taking into consideration your PC and your monitor, too.
Image 1 of 2
Setup then moves to Valve's Steam VR software platform – the bridge between your VR hardware and your PC. It will run you through a series of steps to pair the Base Stations with your headset, 'paint' the obstacle free play space, measure your real-world height, and set up a grid-like 'Chaperone' boundary that magically appears if you're about to step beyond the realms of your safe play area and, say, into that rather pointy coffee table.
All this takes a while to do – if you're lucky and everything is recognized without issue and the tracking goes off without a hitch, you can do it in about 30 minutes. If you've got to start moving furniture, or the Base Stations (sometimes inexplicably) fail to recognize your space, it could take much longer. So, once you're set up, you're going to feel inclined to leave the HTC Vive Pro 2 set up for good.
While the HTC Vive Pro 2 is more accurate, its setup is also far more demanding than the portable fun of the Meta Quest 2 (once known as the Oculus Quest 2), which includes all its tracking systems in the headset itself and can be set up in an all-new play space, without the need for a computer, in a matter of minutes.
The HTC Vive Pro 2 is not alone with these limitations – the otherwise excellent Valve Index suffers from the same rigid requirements – and it's an as-yet unavoidable by-product of the sheer power needed to run VR applications at such high levels of quality.
HTC Vive Pro 2 review: Design & display
Image 1 of 6
The HTC Vive Pro 2 combines screens, cameras, motion tracking sensors, and speakers into a design that's constructed to sit in front of your eyes. A ski-goggle-like element is placed on the front of your head, over your eyes, and then secured to your head with a series of straps and tightening dials. It's a little weighty, but this has been well distributed and balanced over your head. Padding and ventilation has been smartly placed to make wearing the Vive Pro 2 comfortable enough for hours-long play sessions without too much issue.
The front facial gasket is large enough to just about accommodate glasses wearers, while there's also a physical Interpupillary Distance (IPD) slider onboard which makes sure the inner displays are perfectly aligned with the center point of your pupils, ensuring depth and detail is perceived properly. This is a welcome and increasingly rare feature of virtual reality headsets.
Inside that front casing element sits the HTC Vive Pro 2's secret weapon and best feature – its super high-resolution displays. Targeting a 5K resolution (4896 x 2448, which works out to roughly 2.5K pixels per eye), they're capable of displaying virtual reality scenes with supreme clarity and with exceptionally smooth motion thanks to their 120 Hz refresh rate (meaning they update with a fresh frame of imagery 120 times per second). High quality panels combined with a wide 120-degree field of view result in some of the most natural feeling optics you'll currently find in the realm of VR hardware. It's genuinely incredible.
Despite its forward-thinking design in many places, the HTC Vive Pro 2 can't escape the realities of needing a high-powered PC to run it, as well as the need for external motion tracking support systems. You'll have to factor in the need for cables to power the experience, tethering you physically to your PC, unless you invest in one of HTC's sold-separately wireless adapters. And, even if you invest in a wireless add-on, that then means you sacrifice the highest resolution and refresh rates the HTC Vive Pro 2 is capable of, essentially negating the point of buying the Vive Pro 2 in the first place.
Image 1 of 2
The complete Vive Pro 2 package is finished off with a pair of cube-like motion-tracking Base Stations (each requiring a power socket of their own) and a pair of Vive motion controllers.
The controllers themselves are large, wand-like instruments complete with a laptop-like trackpad. These feel very bulky when compared to the svelte, lightweight finger-tracking alternatives offered up by Valve and other rivals. Thankfully, if you can track down the highly sought-after Valve 'Knuckle' controllers, the HTC Vive Pro 2 will support them.
As well as the wireless add-on previously mentioned, the HTC Vive Pro 2 is also compatible with all other existing HTC Vive accessories, including facial movement and limb trackers. They can enhance the experience, but are sold separately and not vital to proceedings.
HTC Vive Pro 2 review: Features, games, & apps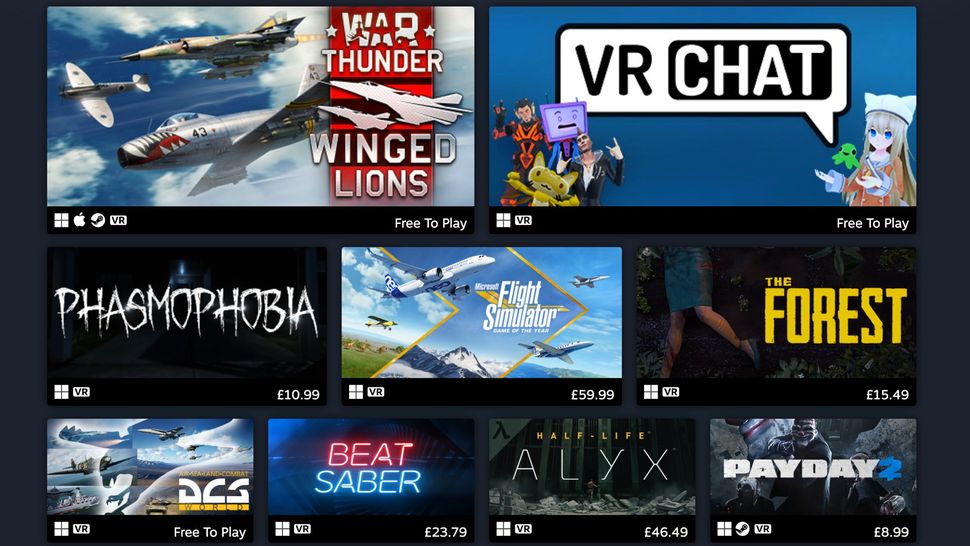 It's worth persevering with the setup process though in order to enjoy the wide array of VR experiences that the Vive Pro 2 is compatible with. As the HTC Vive Pro 2 taps into Steam VR's setup process, so too is it open to the Steam gaming platform's ever-growing VR library. From flying an X-Wing in Star Wars: Squadrons to exploring the sci-fi dystopian of jaw-dropping Half-Life: Alyx, the Vive Pro 2 can access pretty much every VR title available to PC players.
If you download and run the third-party Revive software, with a bit of tinkering you can also open up the headset to the otherwise-exclusive games that are designed to run on the Meta headsets through the Oculus game store. Try out creative tools like Tilt Brush to social apps like Rec Room, to fitness applications, meditation experiences, and travel-oriented VR adventures. Whatever you go for, the HTC Vive Pro 2 lets you step into digital worlds with an unparalleled level of clarity.
If you want to dip in and out of many VR experiences without hitting your wallet too hard, it's worth signing up for HTC's Viveport platform. It's a bit like an all-you-can eat, Netflix-style service for VR gaming, with a catalog of a few hundred titles. There are different tiers to the subscription service, with different perks based on how much you're willing to pay each month for access, and it's a great way to find your VR legs, so to speak.
HTC Vive Pro 2 review: Performance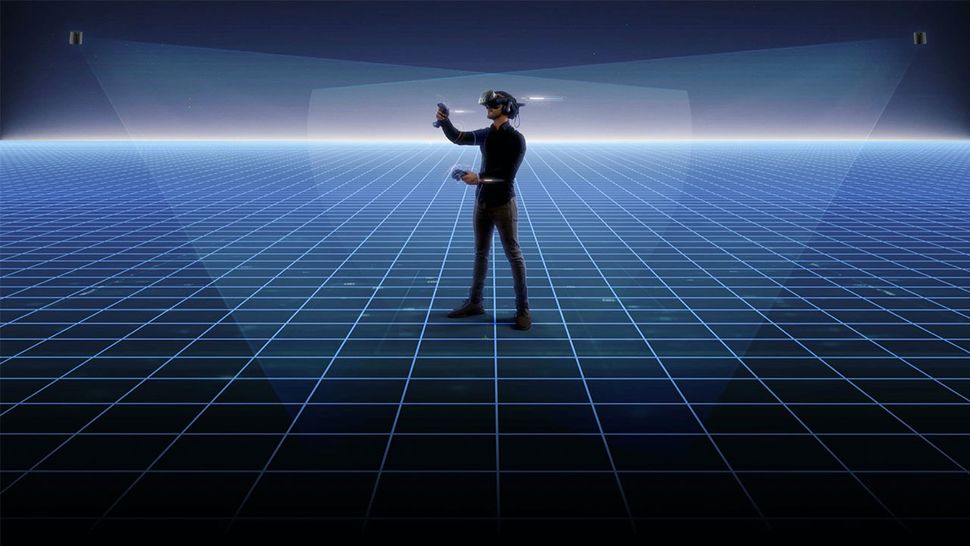 Once the somewhat tedious set up process is completed, it's hard not to love what the HTC Vive Pro 2 delivers in terms of performance. And yes, although the setup is frustrating, once properly calibrated it's a reliable and accurate tracking system that does a good job of anchoring you and the movement of your limbs to the virtual world.
The field of view of the headset's lenses, combined with their resolution and refresh rate, genuinely make it feel like you're peering into another world. Even if you're a veteran VR user, you'll find yourself gawping at the undeniable clarity presented by this headset. Again, however, it's worth stressing that you'll need a high-end PC to push the headset to its pixel-rich limits.
However, the quality of those displays is a double-edged sword – it takes such effort to drive them that they can feel palpably hot at times. It's nothing dangerous, but you will feel the heat rising over an extended play session, which can leave you with a sweaty brow and foggy screens – a good reminder why it's important to clean your VR headset and lenses often. And as for the controllers, though still capable, they just can't match the intuitive action smaller controllers like those the Meta Quest 2 provide, let alone the impressive, naturalistic finger tracking of the class-leading Valve 'Knuckles.'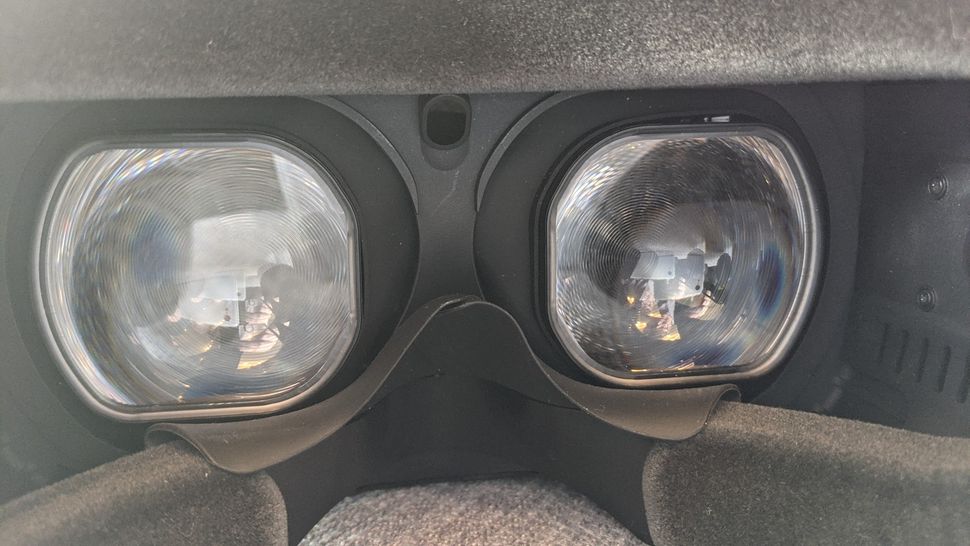 Often, built-in headphones tend to be a little weak, but the HTC Vive Pro 2 also includes a built-in speaker system worthy of praise. HTC's solution here is great, as rather than having in or over ear headphones, it has a pair of small adjustable speakers that sit just in front of your ears.
They offer warm and detailed sound, while also allowing for some situational awareness of exterior sounds from the real world. It not only helps you stay safe from bumping into people and free to hear a call from elsewhere in the house, but also helps alleviate any sense of claustrophobia that wearing a headset like this can sometimes result in. It manages all this while still retaining sonic clarity and a good sense of bass too – great for when you're in the middle of a booming VR action scene. For those that really can't live without their go-to buds or cans, there's a headphone jack for plugging them in, too.
HTC Vive Pro 2: Recommended PC specs
Recommended PC specs to run the HTC Vive Pro 2
Minimum:
Processor: Intel Core i5-4590 or AMD FX 8350 (equivalent or better)
Memory: 8GB RAM (or more)
Graphics: Nvidia GeForce GTX1060 or AMD Radeon RX480 (equivalent or better)
OS: Microsoft Windows 8.1 or Windows 10
Video out: DisplayPort 1.2 (or newer)
USB ports: 1x USB 3.0 (or newer)
Recommended:
Processor: Intel Core i5-4590 or AMD FX 8350 (equivalent or better)
Memory: 8GB RAM (or more)
Graphics: Nvidia GeForce RTX 2060 or AMD Radeon RX 5700 (equivalent or better)
OS: Microsoft Windows 10
Video out: DisplayPort 1.4 (or newer)
USB ports: 1x USB 3.0 (or newer)
HTC Vive Pro 2 review: Price
The HTC Vive Pro 2 is available now, in two package options. The first, more expensive option, bundles together everything you need to get started with PC VR – aside from the PC itself. For $1,399/£1,299, you get the Vive Pro 2 headset, two Base Station 2.0 tracking stations, a pair of Vive controllers, and all necessary leads and chargers.
HTC also offers a money-saving alternative. As the Vive Pro 2 works with legacy accessories, you can save cash by using the Base Stations and controllers from an earlier Vive product and just purchase the new headset for $799/£719.
Whichever way you cut it, it's a premium-costing VR package, similar in price to the PC VR Valve Index kit. Note, however, that the bundled Vive controllers are showing their age. Seeing as the far more capable Valve Index 'Knuckle' controllers are compatible with the Vive kit, consider picking them up with the solo headset option.
Keep in mind too that if you haven't already got a decent-spec PC to power the headset, you're going to need one. This could quite easily double the overall investment needed.
Should you get the HTC Vive Pro 2?
Beyond impossibly expensive commercial VR headsets or research devices, the HTC Vive Pro 2 is currently the last word in virtual reality quality. Its high-resolution screens and fast refresh rates make for one of, if not the most natural-feeling and impressive-looking virtual reality experience that can be had in your home. Though the device can get hot, it's still comfortable thanks to its ergonomic design, with multiple fitting options and immersive audio.
But just as HTC is ahead of the competition in its headset's display elements, it's falling behind the pack with its accessories. Separate Base Stations and the set-up process involved is feeling increasingly outmoded versus inside-out camera tracking systems found in standalone headsets. Plus, the HTC Vive controllers are in serious need of an upgrade.
As it stands, the HTC Vive Pro 2 remains a seriously impressive piece of VR kit. We'd just recommend investing in the supported Valve' Knuckle' controllers to go with it and cordoning off some dedicated play space to leave it ready and waiting – and hope that future Vive hardware finds a way to alleviate the strain its current setup process can cause.
If this isn't for you
The Meta Quest 2 is not only an affordable alternative, but a standalone one, too – it delivers impressive VR experiences and games from its onboard processor and internal battery power supply. It won't reach the heights of visual fidelity that the Vive Pro 2 manages, but is far more streamlined in terms of setup and very portable as well.
If the in-the-box Vive controllers sound a little clunky to you, you should also consider the Valve Index VR package. In many respects it's the best (premium) VR headset out there – and that's mostly down to its so-called 'Knuckle' controllers. While its screen is a step behind what's on offer from HTC here, the PC-only headset is our tethered option of choice thanks to the way its controllers track your individual fingers, allowing for intuitive, natural interaction in virtual worlds.
Finally, if you're looking for the most cost-effective entry into VR, and are already a PS4 or PS5 games console owner, then check out PlayStation VR. Its screen is low resolution by today's standards, and its wand-like Move controllers have similar limitations to what we see with the HTC Vive Pro 2's alternatives. However, it can take advantage of the Sony hardware you may well already have under your TV, and has a superb library of exclusive VR games made by Sony's top game developers.
Gerald is a freelance writer and the executive editor for our sister site, TechRadar, where he covers entertainment, VR, gaming, and tech. He was previously the editor of Gizmodo UK and is the author of 'Get Technology: Upgrade Your Future,' a book looking at the impact of our most important technological developments in the modern world. Gerald has a bachelor's degree in English from Goldsmiths, University of London.