Best Lego Indiana Jones sets 2023
These Lego Indiana Jones sets belong in a museum!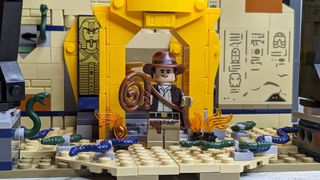 (Image credit: Future)
It's been 14 years since Lego last released a wave of sets based on the Indiana Jones franchise. But with a new movie imminent – Indiana Jones and the Dial of Destiny – Lego has revitalized the IP, releasing three new sets based on the famous fictional archeologist.
If you're an Indiana Jones fan (and a Lego fan), you're undoubtedly interested in the sets based on the franchise. It's a little disappointing that only three are currently available: interestingly, a fourth set based on The Temple of Doom was scheduled to land at the same time, but it was canceled at the eleventh hour. It's likely that more sets may arrive over the course of the year, but the three sets we currently do have all offer something unique, appealing to different corners of the Lego market.
If you're wondering which of the Lego Indiana Jones sets might be right for you, read on. We've provided details of each of them below, listing their pros and cons and a summary of our expert reviews.
Are you looking for more information on the best Lego sets out there? Check out our guide to the best Lego sets for adults currently available, all with a focus on science, engineering and nature.
The quick list
Temple of the Golden Idol
The biggest and most expensive Lego Indiana Jones set is undoubtedly the best, packed with incredible detail. It's a real showstopper.
Price: $149.99 / £129.99
Model number: 77015
Number of pieces: 1,545
Escape From the Lost Tomb
Escape From the Lost Tomb offers excellent value: it's one of the best Lego playsets we've seen in recent years. It looks great on display, too.
Price: $39.99 / £34.99
Model number: 77013
Number of pieces: 600
The smallest and weakest of the Lego Indiana Jones sets, Fighter Plane Chase still has charm, but it's firmly in playset territory, aimed squarely at kids.
Price: $34.99 / £24.99
Model number: 77012
Number of pieces: 387
Temple of the Golden Idol
1. Lego Indiana Jones Temple of the Golden Idol
"It's not the years, honey, it's the mileage."
Specifications
Dimensions:
8 x 20 x 7 inches
Reasons to buy
+
Some incredible moving parts
+
Wonderful display piece
+
Excellent tribute to Indiana Jones
Reasons to avoid
-
Rather expensive
-
Some stickers
We're a little bit obsessed with Lego Indiana Jones Temple of the Golden Idol. This is the only Lego Indiana Jones set made for adults, and so it's the only one of the three designed for display in mind. And sure, it makes an absolutely incredible display set: at 20 inches long, it's rather imposing, and with so many details packed in, it looks the part too. But numerous working parts - including a collapsing wall, a light-up idol and a rolling boulder - means it deserves to be interacted with too.
Our only real complaint - other than the use of some stickers which feel superfluous - is its price. It's more than three times more expensive than the other two Lego Indiana Jones sets. And while the difference in size and detail is huge, we do wish it was a little cheaper.
Escape From the Lost Tomb
"Snakes...why'd it have to be snakes?"
Specifications
Dimensions:
6 x 8.5 x 8 inches
Reasons to buy
+
Great value for money
+
Wonderful interactivity
+
Excellent minifigures
Lego Indiana Jones: Escape From the Lost Tomb is a wonderful surprise. Despite its budget price, it packs in a great amount of detail, making this a set perfect for both play and display. It really looks the part, and although it lacks the greater detail of a set designed for adults, it's not going to look out of place on your Lego display shelf.
We can't dismiss this set as an object of play, however, thanks to all the wonderful features packed into the set: this thing is absolutely loaded with booby traps. There's a falling ceiling, hiding a truly wonderful (and terrifying, of course) mummy minifigure. One of the Anubis statues can topple over with the push of a lever, taking out the wall behind it. And of course, a hidden lever can make a snake fall through the wall onto the floor - because no Indiana Jones trap would be complete without a multitude of snakes. It's truly a wonderfully designed set: there's even a little Star Wars Easter egg hidden in there for LucasFilm fans.
Fighter Plane Chase
"I didn't know you could fly a plane".
Specifications
Dimensions:
2 x 5 x 2.5 inches
Reasons to buy
+
Nice minifigures
+
Good, simple playset
Reasons to avoid
-
Very basic
-
No display value
The cheapest of the three Lego Indiana Jones sets is, unsurprisingly, the most basic. This is safely in playset-only territory, and it's mostly going to appeal to a younger audience. It's a very simple build, comprising a jeep and an attack plane. There are some moving parts, such as the propeller (although it's not mechanically powered in any way; unsurprising for a set of this size) and two mounted guns which can be fired from each of the plane's wings.
The real highlight of the set - a highlight of all three Lego Indiana Jones sets, in fact - are the minifigures. There are three here: Indy himself, of course, his father, and a plane pilot. They're wonderfully designed, with Indiana having dual faces, each showing different emotions.
Stay up to date on the latest science news by signing up for our Essentials newsletter.
Kim is a UK-based freelancewriter who focuses on Lego, toys and video game-related content. She's the co-creator of GameSpew.com and ThatBrickSite.com, where you'll find most of her work. If she's not building with plastic bricks, playing a video game, or writing about doing either of those things, you should probably check she's still breathing. You can find her on Twitter at @ichangedmyname.