Apple Watch vs Garmin: Which is better?
Apple Watch vs Garmin: the top smartwatch brand takes on the marathon runner's favorite.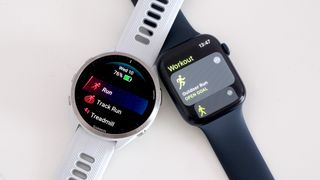 (Image credit: Andrew Williams)
If you're thinking of picking up an Apple watch or Garmin this Black Friday, you're likely wondering which of these very best mainstream health and fitness watch brands may be a better option. The classic advice when shopping with these two in mind is something like: buy a Garmin if you want to train for a marathon, an Apple Watch if you want a smartwatch.
It's not really that simple, though, when an Apple Watch is ideal for run tracking, and used by countless marathon runners, making it one of the best fitness trackers around in its own right.
We have used multiple generations of iPhones, and countless Garmin watches. Below you'll find what we've found out about these two tribes of wearables. One of the key questions: are you going to be able to get on with a watch you have to charge every day or every other day? More on that later.
Available models
Apple Watch vs Garmin: What models are available?
Picking an Apple Watch is much easier than choosing a Garmin. There are only four key models you can buy new from Apple, the Ultra, the Series 8, the Series 9, and the Watch SE.
The Apple Watch Series 8 is the default, the Ultra has superb water resistance, scuba diving features and longer battery life. And if you want to save some money, the Watch SE is your perfect partner. It just lacks a few features like ECG, blood oxygen saturation, temperature readings and fast charging. However, it can track regular exercise just fine.
Garmin's approach is to try to make a watch for every eventuality. There are far too many individual models to dig into them all here, so let's stick to the key families.
Start off looking at Garmin's Forerunner watches. They go from affordable to flagship, and offer a good spread of enthusiast features without usually looking too bulky.
Look at the Instinct range for extra toughness without spending a fortune. Or the Venu watches for more of a smartwatch flavor.
Up at the top of the range you have the Garmin Fenix, generally considered the all-rounder flagship watch from Garmin. And the Epix, which combines a bold and colorful OLED screen with Garmin's most advanced and expensive features.
There are also Marq watches, Garmin's luxury models. However, they are so expensive they don't really factor into this comparison, and aren't fundamentally all that different to a cheaper Garmin Epix bar the outer casing.
Which is the best smartwatch?
Apple Watch vs Garmin watch: which has more smartwatch features?
Apple Watches are much better smartwatches than Garmin watches. While both have access to an app store, Apple's is the best smartwatch store in the world while Garmin's is much smaller and simpler.
You can download some basic apps, and countless watch faces. But the software here is limited not just by the more sporty demands of Garmin users but the power of the watches themselves.
Apple's Watches are a lot more powerful than any Garmin, allowing for more visually rich and complicated apps. That said, the smartwatch app scene hasn't blown up in the way we hoped it might almost a decade ago.
A lot of the basics are shared across brands. Garmin and Apple watches will receive notifications from your phone, many Garmins can be used for wireless payments, just like an Apple Watch and its Apple Pay feature.
However, an Apple Watch also lets you talk directly to Siri or make calls using the built-in mic and speaker. Garmin has only tried these kinds of feature in one watch so far, the Venu 2 Plus. And talking to Alexa through it just isn't as slick as interacting with Siri through an Apple Watch.
If you're here for the classic smartwatch experience, there's no contest. Get an Apple Watch, because even the most expensive Garmins don't stack up in this area, they're far more suited as running watches.
Which is the best fitness tracker?
Apple watch vs Garmin: Which is better for tracking workouts?
Apple Watches and the best Garmin watches set the standard for accuracy in both heart rate and location tracking. But until last year Garmin was clearly the better option for any form of serious workout tracking.
Apple's stat handling was pretty light, causing the more enthusiastic exercisers to use third-party watch apps at times. However, Apple improved things dramatically for all Watch series when it announced the Watch Ultra in 2022.
We got features like custom workouts, the option of way nerdier workout stat views, running power, heart rate zone alerts and recovery insights to let you know when your body is ready for another pummelling. It was a huge software upgrade for the runners and gym rats.
However, Garmin still has greater depth here than Apple. Its workout creation tools are near encyclopedic. The Suggested Workouts feature for runners and cyclists is brilliant, powered by a statistics algorithm engine that can tell what your body is up for, and what you need to make progress.
We're also big fans of Garmin's Training Load feature, available in its high-end watches and some mid-tier ones. This looks at the collected exertion of your exercise over time, and is one of the quickest and more digestible ways to see how hard you've been working over the last few weeks.
Some Garmin features just aren't found in an Apple Watch either. Garmin watches can broadcast your heart rate data to other equipment — something devs have managed to patch into the Apple Watch in third-party apps. And more feature-rich Garmin watches can even control bike smart turbo trainers. You can set out a route, and your watch will make your trainer emulate hill contours, no other software needed.
A Garmin watch is also a great pairing for the company's Varia bike lights, some of which have a "radar" to warn you of nearby vehicles.
While we think most people will be more than happy with either an Apple Watch or Garmin watch for workout tracking, the amount of stuff packed in Garmins continues to blow minds. The top Epix, Forerunner and Fenix models can also store continents' worth of maps on the watch themselves, and find routes to places without an internet connection. Handy.
Features
Garmin vs Apple Watch: which one has more features?
We've already covered some of the feature disparities of Apple and Garmin Watches. Apple does the smart stuff better, Garmin still has the edge for in-depth, or nerdy, fitness stuff.
There's more too, though. Despite being ideal for sport and fitness tracking, Apple excels on the health side.
Two of the three Apple Watch models, the Ultra and Series 8, have an electrocardiogram (ECG) sensor. This monitors the electrical activity of your heart to analyze your sinus rhythm. This is a more precise measurement than the rear optical heart reader can manage, and it is used to look for signs of arrhythmia.
This can be a symptom of certain serious heart conditions. One of these readings involves placing a finger on the crown and waiting for around 30 seconds. However, Apple Watches can also look for these arrhythmia signs throughout the day, using the standard optical heart rate reader.
Only one Garmin watch currently has ECG hardware, the Garmin Venu 2 Plus. And passively recorded irregular heart behavior is limited to your heart beating faster than expected.
Both brands offer menstrual cycle tracking, but again Apple's Watch Ultra take on it is more advanced. Apple uses a pair of temperature sensors to calculate your basal body temperature to estimate when ovulation occurred, just a little after the fact.
Garmin's health features come across a lot more general purpose, best represented by Body Battery. This is a score that balances things like your sleep against your stress and exercise, and ends up being used as a hint as to whether you should exercise hard or not. And, in our experience, it's an alarm to tell you to go to bed earlier.
It's useful, but lacks the laser-like focus on the possibilities of the tech Apple mines. If you're not sure how accurate are fitness trackers, or how fitness trackers monitor your sleep, we've investigated.
Design
Garmin vs Apple Watch: which design is better?
People will often assume you're wearing a Garmin if you own any clearly enthusiast-level fitness watch. But there's nothing in the Garmin line-up as recognizable or iconic as an Apple Watch.
Garmin also makes far wider use of practical but prosaic "resin" plastics in almost all of its watches. Apple's Watch, even the Watch SE, is a self-consciously luxury product. Lower-end models are aluminum. Higher-end Series 8 watches have a steel casing. Plastic is more-or-less banished.
The Apple Watch Ultra has a titanium shell — super tough and super light.
Sure, there are aluminum, steel and titanium Garmin watches too. But nothing is quite as slick as the Apple Watch design.
However, many of you may think the Apple Watch is so well established, it's kind of boring these days. There's a greater diversity of designs in the Garmin line-up, particularly if you are willing to take a look at the models that are definitely not a direct rival to an Apple Watch.
Take the Garmin Lily, for example, a dainty little fitness tracker with a 25mm watch face. Or the Vivomove series, which hides the LCD display behind a translucent top layer so the bands look just like traditional analog watches when the screen is not lit.
With Garmin you also have the option of an OLED or MIP screen. All Apple Watches have OLED displays. MIP screens show content 24/7 by design because they don't use significant power because the pixels aren't lit. Very practical for fitness tracking, just less glossy than OLED.
Battery life
Garmin vs Apple Watch: which has better battery life?
It may seem the Apple Watch has the upper hand so far. It has better apps, better health features, and you can make up some of the few fitness shortfalls with third-party apps. But there's no getting around the battery life disparity here.
The Apple Watch SE and Series 8 tend to last a day to a day and a half. Use them for outdoor exercise tracking and you'll probably need to charge them every single day to avoid the dreaded blank screen of a drained watch.
Apple's Watch Ultra is better. It can last a couple of days, or even longer in its Low Power mode.
However, this still looks terrible next to even the least long-lasting Garmin. Five days is about the minimum to expect from a Garmin watch, while there are models made specifically for long battery life.
The Garmin Enduro 2 lasts up to 46 days between charges. The Instinct 2 Solar has "unlimited" basic use battery life, thanks to its relatively large solar charging panels. If you want a watch that doesn't come with a potentially annoying upkeep cycle, get a Garmin.
Verdict
Apple Watch vs Garmin: the Verdict
If you are after an easy life, we highly recommend considering a Garmin watch. We switch between the two brands throughout the year, among others, and having a watch that lasts a week or two between charges rather than a day is a massive benefit.
Not phased by regular charging? There's an awful lot to like about the Apple Watch family. Its fitness chops were dramatically upgraded in 2022, and you can adds to its abilities with third-party apps. We also like its stat accuracy.
Garmin continues to have an edge when it comes to interfacing with other kit, though, thanks to its native ability to broadcast its heart rate data and control many smart bike turbo trainers.
Stay up to date on the latest science news by signing up for our Essentials newsletter.
Andrew Williams is a freelance journalist based near London. He has written about tech for over a decade, contributing to sites such as WIRED, TechRadar, TrustedReviews, Wareable, Stuff, T3, Pocket-lint and many others. When he's not covering fitness tech, he writes about mobile phones and computing, as well as cameras.