New 3D Maps Show Walruses' Icy World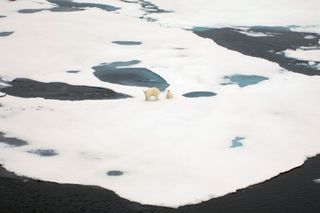 (Image credit: Scott Sorensen)
Walruses are sort of the Goldilocks of the North Pole — the chunks of sea ice they call home must be just right. If the ice floe is too large, the walrus can't get to water quickly enough to escape a polar bear attack; too small, and the ice can't support their weight and the walruses go splashing into the sea.
Now, a new technique for mapping the 3D structure of Arctic ice promises to help researchers better understand the habitat needs of walruses and other wildlife. The 3D ice maps could also aid in planning shipping routes, research cruises and other Arctic endeavors, said Chandra Kambhamettu, a computer scientist at the University of Delaware who developed the technique.
"We're interested in objectively characterizing these habitats and how they're changing over time, as well as how to measure the effects of warming on the region," Kambhamettu told OurAmazingPlanet.
Kambhamettu's team used the system, which relies on two cameras mounted to a research vessel, on a recent two-month cruise that traversed nearly 10,400 miles (17,000 km) of the Arctic Ocean. [On Ice: Stunning Images of Canadian Arctic]
The 5-megapixel single lens reflex cameras, which are mounted to the ship side-by-side, 2 meters (6.6 feet) apart, capture a new high-resolution image each second. Because the cameras work in stereo — capturing simultaneous images from opposing angles, like our own eyes — Kambhamettu's team can resolve the depth of the ice from the images. They have developed algorithms to match images from the left camera to ones from the right camera, and an algorithm that can recognize subtle textures within the bright white chunks of ice.
"Like the stereo camera system, humans also see objects through two eyes, but we just automatically understand what's near or far from us," Kambhamettu said. "The computer system doesn't have the same intuition, so we have to write algorithms to get those measurements."
To be sure, his team isn't the first to use stereo photography to reconstruct a landscape in 3D. But his team's recent Arctic expedition seems to be the first instance of researchers using stereo photography to measure 3D changes in ice cover over time, Kambhamettu said.
The technique produces maps with greater detail than radar or satellite images, and it's about one-tenth the cost of LiDAR (light detection and ranging), a type of laser radar that produces comparable data.
A database with ice-depth maps and habitat data collected during the recent expedition should be up and running — and open to other researchers — by summer 2013, Kambhamettu said.
This story was provided by OurAmazingPlanet, a sister site to LiveScience. Follow OurAmazingPlanet on Twitter @OAPlanet. We're also on Facebook and Google+.
Stay up to date on the latest science news by signing up for our Essentials newsletter.