Home weights set deals are a great way to upgrade your home gym equipment for less. There are usually regular sales on big brand names such as Bowflex and PowerBlock, which each sell a range of weights from kettlebells to dumbbells to barbells. Live Science has done the heavy lifting for you to find the best home weights set deals from across the web that are in stock and available now!
Lifting weights at home can help you improve your overall health and fitness, as well as increase your strength and build muscle mass. Weight training can also help improve your bone density, which helps to reduce your risk of developing osteoporosis, according to the Centers for Disease Control and Prevention (opens in new tab) (CDC).
To boost your physical health, the CDC recommends that each week adults perform two types of activities: aerobic activity and muscle-strengthening workouts. The CDC also says that on two or more days a week, adults should work all of the major muscle groups, including legs, hips, back, abdomen, chest, shoulders and arms.
Our roundup of the best home weights set deals below should have something for all skill levels and budgets. Live Science also has a deals page specifically for cheap adjustable dumbbells deals (opens in new tab) so head over there for adjustable dumbbells only. Meanwhile, if you want to complete your home gym setup, then be sure to check out our pages on the best treadmill deals (opens in new tab) and rowing machine deals (opens in new tab).
Home weights set deals
Which home weights set deal is best for you?
Free weights are a good investment for people new to weight lifting, and they are relatively cheap, too. A set of hand weights or dumbbells doesn't take up much space and can start from $20. When you get stronger, you can buy some heavier weights to make it more challenging.
Or you could just buy some adjustable dumbbells; these are one set of dumbbells with multiple weights so they are great for people who don't have a lot of space. You simply turn a dial to increase the resistance. Bowflex is well known for its adjustable dumbbells, which are often out of stock, so snap these up when you see them. For more on that, head over to our best Bowflex deals (opens in new tab).
Beginners and pros alike would do well to invest in a kettlebell as part of their home weights arsenal. They come in different weights so you can change the resistance as you get stronger. Dedicated weight lifters will be looking for the best home weights set deals on something like a bench or multi-station tower. These basically replicate the gym experience of weight lifting and offer a great way to do full body exercises all in one place.
Home weights sets on sale
Geemax adjustable dumbbell & barbell deal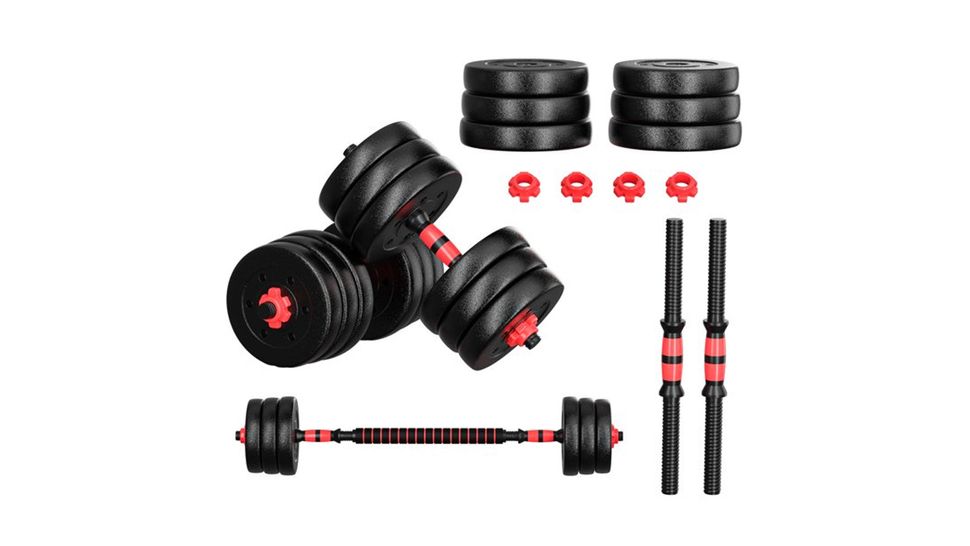 This home weights set is hard to beat for an all-round workout set that won't break the bank. Super-versatile, it allows you to swap between dumbbells and barbells by adding an extra bar, and the screw locks ensure a snug fit when the plates are in place.
The polyethylene surface means that you shouldn't cut your hands to shreds when you're working out, and users find it easy on the hands and simple to assemble and swap the different elements in and out.
This set is not for the serious weightlifter. Even the heavier version doesn't provide much of a weight progression. It could also become tiresome switching between dumbbell and barbell with the connecting bar if you use both in the workout. But for a basic home workout it's a useful piece of equipment that's impressively easy on the wallet.
---
Fitness Republic neoprene dumbbell set deal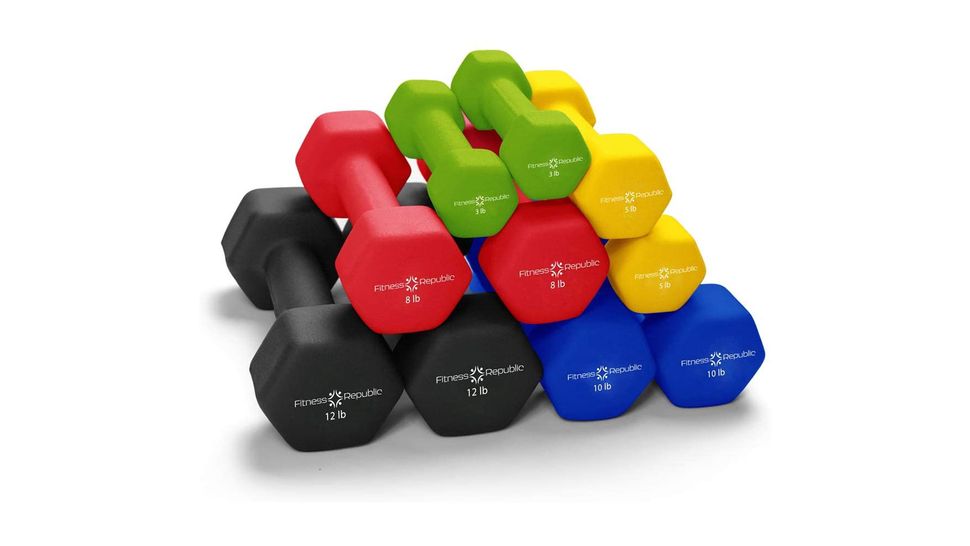 A useful set of five pairs of weights, from cardio- and beginner-friendly 3lbs up to the more challenging 12lbs. The ends are hexagonal in shape, which means they won't roll around the floor (especially useful at home - no losing them under the couch!)
The advantage of the neoprene coating is two-fold. First, it doesn't get slippery when you sweat, unlike rubber-coated ones, and secondly, it won't rip your skin in the way that textured metal often does. Helpfully, each pair is in a different color so you can quickly identify which set you want to use.
You may wish to invest in a rack to store them on, as 10 dumbbells can take up a lot of floor space, which may be an unwelcome extra expense. Think about how far you're likely to progress with your weight lifting in case you may eventually want something heavier than 12lb.
---
110lb adjustable barbell and dumbbell set deal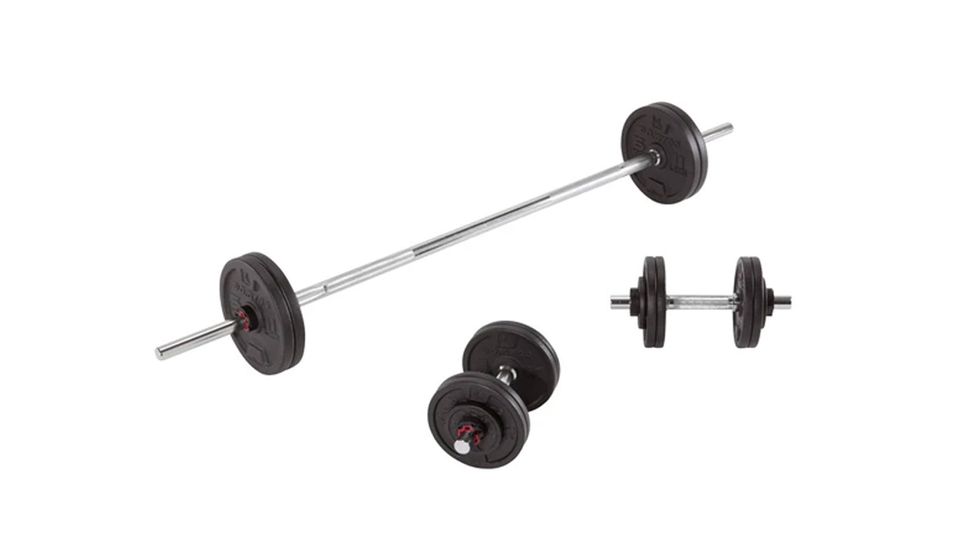 Sometimes less is more, and if all you want is a classic full-body workout, this is a great set for home use. Featuring two dumbbell bars and one barbell (which comes in two parts that must be assembled), it has a variety of plates so you can customize your workout.
The collars are easy to get on and off and are less fiddly than spring clips, but you should be aware that the collars are designed to hold a maximum of 13.2lbs per dumbbell if you're holding it in a vertical position, which may be limiting.
If you're worried about sound, you might prefer rubberized plates rather than metal, and serious weightlifters might find the overall weight is insufficient, but for a basic set of weights they are good value and decent quality.
---
Best Choice Products 3-piece kettlebell set with storage rack deal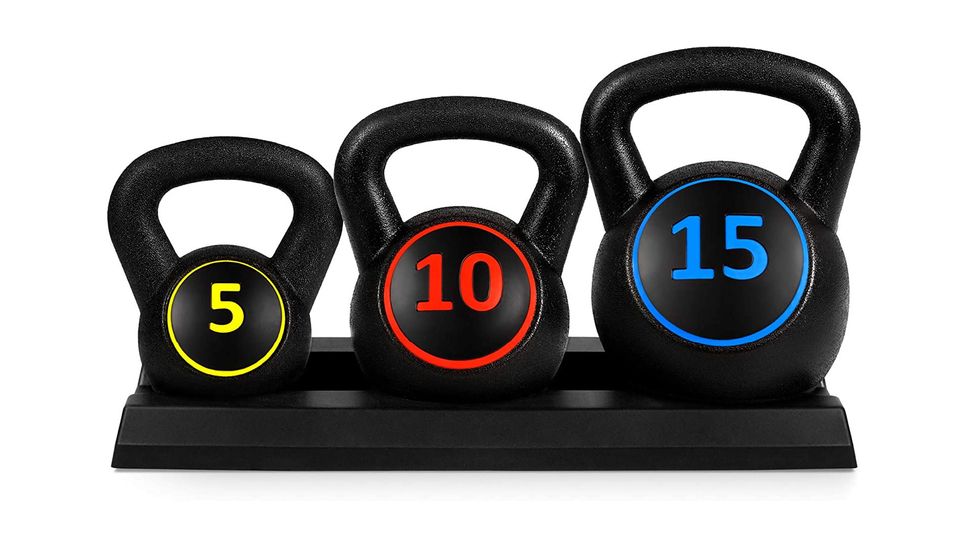 Kettlebell workouts are extremely popular and can provide a great, all-over workout. This set of three kettlebells provides excellent value at less than $50, and the storage rack, which is included, is a useful bonus feature.
The handles of these kettlebells are quite textured, which has the advantage of making them non-slip - great if you tend to sweat a lot - but some users find them too abrasive.
They are also very large which could be an issue if you're short on space or have small hands. Overall, though, they're a useful addition to any basic home workout set.
---
Lifeline First Aid medicine ball set with storage rack deal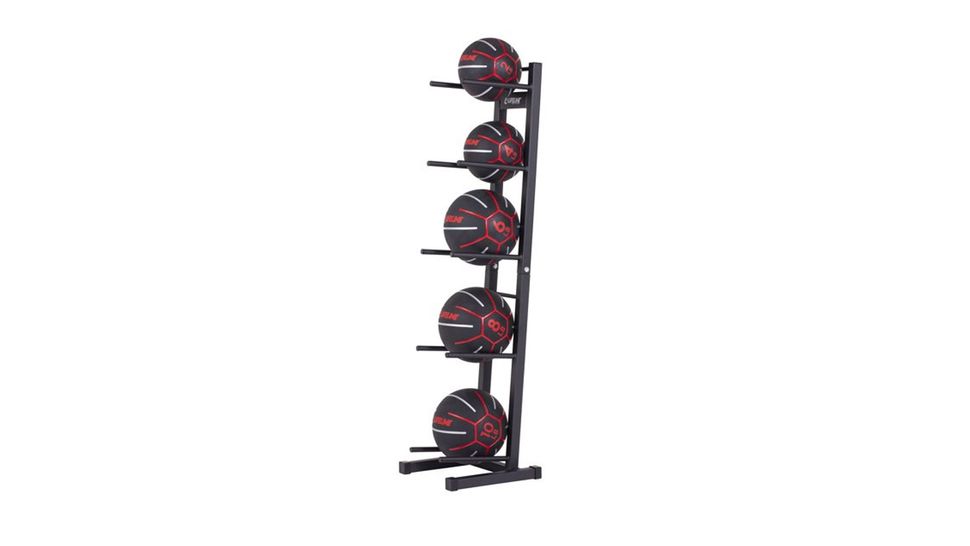 The beauty of a medicine ball workout is that it provides several types of workout in one. From satisfying medicine ball slams to V-sits with a twist, they make building strength more fun.
This home weights set looks super-professional, with its classy black and red color scheme - it wouldn't look out of place in a commercial gym. They are durable and tough and have a useful deflate function if you want to add a bit of bounce. Having five of them with a range between 2lb to 10lb makes them versatile, and the vertical storage rack means they won't take up too much space.
The main downside is that although they have lots of applications you can't do some classic weightlifting moves like back squats, but they are an excellent addition to an existing set-up.