These rowing machines on sale will save you plenty of money on top brands
News
Contributions from
published
With these rowing machines on sale, you can pay bargain prices on some of our favorite brands.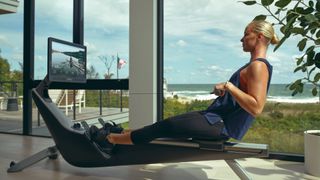 (Image credit: Hydrow)
There are some top rowing machines on sale at the moment, with offerings from some great brands that our testers have loved. These big ticket items tend to have regular prices that make the eyes water, so a good discount can make all the difference when shopping around in the sales.
But why should opt for one of the best rowing machines over, say, a treadmill or exercise bike? While running machines and bikes focus on your cardio and lower body, rowers offer a full-body workout, with a study published in the Medicine and Science in Sports and Exercise journal finding each stroke could engage 86% of your muscles. Meanwhile, a 2015 study in the Annals of Rehabilitation Medicine concluded that visually-impaired subjects who took part in regular rowing sessions saw a positive impact on their body composition and physical fitness, while also enjoying a more accessible form of exercise.
So, we think turning to the best rowing machines to boost your fitness is something of a masterstroke. Below, we've rounded up our favorite deals, so you skip superficial savings and get straight to the offers worthy of your time.
Best Buy has plenty of rowing machines deals
Glide through Walmart's latest rowing machine deals
Target also has a bunch of great rowing machines on sale
Rowing machine deals
Which rowing machine deal is right for you?
When researching rowing machines on sale, you'll soon discover that there are three types of machine:
Air resistance
Water-based resistance
Magnet-based resistance
The first type of rower is one with air resistance. These use a flywheel to power the workout. The drawback is they tend to be noisy, but serious rowers favor these models. Water-based rowing machines give a very smooth workout. They work by using water in an attached tank as resistance when you start rowing. These machines can often be a little more aesthetically pleasing than other models.
If you're after an entry-level rowing machine, magnetic-based rowers are a good option, and quiet, too. Magnetic rowers allow you to increase the resistance of your workout, making it harder or easier. You might also want to consider how much space you have to house your rower, and if you want to pay a monthly subscription to access classes. Some rowers are foldable meaning you can store them under a sofa or in a cupboard.
Most rowing machines deals that have a monthly subscription, also have a touchscreen so you can be motivated by the online classes. It can be really useful, but bear in mind this often adds an extra cost to your workout routine.
Rowing machines on sale
Ergatta Rower deals
Handcrafted from American cherrywood, the Ergatta has a timeless old-school aesthetic but the brand's approach to fitness is far from stuck in the past. Although there's plenty of offer for those who want a more traditional workout including interval sessions with target speeds and stroke rates, it offers a selection of engaging games.
Accessed via its slim 17.3-inch Android-powered touchscreen they help to make fitness fun. Indeed, the games are great for anyone who struggles to get excited by a steady-state run or row and there's an opportunity to chase a high score or beat other members of the growing Ergatta community, thereby providing an extra jolt of motivation to jump in the hot seat.
We found the races in particular awakened our thinly-veiled competitive spirit and kept us coming back for more. They pit you against other Ergatta-users in a straight race to the finish and they're a heap of fun.
It does come at a price, though: a monthly subscription fee of $29/month or $319 for the first year. But we think this is worth it since the machine can motivate you to exercise multiple times each week. What's more, the rower itself is cleverly designed, able to fold flat and be stored upright to take up minimal floor space. The rowing action is smooth and the seat, while quite small for larger bodied users, is also comfortable for longer sessions.
Hydrow Wave
Our fitness writer was thoroughly impressed with the original Hydrow thanks to its clever computer-controlled electromagnetic resistance system and expansive platform that offers thousands of immersive video workouts. Our only real criticisms were its considerable size and lofty asking price.
We're pleased to report that the Hydrow Wave improves on both drawbacks, offering the same great Hydrow performance in a smaller package and (more importantly) at a cheaper price (made better when there's a deal on!).
When we put it to the test, we found it was just as comfortable as the original and, despite its shrunken dimensions, our taller tester (standing at 6ft 2in) was still able to fully extend their legs at the top of each stroke.
The screen is slightly smaller (down from 22in to 16in) but we barely noticed this change when rowing. Instead, we were focused on the instructors, who provide an enjoyable blend of enthusiasm, expert knowledge and likability that helped motivate us through tough sessions.
Concept2 RowErg deals
The Concept2 RowErg deserves its reputation as one of the best rowing machines on the market. Solidly built and designed to last a lifetime, it's backed up by a ready supply of spare parts and outstanding customer support that will enable you to carry on using it for years.
The PM5 monitor may not have sophisticated graphics, and it doesn't come with fancy software or an online program, but it provides a huge amount of useful data, which syncs with the Concept2 logbook. New models feature a device holder so you can attach your phone or tablet, and it syncs with its own ErgData app.
The Concept2 RowErg is designed for function over form, so it's not the prettiest rowing machine out there, but it's easy to assemble and comes apart for easy storage. Compared with other air resistance models it's relatively quiet, so you won't get complaints from the neighbors.