Science news this week: A virus' virus and Euclid's magnificent first photo
Nov, 12, 2023: Our weekly roundup of the latest science in the news, as well as a few fascinating articles to keep you entertained over the weekend.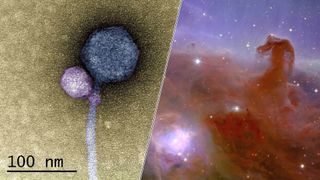 (Image credit: Tagide deCarvalho/UMBC - ESA/Euclid/Euclid Consortium/NASA)
This week in science news, we discovered a virus that attached itself to another virus, saw the Euclid space telescope's magnificent first photos and learned of more orca attacks on boats.
It's the season for viruses going around, but apparently viruses themselves also have to worry about catching something. In a world first, scientists have observed one virus latching onto another. The unusual interaction was captured in astonishing detail using a microscope that fires beams of electrons at its samples.
We're used to the James Webb Space Telescope regularly sending us astonishing images from space (and this week is no exception), but now there is a new kid in town with a fancy camera — the European Space Agency's (ESA) Euclid telescope. Its first picture, which captured the Horsehead Nebula, is an absolute peach. But James Webb wasn't slacking off; it also showed us an "extreme" glow coming from 90% of the universe's earliest galaxies. Closer to home, a volcanic "devil comet" racing toward Earth has resprouted its horns after erupting again.
That comet is not the only thing that has been erupting, as a volcano off the coast of Japan's Iwo Jima island has broken through the surface of the ocean, creating a new, mini island.
If you're as fascinated by facial reconstructions as we are, check out the weathered old face of this Neanderthal man (and read our feature on how researchers can make them so accurate). But that's not the only "head"-related news from the world of archaeology this week, as we learned of the headless skeletons from the largest known headhunting massacre from Neolithic Asia and the first arrival of head lice in North America.
From the animal kingdom, scientists finally discovered whether a starfish is a head without a body or a body without a head — turns out it's complicated. Other great animal stories include a shark pup's virgin birth in a Chicago aquarium, the deadly end of a rogue bear and chimps using military tactics only seen in humans before.
And finally, it's not just chimps that have been studying the art of war, as orcas have once again assaulted — and sunk — a boat in Europe, in a relentless, near hour-long attack.
Follow Live Science on social media
Want more science news? Follow our Live Science WhatsApp Channel for the latest discoveries as they happen. It's the best way to get our expert reporting on the go, but if you don't use WhatsApp we're also on Facebook, X (formerly Twitter), Flipboard, Instagram, TikTok and LinkedIn.
Picture of the week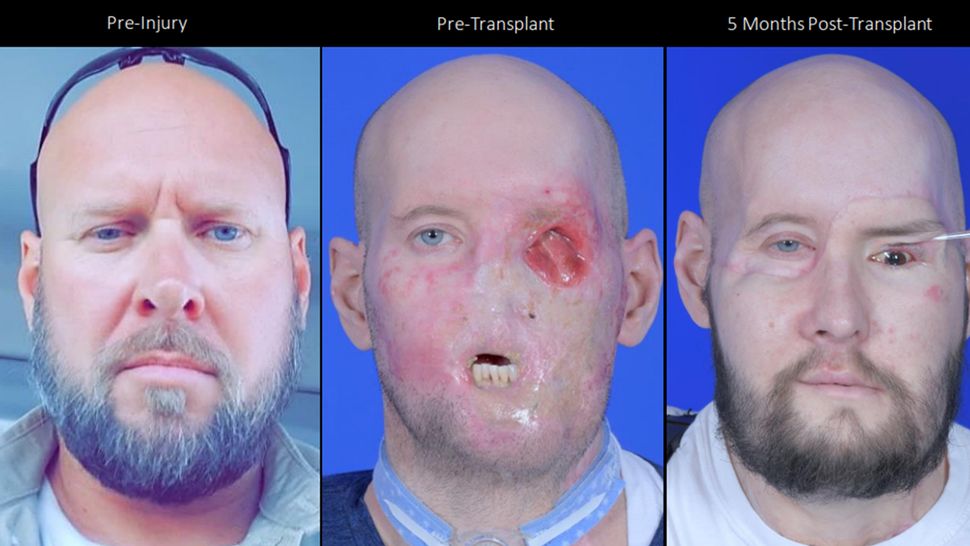 This series of images shows the remarkable transformation of Aaron James, a 46-year-old from Arkansas, following a groundbreaking face and eye transplant. James sustained a 7,200-volt electric shock on June 10, 2021, while working as a high-voltage lineman, leaving him with traumatic wounds that required several reconstructive surgeries and ultimately caused him to lose his left eye, nose, lips, front teeth, left cheek and chin, as well as his left arm above the elbow.
But in a groundbreaking procedure, which involved 140 medical providers at NYU Langone and took over 21 hours to complete, James has now received a new face and transplanted eye. "The eye is an extension of the brain," Dr. Vaidehi Dedania, a retina specialist in NYU Langone's Department of Ophthalmology, said at a news conference. "His retina is able to tell us that it's 'seeing' the light, which is quite remarkable."
Sunday reading
Live Science long read
On the morning of Feb. 15, 2013, a meteor the size of a semitrailer shot out from the direction of the rising sun and exploded in a fireball over the city of Chelyabinsk, Russia. Briefly glowing brighter than the sun itself, the meteor exploded 14 miles (22.5 kilometers) above the ground with 30 times more energy than the bomb that destroyed Hiroshima.
The Chelyabinsk meteor is thought to be the biggest natural space object to enter Earth's atmosphere in more than 100 years. Yet no observatory on Earth saw it coming. Arriving from the direction of the sun, the rock remained hidden in our biggest blind spot until it was too late.
Events like these are, fortunately, uncommon. To date, astronomers have mapped the orbits of more than 33,000 near-Earth asteroids and found that none pose a risk of hitting our planet for at least the next century.
But you can't calculate the risk of an asteroid you can't see — so how can two upcoming space telescopes help us figure out what's there, and what the true risk is?
Stay up to date on the latest science news by signing up for our Essentials newsletter.
Editor-in-Chief, Live Science
Alexander McNamara is the Editor-in-Chief at Live Science, and has more than 15 years' experience in publishing at digital titles. More than half of this time has been dedicated to bringing the wonders of science and technology to a wider audience through editor roles at New Scientist and BBC Science Focus, developing new podcasts, newsletters and ground-breaking features along the way. Prior to this, he covered a diverse spectrum of content, ranging from women's lifestyle, travel, sport and politics, at Hearst and Microsoft. He holds a degree in economics from the University of Sheffield, and before embarking in a career in journalism had a brief stint as an English teacher in the Czech Republic. In his spare time, you can find him with his head buried in the latest science books or tinkering with cool gadgets.