1st images from the Euclid 'dark universe' telescope are here — and they're jaw-dropping
The first images from ESA's dark universe detective Euclid are out, featuring spectacular views of nebulas, distant galaxies and globular clusters of thousands of stars.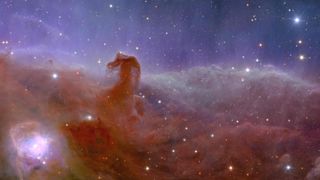 (Image credit: ESA/Euclid/Euclid Consortium/NASA, image processing by J.-C. Cuillandre (CEA Paris-Saclay), G. Anselmi)
The first images from the Euclid space telescope have been revealed, and they are stunning.
The European Space Agency (ESA) telescope, which launched on July 1 on a SpaceX Falcon 9 rocket, is designed to explore the composition and evolution of the "dark universe"  —  the collective name given to dark matter and dark energy.
This is one of the most pressing issues in modern cosmology: Together, dark matter and dark energy comprise around 95% of the "stuff" in the universe, yet scientists can't see them and have very little idea what they actually are. Dark matter and dark energy also play a significant role in the evolution and structure of the visible 5% of the universe  —  such as stars, planets, galaxies and even our bodies.
"Dark matter pulls galaxies together and causes them to spin more rapidly than visible matter alone can account for; dark energy is driving the accelerated expansion of the universe," Carole Mundell, ESA's director of science, said in a statement. "Euclid will, for the first time, allow cosmologists to study these competing dark mysteries together."
"Euclid will make a leap in our understanding of the cosmos as a whole, and these exquisite Euclid images show that the mission is ready to help answer one of the greatest mysteries of modern physics," Mundell added.
Related: Dark energy could lead to a second (and third, and fourth) Big Bang, new research suggests
These first images show that Euclid, located at a gravitationally stable point between Earth and the sun about 1 million miles (1.5 million kilometers) from our planet, is off to an excellent start.
The Perseus galaxy cluster
The first image released from the Euclid telescope features 1,000 galaxies that are part of the Perseus cluster, located around 240 million light-years from Earth. In the background of the image are a further 100,000 galaxies located at even greater distances.
Many of these galaxies have never been seen before, and some are so far away that their light has traveled for around 10 billion years to reach us.
This is the first time so many Perseus galaxies have been spotted in great detail and in the same image. Mapping the distribution and shape of these galaxies could help scientists determine the role of dark matter in sculpting that part of the universe.
The "hidden" spiral galaxy IC 342
The next Euclid image features the spiral galaxy IC 342, also known as the "Hidden Galaxy" or Caldwell 5.
IC 342, located around 10.8 million light-years away, is tough to spot because it is hidden behind stars, gas and dust in the plane of the Milky Way. Using its near-infrared instrument, Euclid peered through these obstructions to reveal previously unseen details of IC 342's steller occupants.
The irregular galaxy NGC 6822
As Euclid looks deeper into the cosmos and further back in the history of the universe, neat spiral galaxies like our own and IC 342 should become less common, and instead irregular, blob-like galaxies should appear more often.

Euclid's third recently released image shows just such an irregular galaxy, NGC 6822 — but this blobby galaxy is located just 1.6 million light years from Earth.
The globular cluster NGC 6397
In another stunning image from the space telescope, a globular cluster — a tightly gravitationally bound collection of hundreds or even thousands of stars — is captured in breathtaking detail.
This particular globular cluster, NGC 6397, is located around 7,800 light-years from Earth, making it the second-closest globular cluster to our planet. Euclid will shed new light on globular clusters, as it is the only current telescope able to observe every star in such a collection in fine detail. This could help scientists map the distribution of dark matter through the Milky Way as the development of these clusters is molded by the gravitational influence of dark matter.
The Horsehead Nebula
In perhaps the most colorful image from Euclid's first set of observations, the Horsehead Nebula is shown in vibrant detail. Also known as Barnard 33, the nebula is a stellar nursery of hot, young stars located in the Orion Nebula — which at between 1,500 and 1,350 light-years away is the closest star-forming region to Earth.

Alongside its work studying the dark universe, Euclid will search regions like this for Jupiter-mass planets, young "failed star" brown dwarfs and infant stars.
"We have never seen astronomical images like this before, containing so much detail," René Laureijs, ESA's Euclid project scientist, said in the statement. "They are even more beautiful and sharp than we could have hoped for, showing us many previously unseen features in well-known areas of the nearby universe. Now we are ready to observe billions of galaxies and study their evolution over cosmic time."
Over the next six years, Euclid will investigate the dark universe by creating a map of the large-scale structure of the universe, observing billions of galaxies out to a distance of around 10 billion light-years and across over a third of the sky over Earth. This should reveal the changing structure of the universe through cosmic history, enabling scientists to determine the role dark matter and dark energy have played in this process.
Hopefully, the best is yet to come for Euclid as it helps to unravel some of the most pressing mysteries in physics and helps us see the cosmos in new detail.
Stay up to date on the latest science news by signing up for our Essentials newsletter.
Robert Lea is a science journalist in the U.K. who specializes in science, space, physics, astronomy, astrophysics, cosmology, quantum mechanics and technology. Rob's articles have been published in Physics World, New Scientist, Astronomy Magazine, All About Space and ZME Science. He also writes about science communication for Elsevier and the European Journal of Physics. Rob holds a bachelor of science degree in physics and astronomy from the U.K.'s Open University

You guys say it looks like a horse. To me it looks like a cross between a cobra and a vulture. Maybe it should be called Colture?

Reply