Doctors perform 1st-ever whole eye, partial face transplant
This is the first whole-eye transplant performed in a person, and it was completed alongside a partial face transplant.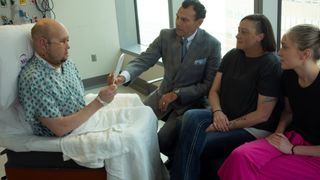 (Image credit: NYU Langone Health)
For the first time, a patient received a whole new eye and a partial face in a groundbreaking transplant procedure.
The transplant recipient, a 46-year-old from Arkansas named Aaron James, had sustained a 7,200-volt electric shock while working as a high-voltage lineman on June 10, 2021.
"Most individuals don't survive that level of injury," Dr. Eduardo Rodriguez, the lead surgeon for James' transplant and director of NYU Langone's face transplant program, said in a news conference Thursday (Nov. 9). In the accident, a live wire touched James' face. He needed several reconstructive surgeries and ultimately lost his left eye, nose, lips, front teeth, left cheek and chin, as well as his left arm above the elbow.
Now, James is about five months out from his transplant procedure, which involved 140 medical providers at NYU Langone and took place over 21 hours on May 27 and May 28, 2023.
"From the time I woke up from a six-week coma, they were already talking about a possible chance of a face transplant," James said at the news conference.
Related: 'Reanimated' hearts can be successfully transplanted and could expand donor pool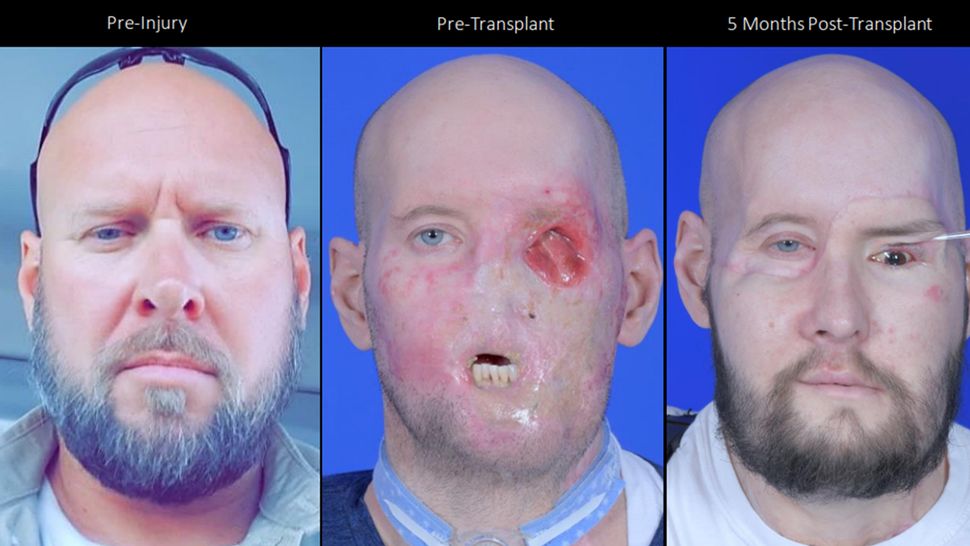 The surgery allowed him to stop using breathing and feeding tubes, and he can taste, smell and eat solid foods again. He finally returned home to Arkansas in September and now travels to New York monthly for monitoring. He also has ongoing physical, occupational and speech therapy.
Beyond these functional improvements, "I can't walk past a mirror without looking at it. It's making me stand up taller," James said of his new face. "Before the transplant, emotionally I was a little down, confidence level was a little low."
The NYU team first learned of James two months after the accident, when they started consulting his care team at a medical center in Texas. James' left eye needed removal due to severe pain, so the NYU team advised the surgeons to snip his optic nerve as close to the eyeball as possible, to potentially allow for a whole-eye transplant, along with his planned face transplant.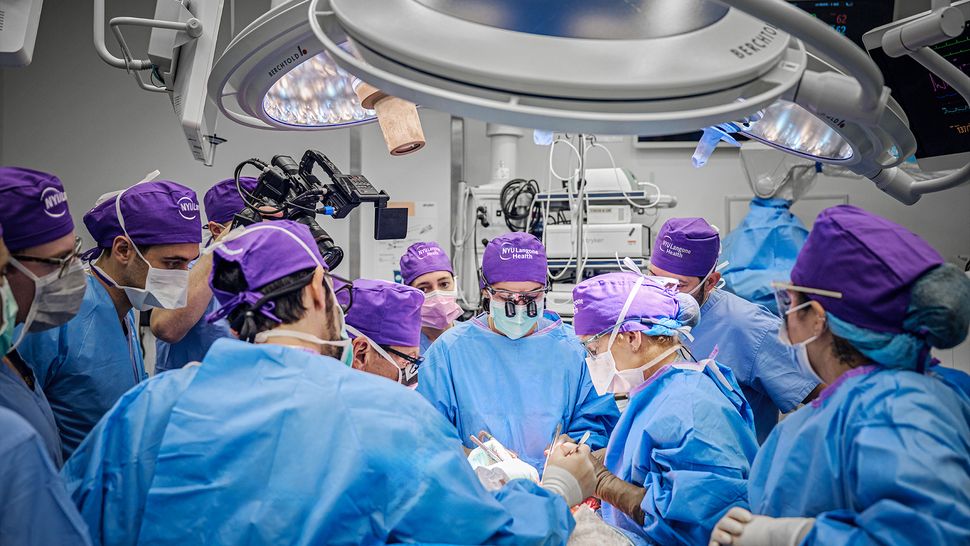 But the eye transplant would come with risks. "The eye is an extension of the brain," Dr. Vaidehi Dedania, a retina specialist in NYU Langone's Department of Ophthalmology, said at the news conference. A transplant that plugs into the central nervous system introduces a risk of deadly infection and inflammation of the brain, Rodriguez said.
It wasn't clear at first that this transplanted eye would ever be able to see, but early tests suggest light-detecting cells at the back of his eye do, at least, respond to light.
"His retina is able to tell us that it's 'seeing' the light, which is quite remarkable," Dedania said. Scans suggest that this signal makes it to the visual cortex at the back of James' brain. However, James can't yet perceive those incoming signals, so it's still unknown if he'll ever have vision in that eye, Dedania said.
Related: What are eyes made of?
To help the eye to plug into James' optic nerve, the team also transplanted adult stem cells, which are unspecialized and can give rise to other types of cells. The goal for these cells, which were isolated from the donor's bone marrow, was to have them help repair James' snipped optic nerve, potentially restoring its function.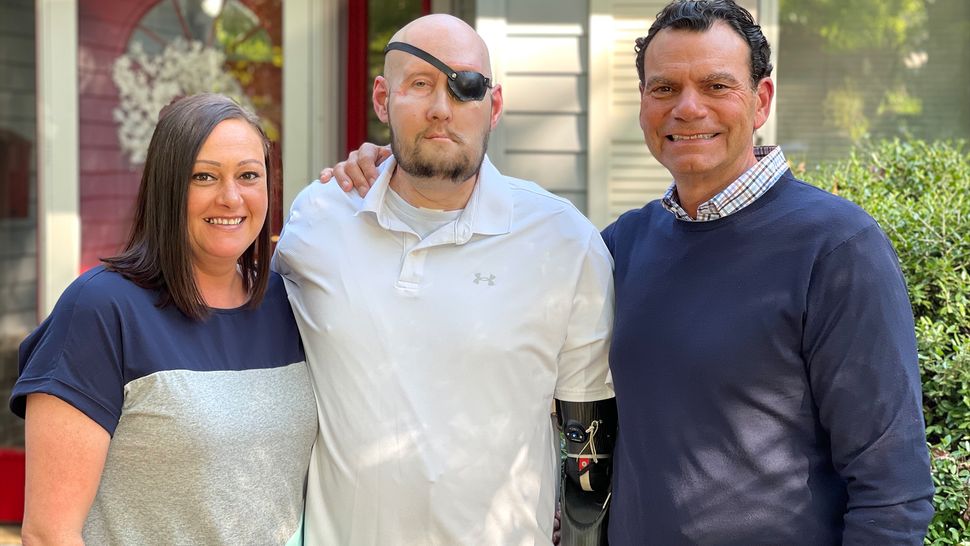 During the procedure, two surgical teams — one for the donor and one for the recipient — operated simultaneously in nearby rooms. The teams thoroughly rehearsed all the steps of the procedure and printed 3D "cutting guides," to precisely carve out the donor's bone and tissue so they would fit into the space on James' face — "just like a puzzle," Rodriguez said.
Between 9:14 a.m. on May 27 and 7:51 a.m. on May 28, the team transplanted the nose, left upper and lower eyelids, left eyebrow, and upper and lower lips, as well as the tissues below the right eye. They also transplanted the underlying skull, cheek, nasal and chin bone segments that went with those tissues, as well as the left eye and accompanying optic nerve.
Now, five months out, James takes immunosuppressive drugs daily and has not shown signs of rejection. He cannot yet lift his upper left eyelid to open his left eye, which is brown, while his right eye is light blue. However, he's now able to squint and tighten the muscles around the eye, and the eyelid is protecting the eye well enough that he now doesn't need an eyepatch, Rodriguez said.
At the news conference, James expressed great thanks to the NYU team, the donor and the donor's family, and to his wife and daughter.
Ever wonder why some people build muscle more easily than others or why freckles come out in the sun? Send us your questions about how the human body works to community@livescience.com with the subject line "Health Desk Q," and you may see your question answered on the website!
Stay up to date on the latest science news by signing up for our Essentials newsletter.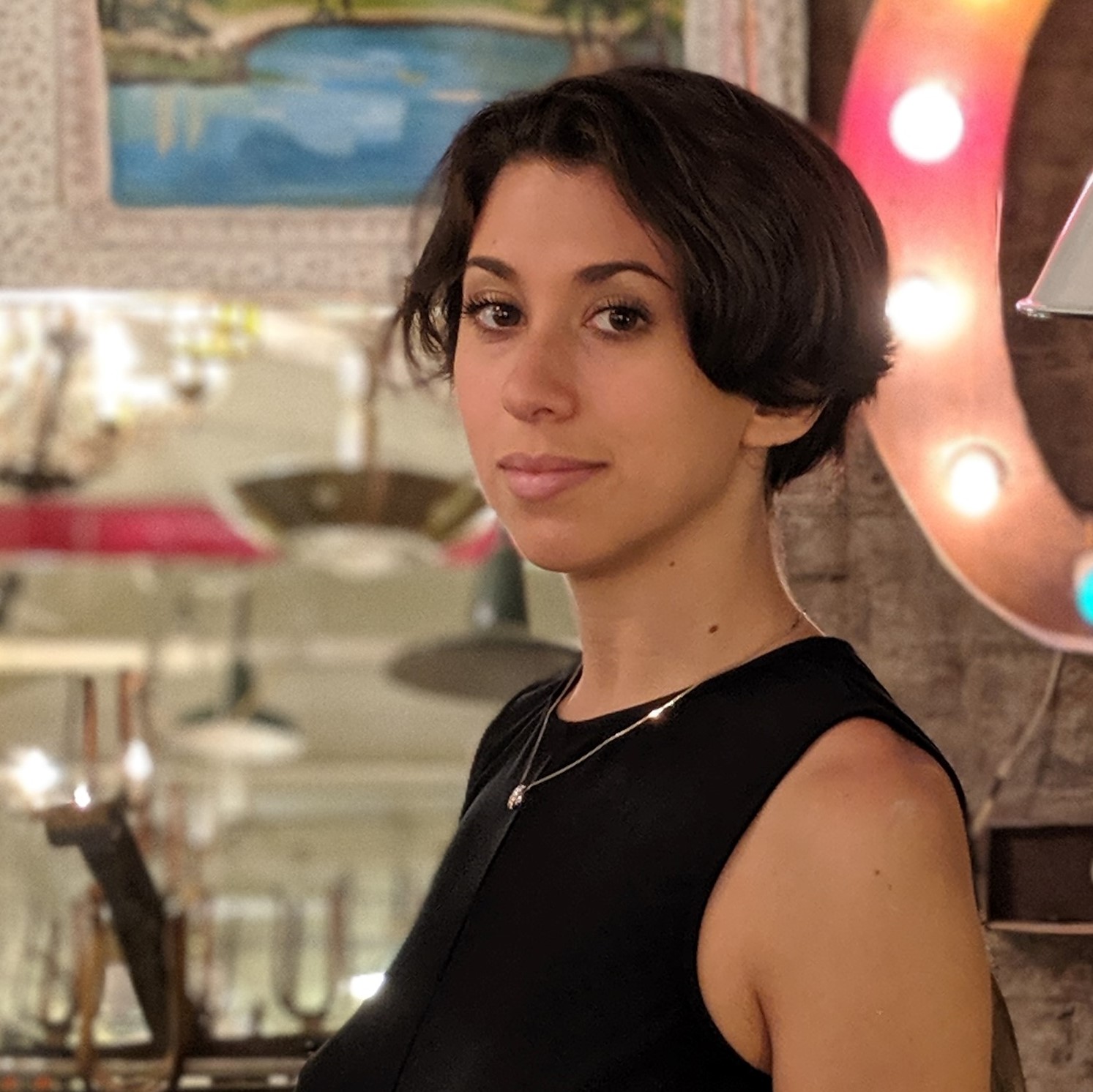 Nicoletta Lanese is the health channel editor at Live Science and was previously a news editor and staff writer at the site. She holds a graduate certificate in science communication from UC Santa Cruz and degrees in neuroscience and dance from the University of Florida. Her work has appeared in The Scientist, Science News, the Mercury News, Mongabay and Stanford Medicine Magazine, among other outlets. Based in NYC, she also remains heavily involved in dance and performs in local choreographers' work.