Soar over ancient Rome's temples, brothels and baths in epic new 3D reconstruction
A newly-launched 3D model of ancient Rome lets viewers experience the city as it was in its heyday in the fourth century.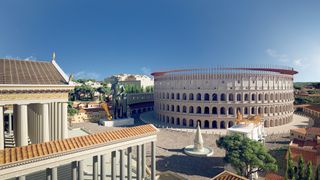 (Image credit: 2023 Flyover Zone, Inc. All rights reserved.)
A new interactive 3D reconstruction of ancient Rome is giving viewers the opportunity to virtually transport themselves back in time and explore the capital of the Roman Empire as it was during its heyday.
Called Rome Reborn: Flight over Ancient Rome, the digital model presented by Flyover Zone, an educational technology company, offers both a bird's-eye view and on-the-ground perspectives of ancient Rome and its many historical monuments, including the Colosseum, Pantheon, Baths of Caracalla and the Roman Forum, as they may have appeared in A.D. 320, right before the capital city was moved to Constantinople, which was later followed by the fall of the Western Roman Empire, according to a statement.
At its prime, Rome would have had a population of 1 million — making it one of the most populous cities in Europe — and a skyline peppered with approximately 7,000 buildings spread across 5.3 square miles (13.7 square kilometers).
Related: Ruins of ancient Roman emperor Nero's theater unearthed in 'exceptional' discovery in Rome
This virtual version of the city is decades in the making and is the brainchild of Bernard Frischer, a digital archaeologist at the Luddy School of Informatics, Computing and Engineering at Indiana University Bloomington. Frischer initially came up with the idea in 1974 while he was the Rome Prize Fellow in Classics at the American Academy in Rome.
During his studies, Frischer visited the Museum of Roman Civilization and saw a physical model of ancient Rome. He knew he could make a better, computerized version himself.
"I remember looking down from a balcony at the physical model while in Rome and taking photos of it," Frischer told Live Science. "I used this as the inspiration for the reconstruction and I thought it would be nice if I could digitize it."
Over the course of several decades, Frischer worked with a team of archaeologists and historians to ensure that his replica was accurate while also consulting a variety of historical texts that recorded what the capital of the Roman Empire would have looked like in fourth century Europe. He also worked with engineers who scanned the original museum model, which served as the groundwork for the digital city, which is on a scale of 1-to-25.
Frischer described the entire research process as "tedious" but in the end, the project was worth the effort.
"I looked at old site plans and photographs of ruins and put it all together," Frischer said. "I wanted to have a visualization to bring people up to speed to see what the city would've looked like instantly. In two hours of exploration, people today will know more than what a PhD student would've known in the 1970s."
The first version of Rome Reborn launched in 2007 followed by two subsequent versions released in 2008 and 2018. For the new, fourth version, which launched Wednesday (Nov. 8), the team added in new and updated recreations of some of the monuments that weren't included in previous versions, such as the Baths of Caracalla, the temples on the Capitoline Hill, the Stadium of Domitian (modern-day Piazza Navona) and the theaters of Balbus, Marcellus and Pompey the Great.
"I hope that people's curiosity is aroused and that they start the process of falling in love with antiquity in general, but to the city of Rome specifically," Frischer told Live Science. "I want people to see the beauty and the grandeur and the innovation of ancient Rome. It was above and beyond other cities during that time."
Rome Reborn: Flight over Ancient Rome version 4.0 is currently available for download. Flyover Zone also offers 13 other virtual tours on Yorescape.com, including the Acropolis in Athens and the Tomb of Ramesses VI in Egypt. Normally an annual subscription is $49.99 but for the Nov. 8 launch, the Yorescape app is offering a free, one-week trial subscription.
Stay up to date on the latest science news by signing up for our Essentials newsletter.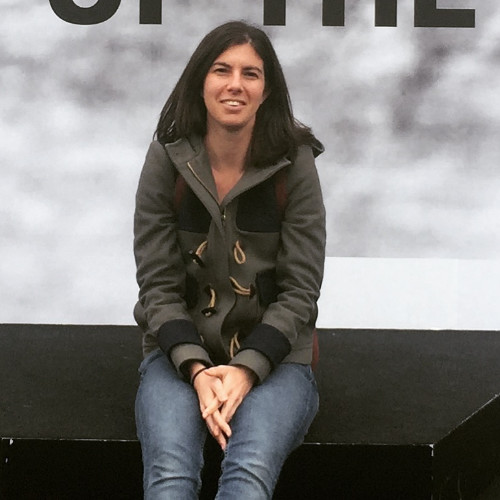 Live Science Staff Writer
Jennifer Nalewicki is a Salt Lake City-based journalist whose work has been featured in The New York Times, Smithsonian Magazine, Scientific American, Popular Mechanics and more. She covers several science topics from planet Earth to paleontology and archaeology to health and culture. Prior to freelancing, Jennifer held an Editor role at Time Inc. Jennifer has a bachelor's degree in Journalism from The University of Texas at Austin.
After seeing the article about ancient Rome in 3D, either I misinterpreted it or I noticed some things that just stick out like neon signs flashing ERROR. It said that upon seeing the museums scale model of ancient Rome in 1974, he felt he could do better and took pictures so he could digitize it. Excuse me but the technology to use computers and to digitize ANYTHING let alone use it to make 3D imagery was not even a possibility at that time and for well over a decade into the future. Think about it. When did computers stop being the old Green Screen type? His claiming that he has the idea to do it in 1974 is a severe stretching of the imagination at the very least. It is a very interesting article, but the technology he was referring to wanting to use was so far in the future that it would mean that either he accidentally gave incorrect information in the story, knowingly gave false information, was clinically delusional, or was/is a time traveler who has to wait for the technology to be invented which is unlikely since to my knowledge they still have not found a way to perform time travel.

Reply