Fitbit Inspire 3 vs Charge 5: What's the difference?
Which model comes out top? We compare the pros and cons of the Fitbit Inspire 3 vs Charge 5.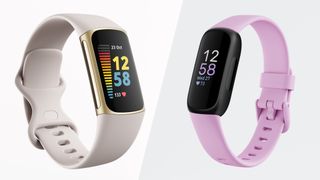 (Image credit: Future)
The Fitbit Inspire 3 and Charge 5 are the brand's more basic bands, sitting below the more smartwatch-like Versa 4 and Sense 2. However, these are some of the easiest products to recommend in the entire line-up, especially since Fitbit has recently cut back some of the features of its pricier fitness trackers.
The Inspire 3 is the cheaper of the two, but lacks a few important health and fitness features. For regular runners, the Charge 5 is the better bet. However, the Inspire 3 really taps into what Fitbit does best at the moment — the lighter and more casual end of fitness tracking. Let's take a closer look.
For more of the the brand's top picks, check out Live Science's round-up of the best Fitbit.
Fitbit Inspire 3 vs Charge 5: Price and availability
The Fitbit Charge 5 is significantly older than the Inspire 3. It launched in August 2021, while the Inspire 3 arrived a year later in September 2022.
The Charge 5 also belongs to a price class above the Inspire 3. It originally cost $179.99/£169.99, compared with the $99.99/£84.99 price tag of the Inspire 3.
However, the Charge's price has since dropped to $149.99/£129.99, making it a pretty attractive buy.
Fitbit Inspire 3 vs Charge 5: Design and display
The Fitbit Charge 5 is a slightly chunkier fitness tracker than the Inspire 3. Whereas the Inspire series is a set of super slim and light trackers for passive use, the Charge 5 is a bit more unusual: It bridges the gap between a skinny tracker band and a full-on runners' watch. It's a pretty neat middle-ground. However, some may find the Inspire 3 a little more comfortable, since it's slighter and lighter.
The Fitbit Charge 5 has a more upmarket build. Its screen surround is aluminum, while the Inspire 3 is plastic. However, they both have a toughened glass screen. Thankfully, plastic screen wearables are rare these days — these pick up scuffs and scratches easily.
Looking at the two displays side-by-side, they're quite similar. The Charge 5 is slightly larger (1.04 inches compared with 0.76 inches). They are both vibrant-looking OLEDs, have automatic brightness, good peak brightness and the same pixel density.
They are both touchscreens too, and the Fitbit Inspire 3 uses little capacitive side panels to act as another control surface. Touch both sides with your thumb and finger and the band heads back to its clock display.
Related: Fitbit vs Apple Watch: Which fitness tracker is better?
Fitbit Inspire 3 vs Charge 5: Features
On the inside, the Inspire 3 and Charge 5 are quite different.
The Charge 5 has several pieces of hardware that are missing from the Inspire 3, making it a more flexible fitness tracker. GPS is the first, letting you run, walk or cycle without a phone.
To get the same results with an Inspire 3 you'll need a phone connected over Bluetooth while you exercise. While you can track runs and walks without one, we found the Inspire 3's distance and pace stats are pretty bad when you do so.
The Charge 5 also has ECG and EDA hardware. These stand for electrocardiogram (ECG) and electrodermal activity (EDA), and both use the metal pads on the sides of the casing as electrodes. In the ECG mode, the Charge 5 analyzes the electrical signals of your heart to check for signs of atrial fibrillation — an irregular heartbeat.
The Charge 5 EDA sensor uses the same outer hardware, but looks for changes in the conductivity of your skin. This in turn is taken as a sign of changes in sweat production. The main aim here is to look for stressful moments, but because sweat can also be an indicator of a change in temperature, excitement, or a bunch of other emotions, Fitbit calls these moments "EDA events".
The Fitbit Inspire 3 does have comparable heart health and stress features, but they both rely on the classic optical heart rate sensor on the band's back.
Fitbit produces a stress score each day — one that relies in part on your heart rate. Both watches support irregular rhythm notifications, when your heart activity looks abnormal to the optical sensor. Of course, with a Fitbit Charge 5 you can double check those findings with the ECG sensor. But either of these bands will alert you if it looks like something is up.
The basics are roundly the same, but the Fitbit Charge 5 has a more advanced layer of features on top. Fitbit also does quite a lot with the basics too. For example, the Inspire 3 can look at your heart rate variability, blood oxygenation and breathing rate overnight, just as the Charge 5 can.
There's advanced-looking stuff here if you want it. However, these specialized metrics are of most use if you sign up for Fitbit's $9.99/£7.99 a month Premium service. This unlocks "long-term trends" in stats, which is important because you can't infer much from an isolated breathing rate or heart rate variability score.
However, Fitbit is currently going through some changes as a company, after it was bought by Google in 2021. And as part of that, group challenges and "Adventures" are going to be removed from the Fitbit app at the end of March 2023. These are fun, light features — perfect for a band like the Inspire 3. Fitbit wearables have lost a bunch of features over the last couple of years. It has mostly affected the higher-end Sense and Versa series, but is starting to hit these models too.
Fitbit Inspire 3 vs Charge 5: Performance
The Fitbit Inspire 3 and Charge 5 appear to have the same heart rate sensor, and have comparable motion sensor technology. However, in testing, the Inspire 3 often struggles to get a solid reading of your heart rate at the outset of workouts. And when you go to an interval-style session, the heart rate reader will often mess up when tracking heart rate peaks.
Does it matter? While the "max heart rate" readings in our test sessions were very similar to those of a top-end Garmin Fenix 7, average heart rate readings were often a little off. And it means you can't really dig into the data that deeply — not reliably anyway.
But for casual use, these Fitbits will do the trick. We find the Charge 5 a bit more reliable as an everyday outdoors tracker, thanks to its integrated GPS. While the Inspire 3's pace and distance readings were excellent when hooked up to a phone, a couple of times it failed to do so, and we're still not quite sure why.
These trackers are notably good for sleep tracking and seem to be able to identify those wakeful moments better than a lot of rivals. In the Fitbit app, you'll see a breakdown of your sleep stages. We prefer a smaller tracker like the Inspire 3 for regular sleep tracking, but the Charge 5 is going to be similarly effective.
The Inspire 3 also has the edge for battery life. It's rated for 10 days of use, and you can expect that figure to halve if you use the "always on" display mode — and slightly less than five days if you look at phone notifications on your wrist a lot.
The Charge 5 is rated for seven days of use between charges, or three days with "always on". Use of GPS will hit the battery significantly too, as just five hours will deplete the battery.
Fitbit Inspire 3 vs Charge 5: Verdict
The Fitbit Charge 5 is the more capable of these fitness trackers. It has GPS, the heart health ECG feature and the EDA stress sensor. GPS is the most impactful of these, and makes the Charge a far better standalone run tracker.
However, if you are simply after a low-fuss fitness tracker and not a training watch, you'll be just as happy with the Fitbit Inspire 3. It's a bit cheaper and also lasts a few more days off one charge. It's smaller too, so will look less silly if you also plan to wear a watch.
Stay up to date on the latest science news by signing up for our Essentials newsletter.
Andrew Williams is a freelance journalist based near London. He has written about tech for over a decade, contributing to sites such as WIRED, TechRadar, TrustedReviews, Wareable, Stuff, T3, Pocket-lint and many others. When he's not covering fitness tech, he writes about mobile phones and computing, as well as cameras.