The Withings Body+ Smart Scale (opens in new tab) is 30% off for Amazon Prime Day, taking the total cost from $99.99 down to an appealing $69.95 on Amazon (opens in new tab). If you've been thinking about getting a smart scale you could do much worse than consider the Withings Body+. With sleek, sophisticated fitness tech it provides you with full body composition analysis along with insight on your muscle mass, body fat percentage, bone mass and total bodily water percentage. If the Withings Body+ isn't for you, you can check out our Fittrack scale deals (opens in new tab)for even more great discounts this Prime Day.
Withings also claim that "two thirds of Withings users with a weight loss goal managed to lose weight in the six months following the installation of their Withings scale". So if you're looking for incentive to invest, the in-depth body analysis may help you achieve your goals, whether you're trying to put weight on or keep it off.
The scale works by sending a low-amplitude electrical current through the body to "measure the resistance of biological tissues", allowing it to assess the user's body composition. It also has Bluetooth capabilities and syncs with Apple watches, plus more than 100 other top health and fitness apps. Whatever you use to track your progress, you can bet the Withings Body+ Smart Scale will pair with it."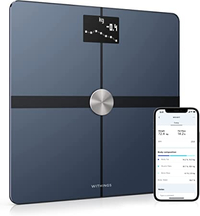 (opens in new tab)
Withings Body+ Smart Scale | Was $99.99 Now $69.95 at Amazon (opens in new tab)
Save 30% on this fantastic Withings Body+ Smart Scale, which provides detailed feedback on your body composition. Up to 8 users can weigh themselves and access their personal weight histories, as the scale automatically recognizes who's who.
The Withings Body+ Smart Scales will send data from every weigh-in automatically via Wi-Fi in the free health Mate app. This makes it even easier to keep track of your workout progress. You'll also receive automated coaching with personalized expert tips and tricks based on the data received from the scales. You can also see how your results have changed over time and set yourself new targets.
The scales are extremely precise: the wi-fi connectivity ensures your measurements are accurate and "position control technology" gives you your weight measurement accurate to within 100g.
The scale also has different modes depending on the sort of lifestyle you have, which means you can personalize your fitness tracking even further. The scale's "athlete mode" recognizes regular (more than eight hours per week) exercisers tend to have a different body types which require a specific fat mass calculation algorithm. There is a pregnancy mode too, with personalized weight tracking and "obstetrician-reviewed wellness advice", and a "baby mode" if you want to see how your baby is growing before a weigh-in at the doctors.
As well being one of our recommended fitness trackers, the Withings Body+ Smart Scales have achieved a 4.5/5* rating from more than 28,000 reviews on Amazon. So, if you don't want to take our word for it, just have a look at the reviews!
For more, check out our Amazon Prime Day Health Deals for 2022.