U.S. Ski Suits Straight Out of Science Fiction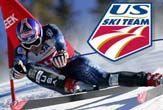 In their 1971 novel "The Flying Sorcerors," science fiction writers David Gerrold and Larry Niven wrote about an impossible idea—a suit that was both flexible all over and hard as armor all over:
Thirty-five years later, U.S. and Canadian skiers get to wear one. Spyder, a skiwear company based in Colorado, is working with d3o labs to incorporate a special material that hardens in "extreme" circumstances (like in a fall, for example).
The material is one of a class of similar materials that have been used for applications as diverse as body armor and rehabilitative exoskeletons. The material that d3o uses is a mixture of a viscous liquid and a polymer; once the d3o material has been synthesized, it is poured into a mold according to the application. When at rest (or when gently flexed), the molecules within the material can flow past one another. When a sudden deformation is applied, the molecules lock, forming a shield.
Although the material is available only to Olympic atheletes at the present time, Spyder will offer ski racing apparel with d3o technology starting in September.
Find out about other uses for similar materials: take a look at Liquid Armor In Two Flavors: Shear Thickening and Magnetorheological and AKROD v2 - Active Knee Rehabilitation Device. Read more about ski suits at the d3o Lab website; thanks to Ruth Gough of d3o Lab for writing with this story.
(This Science Fiction in the News story used with permission from Technovelgy.com - where science meets fiction.)
Stay up to date on the latest science news by signing up for our Essentials newsletter.
Bill Christensen catalogues the inventions, technology and ideas of science fiction writers at his website, Technovelgy. He is a contributor to Live Science.