Prime Day deals on DNA kits: Here's what these genetic tests might tell you
Discover ancestry, fitness and nutrition information with these deals on DNA kits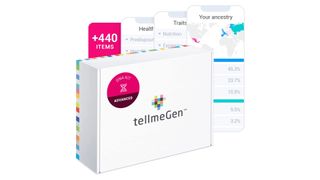 (Image credit: Amazon)
Curious about your ancestry, or wondering if you might be sensitive to certain foods? Amazon Prime Day might be over for another year, but you can still enjoy savings on best-selling DNA kits, helping you to find answers.
DNA kits usually require you to swab your cheek or spit into a vial. This is sealed in an envelope and sent to a laboratory, where the DNA is extracted and sequenced. There, this is compared to results of other human DNA sequences, known as reference groups. This is done using technology with specific materials, protocols and algorithms.
As well as ancestry, many of the best DNA kits also test for food intolerances and sensitivities, as well as your genetic predisposition to complex and hereditary diseases. But all of this can come at a price, which is why picking up a DNA kit on sale is a great option.
DNA testing kits can range in price. The cheaper kits will offer genetic traits, including information about passing along hair and eye color, but less about medical features. More premium kits can offer health information such as your likelihood of contracting conditions like diabetes, high blood pressure or celiac disease. Some can even provide information about how sensitive you are to certain foods, caffeine or alcohol.
So if you're curious about your past, or want to find out more about your health to support your future, make sure to check out some of the Amazon deals on DNA kits.
For more, check out our Amazon Prime Day Health Deals for 2022.
Stay up to date on the latest science news by signing up for our Essentials newsletter.
Harry Bullmore is a fitness writer covering everything from reviews to features for LiveScience, T3, TechRadar, Fit&Well and more. So, whether you're looking for a new fitness tracker or wondering how to shave seconds off your 5K PB, chances are he's written something to help you improve your training.
When not writing, he's most likely to be found experimenting with a wide variety of training methods in his home gym or trying to exhaust his ever-energetic puppy.
Prior to joining Future, Harry wrote health and fitness product reviews for publications including Men's Health, Women's Health and Runner's World. Before this, he spent three years as a news reporter with work in more than 70 national and regional newspapers.