Court Won't Declare Chimp a Person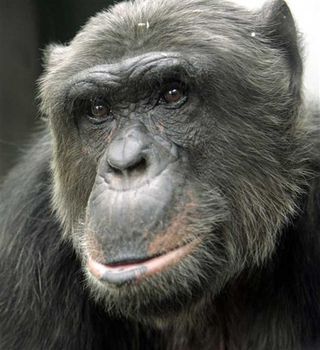 (Image credit: AP Photo/Lilli Strauss)
VIENNA, Austria (AP)—He's now got a human name—Matthew Hiasl Pan—but he's having trouble getting his day in court. Animal rights activists campaigning to get Pan, a 26-year-old chimpanzee, legally declared a person vowed Thursday to take their challenge to Austria's Supreme Court after a lower court threw out their latest appeal.
A provincial judge in the city of Wiener Neustadt dismissed the case earlier this week, ruling that the Vienna-based Association Against Animal Factories had no legal standing to argue on the chimp's behalf.
The association, which worries the shelter caring for the chimp might close, has been pressing to get Pan declared a "person" so a guardian can be appointed to look out for his interests and provide him with a home.
Group president Martin Balluch insists that Pan is "a being with interests" and accuses the Austrian judicial system of monkeying around.
"It is astounding how all the courts try to evade the question of personhood of a chimp as much as they can," Balluch said.
A hearing date for the Supreme Court appeal was not immediately set.
The legal tussle began in February, when the animal shelter where Pan and another chimp, Rosi, have lived for 25 years filed for bankruptcy protection.
Activists want to ensure the apes don't wind up homeless if the shelter closes. Both were captured as babies in Sierra Leone in 1982 and smuggled in a crate to Austria for use in pharmaceutical experiments. Customs officers intercepted the shipment and turned the chimps over to the shelter.
Their upkeep costs about euro4,800 (US$6,800) a month. Donors have offered to help, but there's a catch: Under Austrian law, only a person can receive personal gifts.
Organizers could set up a foundation to collect cash for Pan, whose life expectancy in captivity is about 60 years. But they contend that only personhood will give him the basic rights he needs to ensure he isn't sold to someone outside Austria, where he's now protected by strict animal cruelty laws.
In April, a district court judge rejected a British woman's petition to be declared Pan's legal guardian. That court ruled that the chimp was neither mentally impaired nor in danger, the grounds required for an individual to be appointed a guardian.
In dismissing the Association Against Animal Factories' appeal this week, the provincial court said only a guardian could appeal. That doesn't apply in this case, the group contends, since Pan hasn't gained a guardian.
There is legal precedence in Austria for close friends to represent people who have no immediate family, "so he should be represented by his closest friends, as is the case," said Eberhart Theuer, the group's legal adviser.
"On these grounds we have appealed this decision to the Supreme Court in Vienna," he said.
Until this summer, the chimp was known simply as Hiasl. However, in the latest court documents, he was identified with a little more dignity—if not humanity—as Matthew Hiasl Pan, with the last name derived from "chimpanzee."
The Association Against Animal Factories points out that it's not trying to get Pan declared a human, but rather a person, which would give him some kind of legal status.
Otherwise, he is legally a thing. And with the genetic makeup of chimpanzees and humans so strikingly similar, it contends, that just can't be.
"The question is: Are chimps things without interests, or persons with interests?" Balluch said.
"A large section of the public does see chimps as beings with interests," he said. "We are looking forward to hear what the high court has to say on this fundamental question."
Image Gallery: The World's Biggest Beasts
Amazing Animal Abilities
Stay up to date on the latest science news by signing up for our Essentials newsletter.